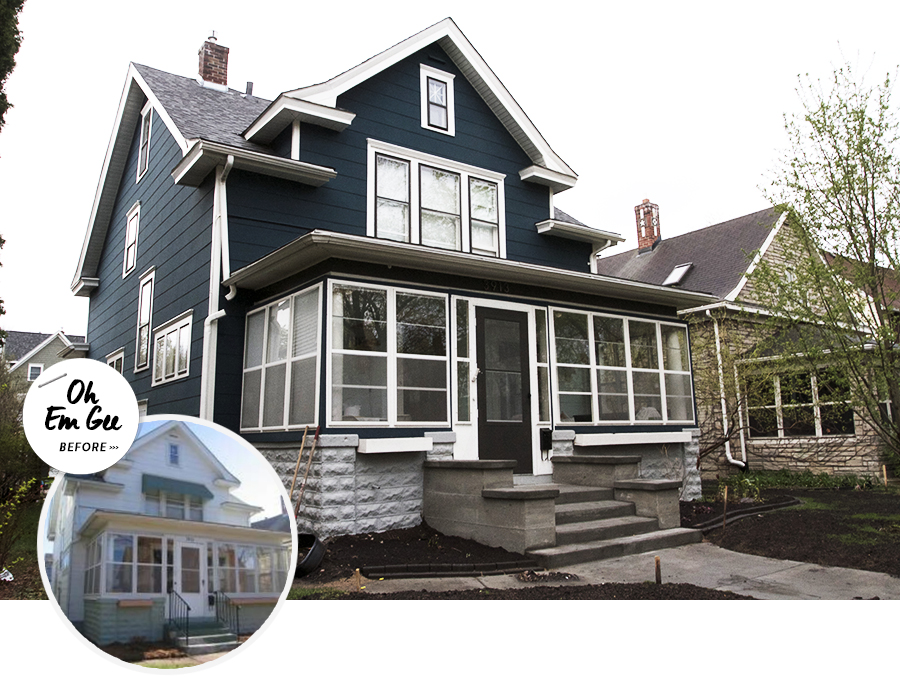 This post has been such a long time in the making. It makes me so happy that I might fill this post with overly positive words and phrases. You guys!, six year, that's how long it's been since we moved into this house. Six years ago I was staring at an ugly white house decked out with lots of mint green trim, green stairs, green awnings, and no landscaping to speak of. I swallowed hard when I agreed with my Jeff that this was the best house for us. Was it my dream house? Let's just say it had potential, I could envision a future for the interior, but the one thing I wanted more than anything was curb appeal (and gardens) and it was hard to see past the ugly. I wanted a cool Minneapolis house, not this old grandma hangout!
Of course our plan was to tackle the major eye sores in the first few years – that's how he we got each other to agree to buying the house. But then you quickly realize that everything costs tons of money, and you prioritize. I've wanted new front steps since the jump, I could see that it would do so much for the curb appeal of our home, but concrete is expensive. So, this is what happened instead. First summer we were broke, second summer we had a baby on the way and opted to try and repair and repaint the steps ourselves, third summer we painted the exterior, fourth summer we got a new roof cause part of ours blew off, fifth year we got a new fence, 6th year we got a new basement and here we are, the start of the seventh summer. New steps are happening!
I know I talk about waiting out expensive decisions a lot. This for me, is just another example of how really stewing on something can work out. If we had these stairs replaced the first year we would've replaced them exactly with what was there, having 6 years to walk around the neighborhood and drool over other peoples front steps gave us (me) the time to really dream up the perfect stoop.
Also, now we have a Grandmpa Rick (aka my best friend's dad). Rick has been in the concrete business forever, and was super generous in helping us get these stairs realized. The plan was that I would put in the sweat equity, but soon after the project started it became clear that my only job was to make sure his coffee cup was full – even though I would've loved to get in his Bobcat. There is not much chance these steps would've happened this year if it wasn't for him being so generous with his time.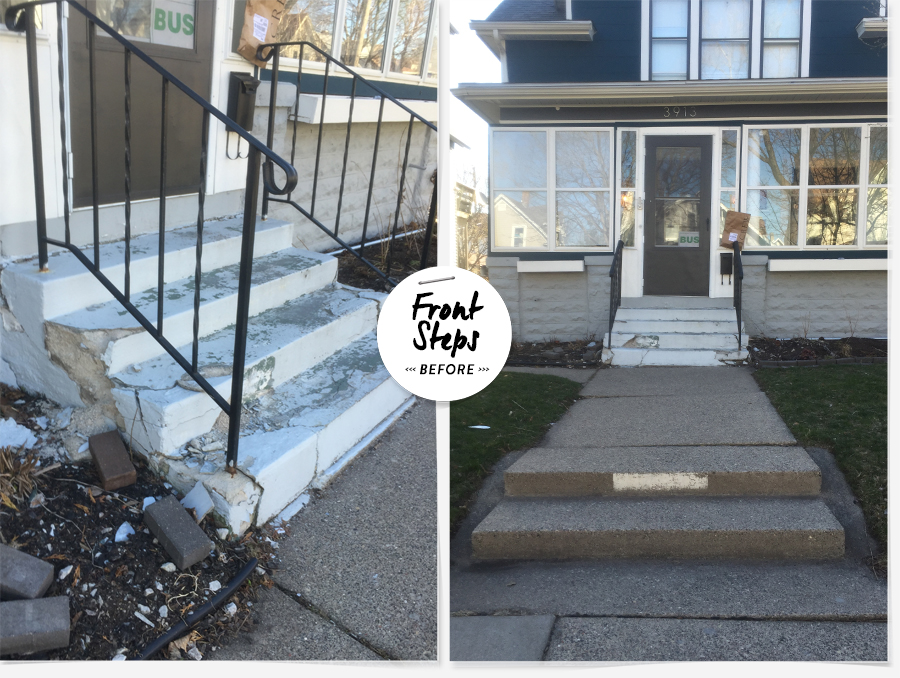 Alright friends, here is the before. I'm sure you can see how bad off these steps (aka pile of rubble) were, there was no way that they were getting cut off the to-do list for another year. These stairs had taken all the abuse they could handle, I mean, they were most likely 100 years old.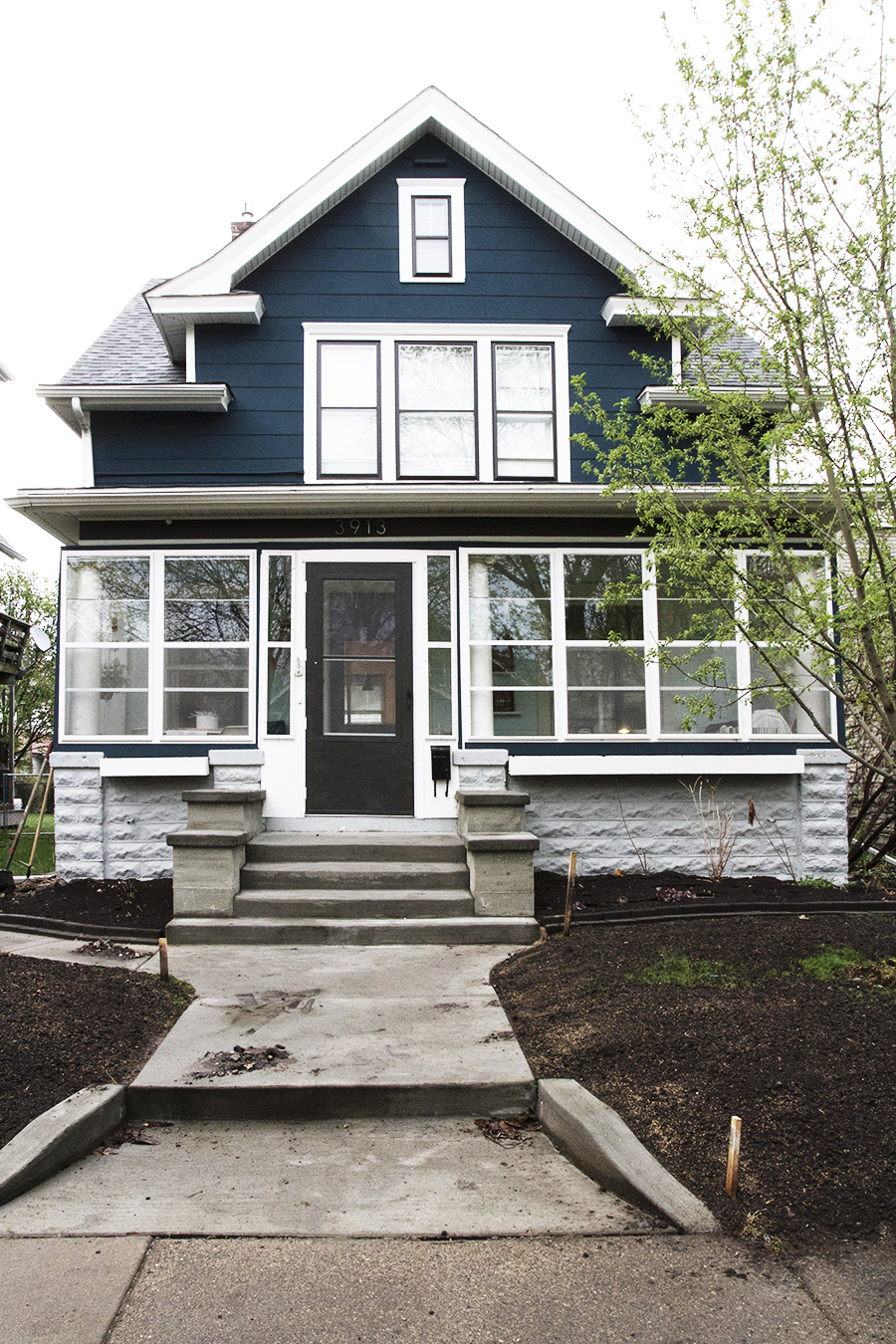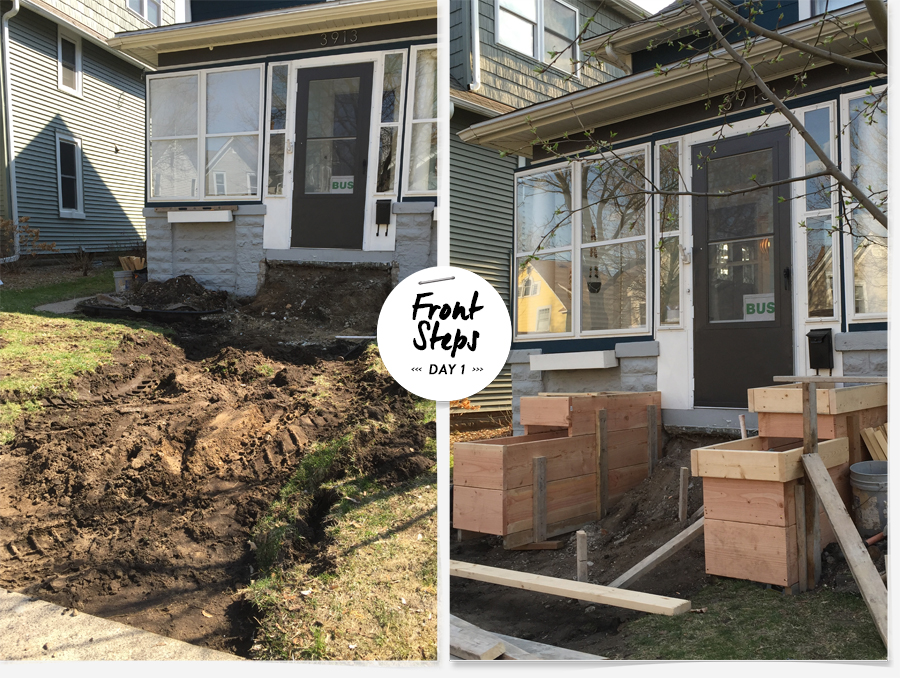 ON THE LEFT : The demo takes about 5 minutes. Bobcat's can do lots of cool things including tear up your yard, but I don't mind. Look, it's gone! Cool things revealed during this process; there are footings under each side of the steps and a shadow on the block columns to the left and right of the door suggesting that there was some sort of similar stoop situation here when the house was built, most likely removed during the later part of the 20th century to modernize them. Anyways, I'm feeling really positive about where things are headed.
ON THE RIGHT : The guys spend the afternoon doing lots of hard math stuff and coming up with these forms. There will be two concrete pours, the first being the sides of the stairs (aka the baluster, aka the stoop part), the second being the stairs and walkway.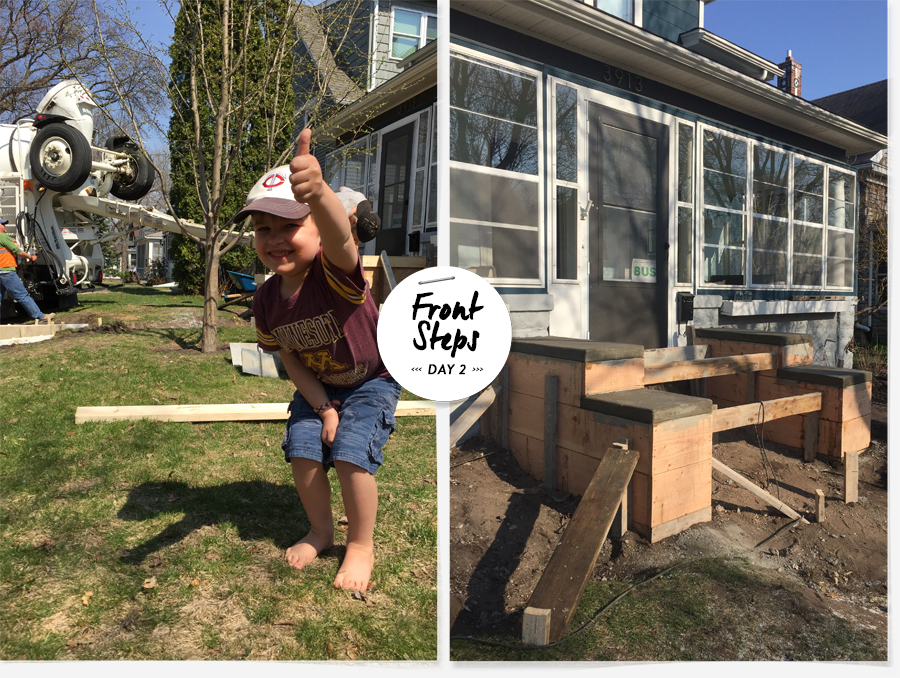 ON THE LEFT : I let my kid stay home from school so that he could watch the cement mixer come to our house and do it's thing. He was losing his mind over it, and I felt like it was a good mom move. I mean, a little truancy in the name of big trucks ain't gonna hurt no one. However, that cement mixer is on my shit list, there has to be a better way to deliver cement than to maul my lawn, especially when you have at least two more of those cool extender things hanging off the side of your truck – you know those tubular things that are supposed to be used to make it easy not to destroy stuff? The balusters are all concrete with little to no backfill, they go right on the footings.
ON THE RIGHT : First pour is complete, steps are left to dry overnight. They remove the forms from around the caps so that they can smooth them out. Because the balusters are so large, my dudes wait until the next morning to remove the forms from the sides.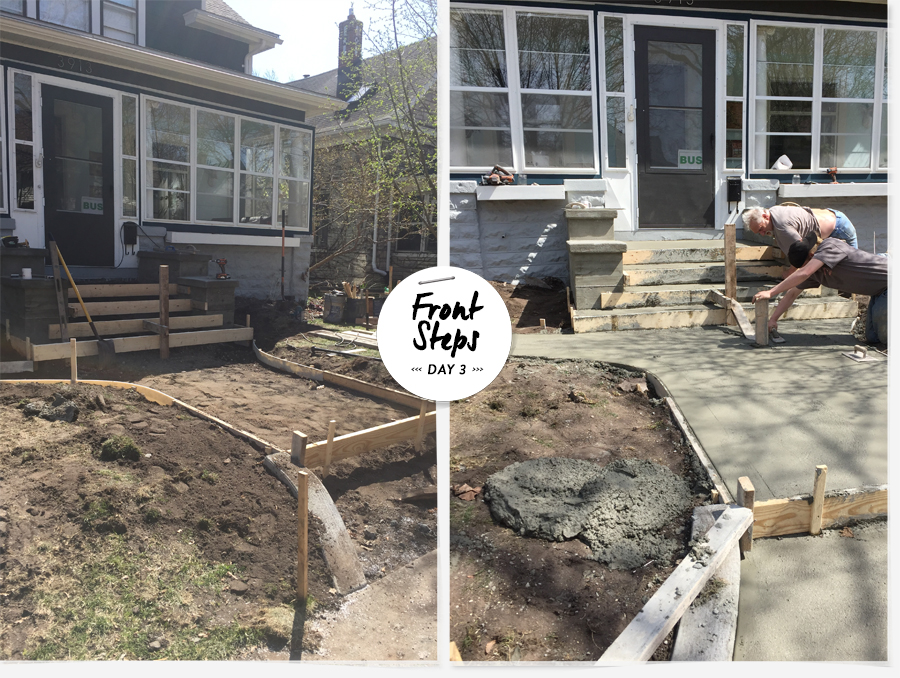 ON THE LEFT : Bright and early, the forms are removed from the side columns and work begins to frame out the steps and walk. I was freaking out at this point because it was all coming together and looking so awesome.
ON THE RIGHT : The stairs and walk are back filled and the second round of concrete is poured. This concrete driver did a much better job of avoiding the yard and taking out my boulevard garden instead.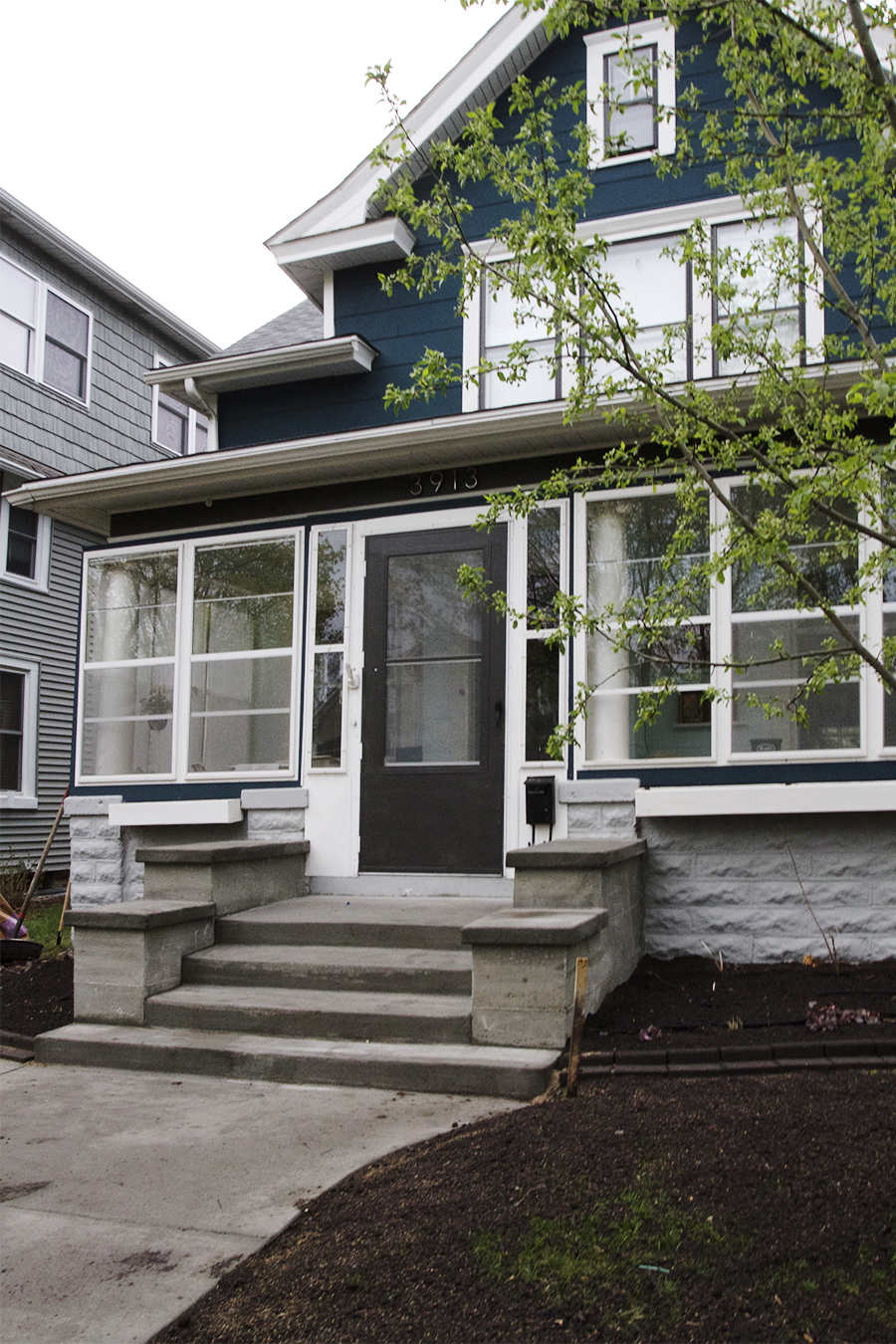 I've never gotten to be in the front row to a concrete pouring situation. I was pretty impressed with how it all went down. The concrete goes in the forms and everyone works like crazy to get it smoothed out before it begins to set. Even the concrete driver has to make a mad dash to get his truck cleaned before the concrete begins to dry. Also, everyone on the site does this dance with a cigarette hanging loosely from their lips, which is truly amazing.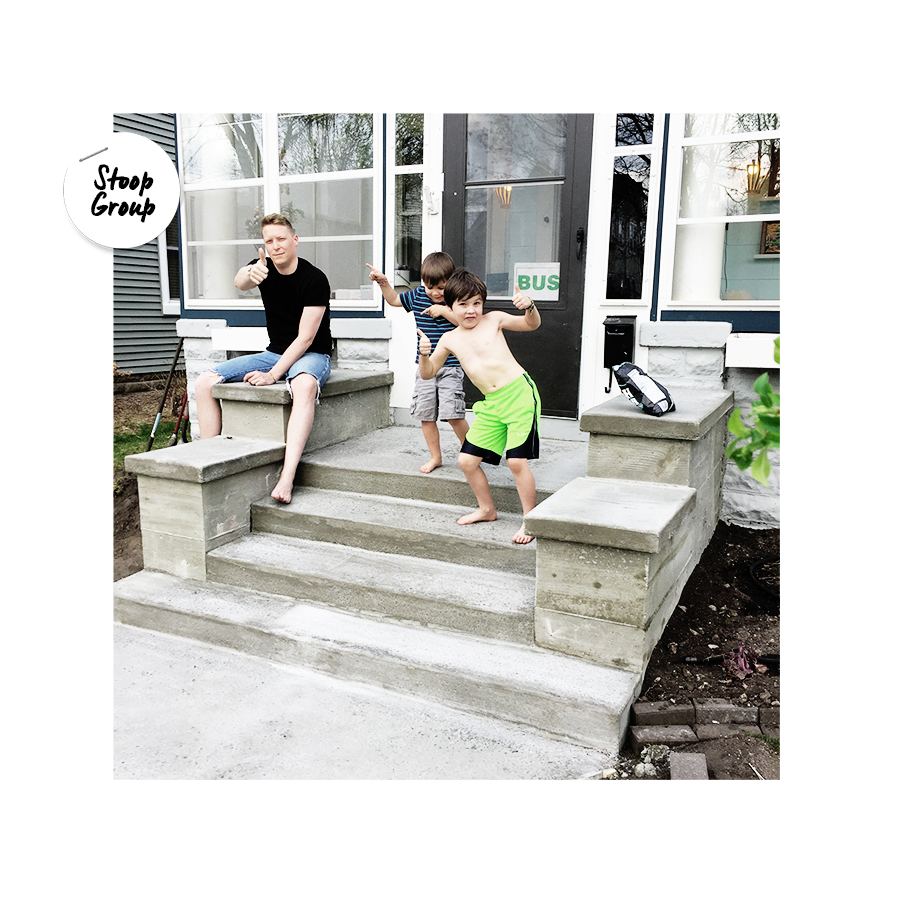 We need to come up with a nickname for our gang, right now the best thing we have going is "Stoop Group" which a Michelob Golden Draft guzzling bearded neighbor came up with. It might stick.
Tell me something, are concrete steps unique to Minneapolis, or are there other places that subscribe to this sort of entry point? In Minneapolis nearly every old house was built with concrete front steps, whereas I feel other cities have wooden steps. Like if you google "concrete front steps" your options are very limited, and it's kinda like google doesn't know what you are talking about. Am I using the wrong terms? What's the deal. If someone could shed some light on this, I'd be very happy. Also, all the front steps in Minneapolis are about 90-100 years old and are all falling apart, the concrete biz is about to boom.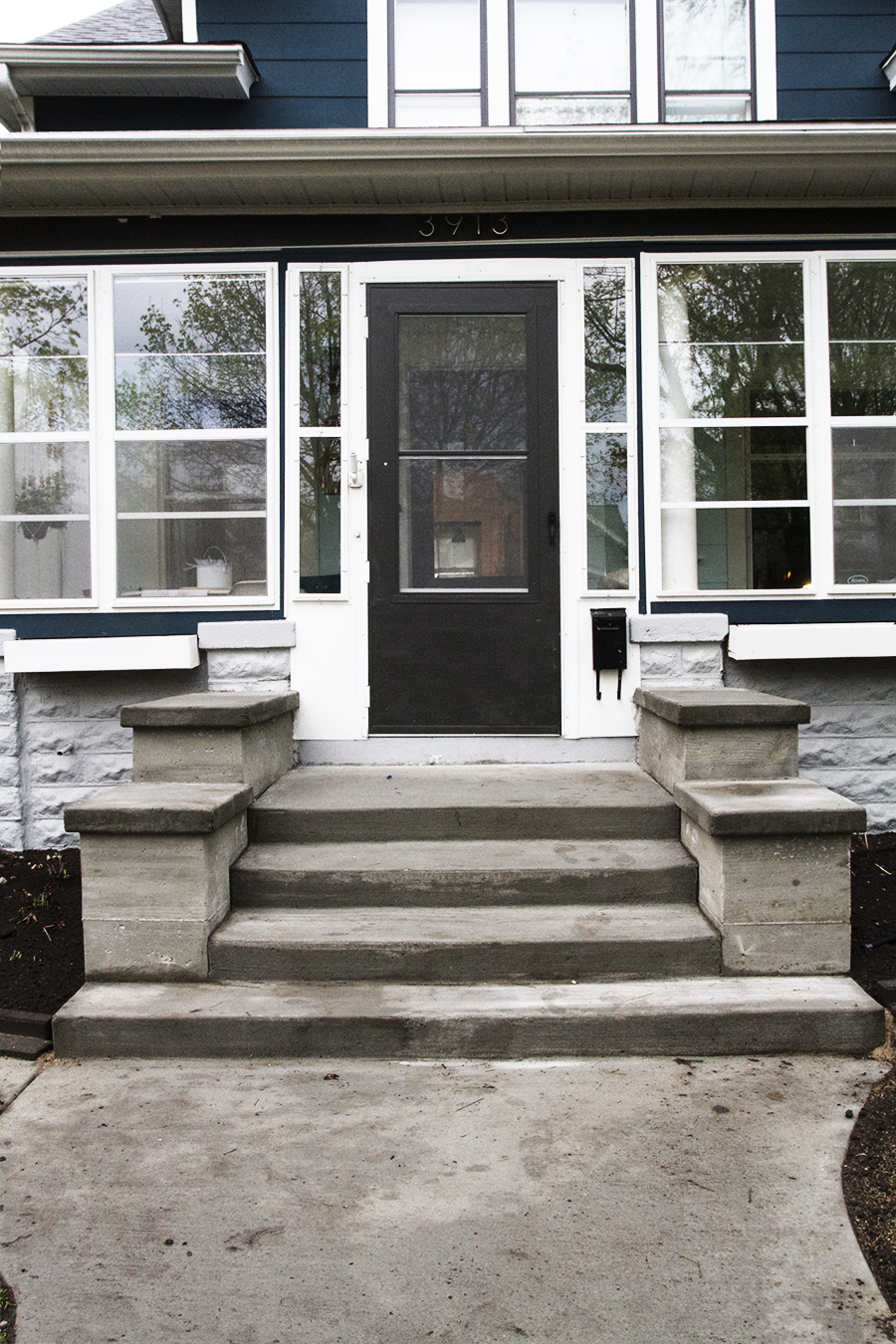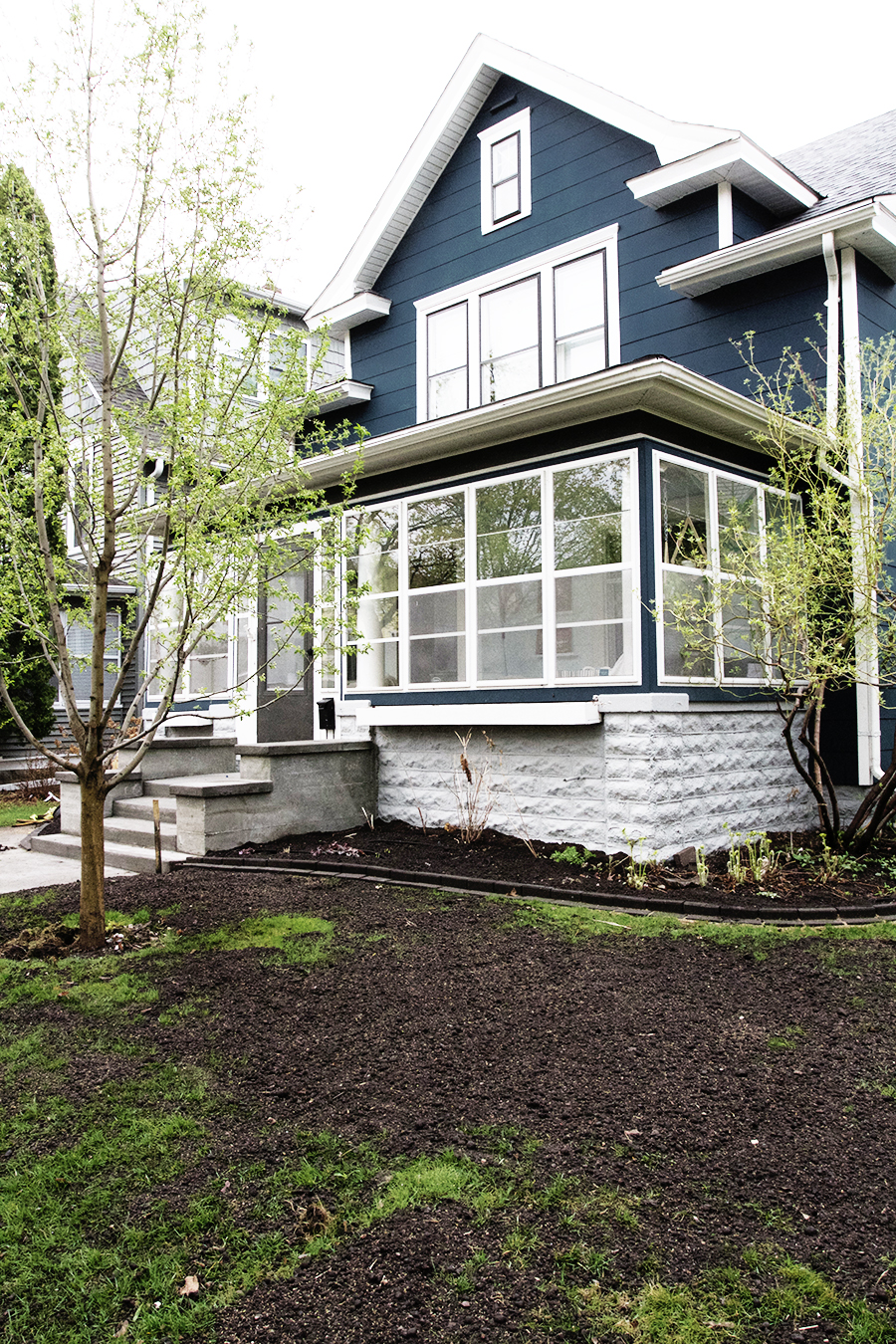 So it might not be perfectly realized yet, but it's getting there. I spent the better half of the last week digging out my flower beds, removing and installing the edging (again) and grading the front lawn. I've moved at least a yard and a half of top soil, and am feeling buff (and sore). Now I'm waiting for grass seed to grow, and thankful that we got this taken care of at the beginning of the season, allowing lots of time for healing during the summer.
Sometime in the coming weeks I plan on taking a trip to the architectural salvage place and finding a pained storm door. Maybe one day we will spend all the money to remove the asbestos siding and restore the clapboard siding, trim and soffits, maybe we'll restore the porch windows at the same time, and maybe someday the the big dream would be realized. Maybe.