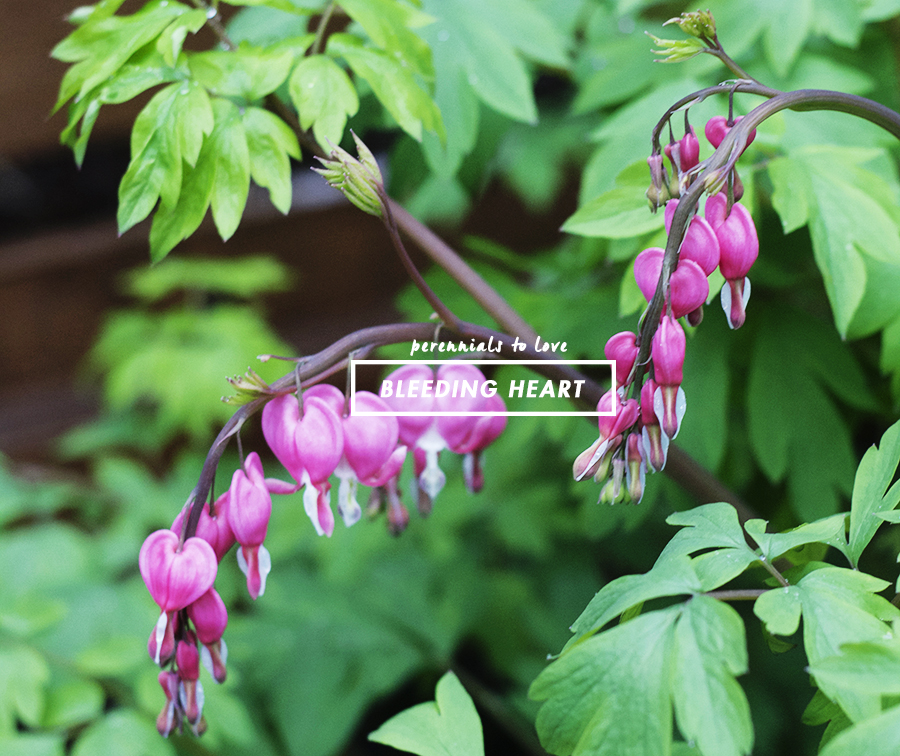 Remember how I was doing that indoor plant feature-thing throughout the last few months? I decided to extend it into the summer, sharing my favorite perennial plants, and then getting back to featuring indoor plants again in the fall. The idea is that I'd talk about perennials from my garden as they are blooming, that way you guys can get a feel for how I choose plants and edit my flower beds – and maybe even apply it to your own. I'll be including all important info like the size of the plant, sun preferences, watering, and blooming cycle. It should be noted, because we live in Minneapolis, these suggestions will work especially well for people living in northern part of the United States.
My favorite spring perennial in the garden is the Bleeding Heart. It is almost always the first plant I see emerging, and it grows very quickly in the early spring, making for fun garden watching. The plant starts as a few pink or green shoots, and within days tiny feather-like leaves begin to appear, before you know it, arching branches of heart shaped flowers hang amongst lush green foliage.
Typically this plant prefers a shady to partial sunny spot in your garden – think cool and moist. In my garden my Bleeding Heart is located in a spot that boasts nearly full sun, I've read that is possible because we are located so far north – lucky for me. My particular plant is a monster too! It becomes very bushy, and it can grow to at least 3 feet wide and 3 feet tall (larger than typical)! Bleeding Hearts can be found with dark green foliage and pink flowers, and lighter green foliage and white leaves, I have both.
You will notice as the summer moves forward that the stalks will begin to yellow, it's at this point that I will begin to trim the Bleeding Heart back, sculpting it as I go to make sure to keep the most interesting looking branches, the leaves are nearly as pretty and architectural as the flower. It is also okay to cut the plant back completely. Please note: don't cut back your plant before it yellows as it is storing food reserves for the next years growing season.
To propagate, divide Bleeding Hearts in the early spring when they first begin to emerge from the ground, gently separating at the roots.
Botanical name:
Lamprocapnos spectabilis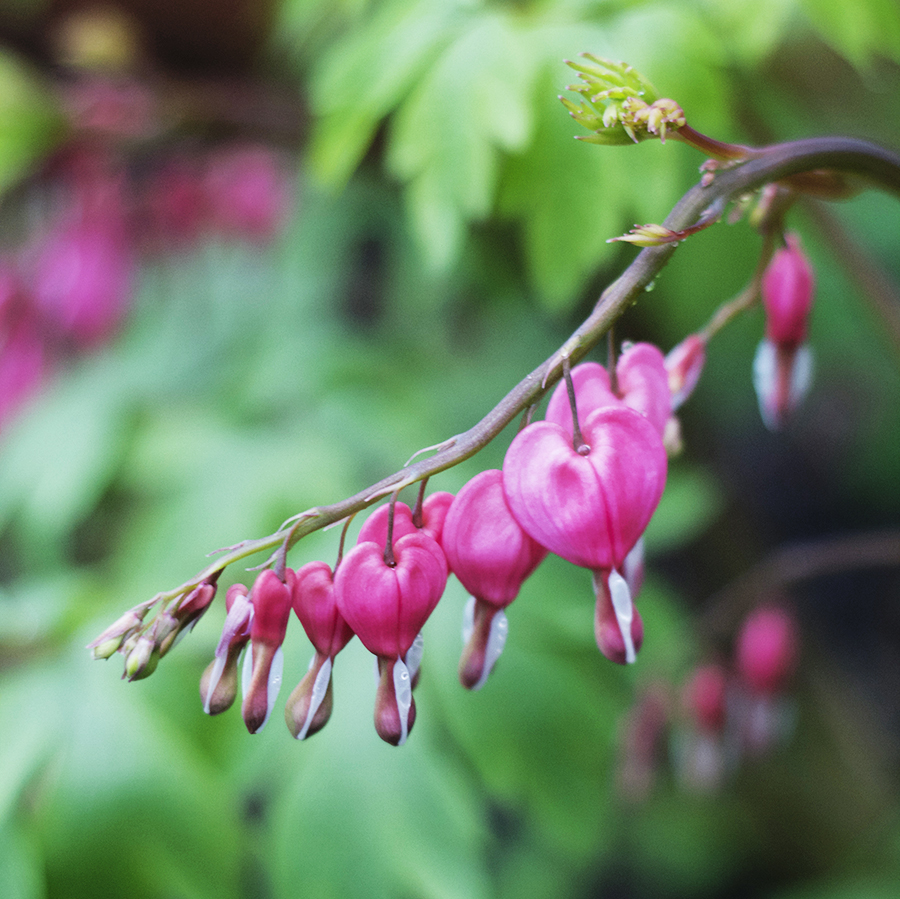 Light:
Prefers shade to partial shade, but in norther zones can handle being in fuller sun.
Watering:
Likes moist soil amended with compost.
Size:
Can grow up to 2 feet wide and 2 feet tall.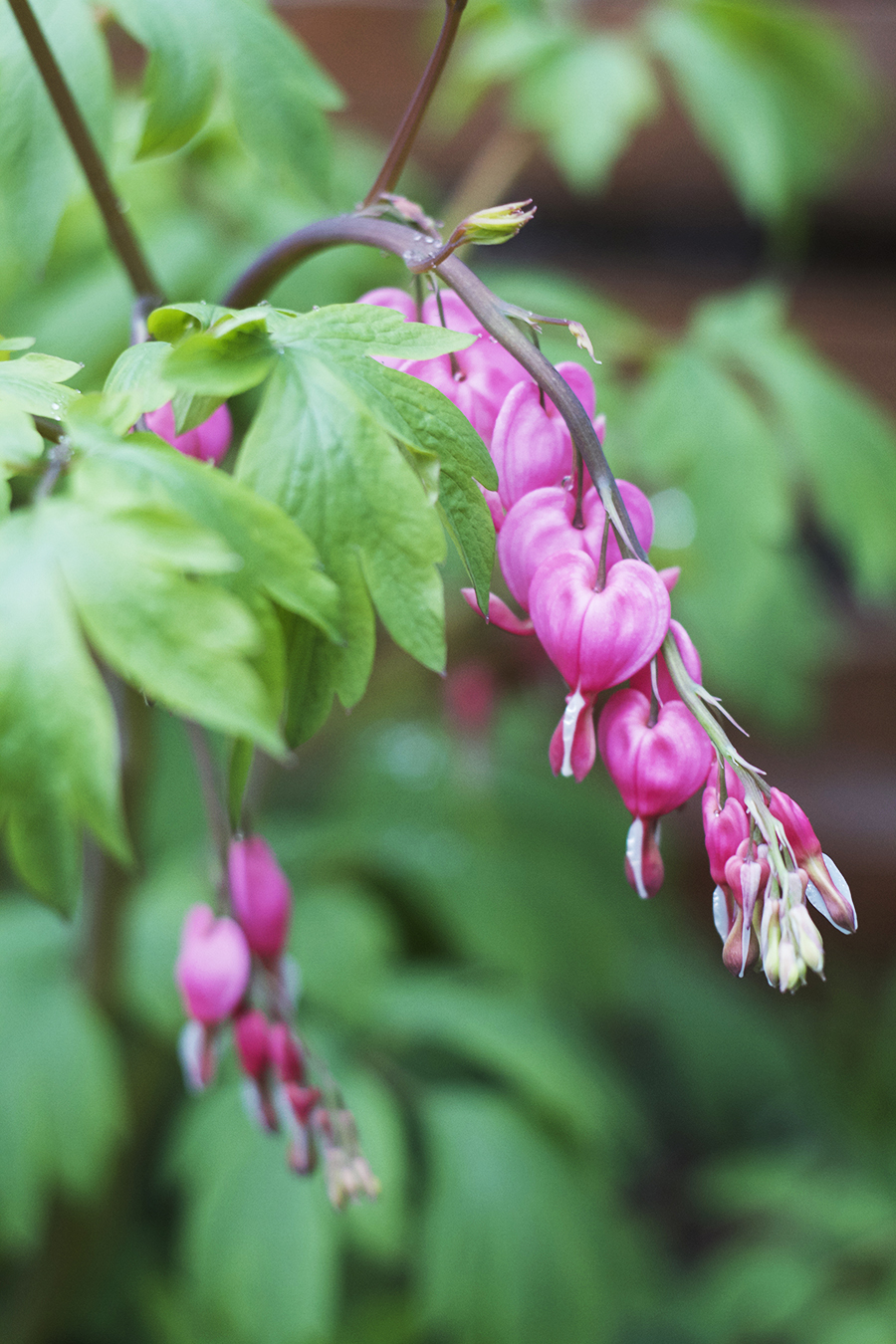 For anyone who wants to start a perennial garden or add something new to an existing garden, I highly recommend this plant, it's easy to grow and, really enjoyable to watch in the spring.