Hey Guys! Lots to share with you this week. My kids are out at Grammy Camp (aka an awesome-fun-time with their Grandma, and an even better more productive time for me) and I've got plans to get tons done around the blog. Anyway, I wanted to start with a quick little basement update. I meant to share where we were at last week, but then the cabyn lyfe took over and I never got around to it. Sorr-izzle.
Today I'm sharing where the basement is as of this morning, exactly two weeks since the project has started.
The house is really busy, and it's all been pretty exciting. I like checking in and seeing what all the worker bros are up to. The crew has been great, and respect me as a lady who might know a thing or two about how things get built. As of yet, I haven't been too hands on with the project – but the guys have let me know when there is something I can do to help cut costs. I'm planning on doing lots of the finishing work once we get to that point.
So here's a few not so pretty pics of the progress:
The biggest difference (besides the demo) is the new concrete floors. We will be laying down a premium vinyl floor that has the look of real wood (wood in the basement, not a good idea), and we needed a flat surface to work from. Our hope was that the floor under the ceramic tile would be good enough to use, but the mortar and tile pulled off the century old concrete in big chunks. It wasn't going to be a simple patch job. The concrete floor was our first unexpected cost. Fingers crossed there won't be any more.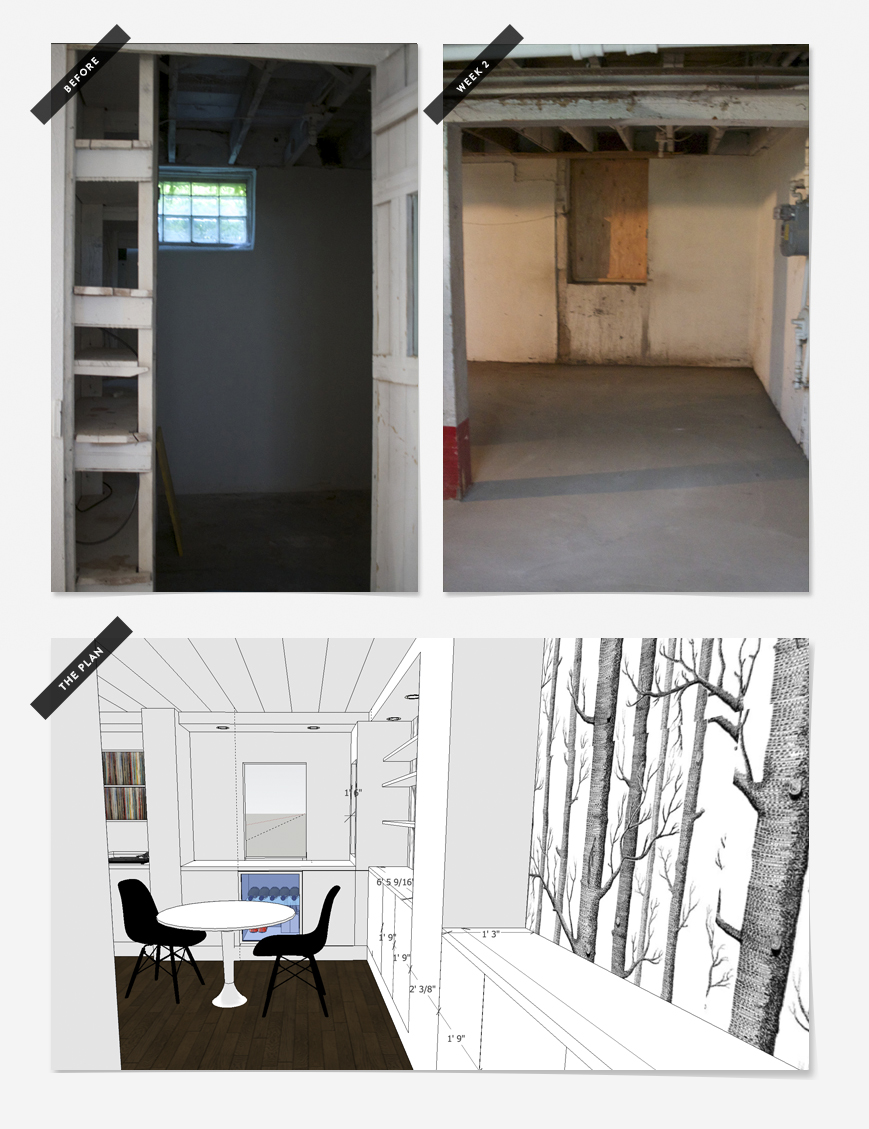 The room looks huge with this storage space out of it. It's hard to tell from the pictures but it greatly opens up the space. Do you notice anything else? That's our new egress-ish window space! They needed to cut the window space out earlier than needed so that they'd have a space to get the concrete in. We're calling it an egress-ish window because it doesn't open up to the 36″ space because a real egress window would cut right into my garden path along the veggie gardens. We won't be putting a bedroom down here, so we can get away with a 24″ window space. Cool, huh?
Look! No more glass black bar or drop tile ceiling! And the washer and dryer have been moved to their new home in the laundry room!
Progress Report : Week 2
Demo'd Basement
Removed Floor Tile
Replaced & Removed Plumbing
Cut out for Larger Egress-ish Window
Smoothed out Floor with 1.5″ of Concrete
Check in next week for the next update – hopefully we'll have the gas meter moved and framing underway!