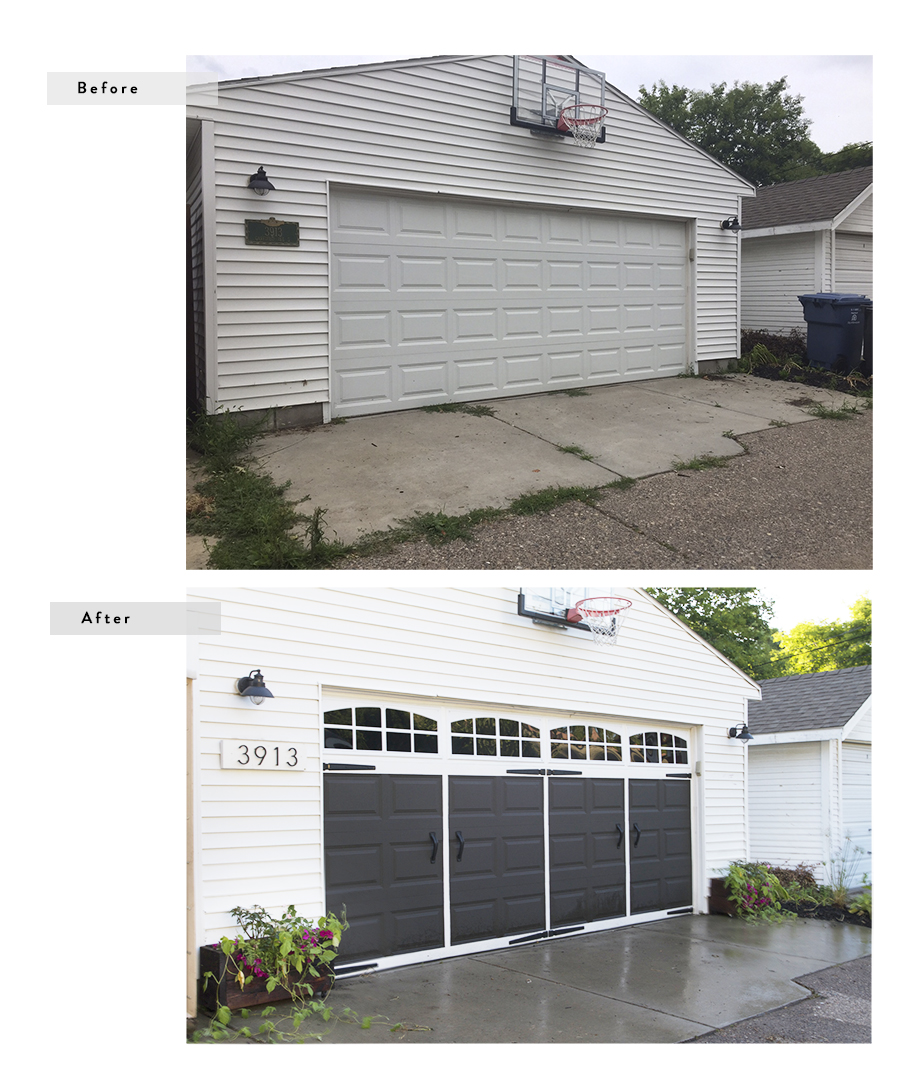 Whazzup all you cool people? I have a sweet makeover to share with you today facilitated by my nice neighborly pals over at Ace Hardware, (thanks Ace, you da best!).
Us Ace bloggers were asked to get really in depth on a project this summer, something that we were really itching to get at. I knew right away that I had to tackle my garage. I have a few good reasons for this. Firstly, the exterior of it is so boring; white vinyl siding paired with a plain white aluminum door leaves much to be desired. I'm thankful that the garage is newer and not slanting to its side like so many of those hundred year old garages around here, but it needed a facelift for sure. Secondly, the interior (which I'll get to in a future post), is filled to the brim with tons and tons of crap – you know, all that stuff that doesn't go anywhere else – and needs to be sorted through and organized.
Here in MPLS (aka Minneapolis) most of us residents access our garages via an alley way behind our homes. Now, this is nice for many of us, it prevents our small-ish (all is relative) yards from be eaten up by driveways, sadly though, there is a down side to alley lyfe. It is not popular in my neighborhood to keep a pretty garage or alley facade. Alley ways are strictly utilitarian and are strewn with garbage cans, recycling bins, yard waste and so on. It should be noted, that I carefully cropped a temporary port-a-potty out of these pics – point is, anything goes in the alley.
I didn't want my garage to fall by the wayside like so many others and wondered what would happen to the culture of our alley if I spent some time and gave it a quick but purposeful face lift. Could I inspire other folks in the neighborhood to pretty up their alley appeal™ too?
I purchased a can of paint, some painters tape, a set of faux windows, and some decorative hardware, and guess what? The garage looks way better! Now, this isn't my dream garage, and I know it looks a little fake-y, but when you're putting lipstick on a pig, isn't the lipstick better than just the ugly old pig? I think the answer is "heck yeah it is".
Of course I topped it off with my number one pretty-it-up-go-to-solution, FLOWERS, dur. Earlier this summer I threw some Morning Glory seeds in the planters I built last summer and added some impatiens and cascading petunias to the flower boxes as well. The dirt piles on the edges of our concrete pad got a flower facelift too. I used some tall ornamental grasses (King Tut), a few Day Lilies and Hostas transplanted from the backyard, and Zinnias to make those dirt patches shine. All alleys deserve a little flower love.
The house numbers got updated too, I had an extra set of nums from when we had the house painted a few years back. I quickly mounted them on a board painted white, and attached the spiffed up numbers with a few wood screws, and blamo!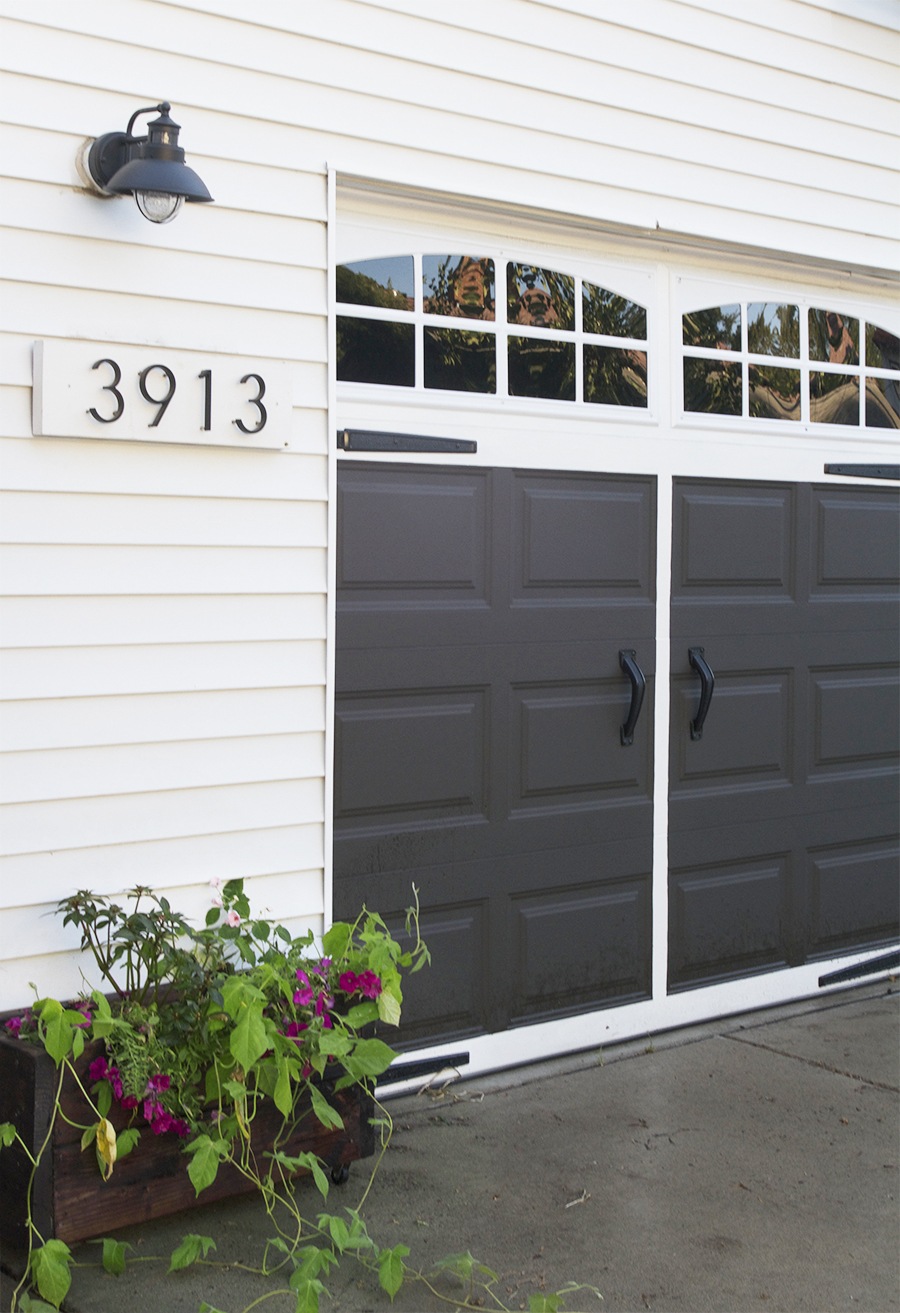 I didn't know this was a thing, but when researching how to make my garage prettier, I ran across these faux windows
. They are black plexi-glass trimmed out in paintable vinyl to give the appearance of real live windows, and they can be attached to most typical garage doors in just a few minutes. The down side is that you get one design option. I searched and searched, but I could only come across one manufacturer producing one type of faux window. Beggars can't be choosers, and even though it wasn't my preferred faux-window-style, I decided to go for it. After all, I was after a carriage-door look, and all good carriage doors are known for their iconic windows – I'm sold. To complete the garages new look I needed to fancy it up with some decorative hardware. Guess what? They make decorative hardware
fer garages too! I didn't want anything super ornate and was able to find simple hardware on this thing they have called the internet.
Hey, if you try and take on a project similar, here are a few cool tips to take note of.
↬ Check the weather, you don't want to start this project if rain is in the forecast.
↬ Don't paint on a hot day in direct sunlight, the paint will gum up. Make sure to paint on a cool overcast day or in the shade.
↬ Use exterior paint! This garage will need to stand up to a lot of weather wear so make sure you are making the proper paint choice. I talked to my bros over at Ace and they recommended
Clark+Kensington exterior paint
(in flat) and they even color matched it to match my storm windows.
↬ Roll on your paint and then use a brush to smooth it out. It's obvious when you use a roller, so make it look natural and use a brush to smooth out the rails and stiles of the garage door.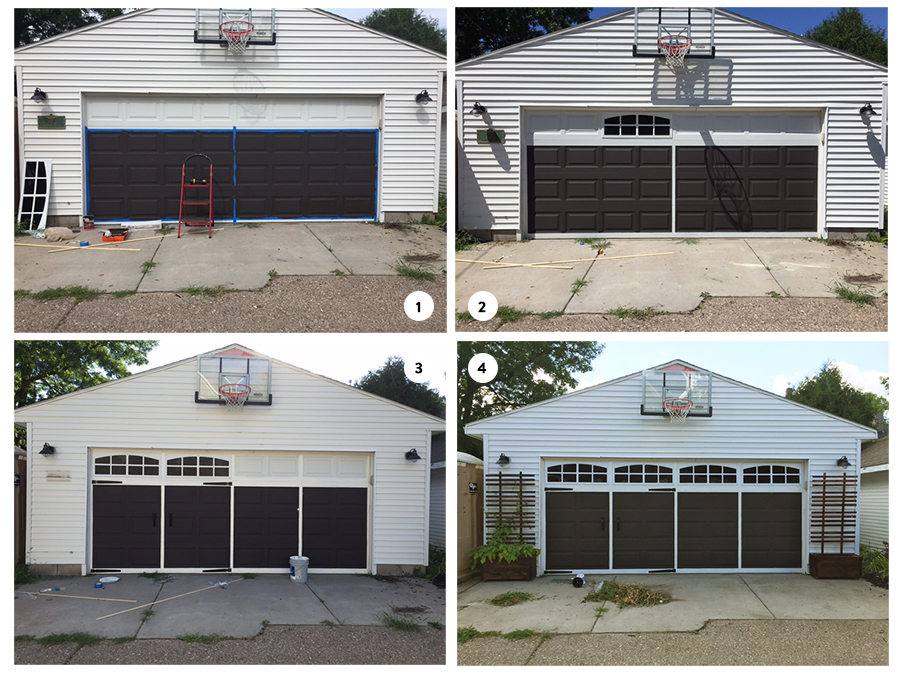 All in an afternoons work – so get out there and pretty up your neighborhood alley-way already!
Tell me, does your house or apartment have an alley too? How does your neighborhood approach alley appeal?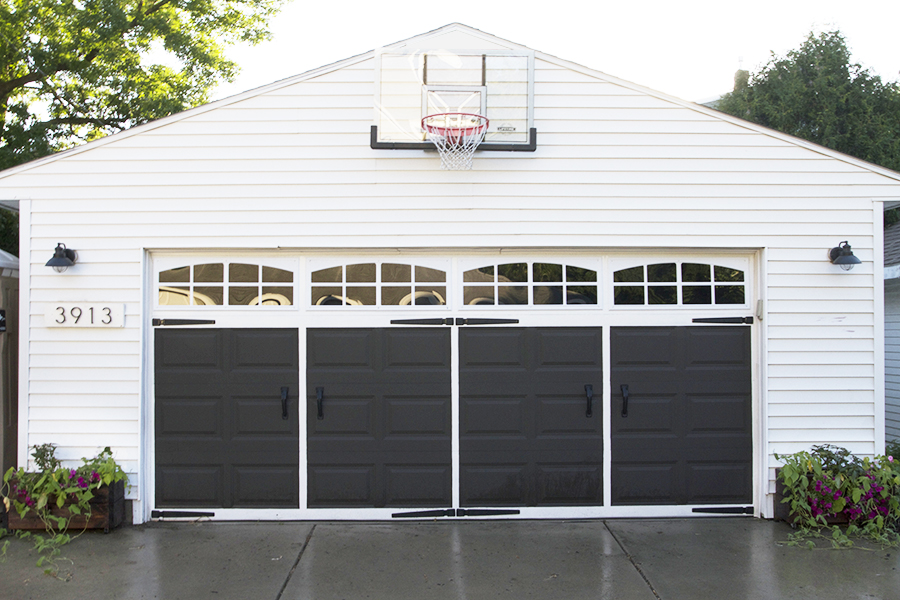 I'm excited to be collaborating with
Ace Hardware
as a part of their
Ace Blogger Panel
! Ace has provided me with compensation and some of the materials necessary to complete this project! All opinions are my own. Thanks a biznillion, Ace!