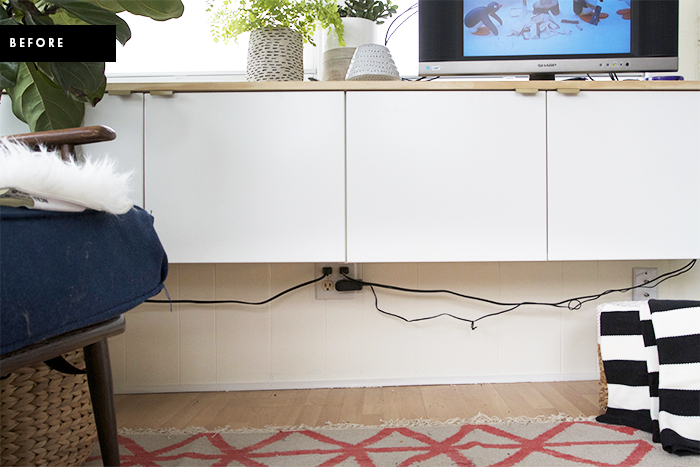 Ha, if you thought this post was about Minneapolis' very own 90's-indie-rock band, The Hidden Chord, I really got you fooled. Props to those who got the very obscure reference, to the majority of you who have no idea what I am talking about, I sincerely apologize. This post is actually about hiding unsightly cords and cables. Okay, okay, so I'm not reinventing the wheel or anything, you guys probably know all about products that make it easy to disguise your cords. Cable upkeep is often overlooked and just happened to be one of the last things on my sunroom-makeover to-do list. Since it's cold, grey and still not springy out, I took I'd take it upon myself to finish this one last task while at the same time reminding you all to put cord tidying on your spring to-do list.
I'm sure you never noticed these cords in my sunroom photos I shared two weeks ago, that's because my photographs are just lies. LIES! I hide all that ugly stuff in secret hiding spots or sometimes, gasp, I even photoshop them out. If you guys even knew the truth. For instance in my living room, there is a piece of artwork that is not centered on the wall – instead of taking out a hammer and nail and centering the frame like a normal person would, I photoshop it into place every single time I share photos of my living room with you. I am such a liar, you guys! Sometimes living the lie just seems easier and more convenient then facing facts, manning up and tidying up my space. I promise, I'll hide the cords and yes, I'll even get out my hammer and a nail and adjust the artwork on the living room wall. Sheesh.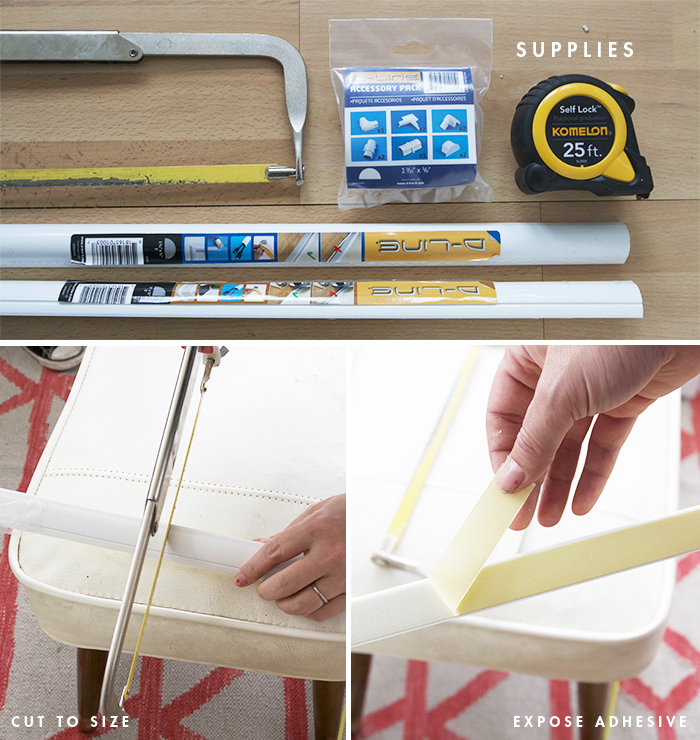 Okay, so if you've never used these cable channels before they are really easy to install. They come in different sizes and shapes. Above I am using a quarter round and a half round style from D-Line. The quarter round gives you the option of trimming out baseboard moldings as a way to super-sneaklily-disguise your cords and cables. Almost all of the products on the market these days are paintable too, so it makes it really easy to hide away your technological mess. I picked up these white channels at my local hardware store.
The installation is very basic. All you have to do is measure the length you need, cut the cover to the desired length using a hacksaw, or if you feel like investing 40 bucks into your project, you can purchase a special-fancy-channel-cutter that just screams major rip-off. It also should be noted that it is super easy to purchase corner pieces and other types of connectors so that you can wrap around almost any wall or corner. Once you've cut your piece to size, peel back the adhesive strip and apply it to your desired location. The channel opens completely allowing for multiple cords and cables to be laid inside. A quick snap and it closes right up. The cable cover opens and closes easily so more cords can be added or removed over time.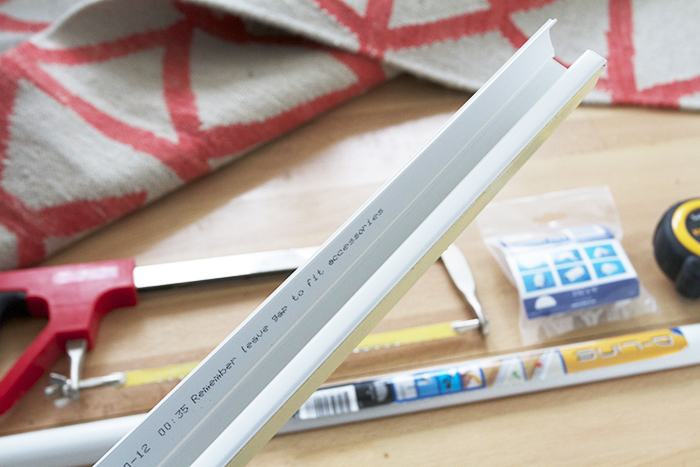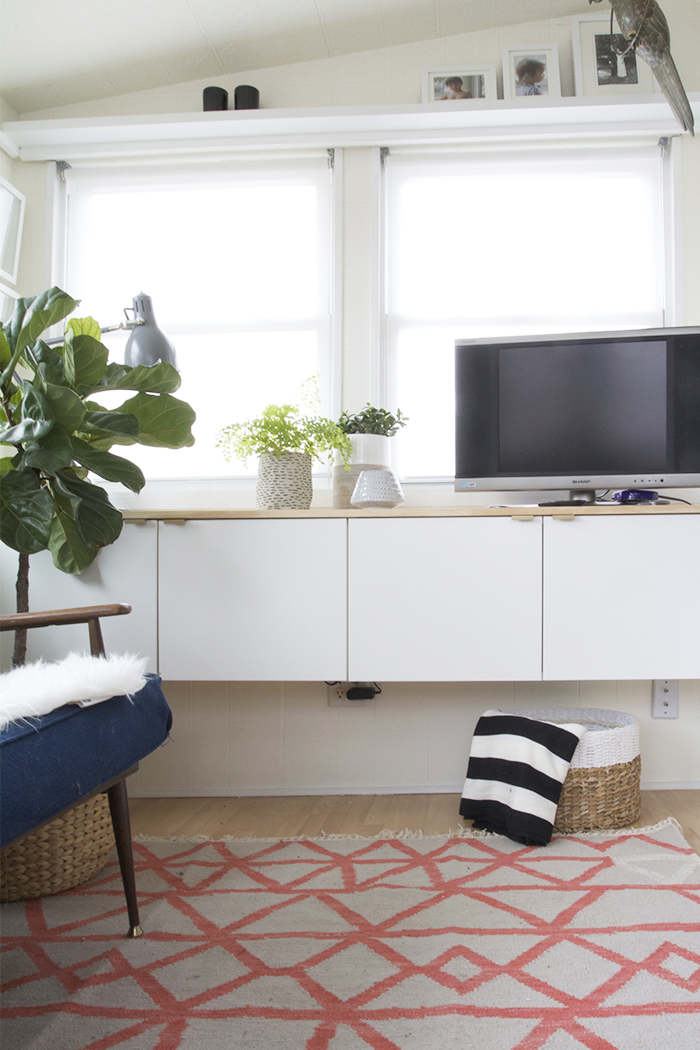 Look, no photoshopping! There is barely any sign of those cables now! I'm not a liar, and my nose is shrinking!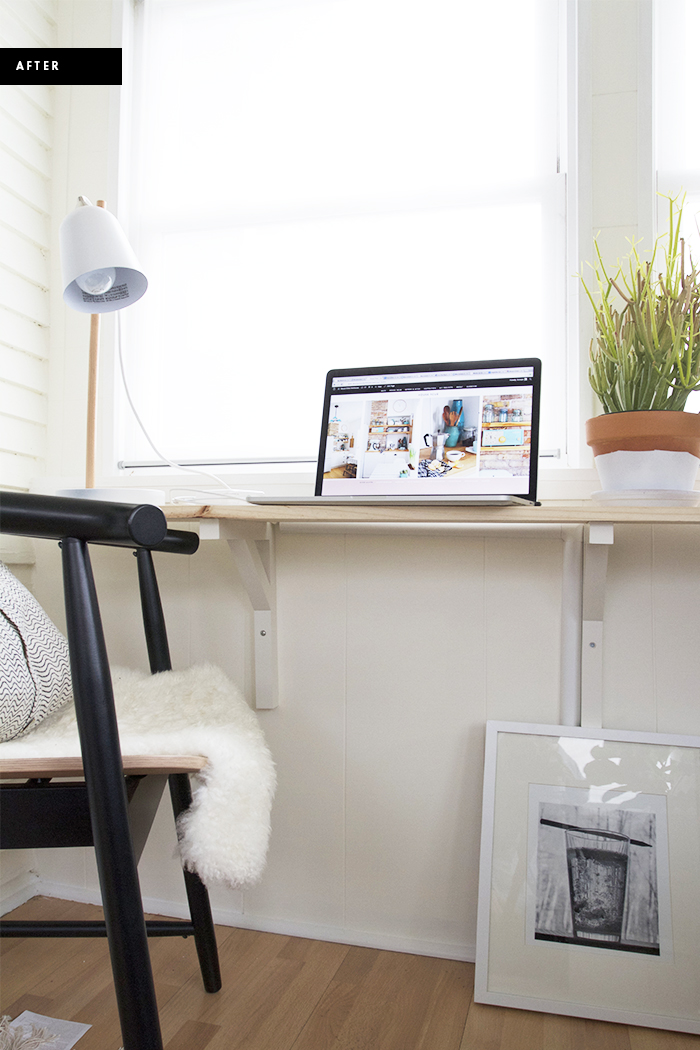 I repeated the process on the other side of the room where I have been using this shallow shelf as my desk. I ran a channel behind the shelving and down the side of the shelving bracket using the half round channel and a right angle piece. I finished it off by hiding the electrical outlet with a piece of artwork. Better, right? Now I just need a few more indoor projects to work on while I wait for this very tardy spring to arrive. Just get here already, spring!