Hello from the land of viral pneumonia and snow flurries. The kids and I are all super sick because we just had to end the cold & flu season with one more major illness. We started spring with a bang, and by bang I don't mean excitement and anticipation, I mean the opposite of that. Okay, I know I am being the world's biggest negative nelly, I'm just so over cold, snow, winter, being inside, grey days and sickness. Can't a girl get a break? Oh wait, I just did… in Atlanta… with Bruce. I honestly don't mean to sound like a major whiney bummer (although I know I do), I really am trying to keep it positive and look on the bright side, you guys. For instance, my plants give me hope. They are small and tiny, but growing! Big changes in my garden are happening!
I bundled up to brave the cold and rain just to take a few photos of my April garden so I could continue on the monthly-garden-photo-sharing tradition. I've been taking monthly photos of my garden for the last two gardening seasons. It's been fun to share the small improvements in my garden with all of you. I hope you guys enjoy seeing what I am up to, but I have to admit taking these photos is partly selfish. It's been really great to have these images as reference to look back at when I get the gardening itch mid-January or so. I've been pouring over old garden photos for the last few weeks getting myself super amped and excited to see my plants. After 7 long months, I really do begin to miss them.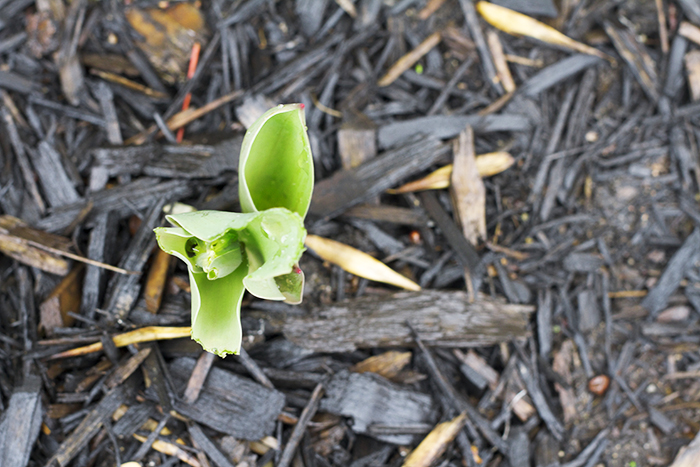 The rabbits like my Tulips.