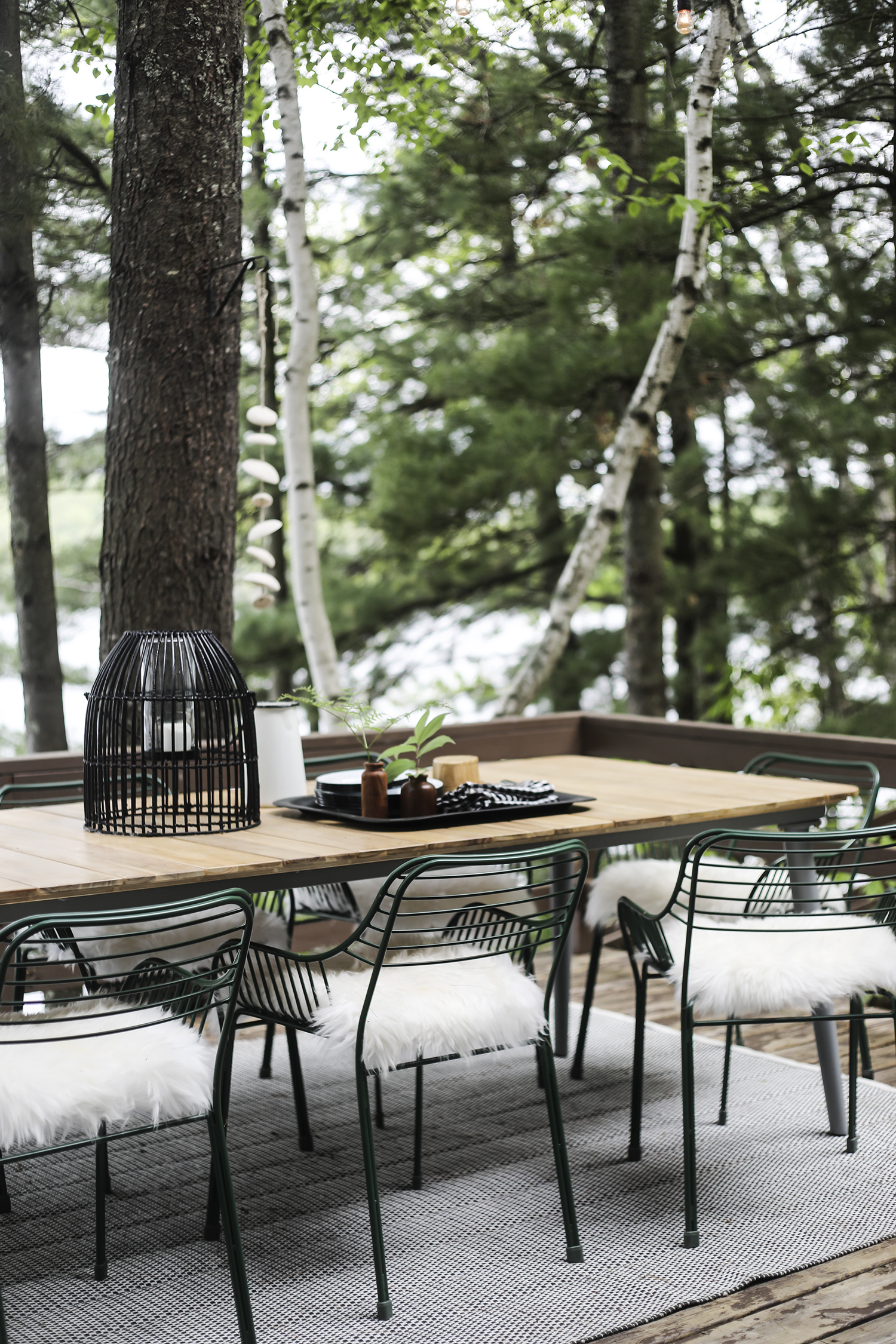 Ooooh, I'm so excited to share with you guys so many outdoor spaces at the cabin this year! To bring you up to speed,
we purchased our Northwoods Wisconsin (aka West Wisco) cabin
nearly two years ago. We've done a lot of improvements to the interior spaces since moving in August of 2017, and the outdoor spaces were left by the wayside. That period of neglect is over, people! We have so much improving happening in our exterior hang spaces this summer, specifically expanding our lake dock, landscaping and gardening, exterior painting, staining the deck and making the most of our deck views. One of the best spaces of the entire cabin is on our deck overlooking our lake. We have the luxury of being very close to the water since our cab was built over 50 years ago, due to changing building codes it would be impossible to build this close to the water in 2019. Because of our proximity, we have views of our lake from nearly every window and the best is right off our deck.
We've wanted to maximize our deck space since we moved in but with so much else to focus on, we only got as far as spray painting some metal chairs and setting up a table to get us through last summer's entertaining season. This year was meant to be different, so when my friends at Article got in touch with me and introduced me to their 2019 line of outdoor furniture, I was like "uh, yeah" I have the perfect setting to drop your beautiful outdoor furniture into.
First of all, let me start by telling ya that Article has made patio shopping easy, just in case you are racked by indecision. They have put together three signature looks for summer (Garden Scandi, Industrial Pop, and Boho Patio) I was def Garden Scandi, duh. The best part is any of the furniture can be mixed and matched easily allowing you to customize your look. I also like that they offer pieces at all price points so you can customize based on your budget too.
I had a few requirements when it came to choosing an outdoor dining set for our cabin deck. I wanted it to fit at least 8 easily, the space is big enough that we can fit a large amount of people around the table, and since we are often hosting guests, we needed to have a large table to do so. I also wanted to have the furniture be non-invasive, which is a weird requirement, I know. What I mean by that is that I didn't want it to be so chunky and oversized that it would block our view of the lake from inside our cabin. I also wanted it to look modern and minimal, with a nod to Scandinavian aesthetic which has been a repeating inspiration for the rest of the spaces in our cabin. It's a good look to outline your requirements before you begin the hunt for your outdoor furniture.
I decided that the Latta table hit all the right marks for us. It's trim, but well built. The rustic Acacia wood slats rest on top of a powder-coated steel frame, so don't let it's petite profile fool you – it's a heavy duty piece of furniture. I love that it has a wood top, it fits into the woodland scene that surrounds our deck so perfectly. When the table arrived I was so impressed by how hefty this table is. It's a very sturdy table, and the wood slats are more generous in girth than I would have imagined from the photos on the Article site. I've also had an Acacia wood top table before, and I know how easily they can be spiffed up from season to season. Article recommends a soft bristle brush and water to clean of dirt and mildew that will accumulate after being outdoors, but in the years to come I anticipate that it will need a seasonal sanding and a drink of wood oil. The thing is, I'm sure it will last a long time! For right now, soap and water is all it takes to maintain the lush matte finish.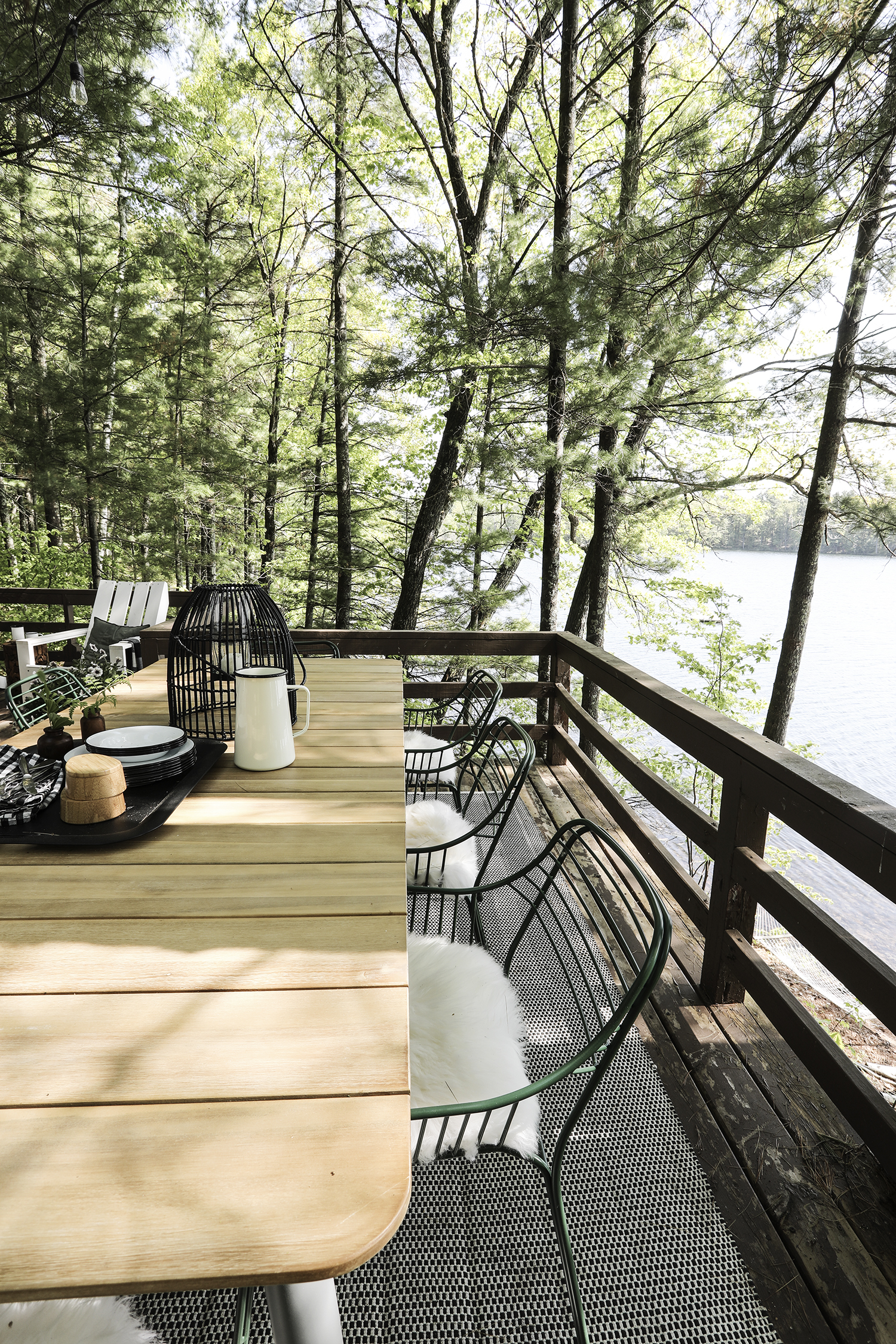 Can I just take a second to say, this is the third time I've worked with
Article
, (they've also helped improve our
dining room
and
basement living area
) and I am always so impressed by the quality of their furniture IRL. I'm not saying it looks crappy on the internet, I'm just saying that when you finally get to touch, feel, and see it with your own eyes, the quality is never disappointing and always better than what you would've expected.
The Caya chairs were a no brainer. These powder-coated, matte finish, metal chairs have it all. They are petit and airy and don't impede the views from inside the cabin. But most of all, I love the modern, graceful curves that are a nice juxtaposition to rustic nature of the scene. They're also colorful! They come in black, white, blush and this grasshopper green. I do have a fondness for sprinkling (yep, just wrote that and gonna keep it) green accents throughout the cabin decor, and I was excited that I could do so with an outdoor chair! Don't let those elegant lines fool you though, these chairs are beefy. I mean, they are heavy! These babies aren't going to blow away in a storm, they are built tough and I'm sure that they will last a super long time – without question!
I did have concerns about the metal chair slats on bare swimsuit legs in the summer – you know what I'm saying SHES? I ordered faux sheepskin chair cushions to go with the set and all problems are solved! The cushions are not intended for all-weather, so I keep a basket near the table that I can easily through the cushions into and then bring inside at the end of the evening or before it rains. Plus they are pretty darn cabin-chic if you ask me.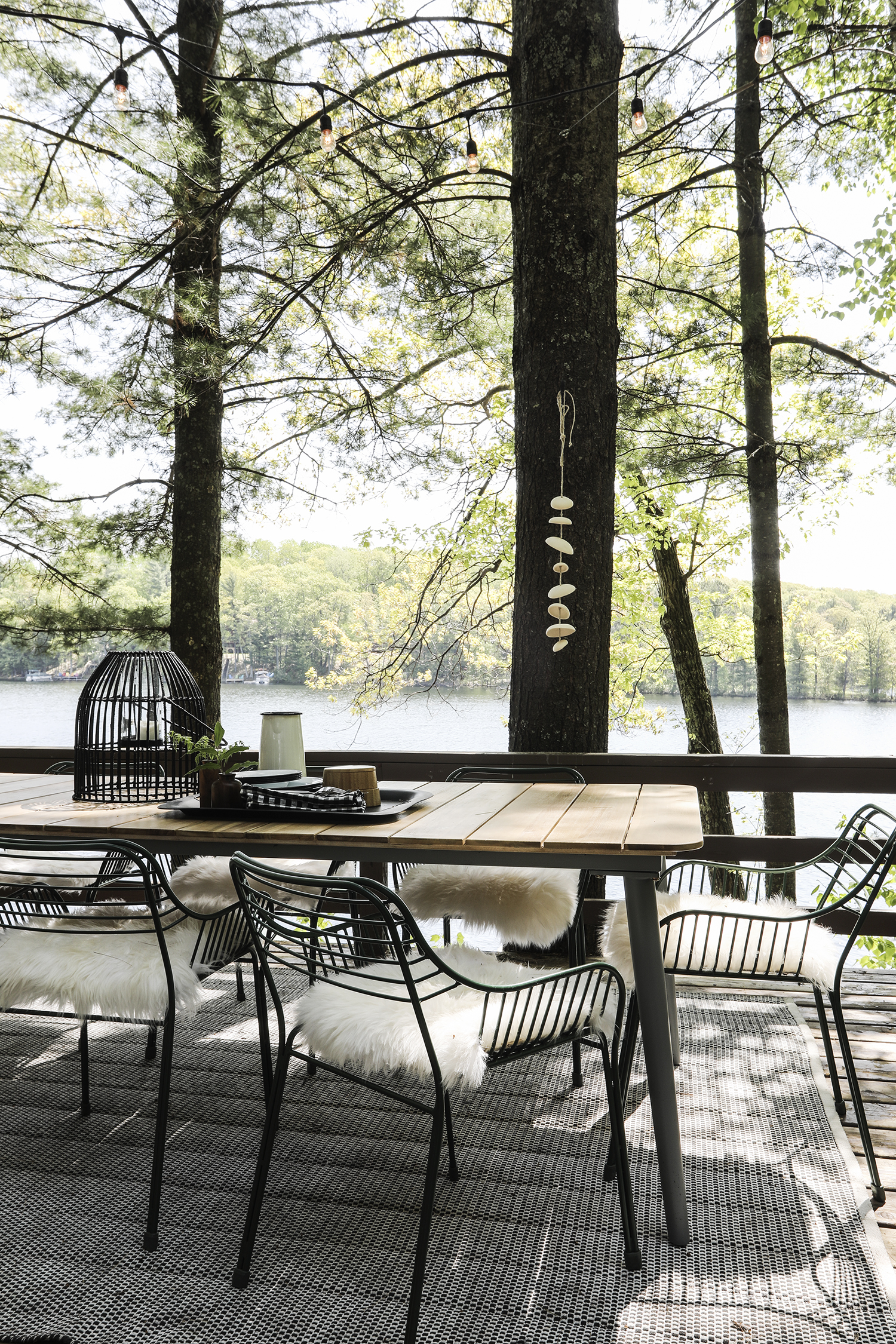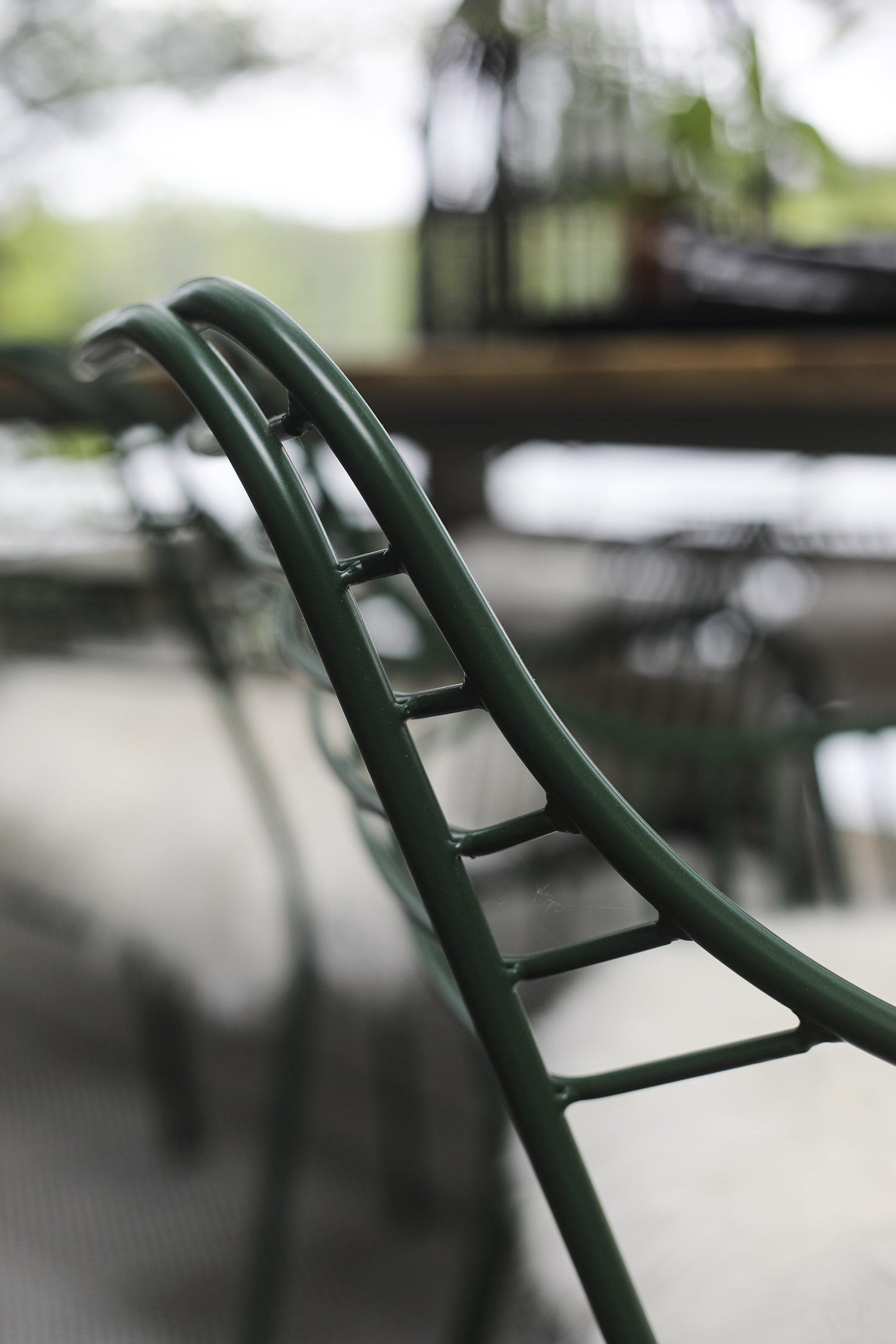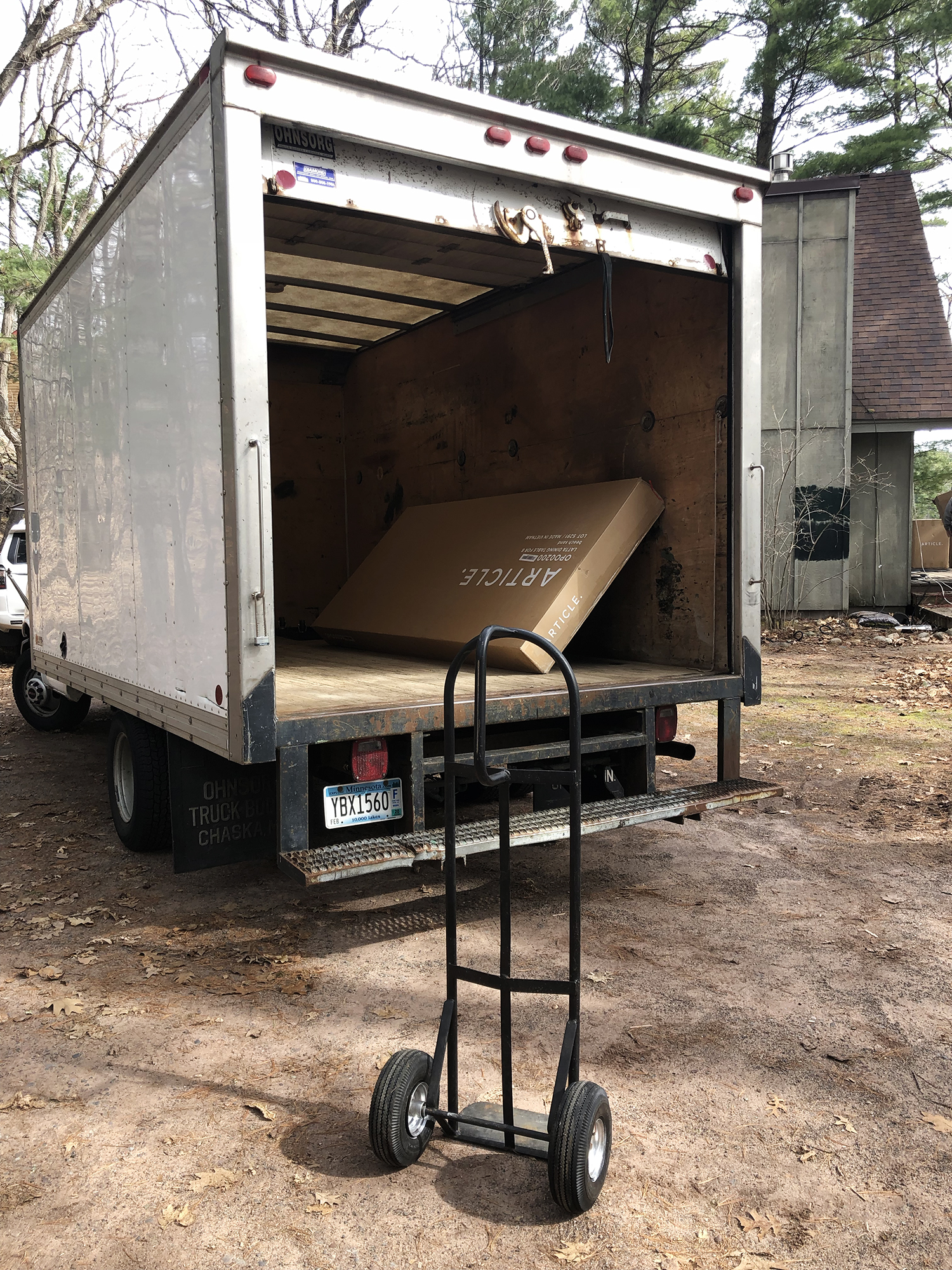 Article
does things a little differently than your typical furniture retailer. Instead of you going to a showroom to touch feel and bounce on furniture, Article brings the furniture to you! They make it easy to order online, and offer a 30-day return policy with no questions asked. That means if you order a sofa and you don't like the color, or it's too big in your room, or maybe it doesn't bounce how you would like it to when you sit your booty down, you can schedule a return just as easily as you ordered it. Because
Article
takes the brick and mortar showroom out of the equation they are able to provide great quality furniture at really good prices! Purchases above $999 ship free, ($49 if it's under) so it's likely you won't even have to worry about shipping cost. What I like best is that they allow and encourage comments on all of their furniture offerings so you can be confident with any furniture choices before you order it. Typically, they ship their furniture quickly, when you visit their site you'll see an estimated delivery clearly on each product page. I don't know about you, but I've waited 16 weeks to have a sofa delivered to me before, and it cost twice as much. Lame! Also, if you live down a steep hill in the northwoods of Wisconsin (or basically anywhere in the contiguous US and our neighbors to the north in Canada), they will deliver, unbox, and assemble your furniture for you. Isn't that great? I think it's awesome.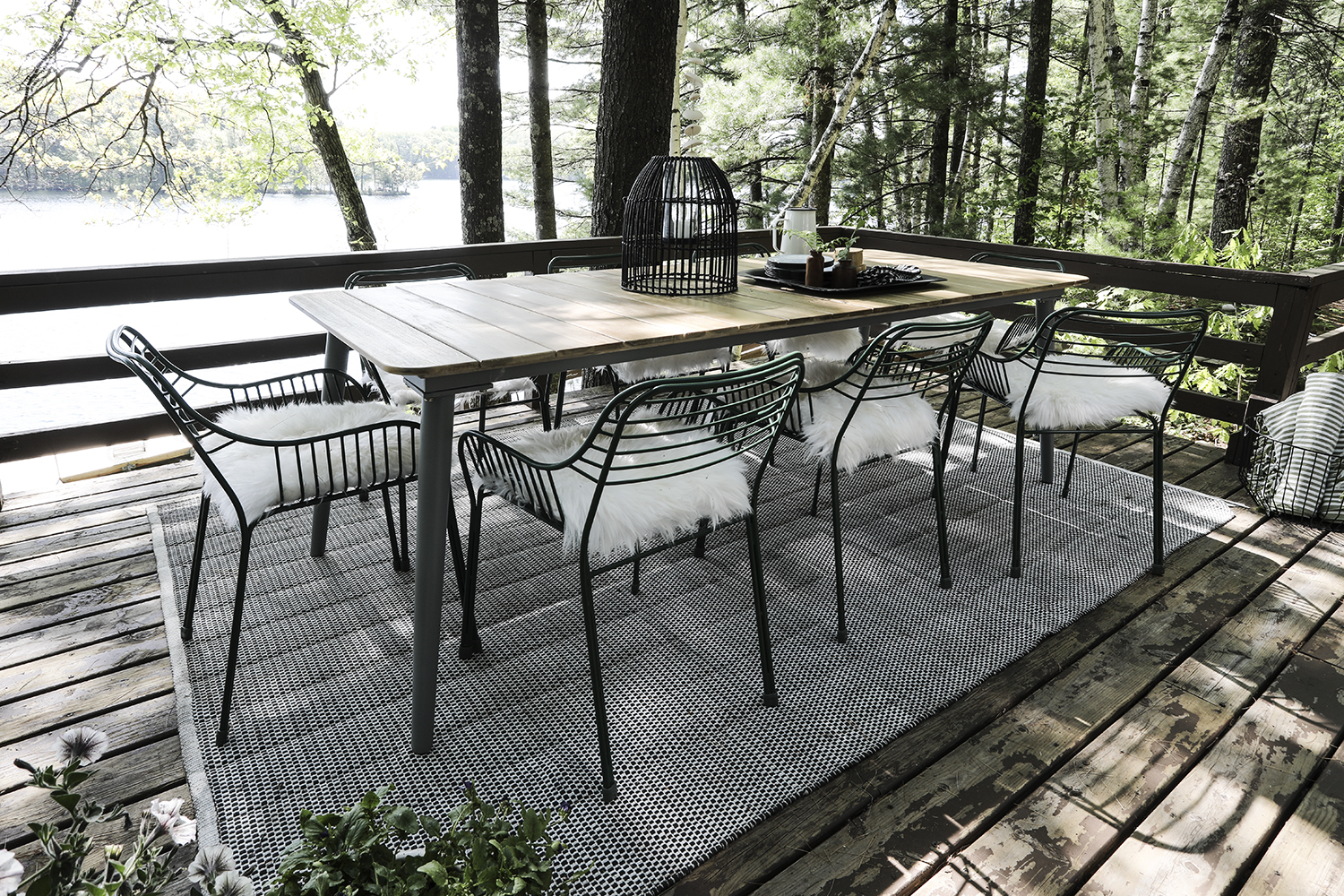 So, if it's cool with you guys, I'm going to say that I feel like I've gotten pretty good at making outdoor spaces a little magical over the years. It has taken some experimenting but I have found a few key elements to help make an outdoor space feel cozy, welcoming and maybe even a little magical.
Outdoor Pillows or Cushions
Just like on your interiors, pillows make a space feel cozy and allow you to add new textures, colors or graphic elements very easily. This is key. At the cabin I like to throw around a lot of green or buffalo check pillows – they do the trick and allow spaces that are using similar elements to feel related to one another. Cushions are also key for outdoor hangs. No one wants to sit their butt down on a cold surface, you need to get your budz a cushion! I love how the Lanna sheepskin cushions I used for the metal Caya chairs provide comfort, a cozy element, and repeat a texture found inside our cabin.
Add a Rug
This one is new to me. A few years back when I transformed our concrete parking slab and into a serene patio at our Minneapolis house, I laid down an outdoor rug for the first time and my world changed. Outdoor rugs are built to last, they can be easily be cleaned with a powerwasherer or sprayed down with a hose which rules. But best of all, they create that anchor that all spaces need. I now own three outdoor rugs and I don't know how I survived without them. They make the space feel like a defined space. Just get one and see, k?
Lighting is crucial
Lighting doesn't need to be anything major when it comes to outdoor spaces, it can be as simple as hanging some cafe lights, or setting out some candles, but it needs to be an element you consider. There's nothing better than lighting a few candles on a warm night while hanging with buds. I hung up our cabin cafe lights the day we moved in because I think it is that important for magic. Since our new outdoor dining space is near our exterior cabin lights I recently ordered some new house lights. Currently, we have two sconces on the exterior of the house that are not allowed to be turned on because they are ugly and give off dumb glaring light. These new lights will point the light down onto the sides of the house giving a nice ambient feel. I also am a big believer in landscape lighting, and even in the northwoods of west Wisco, I may have subtly lit a pine tree or two with a dramatic uplight.
Have Textiles on Hand
Whether it's at the cabin or in our own backyard, I like having textiles around to set the scene. At home, I have a stack of throw blankets that I'll take out to our back patio during an evening when we're doing movie night outside (or just late night music video watching after a few too many cocktails on the patio). At the cabin, that textile is a pretty basket full of beach towels that I move in and out of the cabin daily. If textiles are pretty they will look good wherever they are placed, even if it's inside during a rainstorm or out on the deck on a sunny afternoon. They add a softness, texture and pattern to the space – just like pillows do.
Potted Plants
This one might seem like a no-brainer but I do think it's easy to forget that potted plants add a lot to a space. On our cabin patio I set out three planters and I filled them with flowers from one hanging basket that I purchased from an outdoor garden stand at the grocery store for $39. It doesn't take a lot of cash to fill up those suckers, and it can add so much freshness to a space. I also recommend getting planters is varying sizes, but repeat either the color or texture in each planter.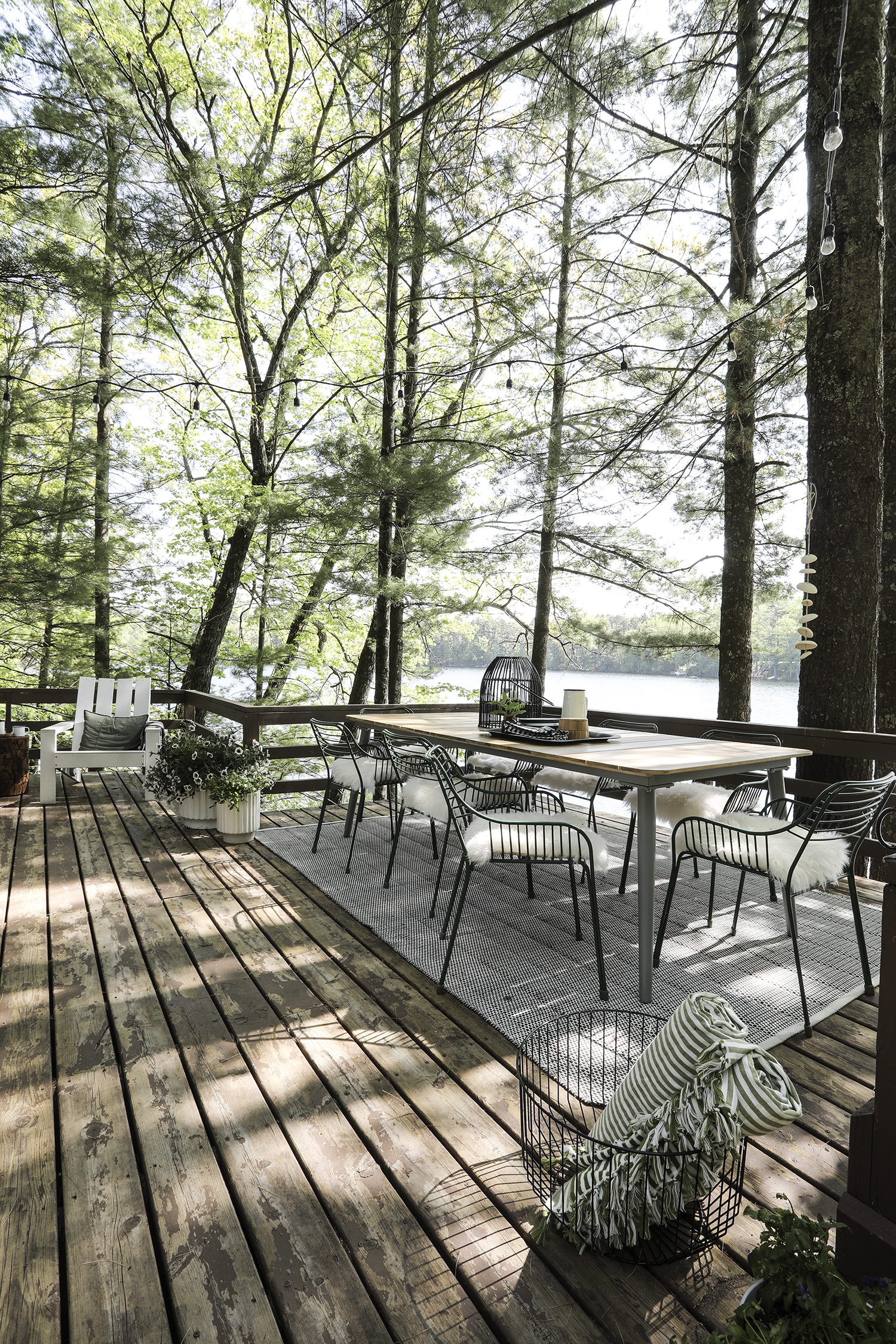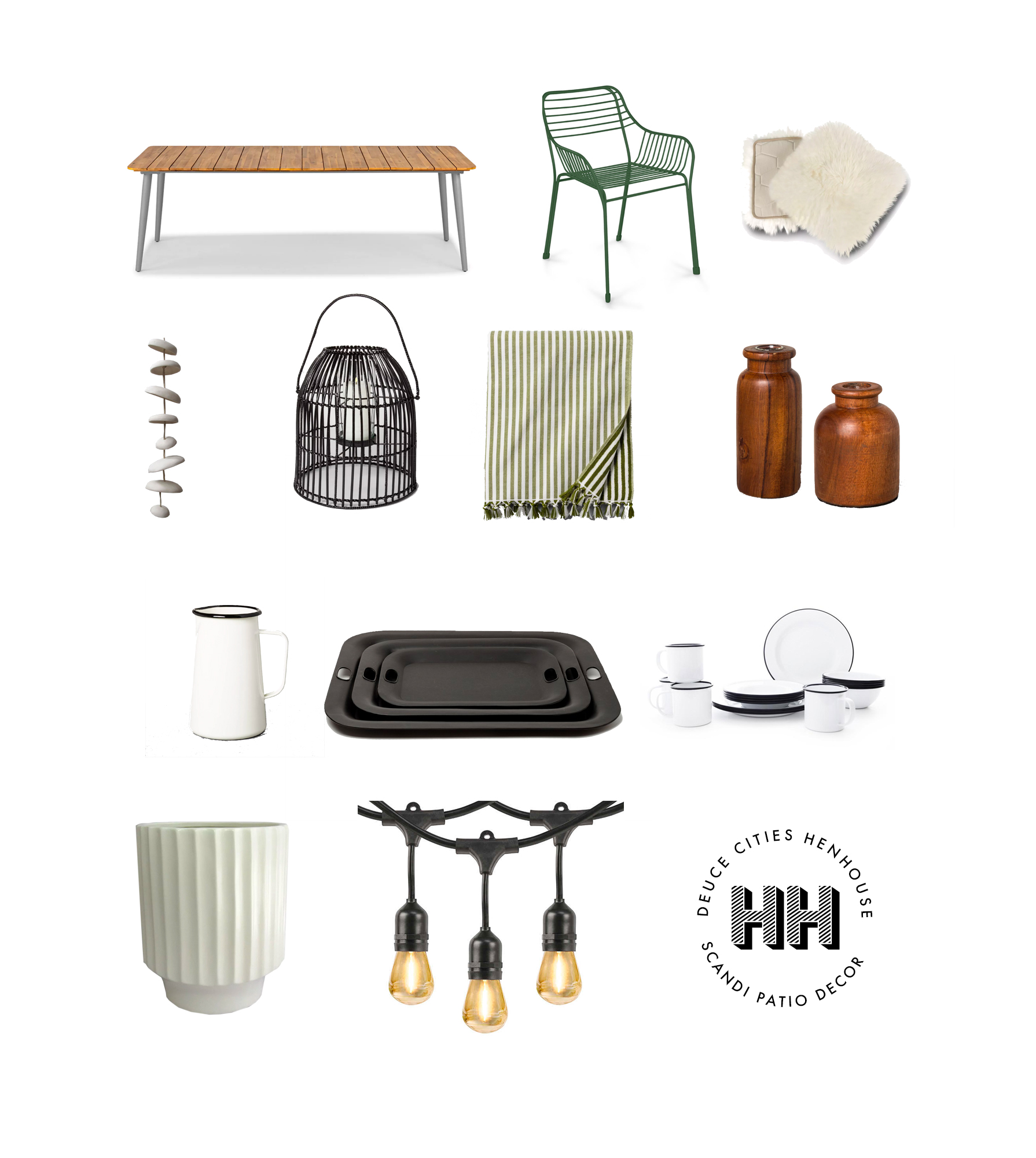 The Look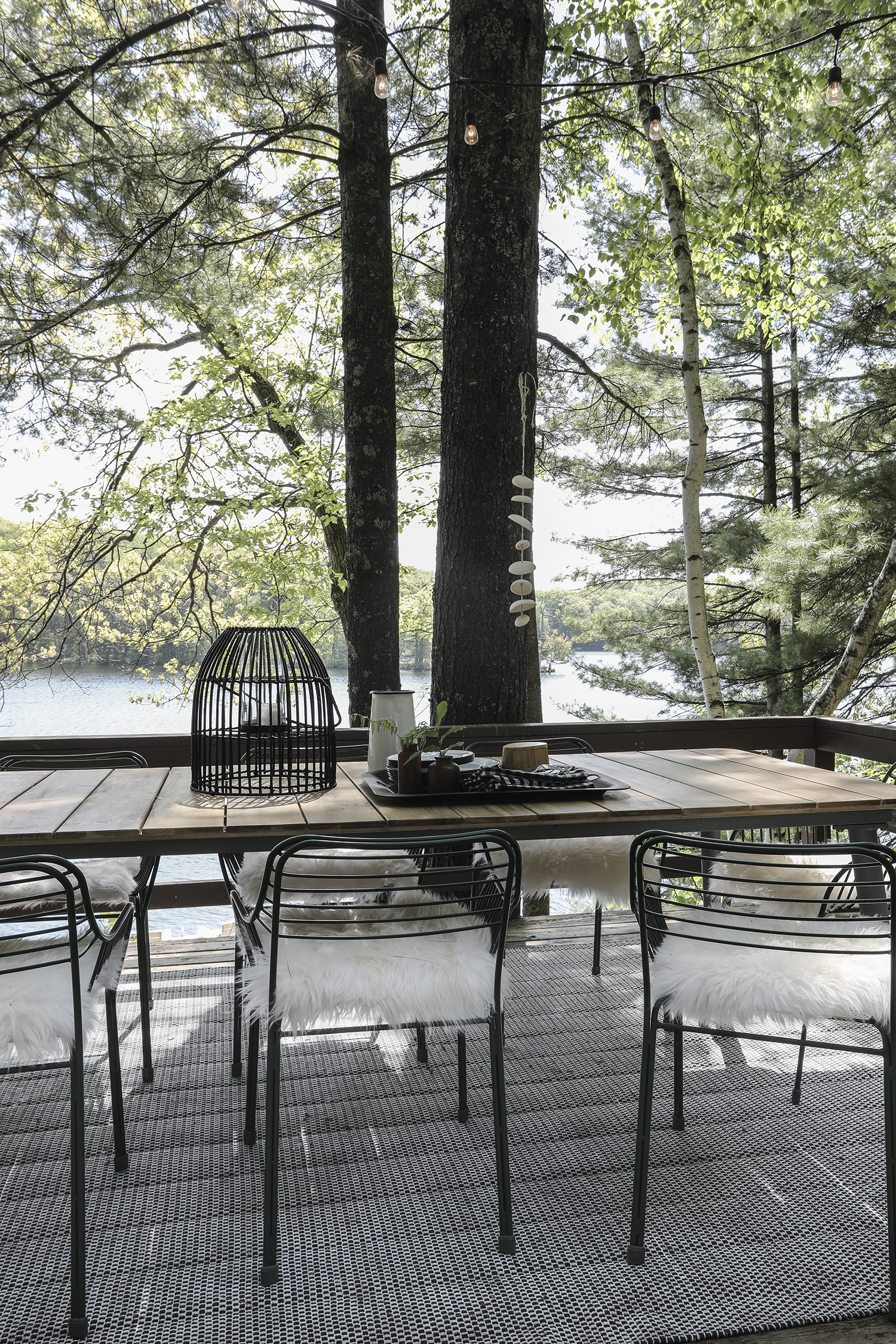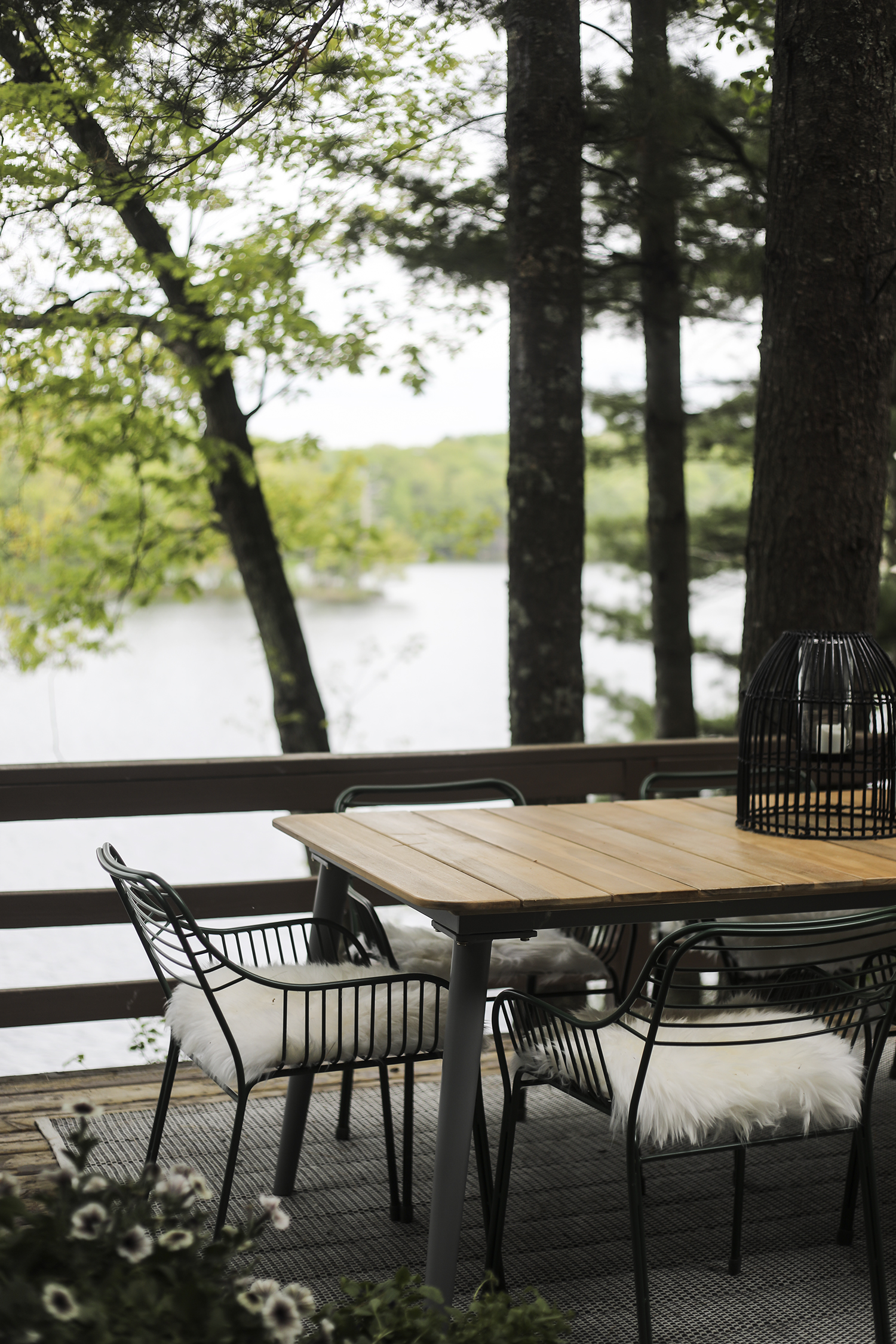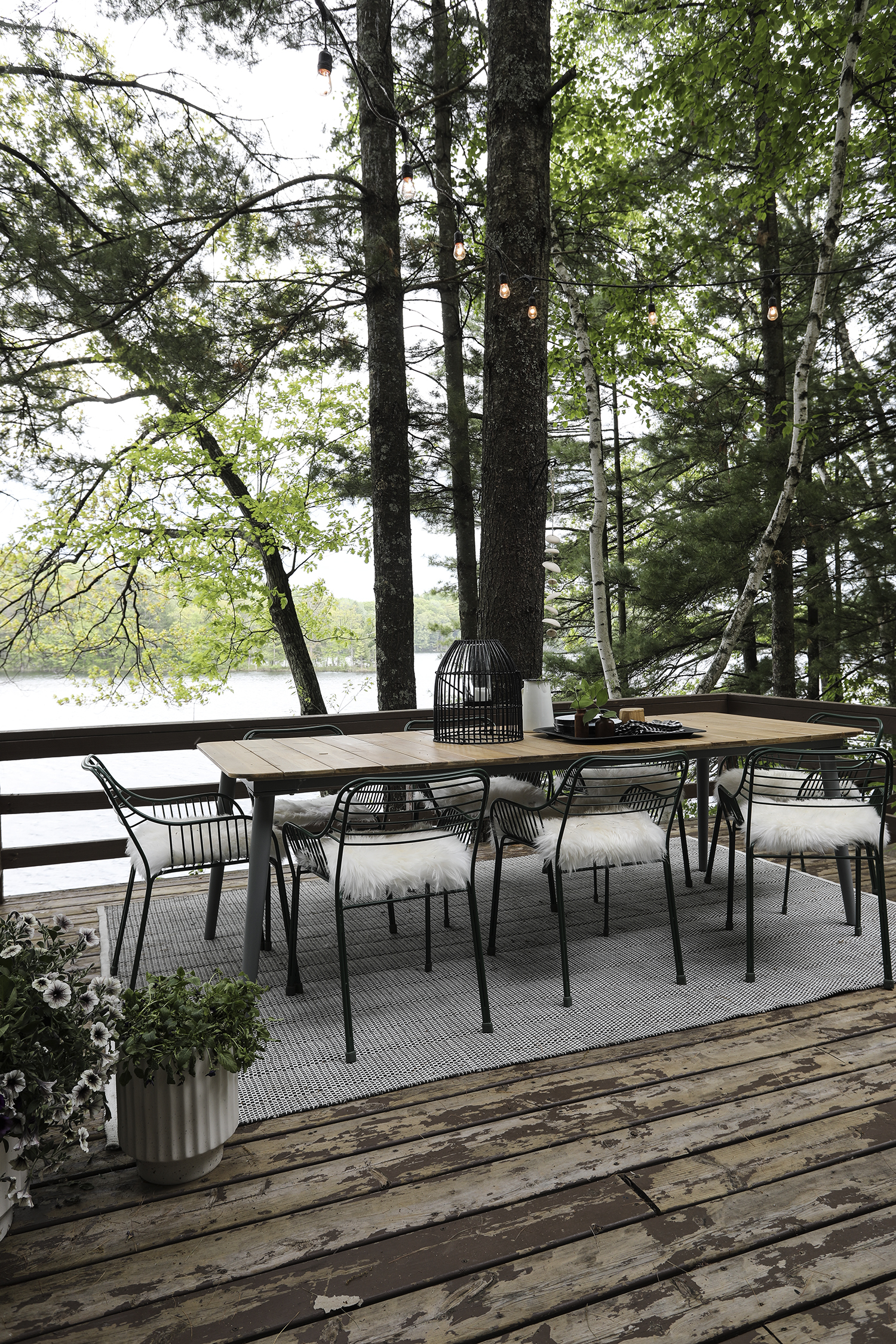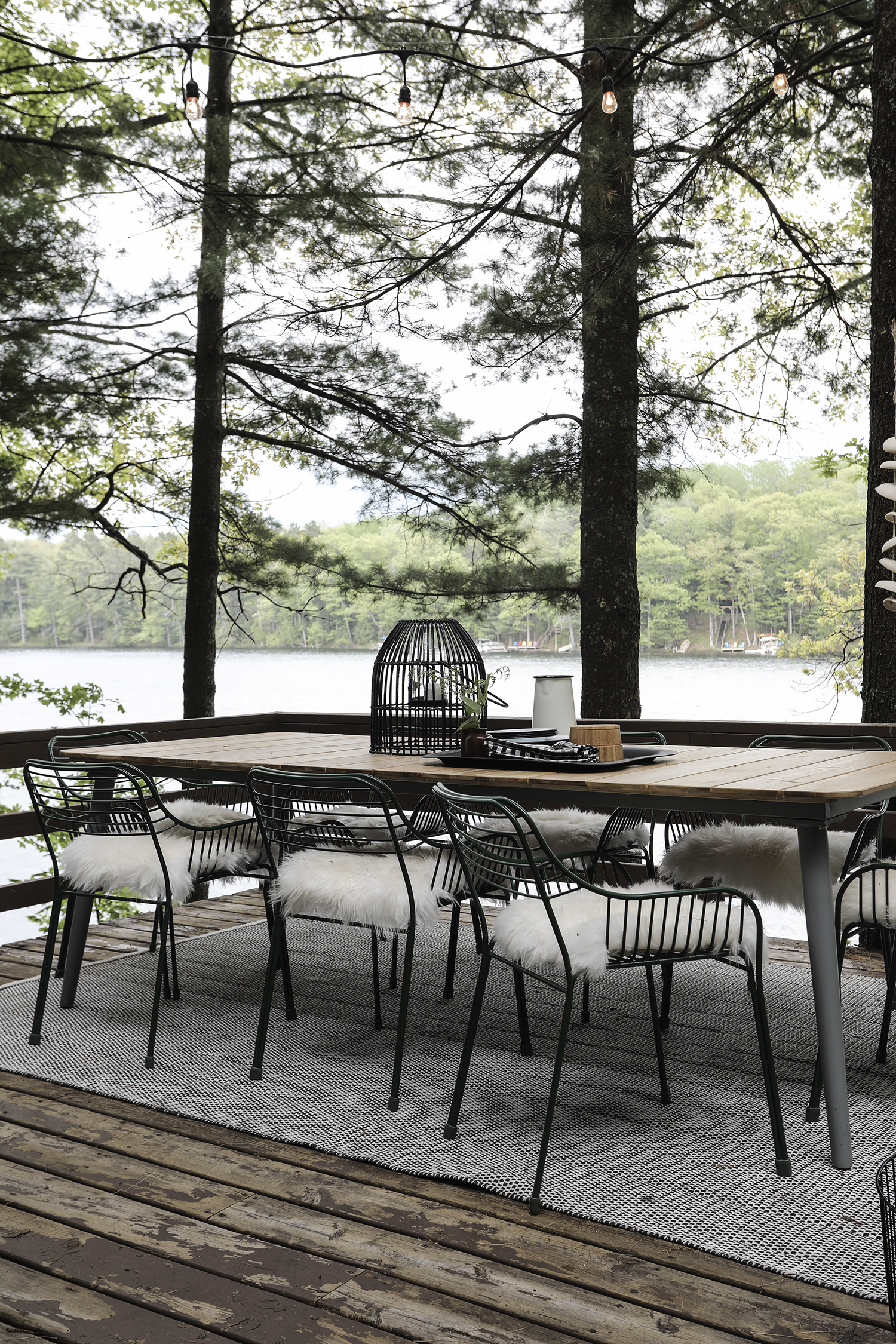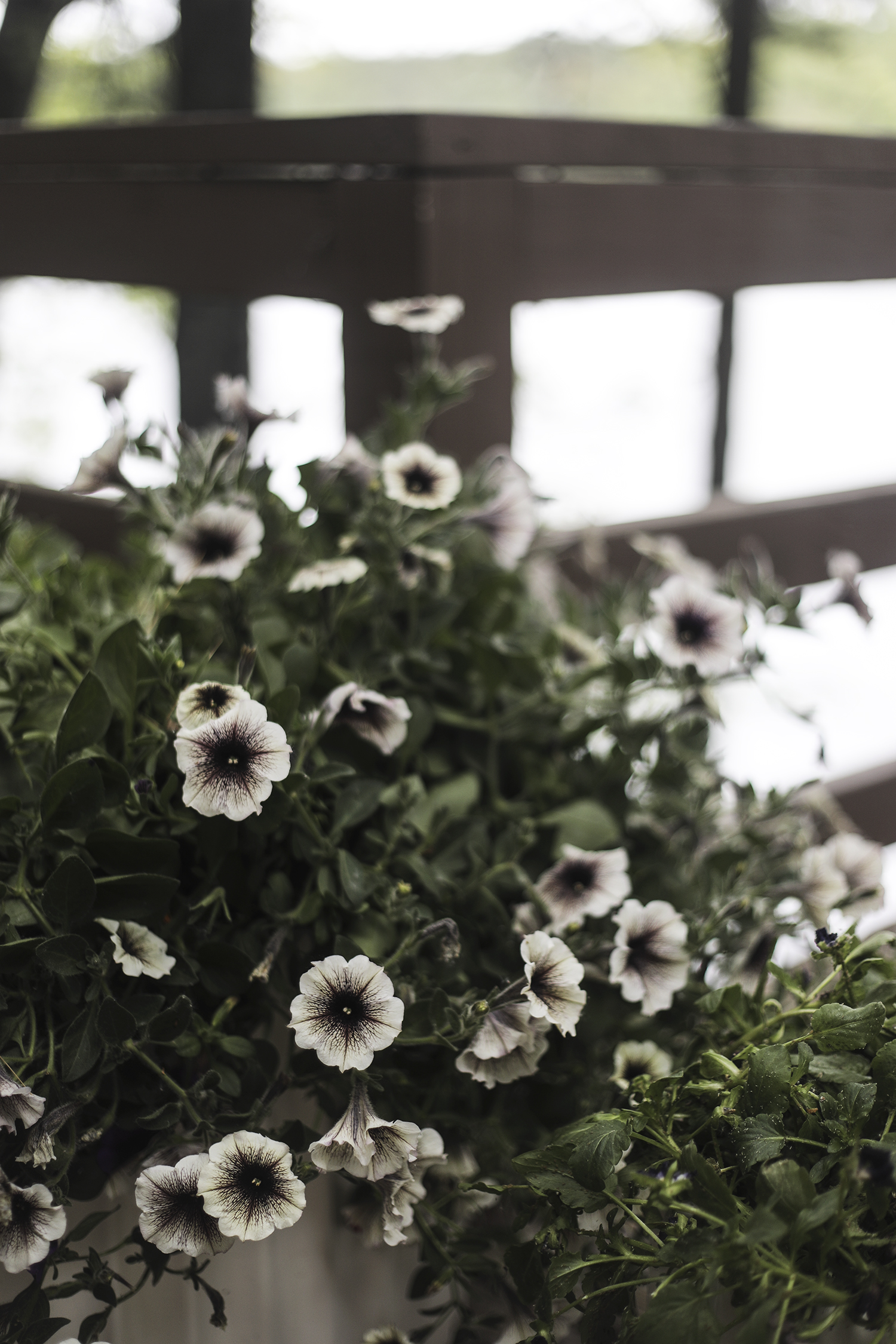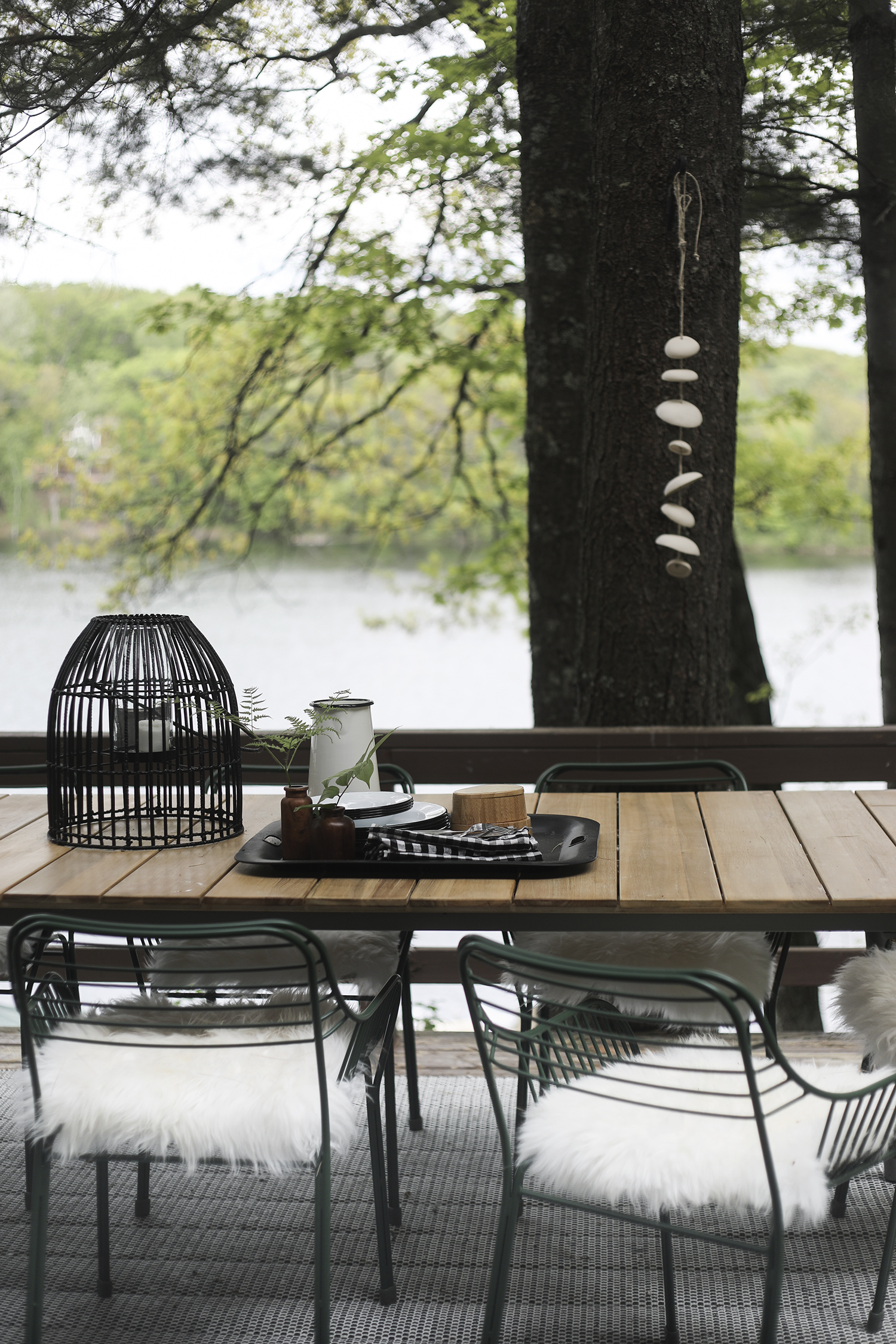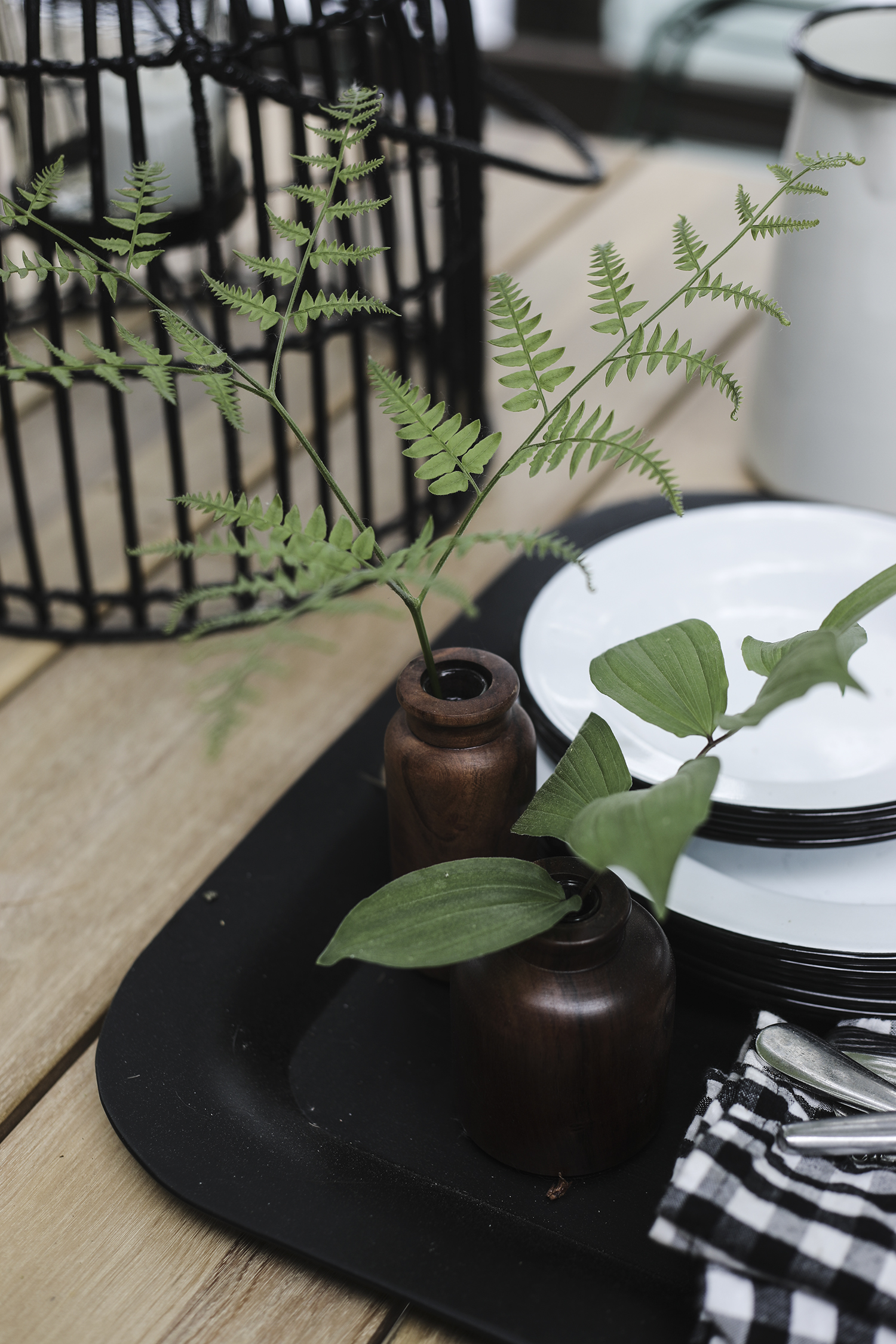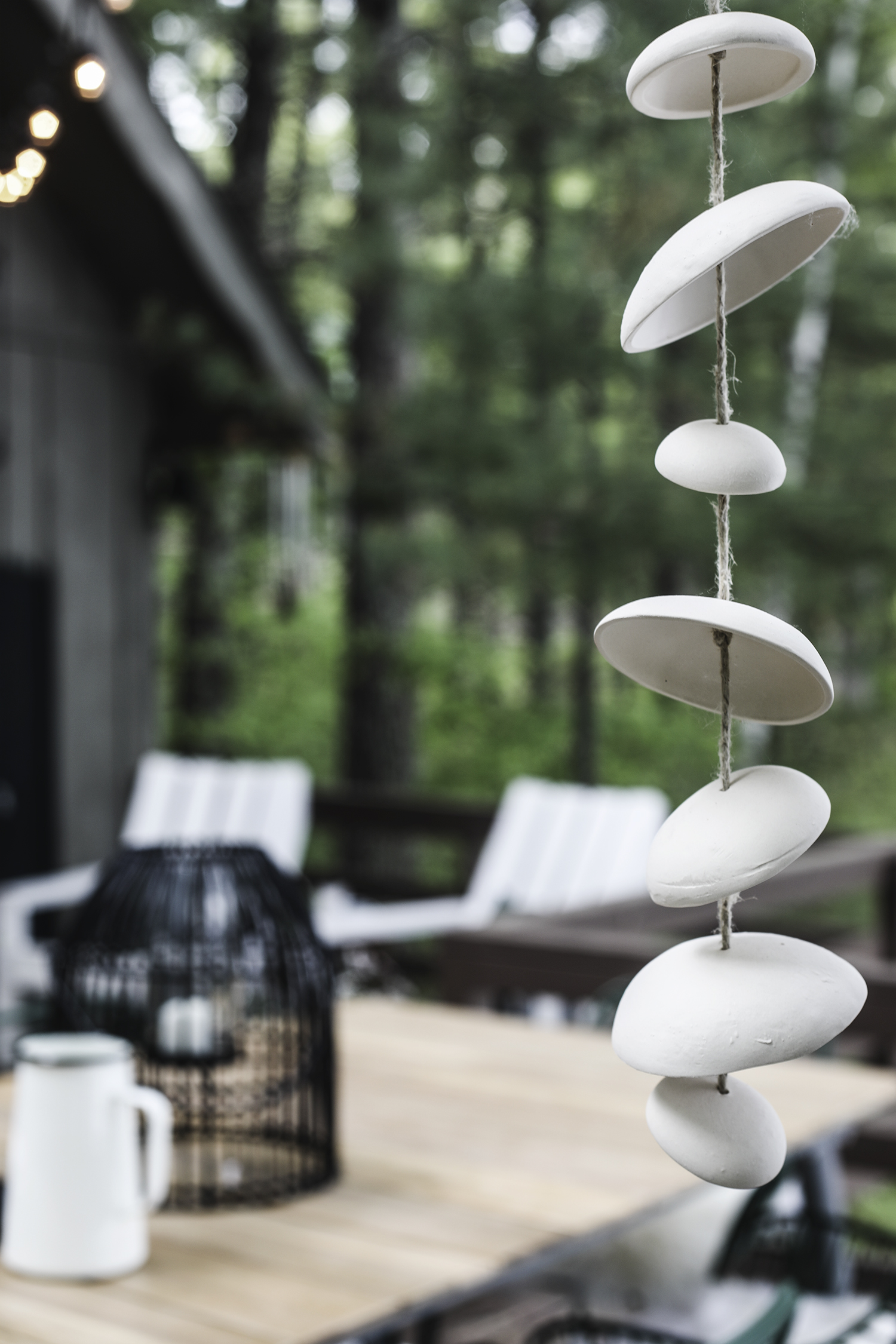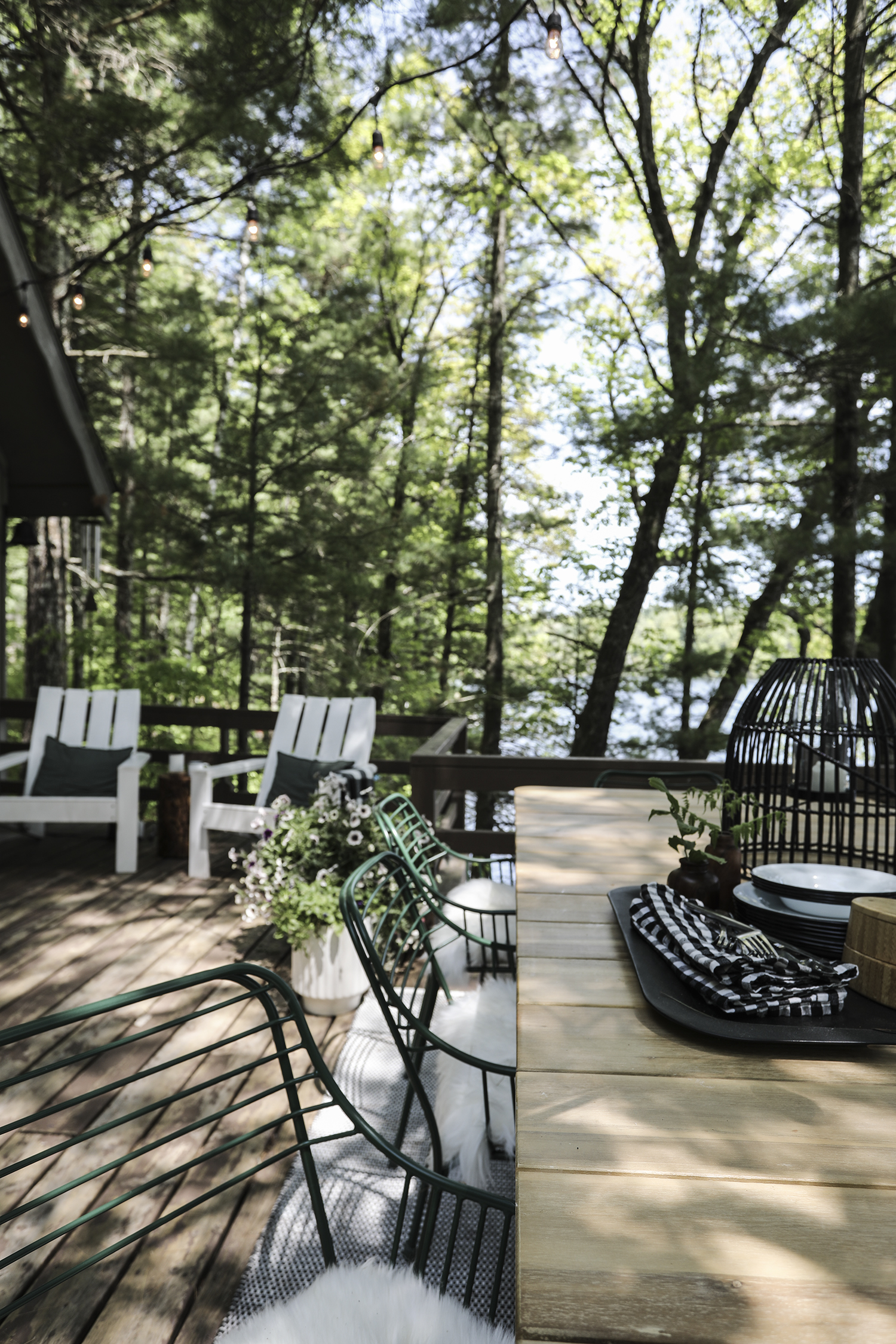 Sorry / Not sorry for all the photos. It's just too pretty not to share every angle. The change
Article
furniture has made to our outdoor experience is one of the biggest improvements for the better that have happened to our cabin. I am so excited to spend the summer in this space, and I know it will be around for so many summers to come. Please reach out and let me know if you have any questions about this or any of the other furniture I have received from
Article
. I'd love to help.
This post was made possible by a partnership with Article. Article provided me with furniture to review for this post but all words and thoughts are my own.