This is created in partnership with All Modern, All Modern gifted the furniture in this post, but all opinions are my own.
The spring is by far my favorite time of year. Us Minnesotan's savor any and all outdoor time we can get in the warmer months. Every spring season I try to focus on a small space and give it a bit of TLC and this year I have teamed up with All Modern to update a warm and sunny spot in the corner of our deck. I've done a lot of updating to our yard and patio at our Minneapolis home, and now my attention is moving towards the cabin.
I love creating zones in outdoor spaces – place we can entertain in and feel comfortable in. We have an awkward shaped deck overlooking the lake, image a squat inverted 'T', and that's the shape of the deck, with the widest space being near the living room sliding doors. The 'T' shape creates two "nooks" on each side of the deck. I wanted to create a lounging corner for one of these nooks, and since one of them gets warm direct sunlight for a few hours every afternoon it seemed like a great spot for laying out. The lake and trees are the perfect backdrop for this serene scene.
To compliment our freshly painted cabin and stained deck, I selected two modern chaises from All Modern. The reviews on the lounger set were great – I always peruse folks' comments & photos before purchasing, I love that All Modern includes this as part of the reviews. I liked the clean lines of the metal aluminum frame, and the mesh support works well for drying out the cushions after a rain storm. The fabric is really nice too, it has a light grey fleck in the fabric – it's good for blending in any stains that might occur – sap from our pine trees is a constant problem and I hope this texture will help blend any sap mishaps. I was thrilled that the cushions are secured with two elastic bands around the back of the chair, it can get windy here and this works out well for us.
The chaise's recline completely, and have five adjustments. I was on the hunt for a chaise chair that tilted up nearly vertical like these do. I'm just not comfortable relaxing more than that – I like to be a part of the action, and I appreciated that this chair had that adjustment as a lot of them surprisingly don't.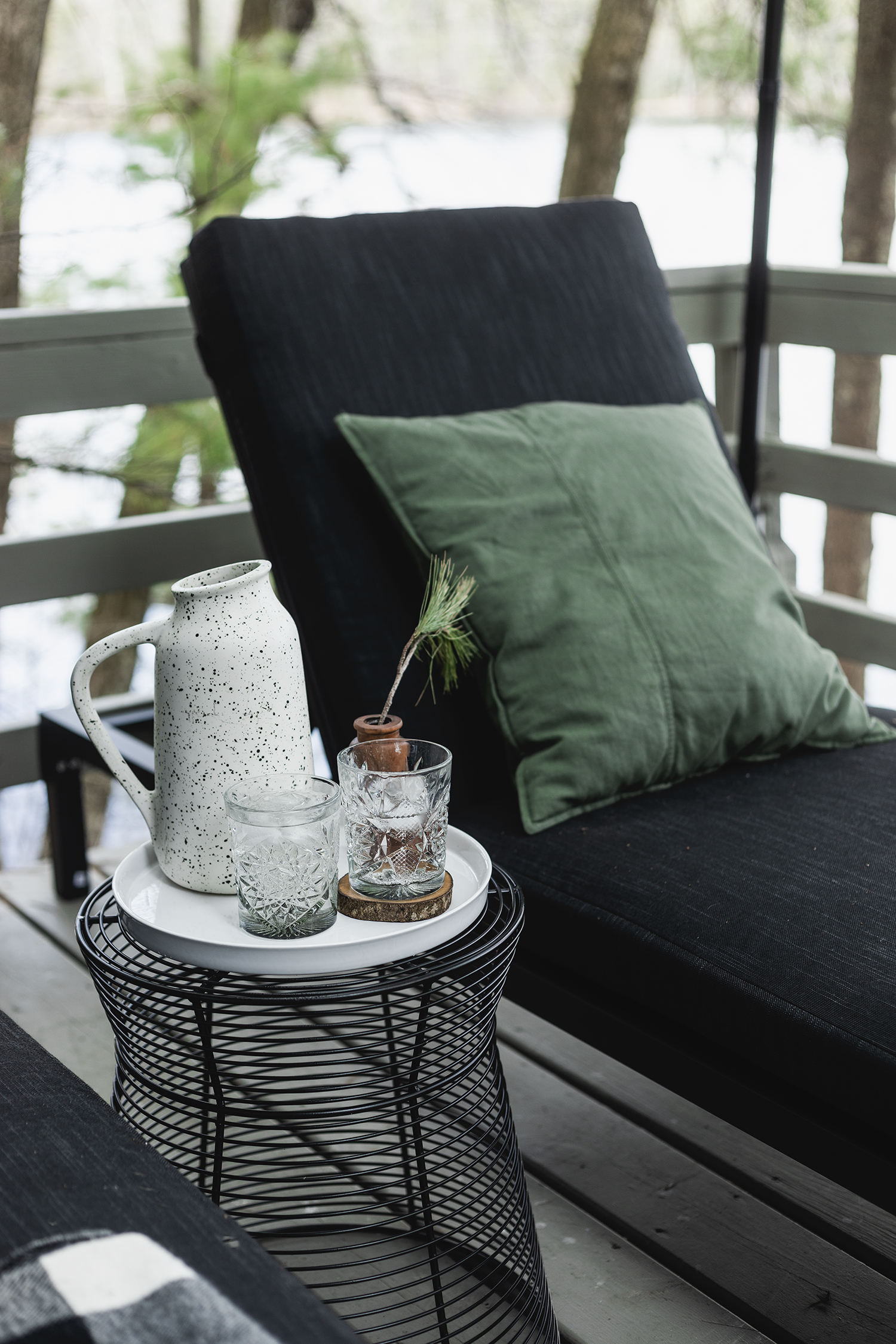 Outdoor side tables are essential for seating areas. We are always entertaining and folks need a place to set down their drinks, books or swim goggles. I like this metal Derose table especially because of the wire form. It's similar in style to our patio dining room set, and it won't collect water when it rains.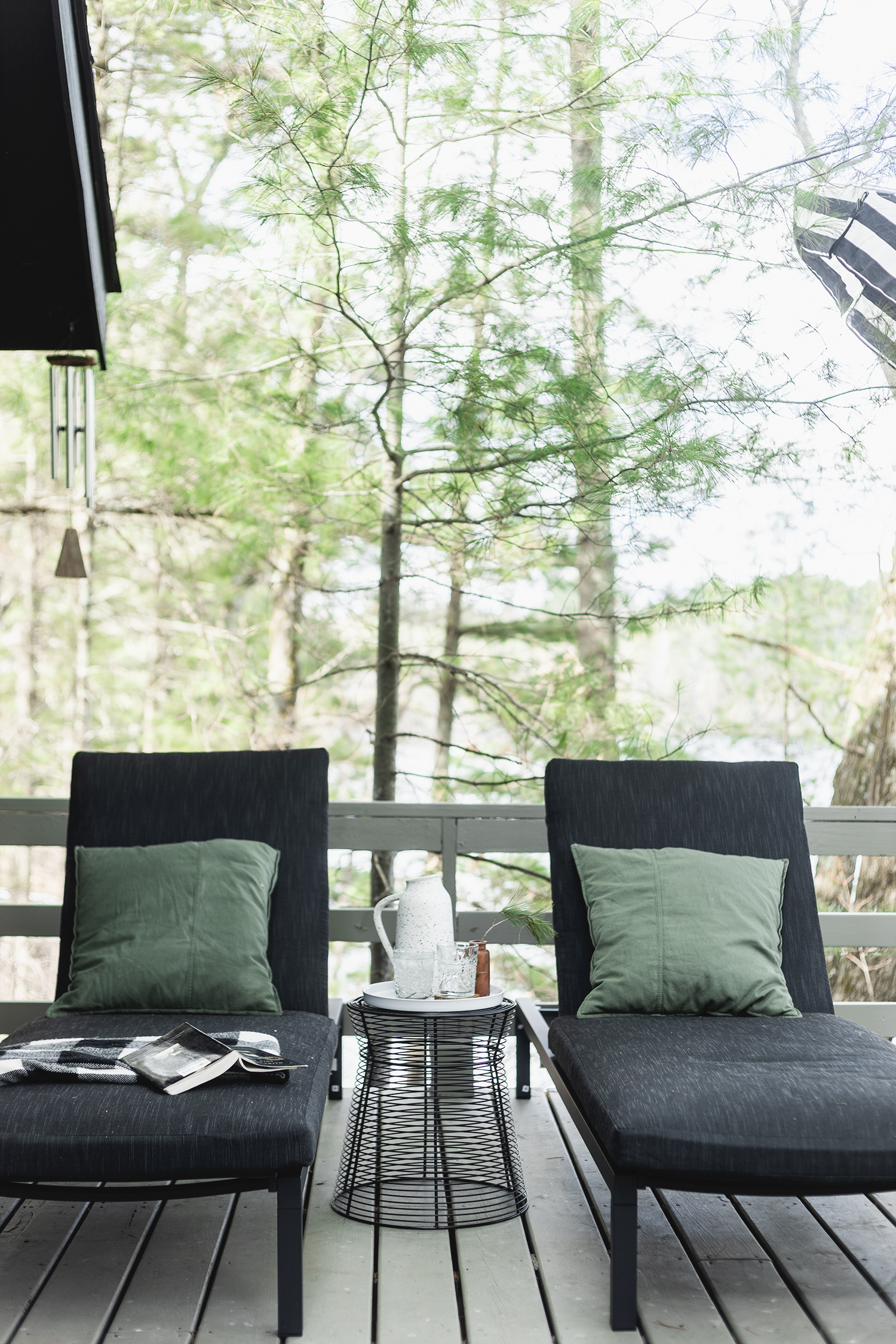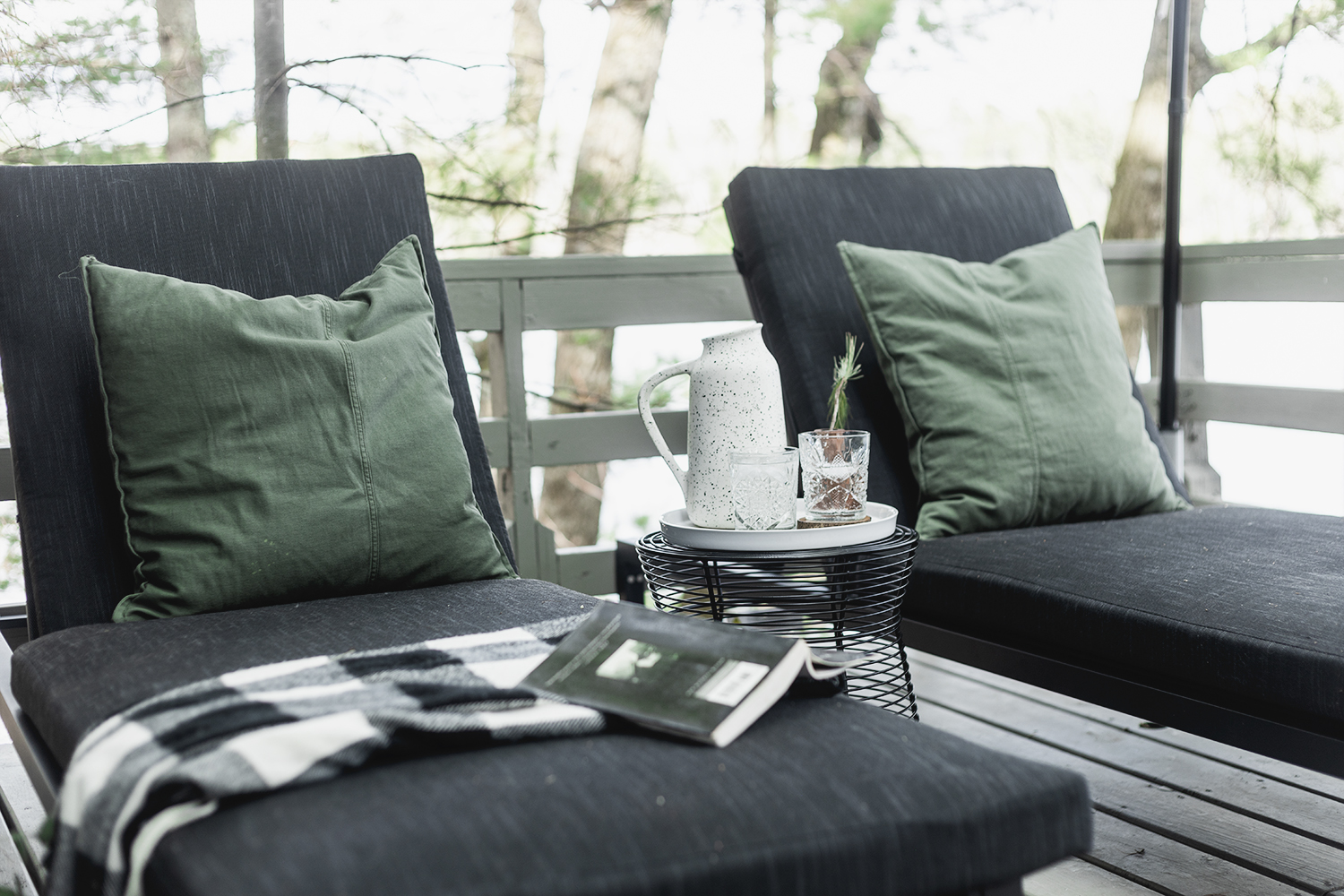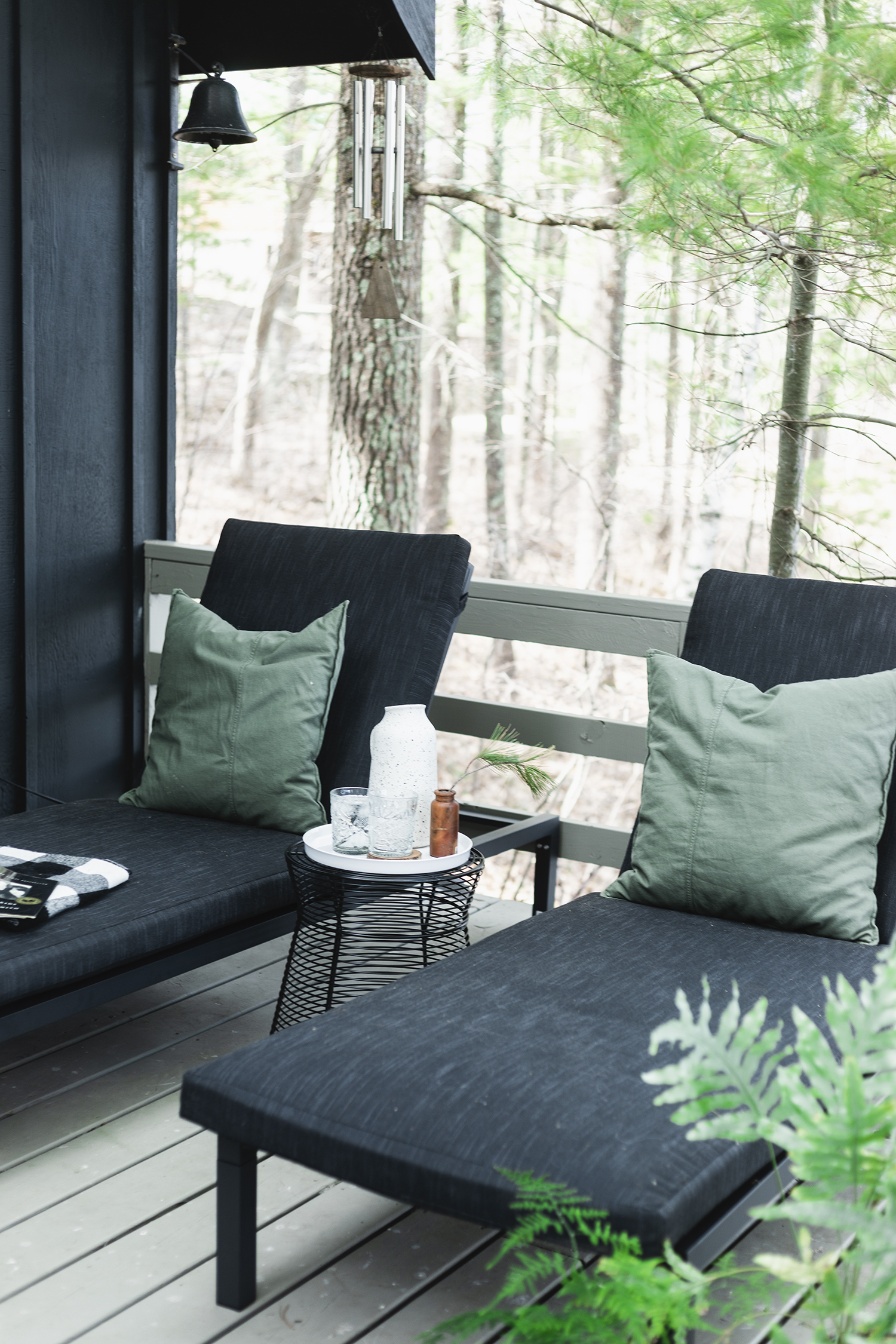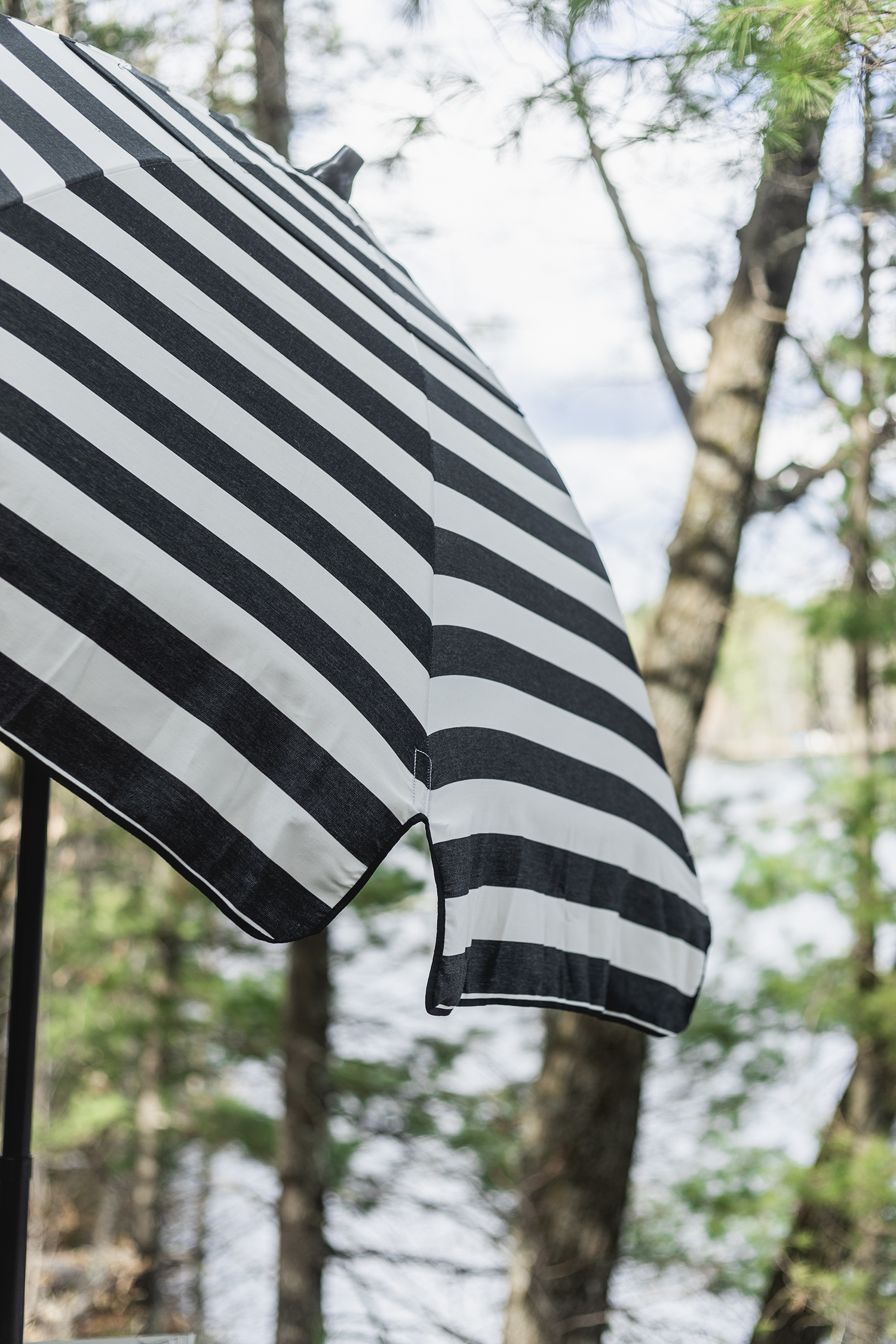 We don't really need an umbrella most days as we are on the less sunny side of the lake, but I really liked the thought of adding a little texture and pattern to this space. The Market Italian umbrella is the perfect size for a small space – it's just 6′ wide. I was essential to find an umbrella that had a tilt function – this one has a three-way tilt. I paired it with a heavy duty stand that I attached to the deck with a couple of wood screws and washers. Now we won't have to worry about chasing the umbrella on those windy lake days. It's so secure that I think I may order a matching umbrella and position it over our dock chairs on the lake – the stand takes up very little real estate – and would be ideal for a dock installation. I think seeing our cabin from the lake with umbrellas at multiple locations would look pretty killer, so don't be surprised if you see another umbrella pop up down at the dock too.