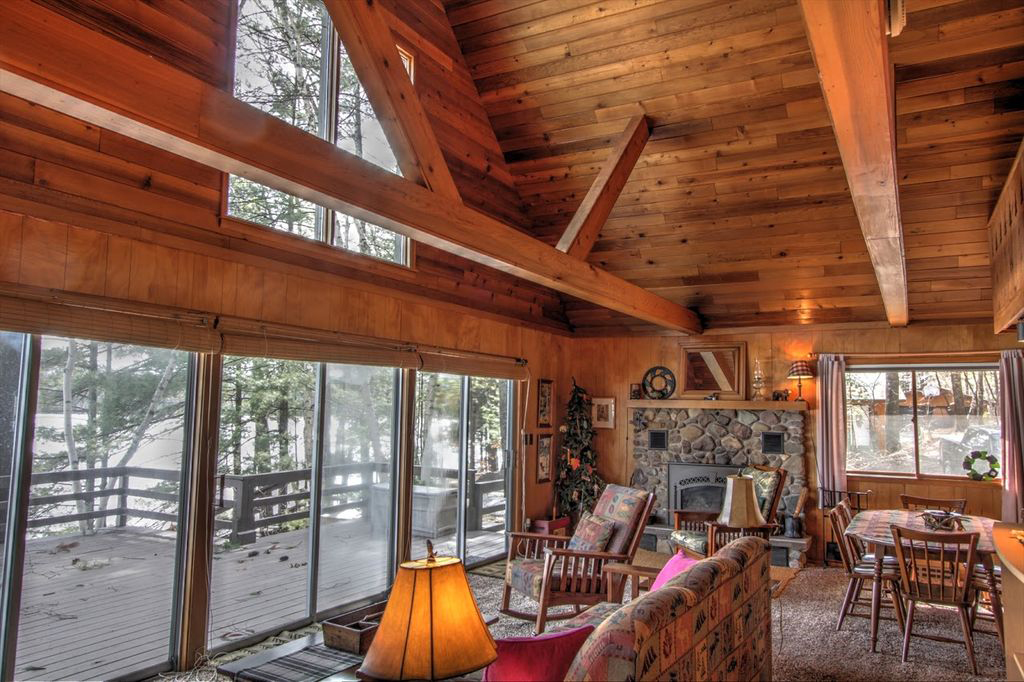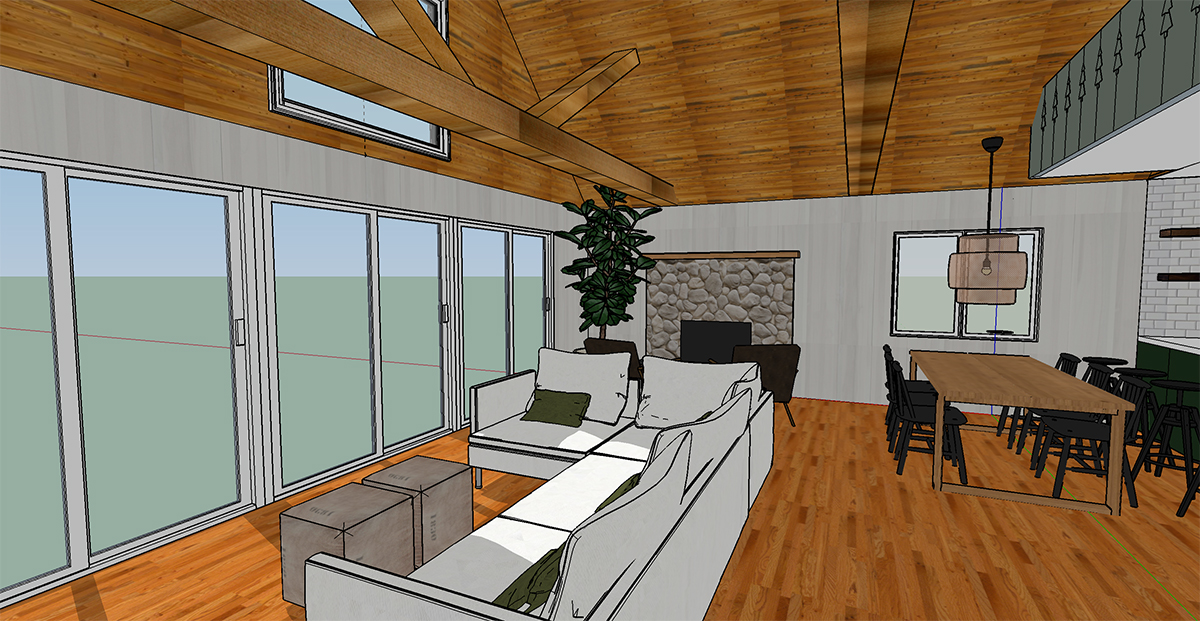 Hey buds, I'm sure you've noticed my lack of blogging lately, I've been posting about once a week, and I will be the first to admit that the posts have been kinda lack luster. We have been busy with cabin things, there has been so much to do with inspections and appraisals and negotiations and furniture purchasing and so on. Sometimes I wish I could just talk about all cabin stuff all the time, but I've been holding it in because I didn't want the deal to fall through. That being said, we feel pretty confident at this point that we will take ownership of this sweet space at the end of July.
Anywho, I've also had a lot of thoughts about blogging lately. I put weird pressures on myself to make the blog successful, like deep down I want to have a blog that lots of people like to read. I'm the type of person that always does a pretty good job at following through on my goals and one of them was to have DCHH have a piece of the diy-blog-pie. I think I'm coming to the realization that that will never be a thing (at least in the big league level), and that's okay. The whole reason I have ever done this is because it makes me happy, I can do all the things that I like to do in one space here on the internets. It would be lying if I said that I wasn't hoping that maybe it could be my part-time job. After thinking through what that entails though, I've realized that the marketing and strategizing is just not something I am good at. For starters, I suck at social media, just thinking about posting on instagram gives me anxiety. I feel like there is so much judgement and entitlement that goes along with the social-media-devouring-internet-machine these days, I can't take the pressure – that's not a diss on those who can either, it's just too intense for me.
I've spent more time away over the past month, from everything including my phone, and I think that it was a good break. I feel way better and more creative when I have a healthy distance. Let me just wrap it up here with the fact that I love blogging when I have good projects to share, which happens to be not all the time. Just know that I'm always going to be trying to write about stuff, I don't think I'll ever stop writing, fixing shit up, taking photos and sharing. I hope my posts come across as insightful, inspiring, funny (hopefully) and littered with the best photographs that I can make.
Just wanted to say that, so on to the post.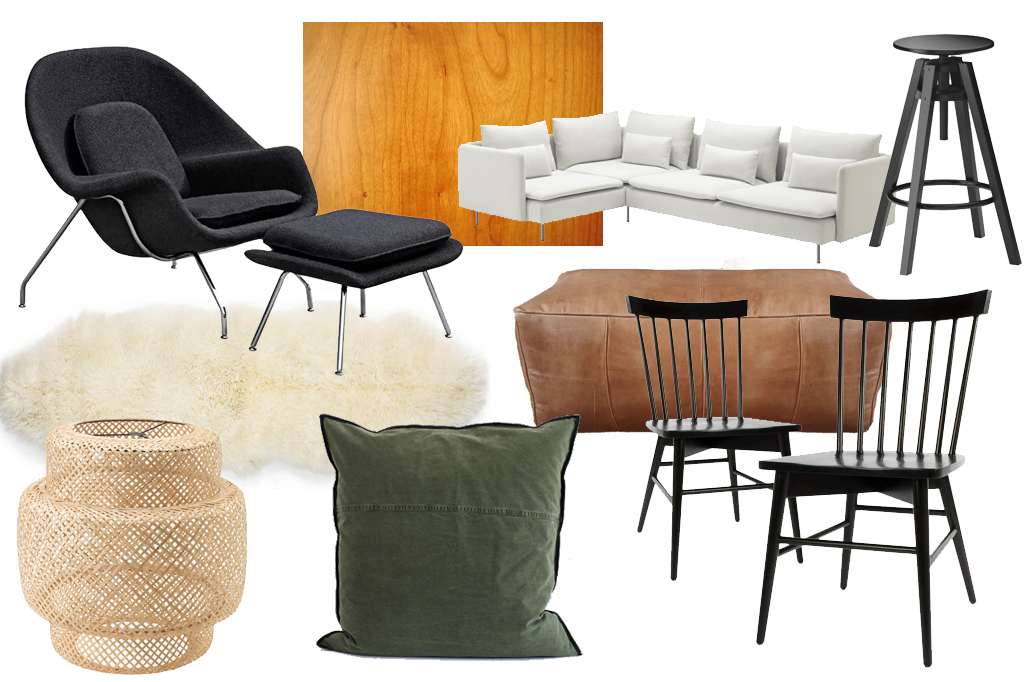 So, you guys ready to hear a lot about cabins? First of all, let me start by saying, that this cabin is supposed to = no stress. I mean, that's kinda the whole point. That means I don't plan on doing tons of revampin' and renovating right off the bat. There is always a little something that can be done though, right? I think there is so much that can be done to this sweet space in a few easy, stress free steps. Let's start with the first major thing. The carpet. Removing the carpet in the main living will totally change the whole vibe (and smell) of the place. Luckily there are hardwoods underneath, and even if they are in crappy shape, they will be so much better than this carpet.
Secondly, the furniture layout is really jumbled. Not a ton will be changing, but what does change will make the space feel so much better! Like adding a sectional to the space instead of a reg sofa will help to make a social hang area and visually break up the space between the dining room, fireplace and sofa zone. I've already ordered a sofa (yes in white, slipcover to come at a later point) and found a knock-off womb chair on CL for a steal. The place comes furnished so the existing furniture will take a trip down to the basement to make a substantial kid zone.
I plan on painting the mid-century dining chairs that come with the cabin a flat black to give them that modern windsor chair sort of feel, they have the right lines for it. I picked up a used table with clean lines from a friend, it comes with leaves for when we are hosting lots of folks. It will be perfect. I love that there is a small bar in the kitchen for the kids. We've already bought ourselves a set of four black stools from Ikea that are adjustable height. Can't wait to make those weirdos breakfast while they wait at the counter. Baah, so stoked!
That's basically what will happen for the rest of the summer. In the winter, we'll start doing some painting/whitewashing of the paneling – if it feels right. A coat of white paint will really brighten the space up. Cabins and tongue and grove wood is cool and all, but panelling everywhere isn't necessary. I think we've both agreed to live with the panelling for a bit, just to make sure we are making the right decision. However, my gut tells me that white paneling feels like a pretty cool idea.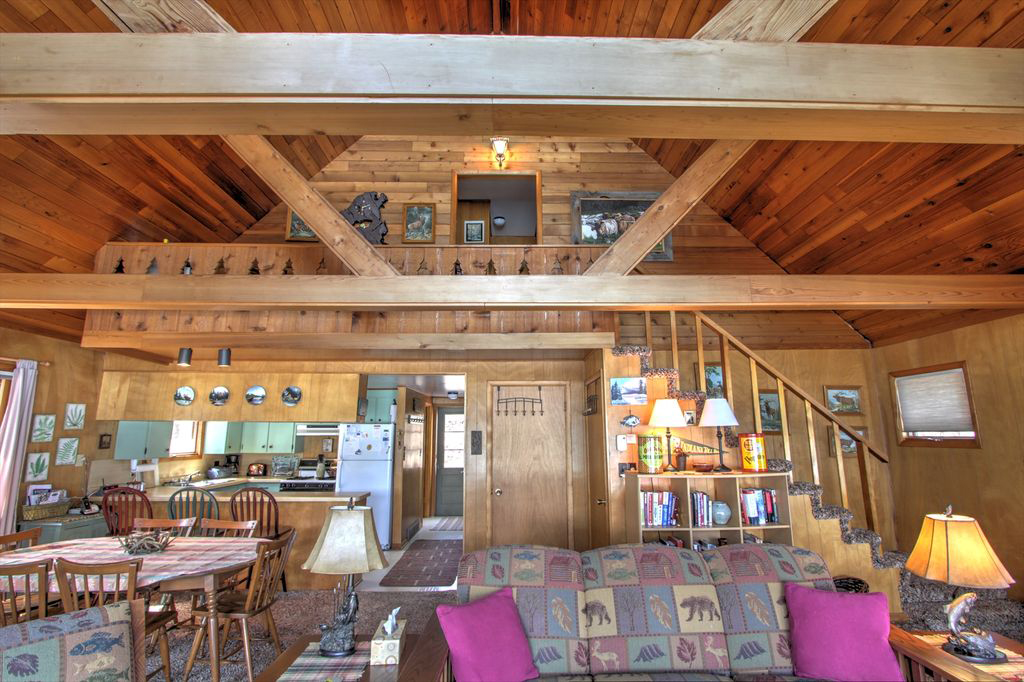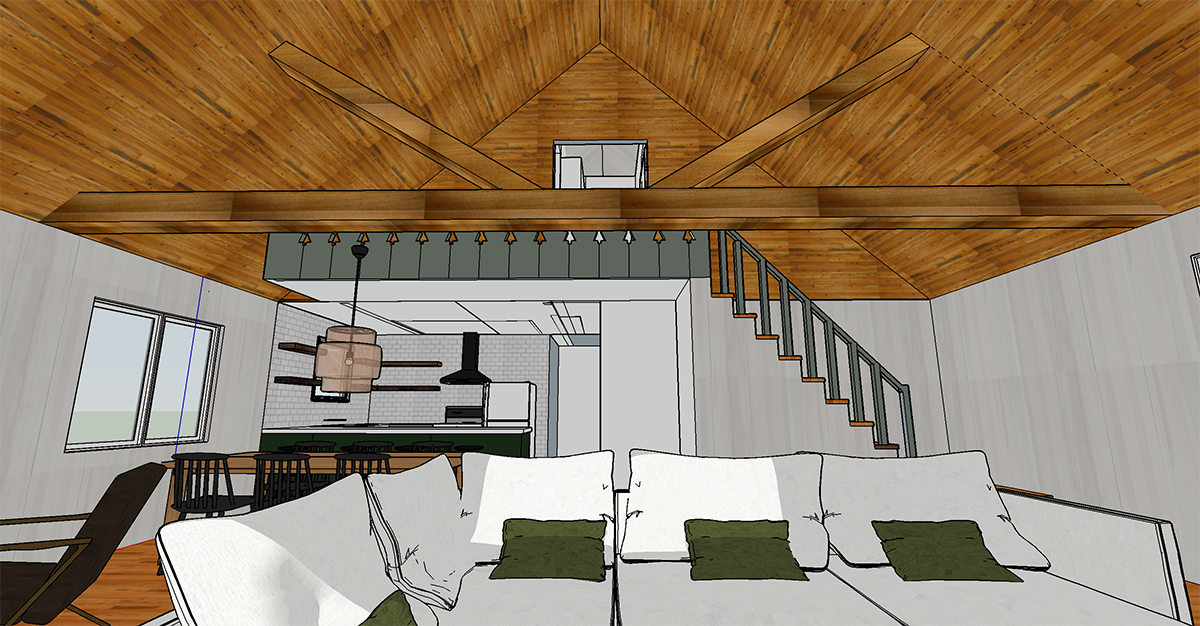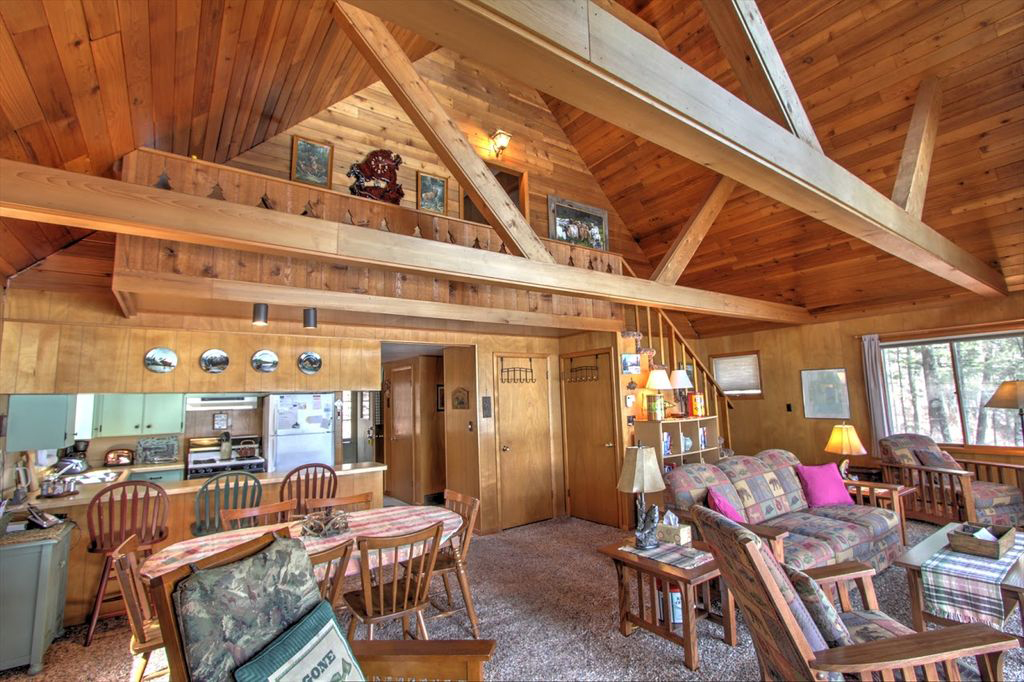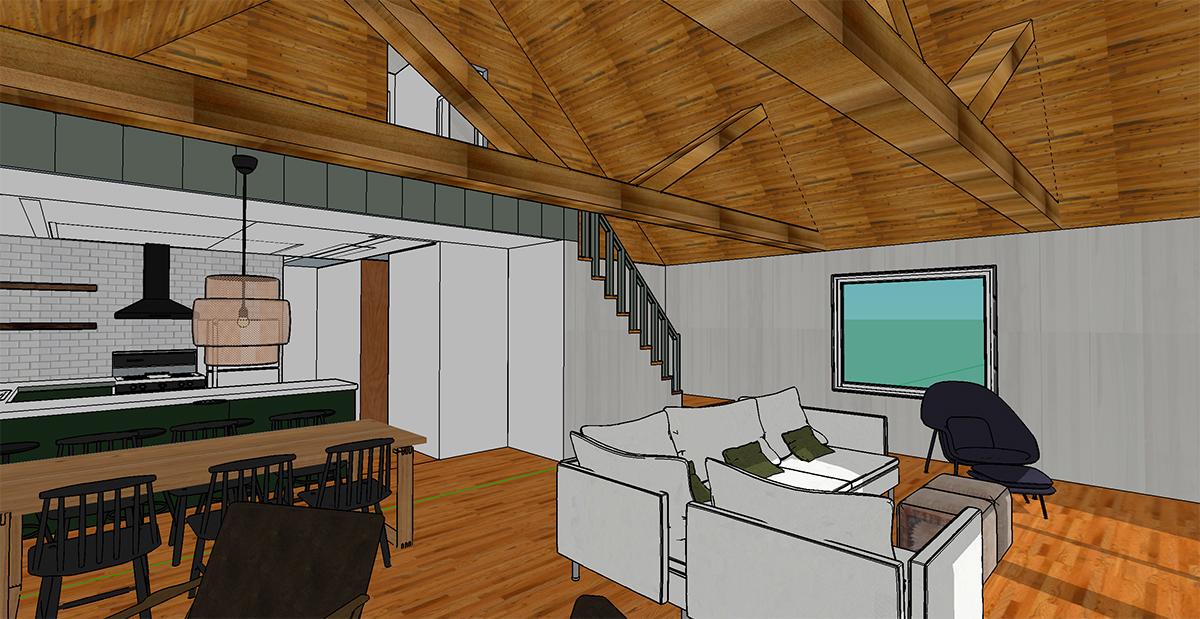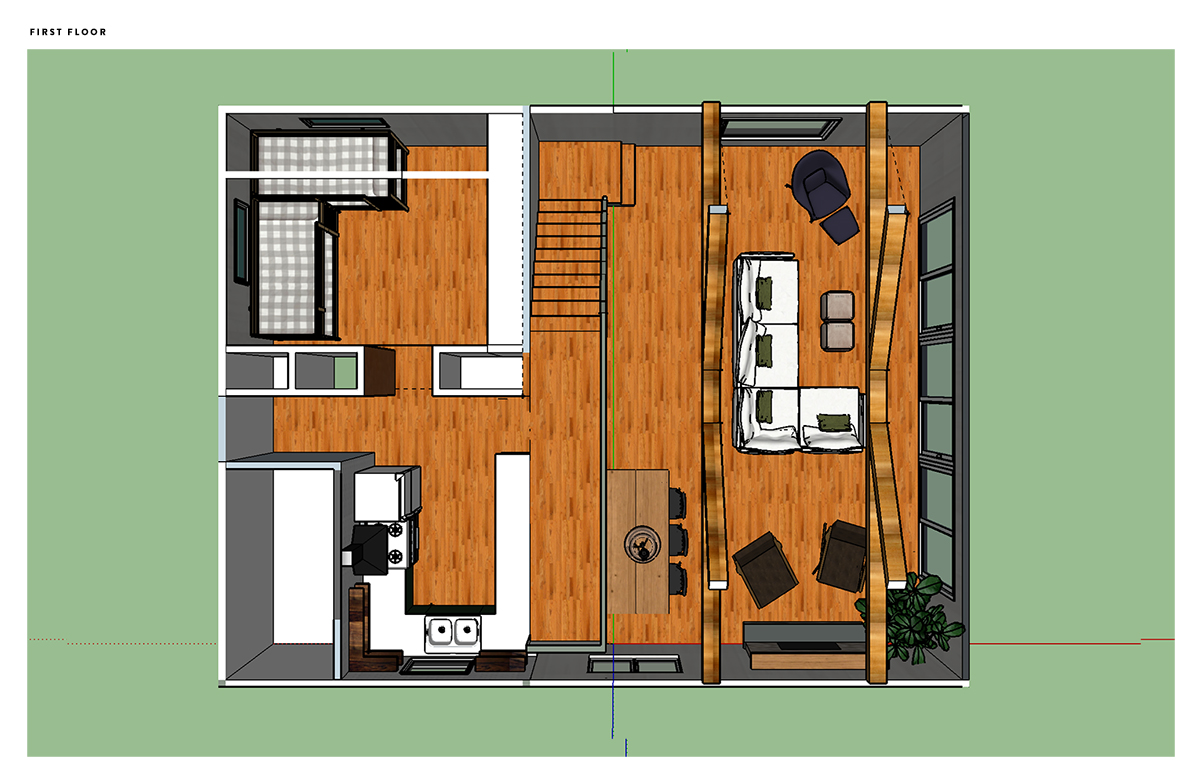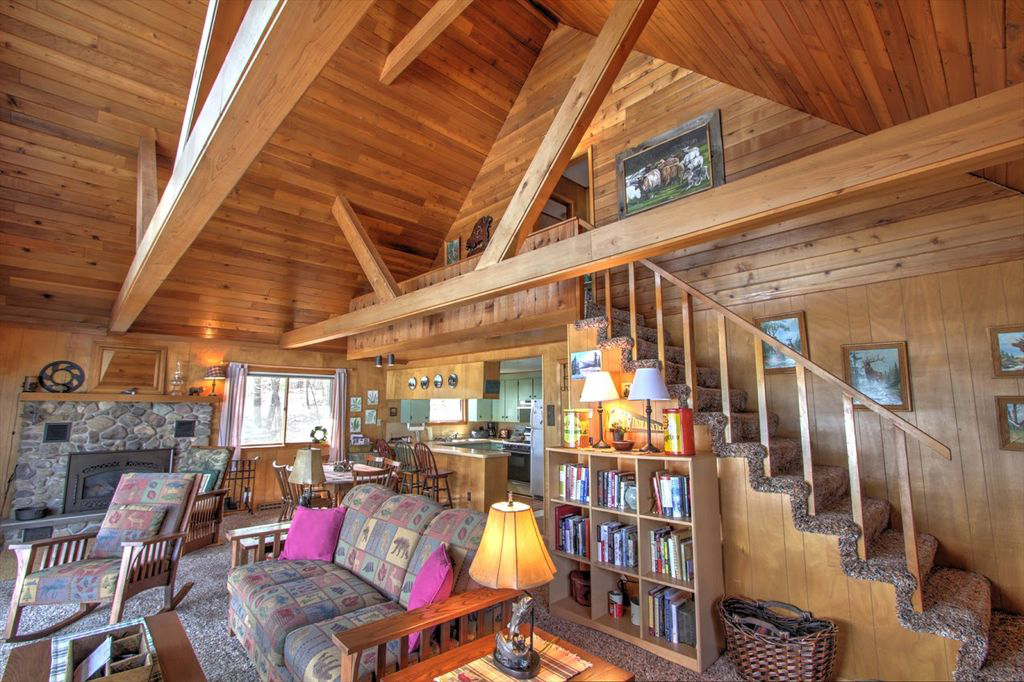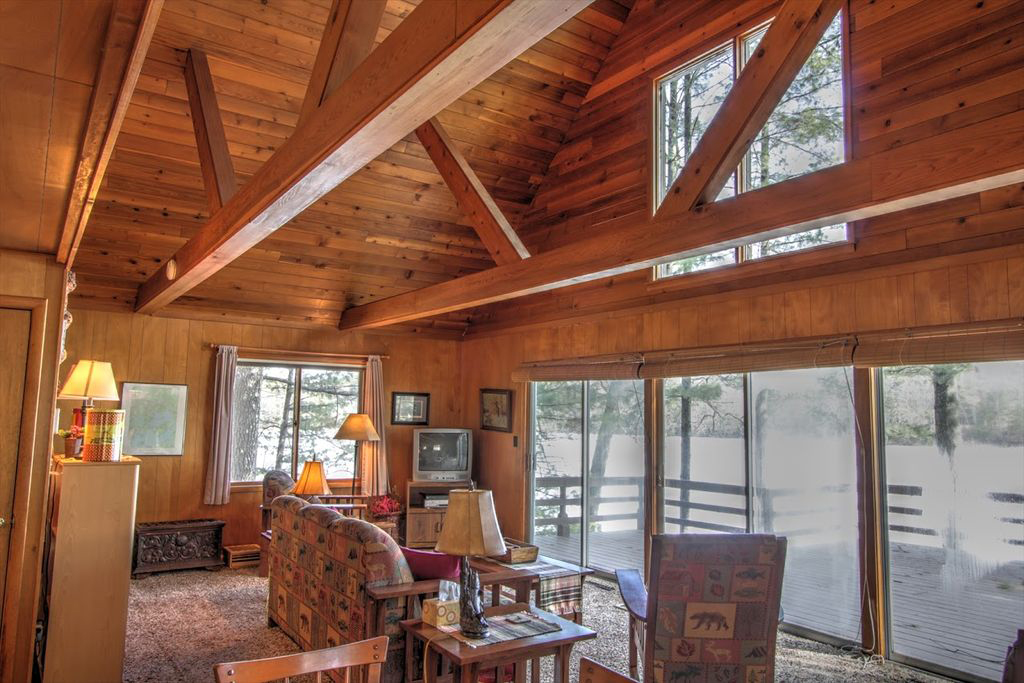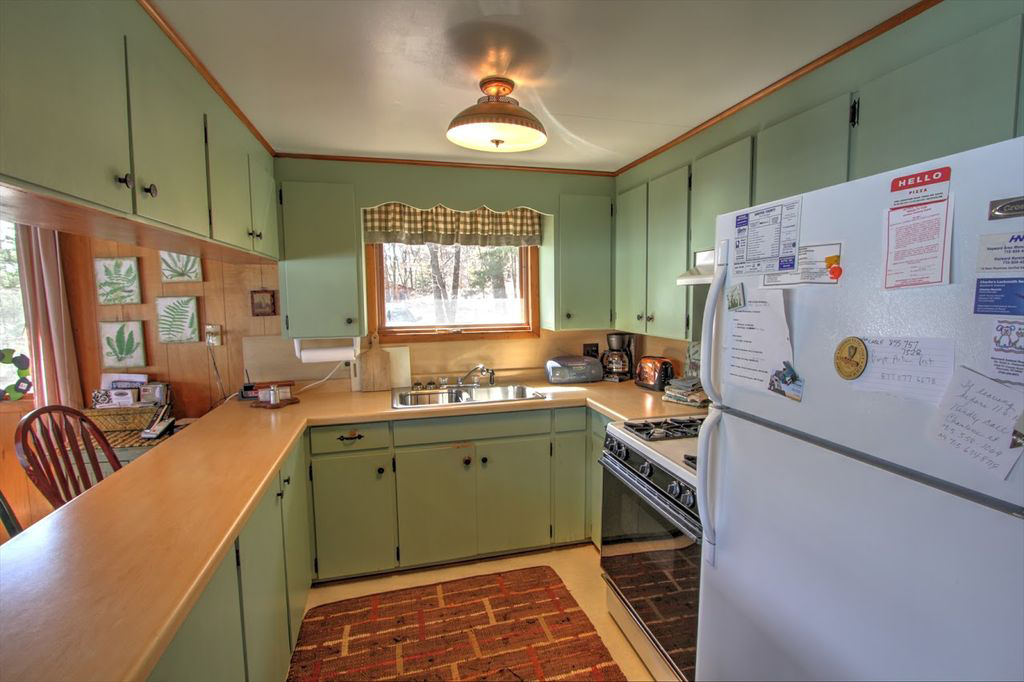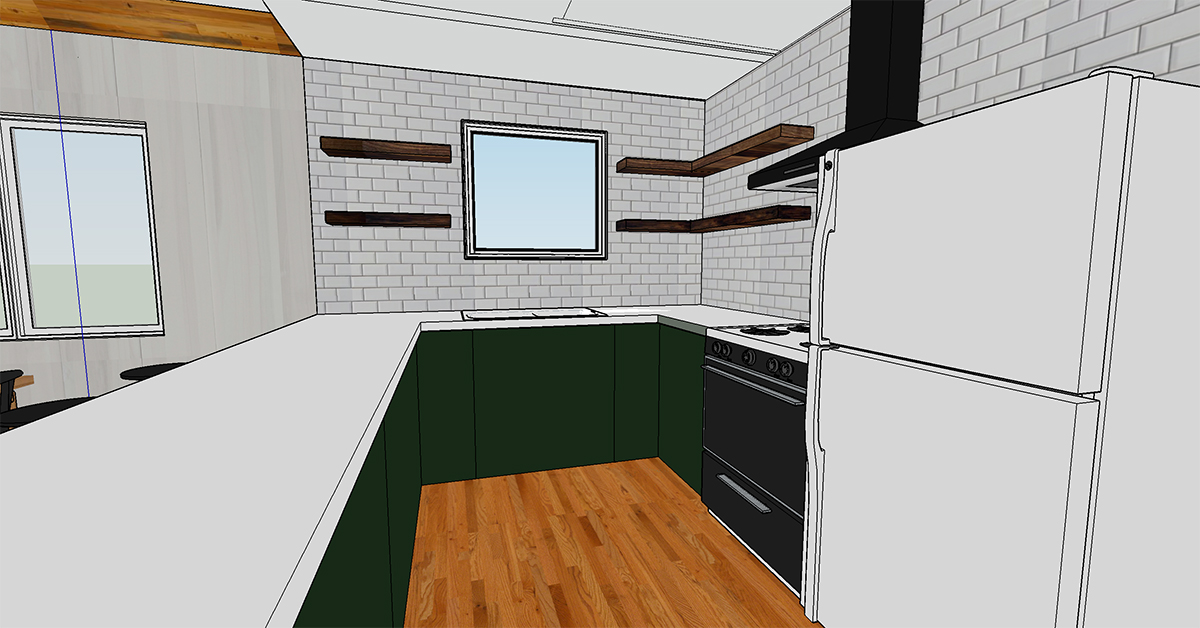 The kitchen is cute r n, but would be instantly transformed with a new coat of paint and some hardware. To start, I'd love to dark green cabinets on the lower and white on the uppers. Also remove the row of cabinets above the counter that are hung from the ceiling to open the whole space up.
Eventually it might look really awesome, and be pretty inexpensive to take down the upper cabs, subway tile the walls, an add open shelving. Gotta live with it a bit, but the gears in my old middle-age brain are already start to be creek into motion.
Think green my friends! That will be the color of the day around this cabin and will range in shades from dark hunter green to an olive-drab army green and most likely a gray green on the stairs.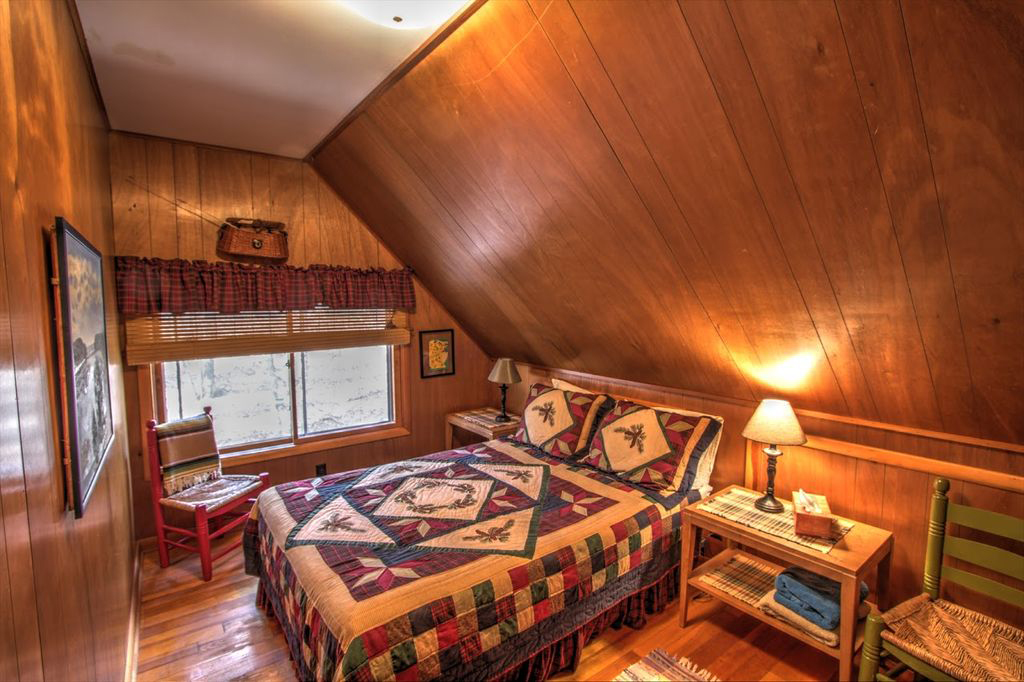 The bedrooms! The main floor bedroom (the biggest room) will become a bunk room instead of a master. This space makes the ideal bunk room, especially since it could potentially fit up to 5 or 6 kids. I'll make it real cozy and the kids will love it, I swear. The upper windows will be so perfect for a look-out for the kids on the upper bunk. Each bed will have it's own reading lights, we'll stock the place with tons of books, games and cabin toys.
Upstairs will be two identical bedrooms that will both fit a snug queen bed. Although it will be tight, it will fit and I think it could be kind romantic like in the idyllic sort of way, not in the makeout sort of way, although it could be used in that way too. I always like being in a small bedroom, and I think these rooms will feel QAF (the 'Q' stands for QUAINT). Eventually it would be great to paint at least part of the panelling in these rooms white to make it feel more bright. They are both on the darker side of the house, and although they are small they don't need to feel like caves. Bedding does come with the house, but I've already filled up two carts at Ikea with new white bedding including down inserts, and pillows for both bedrooms. How 'bout dem windows? I can just imagine the breeze on a summer night.
Minimal, this will be my minimalist dream cabin.
Alright thanks for listening. I'm excited to share more in the coming weeks, especially after we actually get the keys. Don't want to do too much dreaming just in case, so cross your fingers for us.
And thanks for sticking with me :)