Hey! Guess what? I couldn't resist any longer and I dove head first into my next project: the kitchen. Here are a few things you should know about me and my kitchen before I begin.
When we first started house hunting and we met our house for the first time I was totally in love…except for the kitchen. It had a poor layout and a copper tile backsplash. Mostly the layout bothered me. It's so weird! I'm including a floor plan so you can see what I am talking about. The kitchen bothered me so much that we crossed the house off our list and continued on our house hunt.
After a week or two, our realtor insisted that we go look at our house again, but this time with a kitchen-remodeler-guy who could explain to us what the possibilites for the kitchen were. We were very concerned that walls wouldn't be able to be moved, thus having to live with the awkward layout FOR-EV-ER. He looked at the structure and determined the wall was not load bearing, and my mind was put at ease. Jeff and I agreed the kitchen would be the first of the big projects to tackle within the first few years of moving in. Well guys, we're 3 and a half years in and the kitchen just got put off to about the 10 year mark. This leaves me right back where I started, so I decided to compromise. The walls might not be coming down, but that backsplash is!

Here's the floor plan so you can get a feel for what I'm talking about. There is the "main" kitchen area that has the stove, 'fridge, sink and dishwasher. It also has newer cabinets modeled after the original cabinets to fit the style of the home (thank god they did that). There is upper cabinets above the stove, lower cabinets under the sink, and 3 upper cabinets above the sink and dishwasher area. The "main" kitchen area is the same space we have the table and eat almost every meal here in the colder months.
Then there's the upper-right corner of the kitchen layout. This is the "pantry" area, which isn't really a pantry but just a weird recessed part of the kitchen that has all the original cabinets (upper and lower). There is lots of storage back here – and countertops – but it is so far removed from the rest of the kitchen and has such minimal usable counter space that I rarely actually work on food prep back in there.
Lastly, off to the upper-left hand of the floor plan is the entry to the backyard and mud room. This also has cabinets for storage and hooks for coats. You might remember me organizing it in this post.
You'll notice how much potential this space has if one day the wall separating the different sections of the kitchen came tumbling down. But for now, this is what it is. A weird chopped up, semi-functional kitchen. I can still make it pretty right?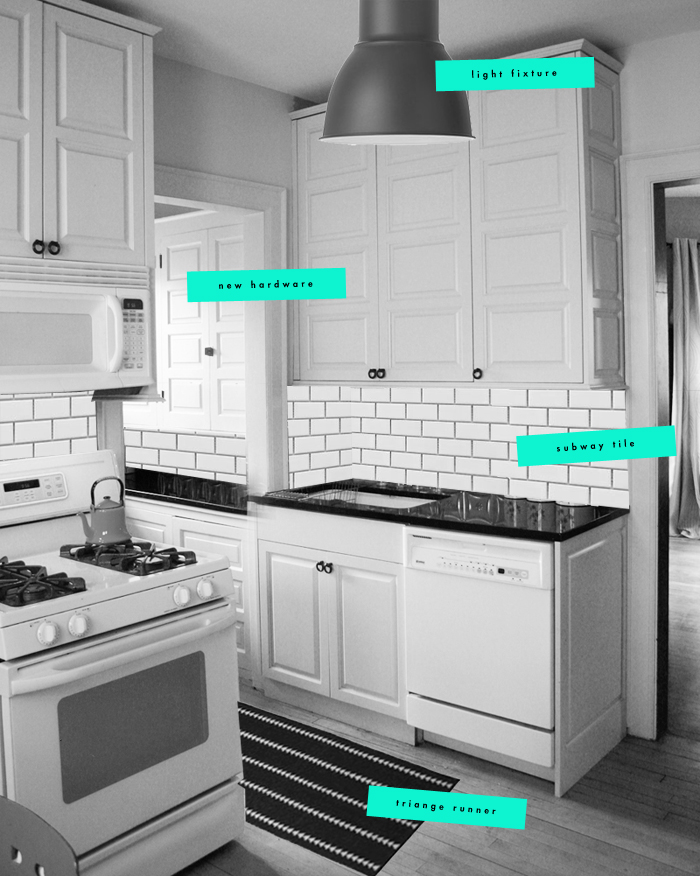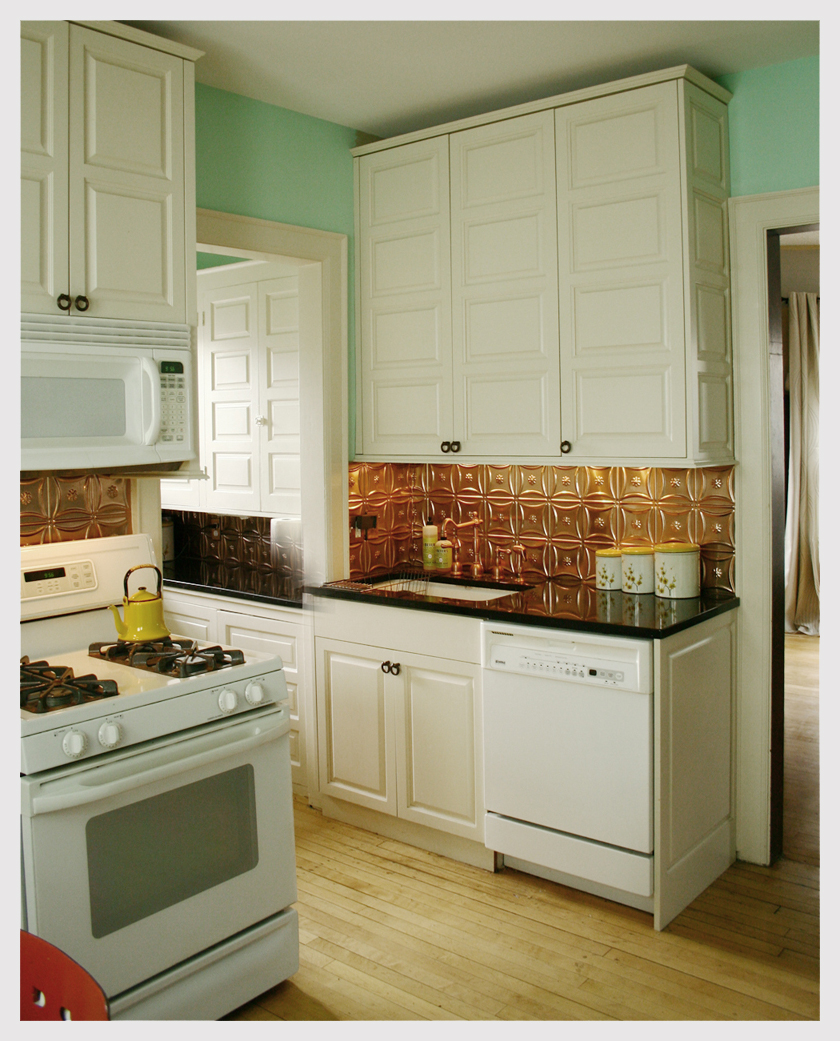 Guys, you know I love me some photoshop, so I went ahead and photoshopped my plan together. I'm into it. We don't have a budget to remodel and knock down walls (like I said), but I still have a butt load of white paint (All White) from Farrow in Ball in the basement.
I've decided to repair all of the older cabinets; some are in bad shape and need a lot of patching and sanding. All of the original hardware is covered in about 7 layers of paint. I want to strip and restore all of it. I'm going to paint all of the cabinets white, including the new ones in the "main" area of the kitchen.
I'm going to take down the copper backsplash, cross my fingers, and hope that there is decent drywall or plaster (Yikes!) back behind it. Next step will be tiling, something I have never done before but have been told by many friends that "it's easy". We will see about that. I'm also going to change out all the light fixtures with new light fixtures from Ikea.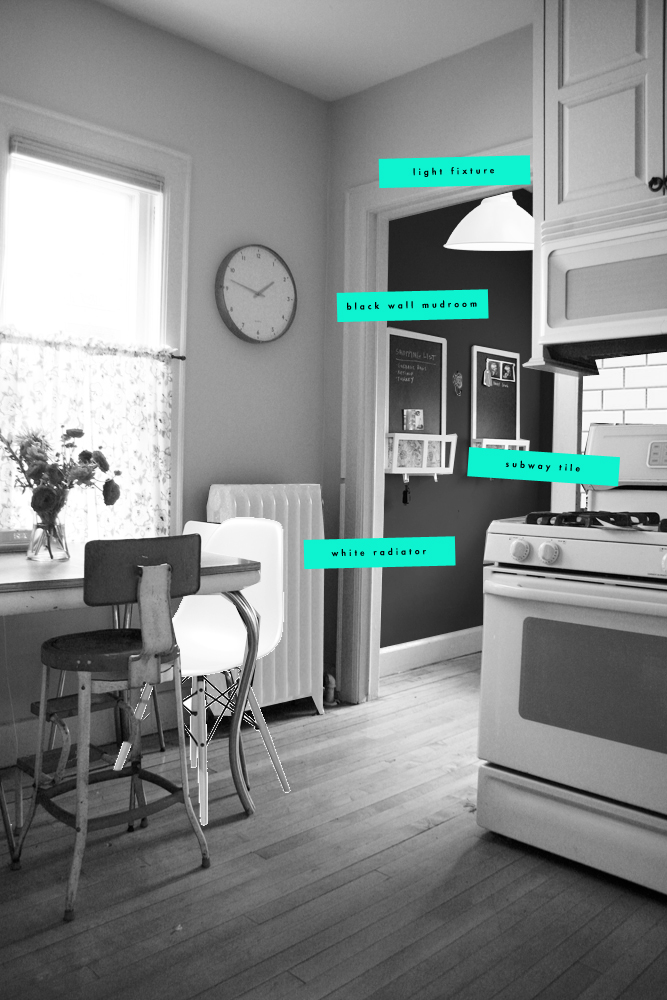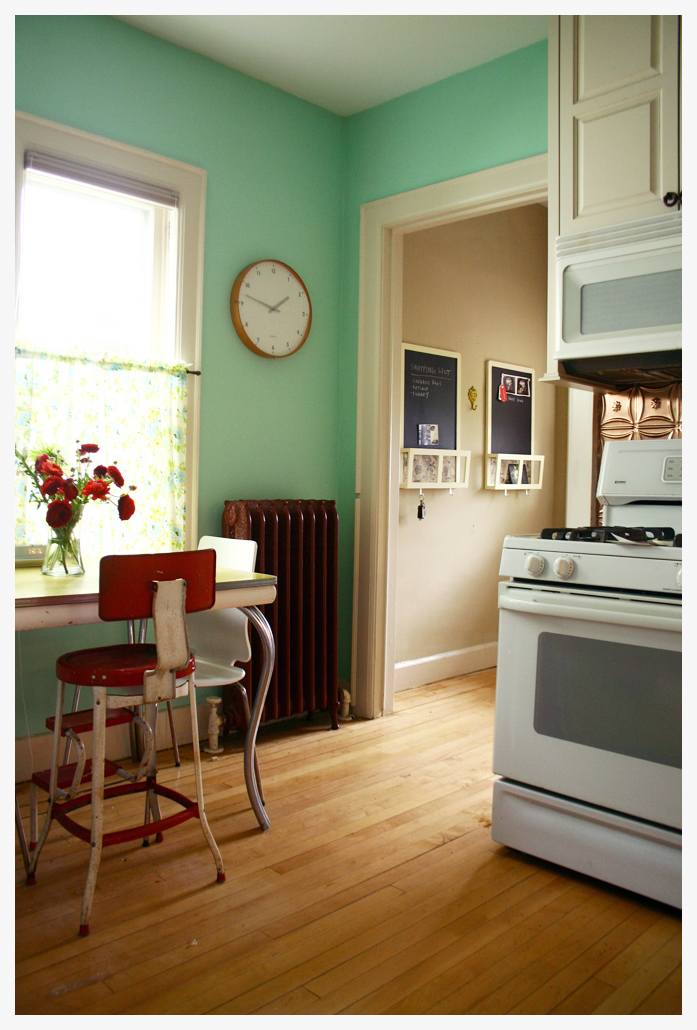 Really, a lot of the decisions come down to budget. Here is a kitchen that I really like on the internet, from a home that is also really old. I think that painting and repairing old hardware is going to supply a lot of bang for $0 bucks. I also think that changing out the backsplash will do wonders.
I like the aqua paint we have currently, but really, it's only aqua because I wanted to try make the copper backsplash feel more kitschy vintagey. Not sure I pulled that off, but I think I'd like to have a white kitchen, with a black mudroom and aqua accents.
There's so much to do, but I do know the only way these kinda projects get done is to start on something you can't change back. So I've already started painting cabinets and stripping hardware. It's on.
All the things I need to pull it off
P.S. Have you done a project like this? What should I know, what should I change about my plan before I get in too deep? Am I crazy?