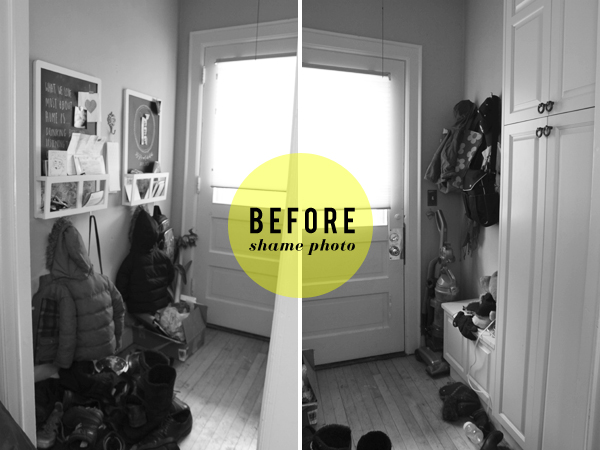 Hey guys! Any of you feeling the crazy need to get your house in order before the spring time hits? It's called "Spring Cleaning", if you haven't heard of it. I have the urge to do it in a bad way.
Now the fun, rewarding house projects cease, and the boring not so fun, maintenance projects begin. We have incentive this year to actually get all our spring cleaning done. We're gonna try and re-fi (that's the cool way to say refinance) our home. That means there will be an appraisal on our house, and that means it needs to look as good as it can possibly can, because we are talking money and value here! So not only do I need to clean all my closets and other embarrassingly messy areas, but I also need to patch holes, caulk tubs, and complete all those dumb painting projects that I never finish. I am notorious for leaving paint jobs 95% of the way done. I can never bring myself to do the touching up, because it's annoying, boring and lame. Serves me right, cause now I gotta do all that stuff.
This is my first ever shame post, and it won't be the last. If I show you how messy my house is, it will make me have to clean it up, obviously. I think they call it accountability.
Above you can see how messy the mudroom was getting before I cleaned it. I threw away and donated 5 bags of stuff from this little space. I mean, obviously, when you get really cool wind breakers with corporate logos on them from your job, you have to hang them up in the mudroom and let them sit there for… 1 year. There was tons of stuff like that, hung and abandoned. I had tote-bags from my old job dating back to 2011 filled with old work stuff.
Shamed!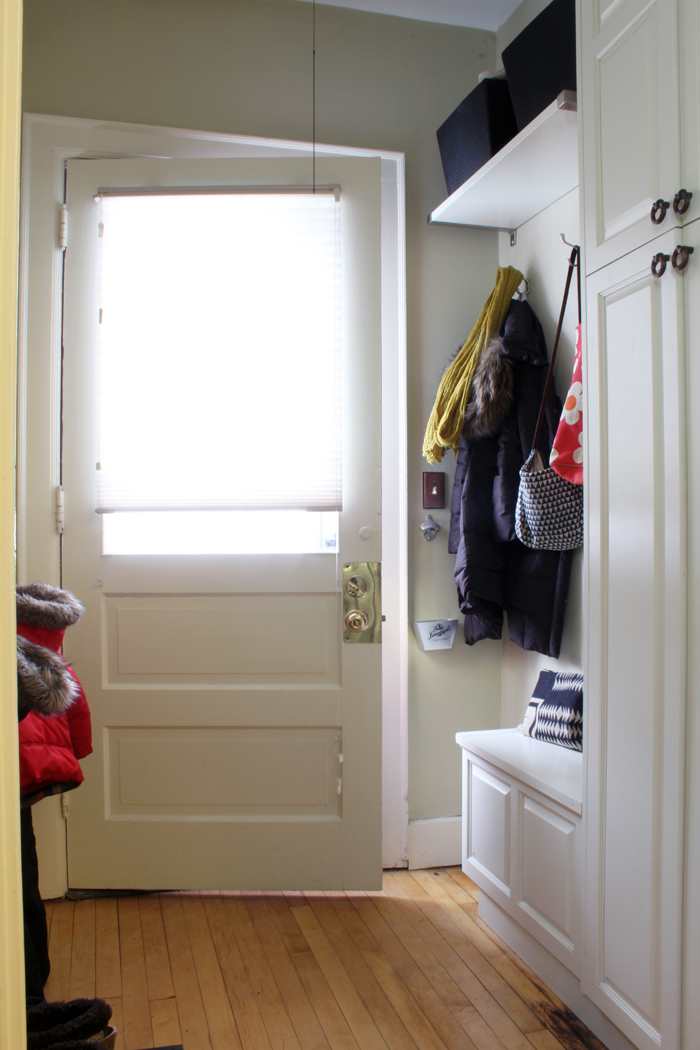 I designated coat hooks for each family member, not to exceed two items. I cleaned out all the cabinets and got rid of tons of stuff that we put in there after we moved in and unpacked but have never actually used since. I hung a new shelf above the coats, I love the Ekby shelf system from Ikea. The shelf boards come long enough so you can easily use a saw and cut them to the exact size shelf you need, the brackets cover the raw edge so it looks good. I also added two Bladis baskets (also from Ikea) to sit above the shelf. One basket for kids hats and mittens and one for grown up hats and mittens. In the summer I can switch this out for baseball hats and umbrellas, and move the hats and mittens to downstairs storage.
The cupboards are loaded full of backdoor appropriate items. For the summer time there is sidewalk chalk, gardening gloves, bubbles, and towels for the kiddie pool. For the winter; ice melt and sand are stowed away so I can salt the back steps. Up at the very tip top I have made space for all my seasonal canning supplies. A mudroom is a seasonal space and should be organized to function during the seasons.
There is one non-seasonal cabinet; the tall cabinet houses my brooms and dustpans and overwhelming collection of brown paper bags.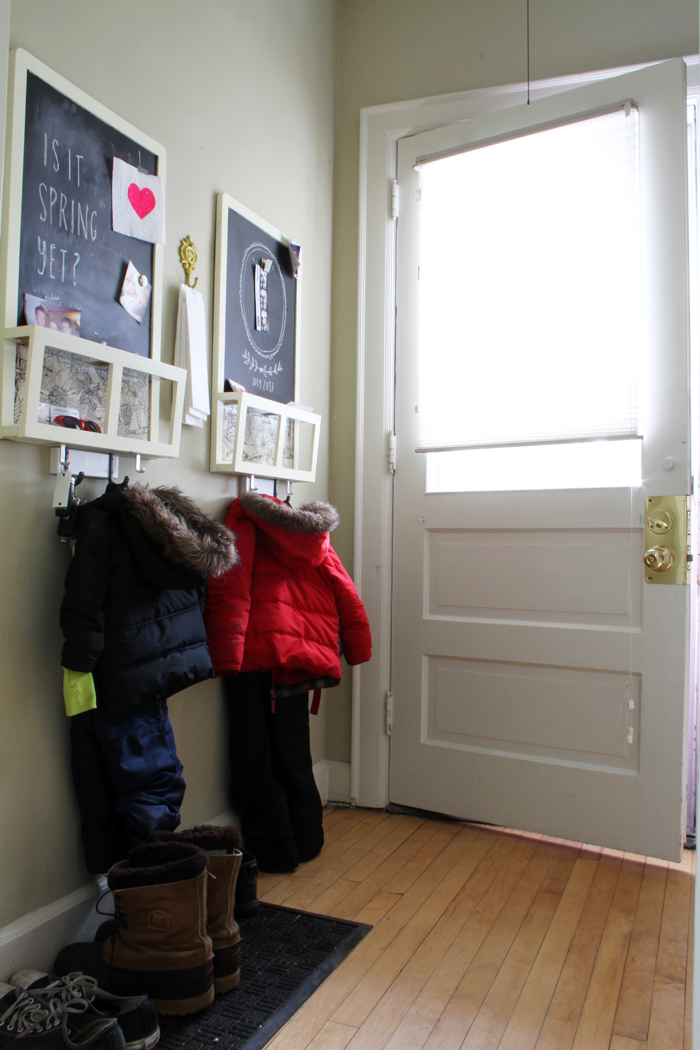 Under the chalkboards I hung two sturdy hooks for Finn and Gus. Both are at their level so they can get in the habit of hanging up their jackets and snow pants, which only one of them excels at. Also, you will see we have a rubber mat for all our boots and shoes. No more than one pair per family member is allowed!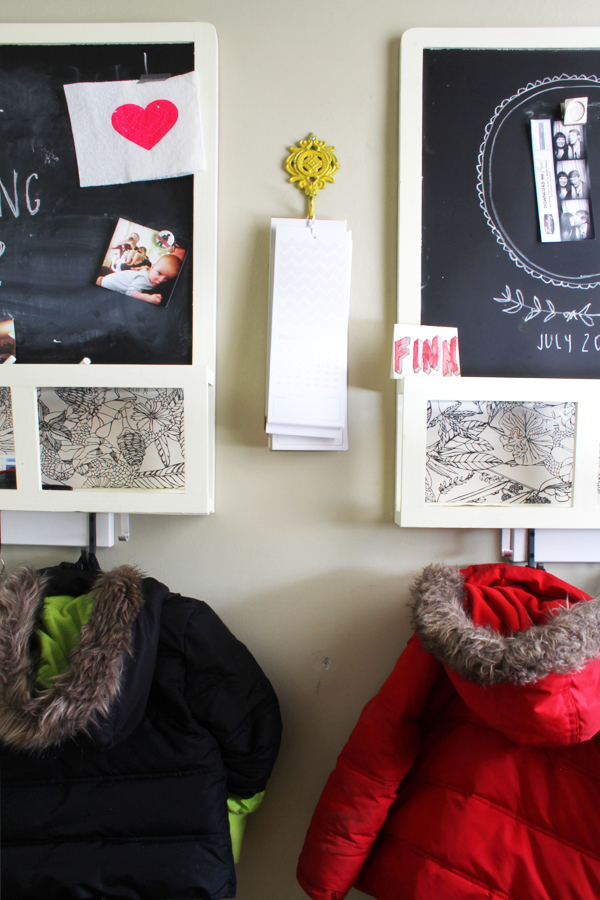 I picked these chalk/magnet boards up at Ikea last spring. They were natural pine and I painted them out to match the trim and added a scrap of wallpaper leftover from my buddy Colz' dining room project. We mainly use the back door to go in and out of our house and this "landing pad" helps us stay orgainzed (even if it doesn't always look that way). We hang our keys on the little hooks under the chalk board and drop our wallets, sunglasses, and phones in the stowaway space on the bottom of the boards.
I haven't painted this room yet, I hate the color, but with an appraisal on the way I decided to hold off on any drastic painting moves. I'm considering a black wall for this space.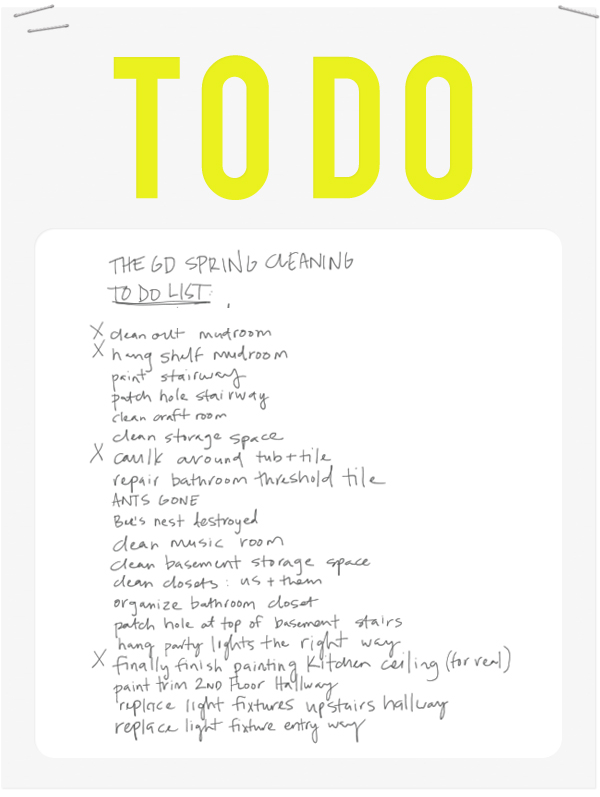 And here is the list, it's long, but thorough, and I'm gonna feel like a million bucks when I get through it all. Don't worry, I won't post every boring detail, but you will see a few. Especially some of the ones involving organization and reduction. I want you to get in the spirit too, and we can spring clean together! Come on guys! It's the only way to get spring here faster!!!