We made a decision on a light fixture for the kitchen, and I'm telling you it was H A R D ! About a month ago I installed the Foto pendant from Ikea, just to get a feel for what a big enamel pendant fixture might look like in the space, how it would cast light, and how it would function. I wasn't ready to commit to a fixture, and for $29, the Foto pendant was worth the money to take the ol' light-fixture-test-spin.
The Foto pendant is 20″ wide and we have it hanging 28″ from the ceiling, just hovering over my 6′ 4″ husband's head. It's similar in style to all the fixtures I was originally considering for the space.
The Foto lamp didn't cast the best light, it was kind of dramatic, and I liked it for that reason, but others were not as in to the dim light situtation. We have under cabinet lighting over all the workspaces, to me, the overhead light was just additional light, the new fixture didn't have to replace the sun or anything. I get it though, the room wasn't very well lit, and some people have issues with that. Also, Jeff was constantly ducking under the light every time he walked through the kitchen.
So the large enamel pendant fixture I was hoping for was out of the picture. Back to the drawing board, dawgz.
I was searching Schoolhouse Electric's and Rejuvination's websites, hoping there was something I missed, or didn't consider, when I was on my original mission for an enamel pendant lamp. Then I saw it, the "Factory Satellite 3" from Schoolhouse Electric, it even came with color shade options.
Now, I wasn't originally thinking that I needed a colorful light fixture guys, I was thinking black or white, nothing crazy. But then, I realized that this light fixture would be a great opportunity to incorporate my fave place on the color spectrum (teal/aqua/seafoam/turquoise) into the space. I was planning on adding a lot of teal accents to the kitchen anyways, so wouldn't this be the perfect spot to do it?
Hold up though, investing $359 on a light fixture that has a very specific look isn't something I would normally do. Normally, anything that costs dough in my house has to be neutral, that way if it needs to be repurposed down the road it can easily fit into other spaces. However, I was smitten with the idea of having 3 aqua lamp shades in my kitchen, and if someday the shades need to be neutralized, I can always order replacement shades in black or white.
There are a lot of other cool and practical things about this fixture, let me share a few. It can handle three 50 watt light bulbs, giving off 150 watts of total light – that means no one will have to feel like the kitchen is too dark. I already installed a dimmer switch, because sometimes I like my kitchen moody, life is all about compromises, guys. You can custom order the length of the rod, so I ordered my new fixture to hang 20″ from the ceiling, giving my man all the head room he deserves. It looks awesome and it's enamel, just like I wanted. We are all winners.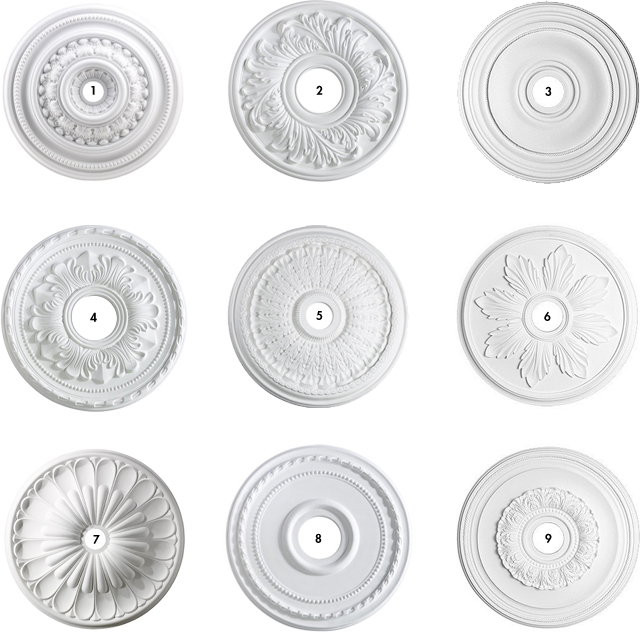 Click on the numbs to see more info
Remember last year when my kitchen ceiling had to be removed to access plumbing in the bathroom? Well, it didn't get put back together all the way. I didn't know it at the time, but the hole that was hidden by the old fixture's large base was much bigger than any standard fixture canopy. Obviously I could fix it, or I could get a ceiling medallion, duh.
I've wanted to add ceiling medallions to the fixtures on the main floor of the house since we moved in. However, the dining, living room, and entry way ceilings are all covered in textured popcorn, a medallion would just look so weird. Someday we will replace/remove/repair the popcorn ceilings and have beautiful flat landscapes overhead, but that day isn't happening anytime soon.
My kitchen has perfect flat ceilings though, and a medallion would look great up in that piece. Now I just have to choose one, but I love them all!
Thanks to Katrina @ Pugly Pixel for the cool tutorial on gradient css rollovers!