The spring clean up continues over here at Casa La Allen!! This time I've targeted the weird area that sits between the entry way/desk zone and the kitchen. It's also the access point to the basement stairs. It's a weird space that we've never tried to do anything with. It's exactly 31 3/8″ wide and 12″ deep. There has been four hooks installed here since we moved in and we've used it as a place to hang coats. This might sound like a essential space to have in a home with no coat closet, but now that we've got the mud room organized and functioning we don't need other places to hang coats. The coats, hoodies, and umbrellas we normally hang here don't get used for months. This space has become the place you hang stuff when you're feeling to lazy to put it away in a 2nd floor closet. So losing that coat hanging area wasn't really essential to the function of the home or entryway. Plus I've got plans to add a new guest-only coat hanging place in the actual entry area.
So all that being said, I took a trip to Ikea this weekend and came home with this shoe cabinet, something way more useable and important to the function of our family. YAY SHOE STORAGE! We lucked out in a major way because Ikea designed this Ställ shoe cabinet specifically for our space (not). It does however fit perfectly into this weird space in our home. I mean, look at it! It's sits flush inside the space, not a half inch to spare. I shimmed it a little only because the floors are a bit uneven here, but that's it. You might notice from the link that it's supposed to be installed with legs, but I opted not to do that. I didn't want all sorts of dirt and toys gettings stuck under there, which would happen in about 1 minute, you know it would. Not only does it fit like a glove, there is an outlet in the baseboard behind the cabinet, so we can actually add a lamp and make the shoe hideaway look like a piece of furniture, instead of just an inexpensive piece of big box storage.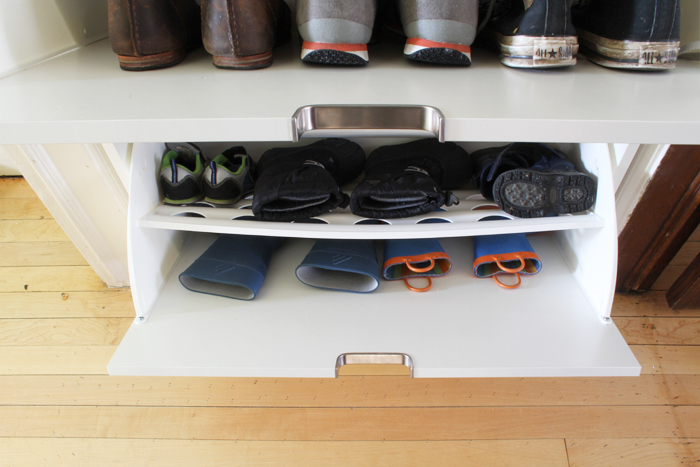 We are a family who is not good at putting our shoes away. This piece can hold 18 pairs of shoes, that's a lot! It even stores boots nicely! We've only had it for 5 days now and our house feels so much more tidy because we don't have to live with one of our 3 shoe piles that were anchored throughout the house. This might be my favorite new spring cleaning addition thus far!