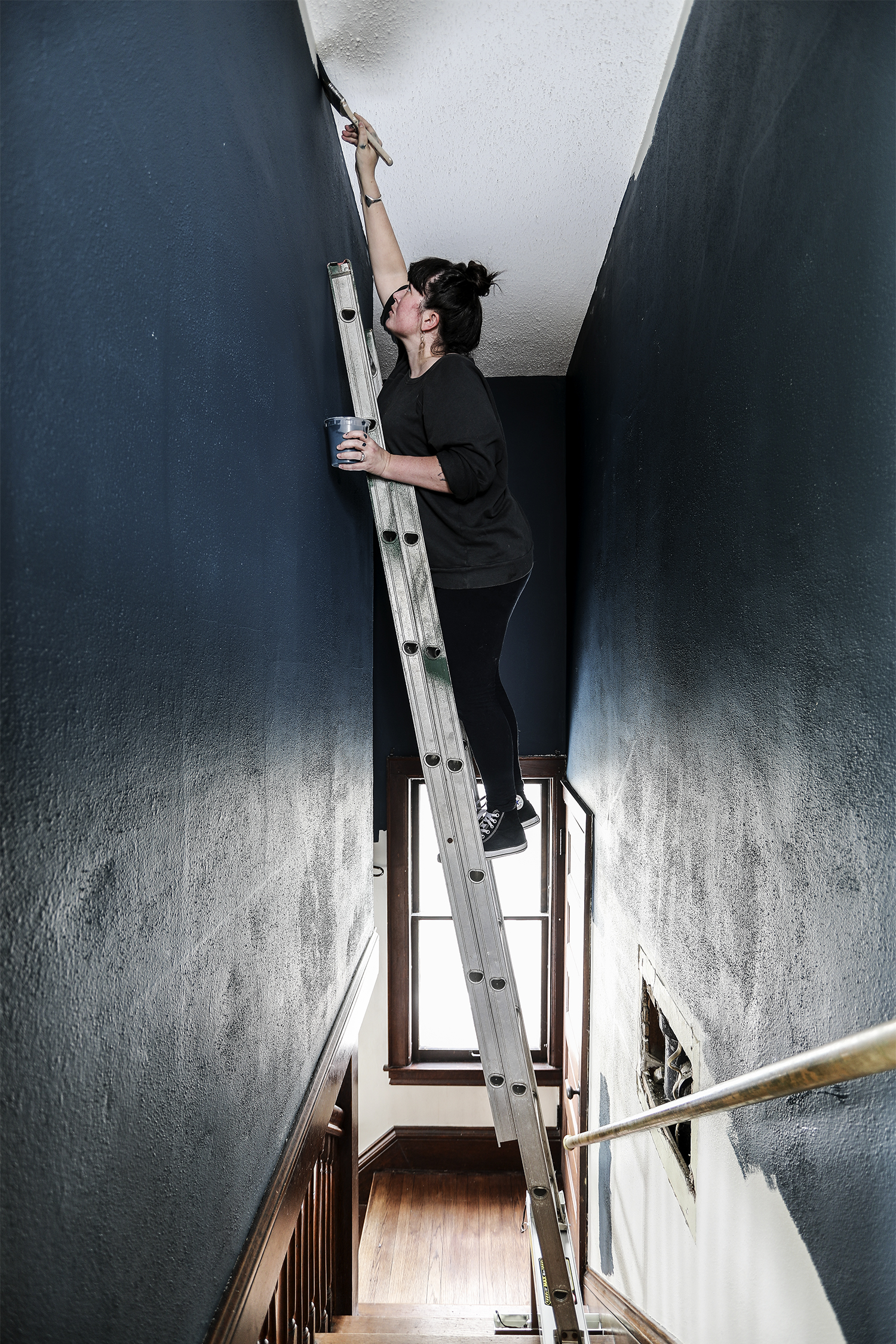 Hey Pals! I've been teasing this post for awhile, but I never meant for it to take so long to get to ya. The reason this post is such a big deal for me, is that I've been trying to figure out how to paint the stairwell with high ceilings for literally years! I didn't want to go as far as to use scaffolding to cut-in the edges with my brush, but I also didn't want to push myself or the limits of my ladder too far, and end up dying in the process.
I looked everywhere for a solution to my problem, and from what I can tell it is the internet's biggest secret. I thought about constructing my own level base by building an inverse set of stairs that nestles into my staircase and has a flat top – that way I could set a ladder on it. I also thought that they must have invented a ladder by this point with adjustable legs (I guess they did, this wasn't here last month) to accommodate stairs. Nope. What they don't want you to know is that there is an invention that makes this easier. It's an adjustable base that sits securely on the stairs, allowing for a flat surface to set your ladder on. It comes in two sizes depending on your ladder, I used the smaller of the two and it worked perfectly for me. Most importantly it feels secure. The Ladder-aide comes with a sturdy lip around the base so that your ladder can't slip off, and the steel pins have back-up pins to ensure that they won't just fall out, or something. It seems a little redundant, but hey, no dying.
Genius.
This is exactly what I needed to reach the top of my walls. I'm not gonna lie, getting on a ladder and hanging out at the top of it is never fun, but just don't look down.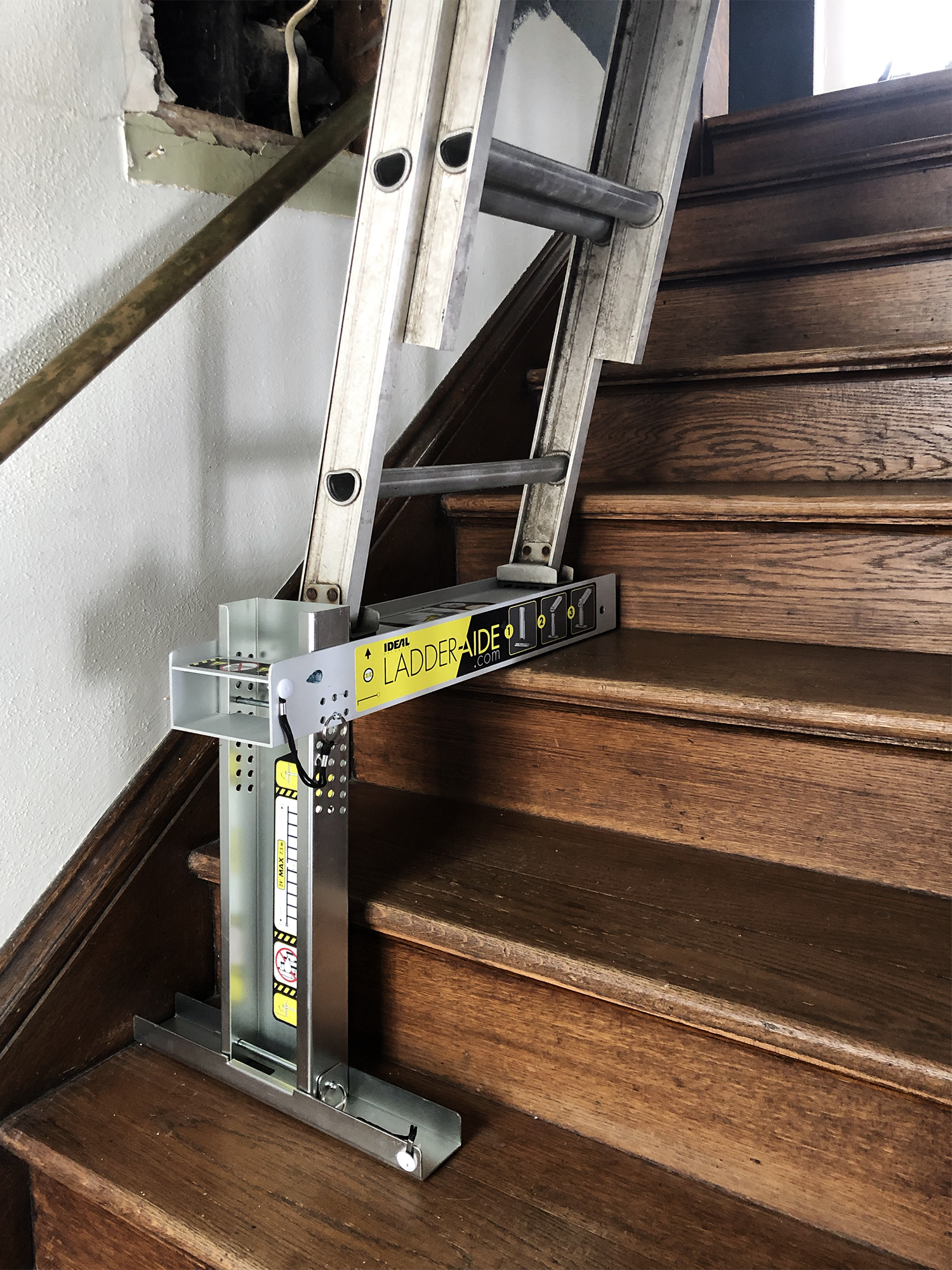 Post coming soon about my version of an access panel for all that crap you see spilling out of that hole in the wall.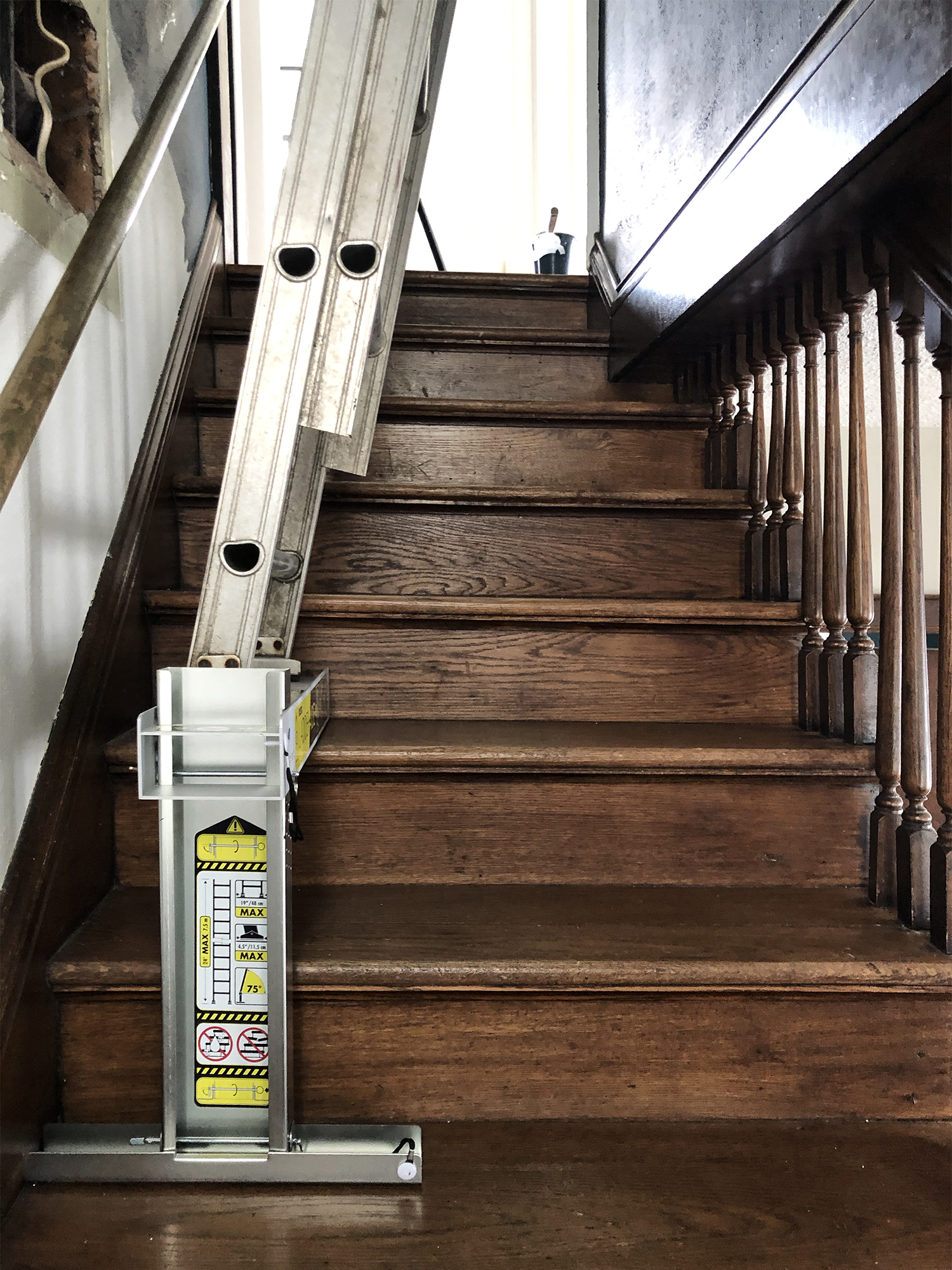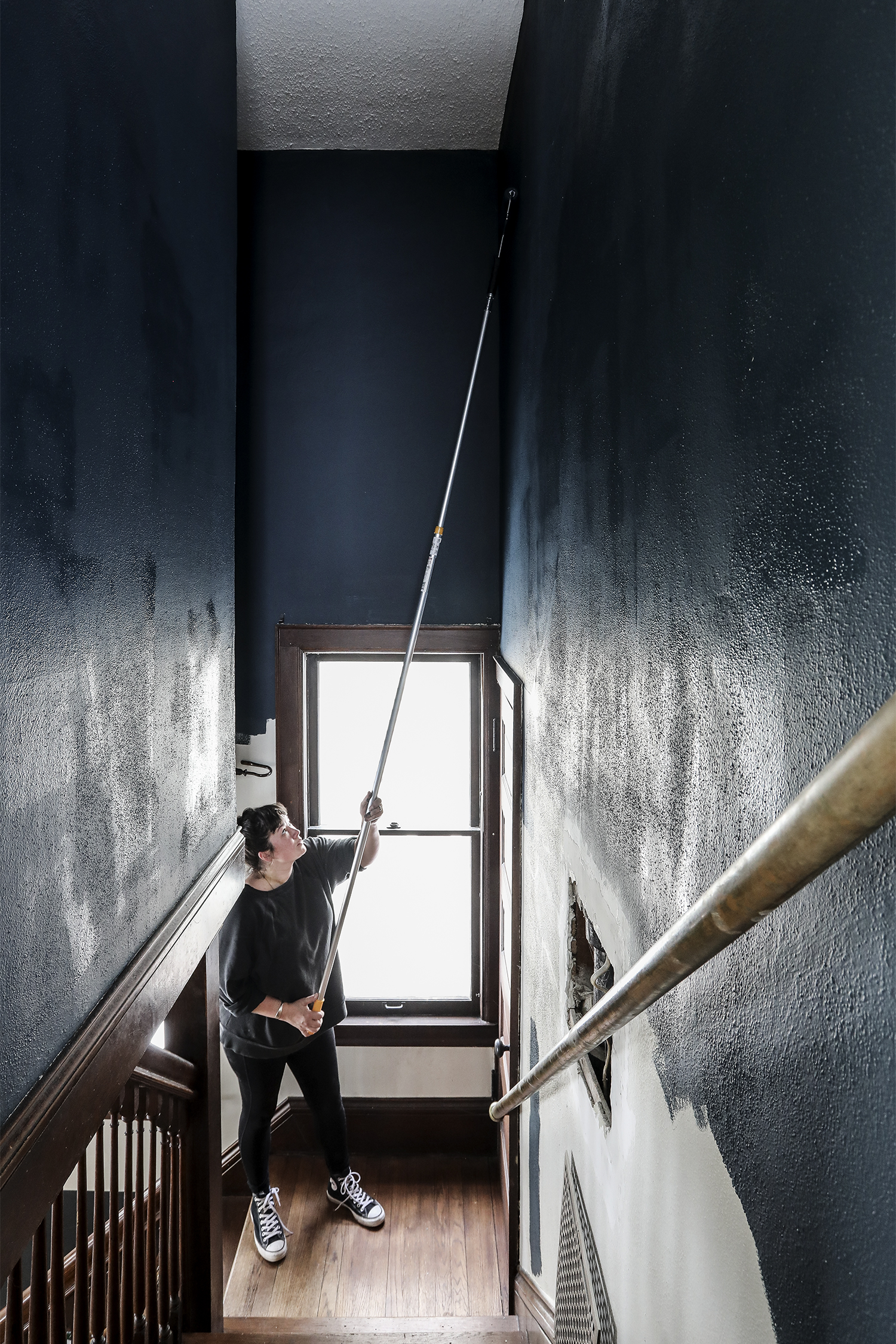 Next up. You're gonna need a good extension pole so that you can do most of the really high up stuff with a roller. Rolling on paint with a 12′ extension pole is tedious, I would have to lower the pole, walk up the stairs to the hallway to load up the roller with paint, walk back down the stairs, extend the pole and then I got to rollering on the paint. It takes time, but it is well worth it if you get the results you were hoping for. I recommend this 6′-12′ extension pole, the head locks into the roller and it doesn't twist on the pole like so many other cheaper extension poles do. If you get a cheap pole, you will be painting and you won't be able to get even pressure or all of a sudden your pole will drop all the way down because it came loose. You pay for what you get, ma' friends.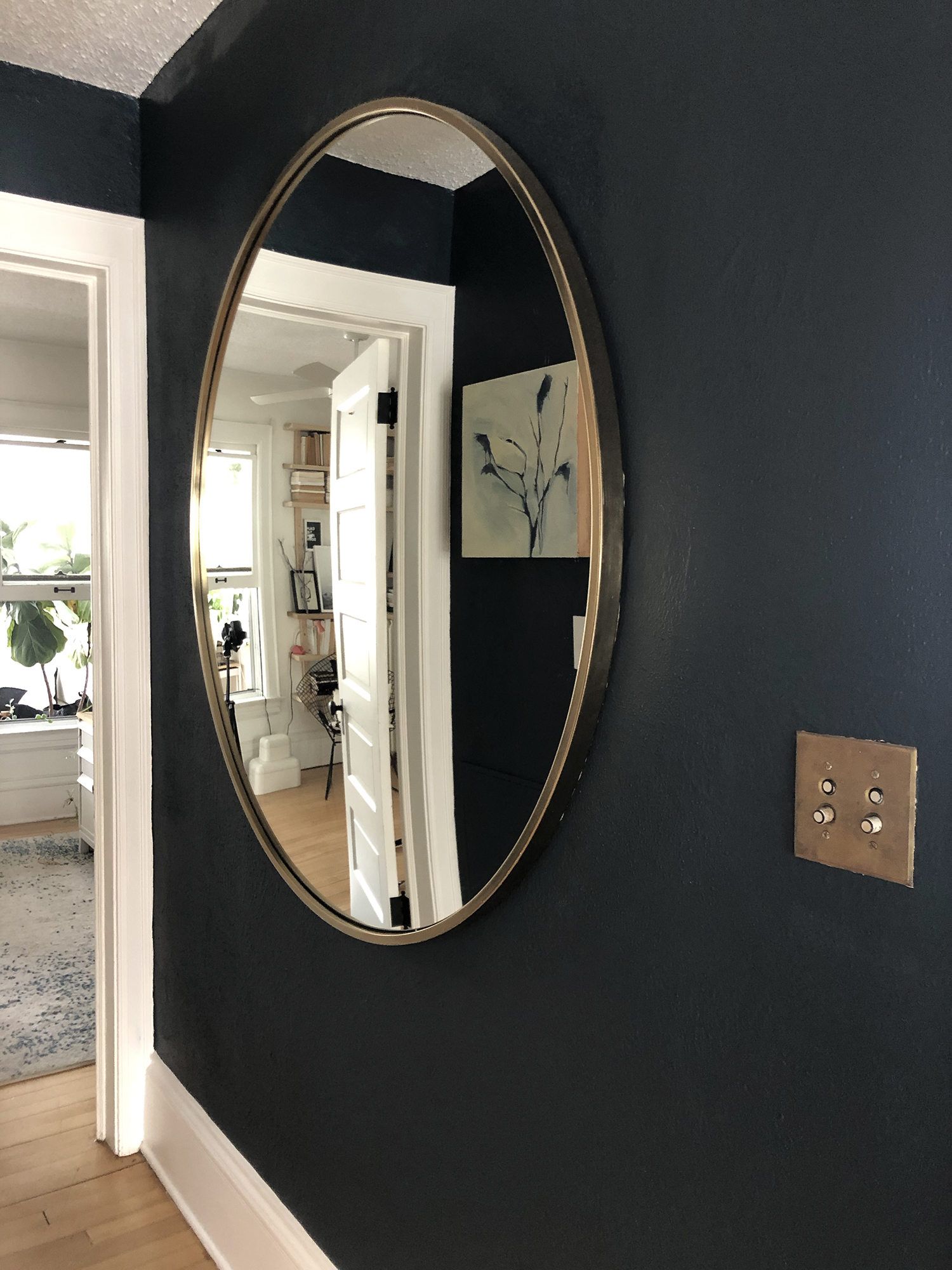 And just for funsies, here's a little sneak peek of the upstairs hallway. Don't you love the paint color (Hague Blue by Farrow and Ball) with that big brassy mirror (on sale r n)? I'm still waiting on curtains, light fixtures and time to build another access panel, but I'm in the home stretch of the project. Looking forward to sharing more with yas real soooooon!