Pssst, hover your cursor over the garden drawing
Yo Guys! It's Veggie Garden Planning season! Planning the coming year's veggie garden with the kids has become my ultimate favorite sign of spring. Finn and I started this tradition four gardening seasons ago back in 2012. Gus was merely a little-dude-baby back then and Finn and I did this as a way to have Mom & Finn time. Although Finn is not the worlds biggest vegetable fan, he has always been very enthusiastic when it comes to tending and cultivating a garden. This year Gus is old enough to participate too. It does my heart good to see these two boys get so excited about growing things! Gus would like it if we could also plant some chocolate ice cream, french fries and chicken nugget seeds too – he's kinda got the right idea.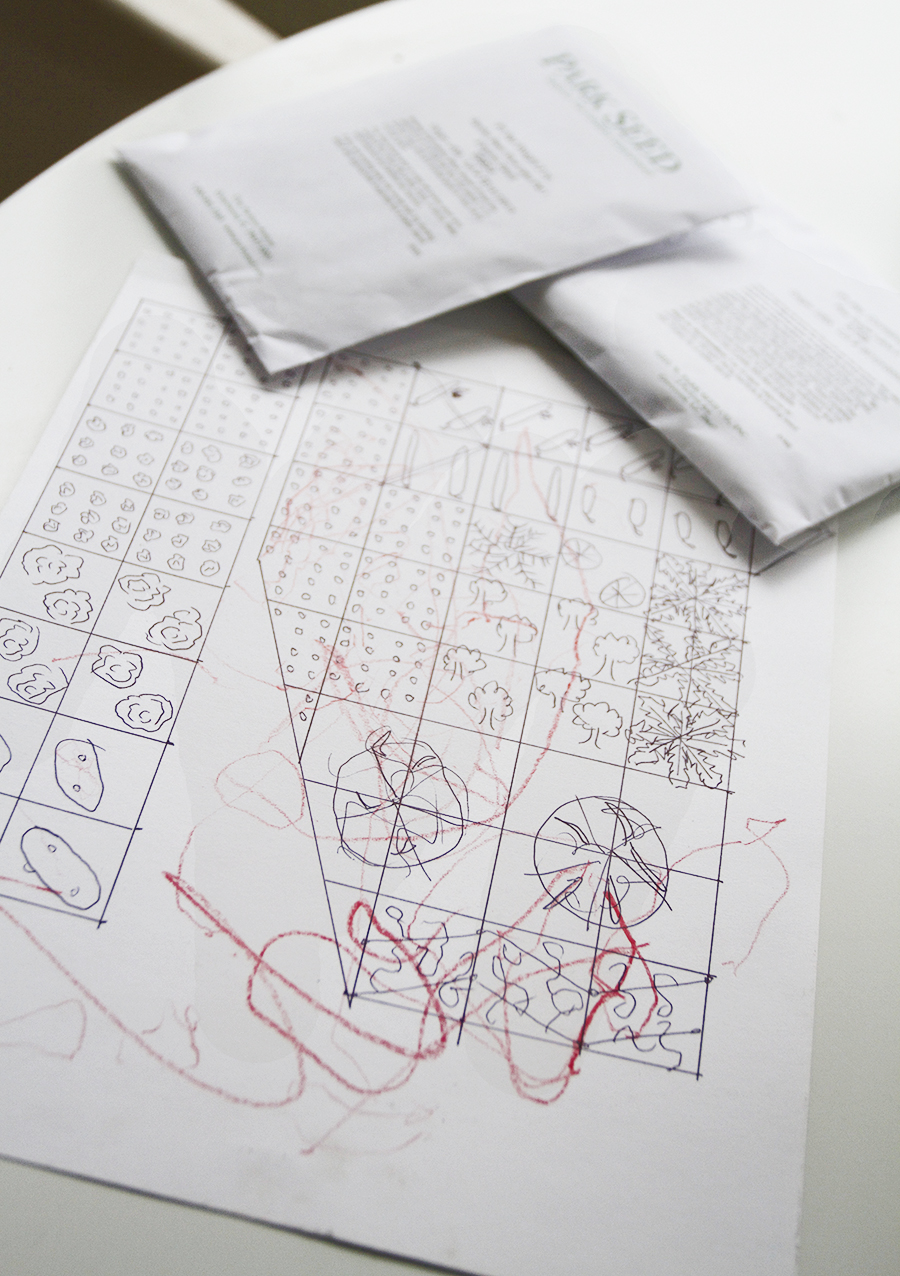 We're all excited to get out in the dirt and get the garden ready for seeds and our little seedlings that we've been tending to over the last month or so. I'm going to be testing the pH of my soil this year for the first time and I'm curious to see how this will improve our gardens yield. I'm also trying pole beans for the first time! In the past we have grown bush beans, but I was always bummin' by how quickly the harvest came and went. The pole beans should allow us a constant growth of new beans. We're considering growing zucchini and/or summer squash on a trellis this year. Any of you have experience doing this? We don't have a huge garden, so I was thinking one plant of each squash, and the internet tells me it's easy to train the vines to grow on a trellis. Like I said, I'd love to hear from you if you've had experience with this. We're trying potatoes again! Last year I just used some spuds from a bag of potatoes that had started growing roots – the results were lame. This year I've invested my $15 and am getting some real potato tubers from the professional seed people. I've got my fingers crossed that this will work, because there's a little guy I know who'd really like to see me grow some french fries.
+++ OUR 2015 GARDEN +++
Cucumbers | Zucchini | Summer Squash | Carrots | Kale | Radishes | Broccoli | Rosemary | Basil | Pole Beans | Peas | Arugula | Bibb Lettuce | Cutting Lettuces | Potatoes
2014