I had a problem. I wanted to spend huge chunks of time at this cabin this summer, but I also wanted not kill my window boxes and lawn due to lack of watering. What's a girl to do? A few years back I had set up a timer to our spigot. The timer was capable of having two different zones, so I ran a hose to the front and back yard and had set the timer to water daily for 10 minutes early in the morning. It worked, sorta. I mean, who doesn't like to water their yard when it's raining?
It was a good first step towards not worrying about my garden while chillin' and enjoying the summer the cabin. This year I got smart and I found a smart watering system – see what I did there with the word play on "smart". Pretty funny, right? Okay, nevermind, don't hate me.
What I'm trying to tell you is that I got a smart watering system that I hook up to my spigot, my window box and lawn get watered! AND, if it rains, the smart watering valve begins a 24 hour rain delay. So smart, right?
The Set Up
b-hyves & spigot splitter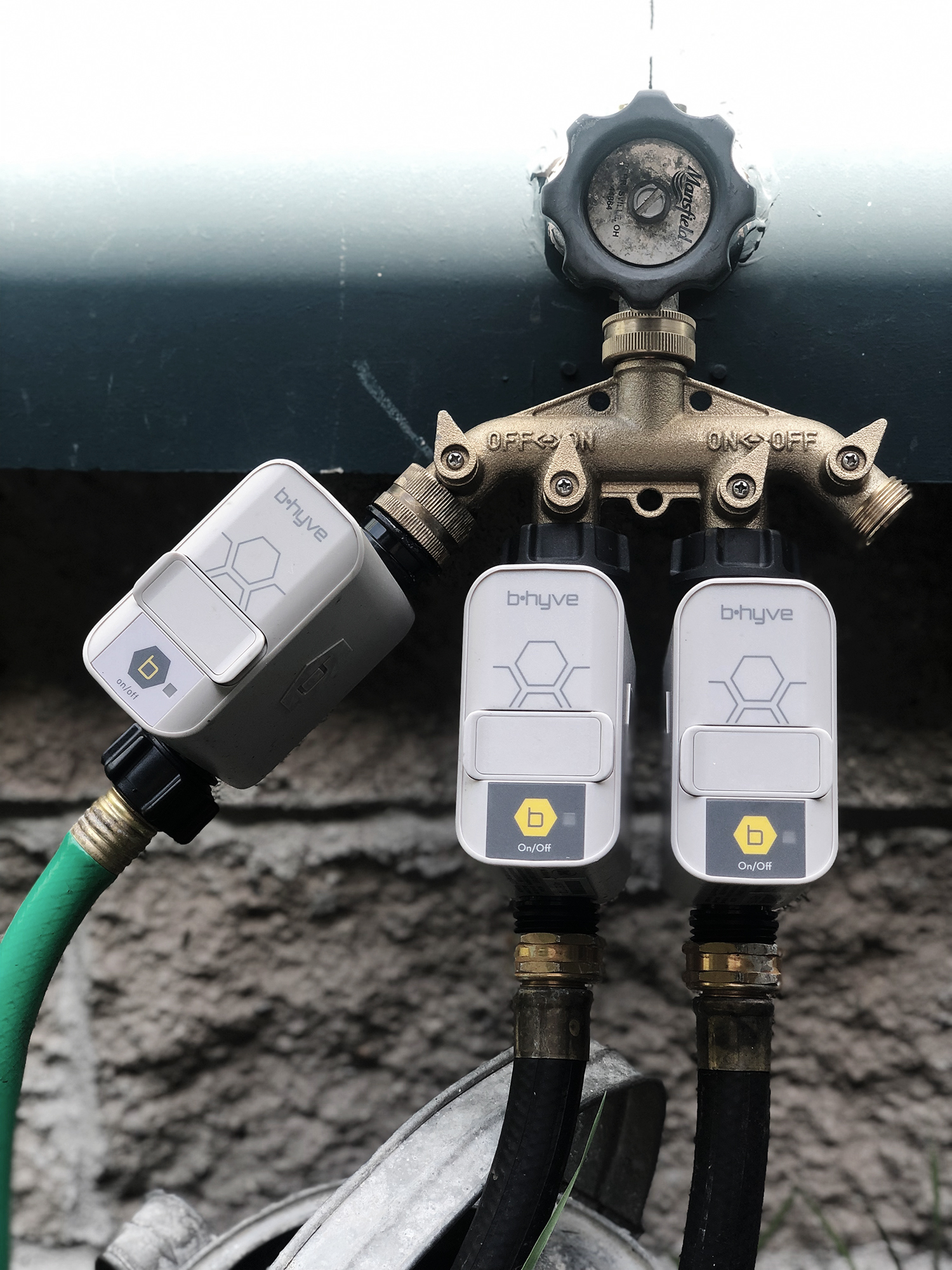 This is what the
system
looks like. I purchased a four-way splitter valve to start things off. I wanted a hose for window boxes, one for the front yard, another for the backyard and a free spigot for when I feel like filling up my watering can. Attached to three of the outlets is a b-hyve smart watering valve. The valve runs on two AA batteries and connects wirelessly to a hub. The hub comes with a b-hyve and then
additional b-hyves
can be purchased separately. The other "hyve's" can be connected to a single hub. The hub is a small card (think 1.5″ x 3″) that is plugged into an outlet. Our hub is plugged into an interior outlet hidden behind a curtain.
the app
Setup is straightforward and easy. Once all your hubs are connected you download the b-hyve app and follow the instructions. The app controls each hyve and you can set specific watering restrictions or timer intervals for each zone. You can even override the app and water remotely. This gave me peace of mind for those days that were really super hot, I could set remotely water my garden from the cabin! The app is not the most intuitive piece of tech I've ever used, but I hope as it gets updated, it gets easier to operate. To control a b-hyve, you need to basically log-in and log-out of hyves and then change the zone setting, which doesn't make any sense to me. The app connects to local weather and will enable rain delays if there is precipitation forecasted. No overwatering!
Smart Watering Must Have's


I wanted more than smart timers though, I wanted to know that my window boxes were being taken care of. I invest so much actual money into my annuals every year, I'd hate to pull up after a week at the cabin and see them all dried up. This was the year that I was going to try drip irrigation for my window boxes. Drip irrigation allows soil and plants to get watered through a small hose and tiny spigots that slowly drip water. It was such a inexpensive and worthwhile addition to watering central. The internet was not very helpful in telling me if one drip system was better than the other, so I just closed my eyes and clicked on one. I ordered something that looked like it had all the parts I needed, and it did – probably too many even. I saved the extras in case I decide to add onto the system next year. I wanted to share with ya how easy it is to set up a system like this. All it takes is a scissors and some hot water. Okay, here goes.
Drip Irrigation Line
loosen the hose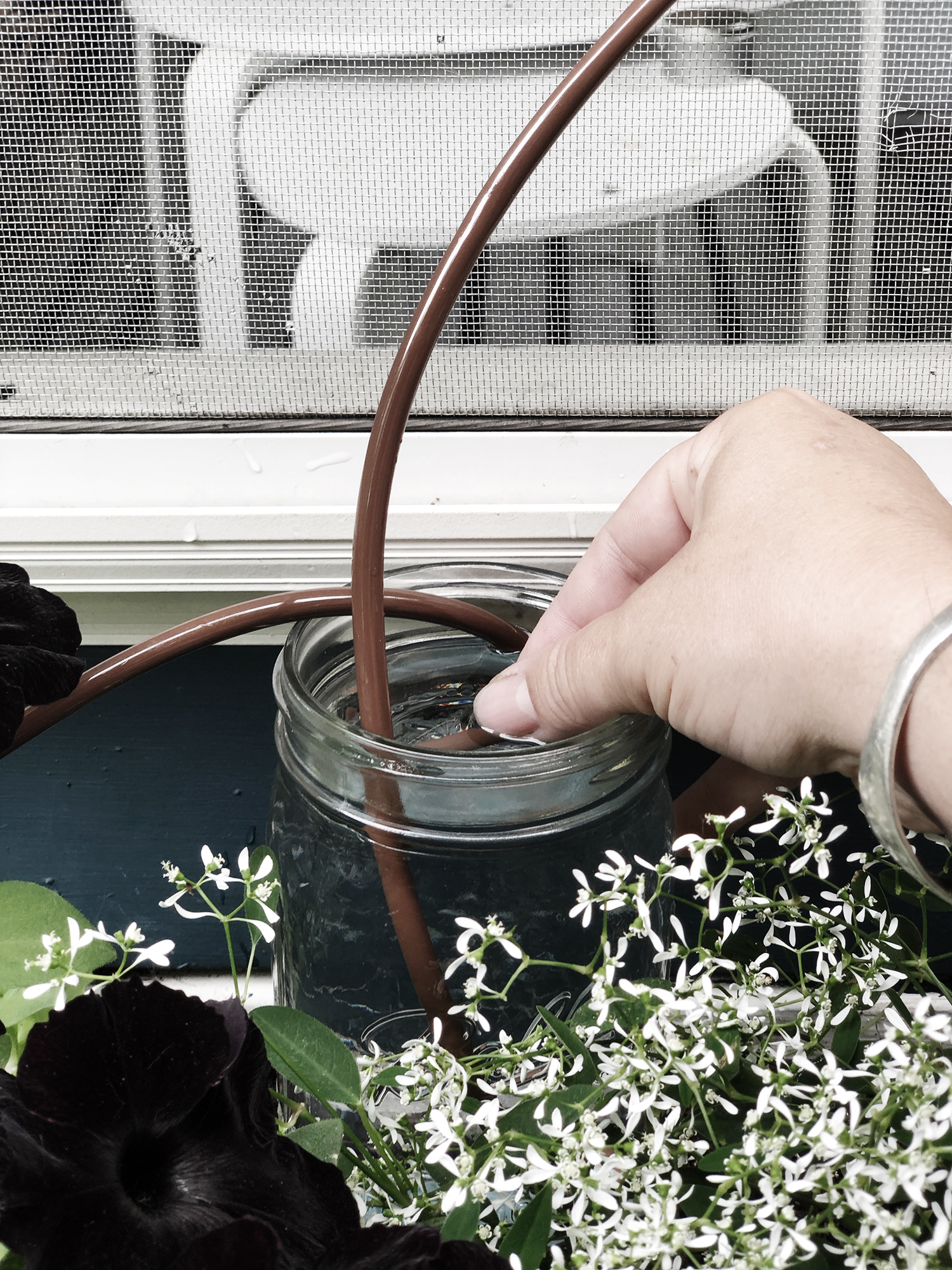 I cut a two foot section of hose off from the end of the end of the line so I could use it to build my spigots. Each spigot requires about 2″ of hose. To loosen the hose up so that it can accept the dividers and spigot head place the end of the hose in some hot tap water for about 30 seconds.
connect the 't' and drip emitter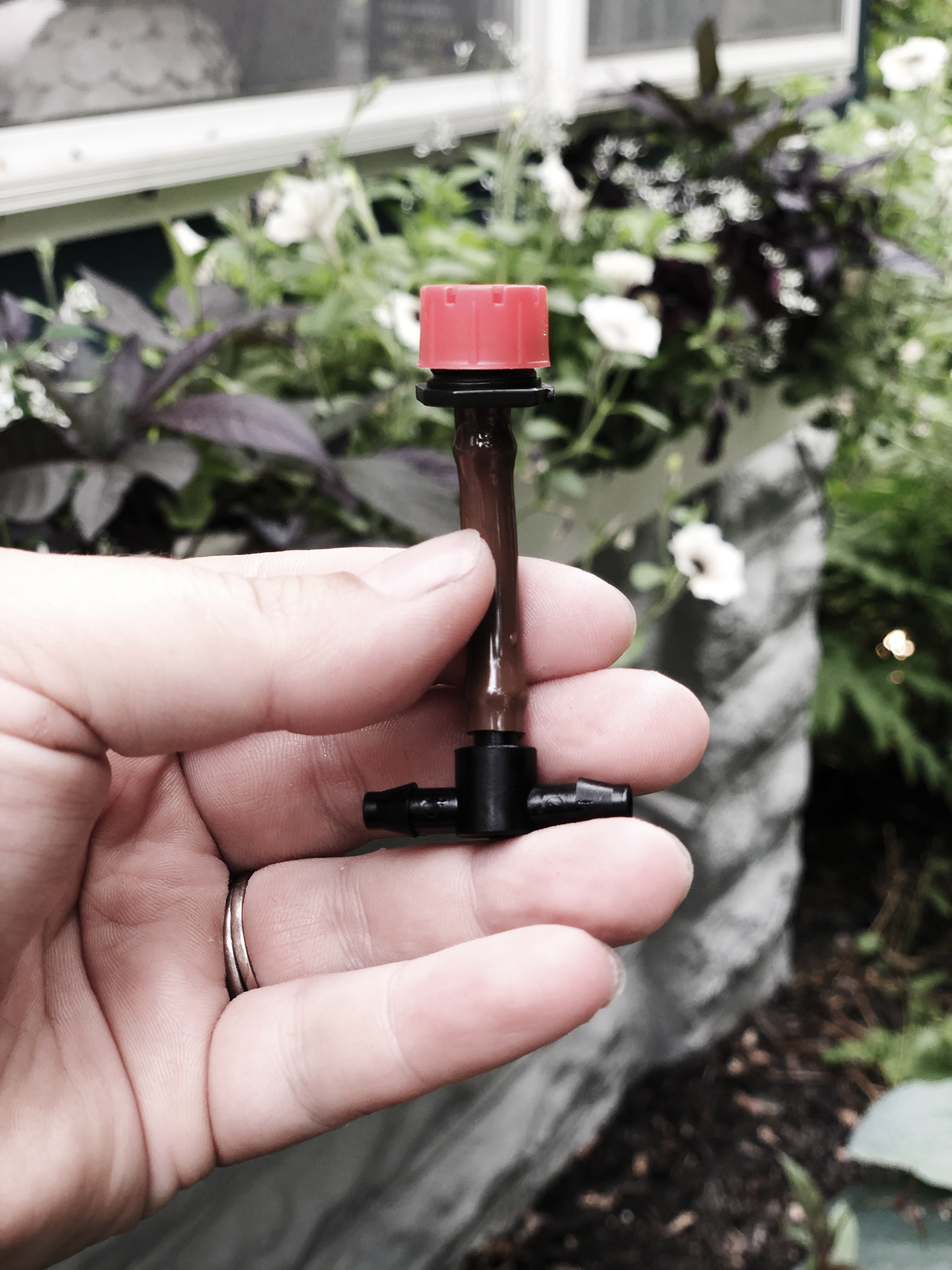 Now that your two inches of hose line is loosened up, connect it to the middle of the 't' and connect the other end to the tiny red drip emitter. Repeat for the desired amount of drip emitters you will need.
snip hose to install a drip emitter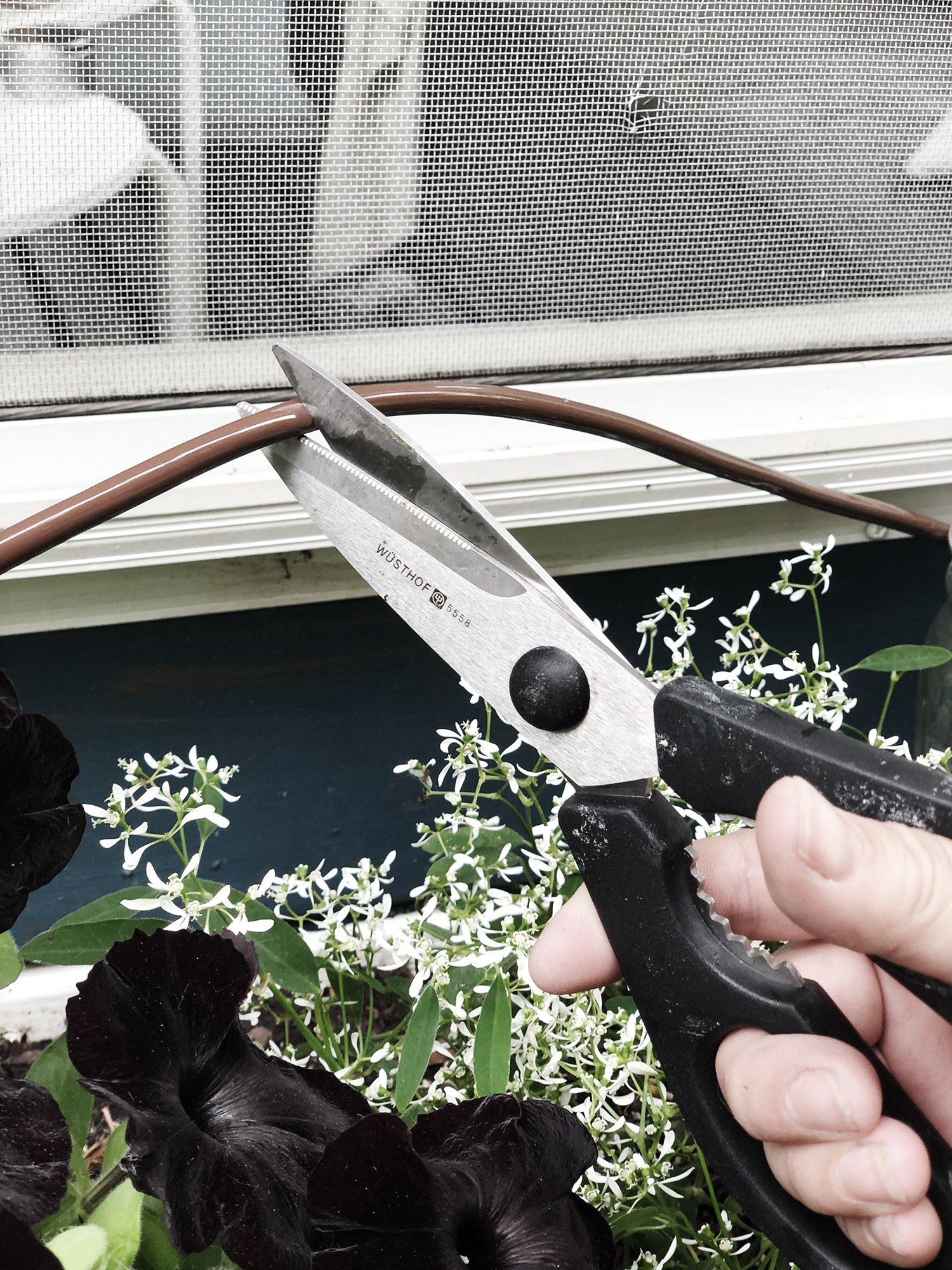 Lay out the remaining drip line (from what you had cut in the first step). I laid out the entire drip line hose and made sure that the hose was in the right position. Once the location of the hose was determined, I went ahead and started cutting the line where I wanted the drip emitters to be. I placed my drip emitters about a foot apart from one another.
connect the drip emitter to the line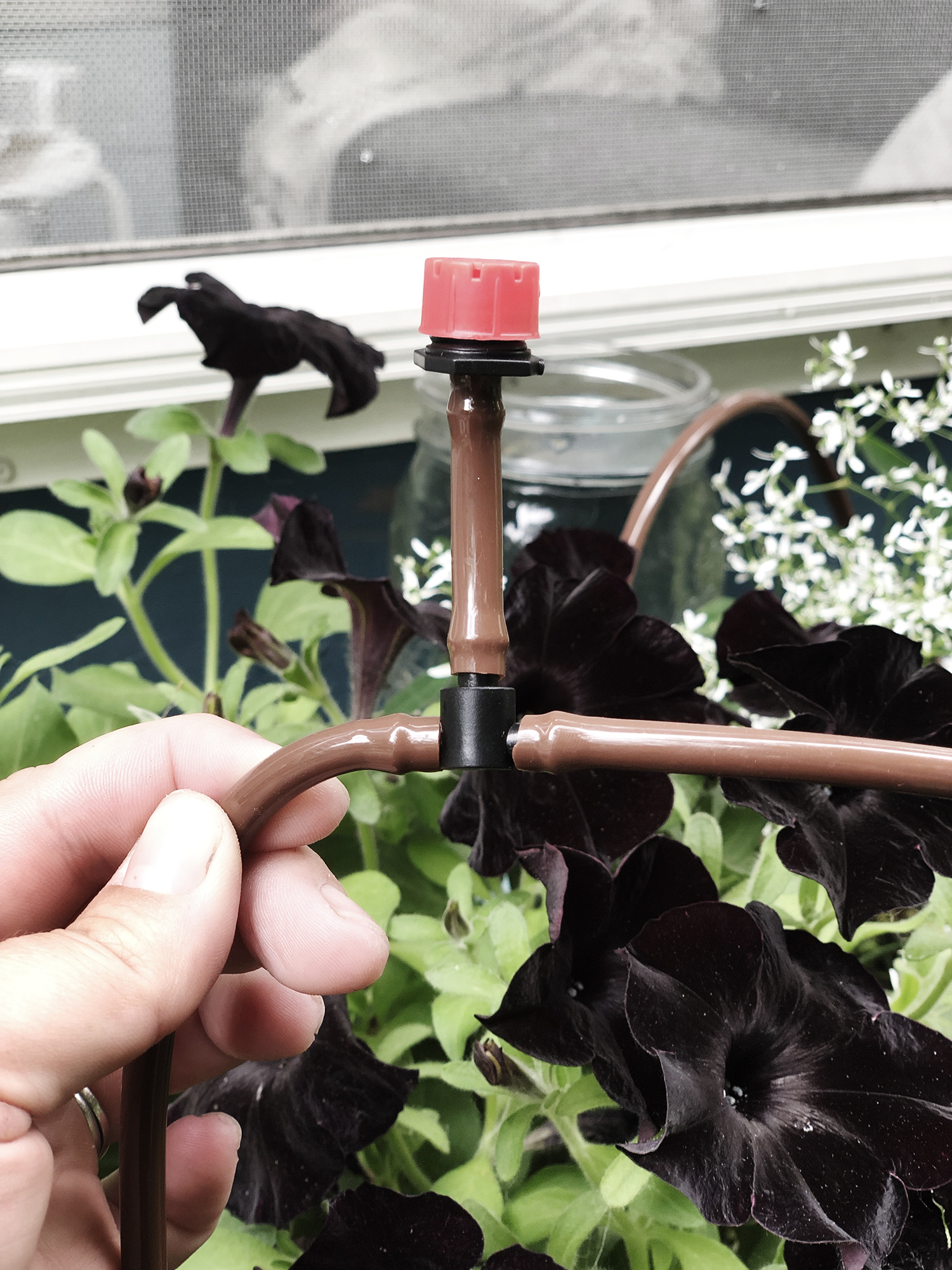 Now you'll attach the pre-assembled drip emitters to the locations you had snipped in the line. You'll need to warm up the cut ends with hot water so that it can accept the pronged ends of the 't' and drip emitter.
position drip emitters and adjust water flow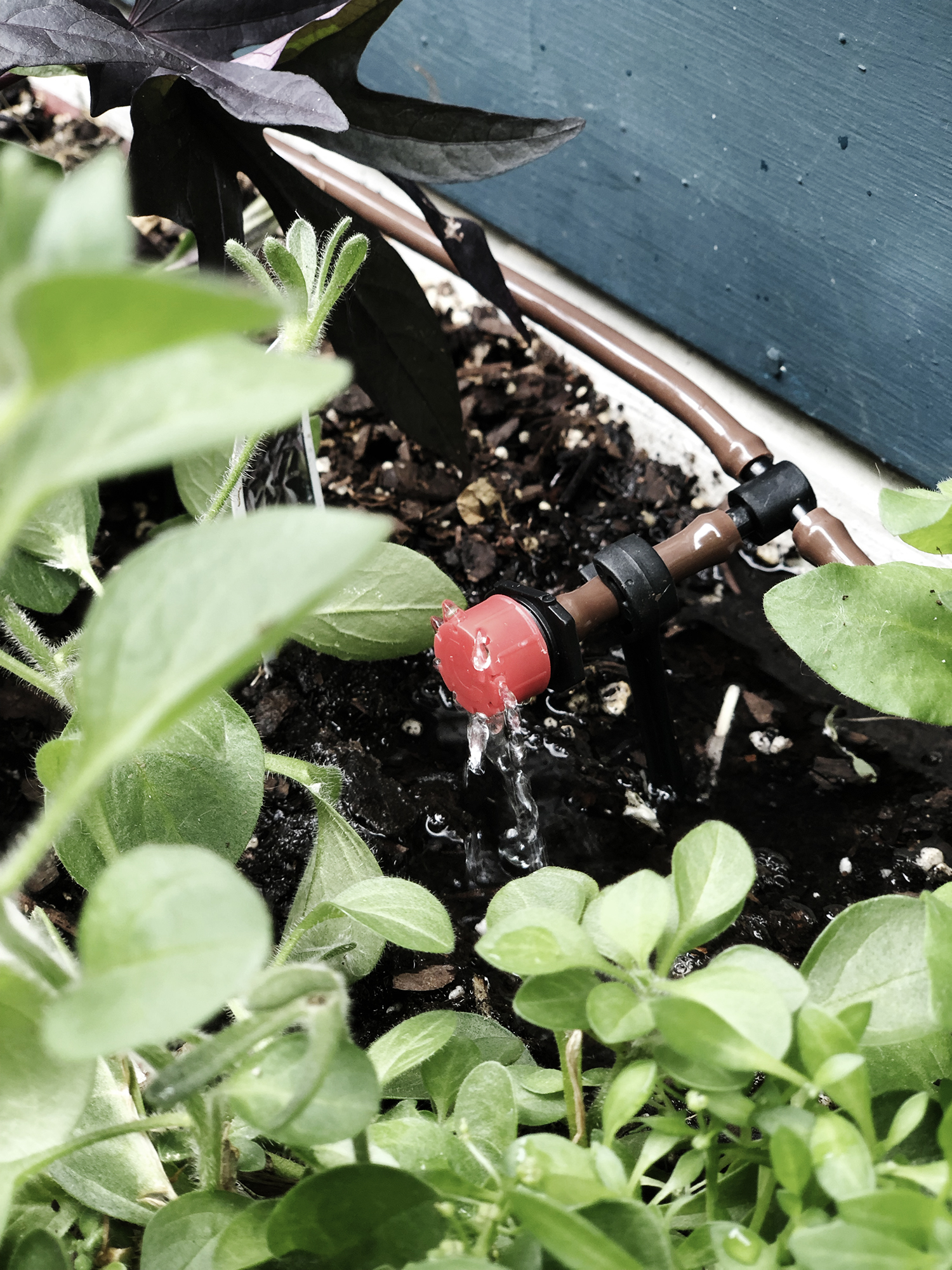 The kit comes with little stakes that you can recess into the soil. The stakes elevate the drip emitters so that they don't get clogged with mud and debris. Connect the hose to your outdoor spigot to test the system. Each drip emitter nozzle can be adjusted by turning the emitter. This helps to evenly spread the flow of the water down the line.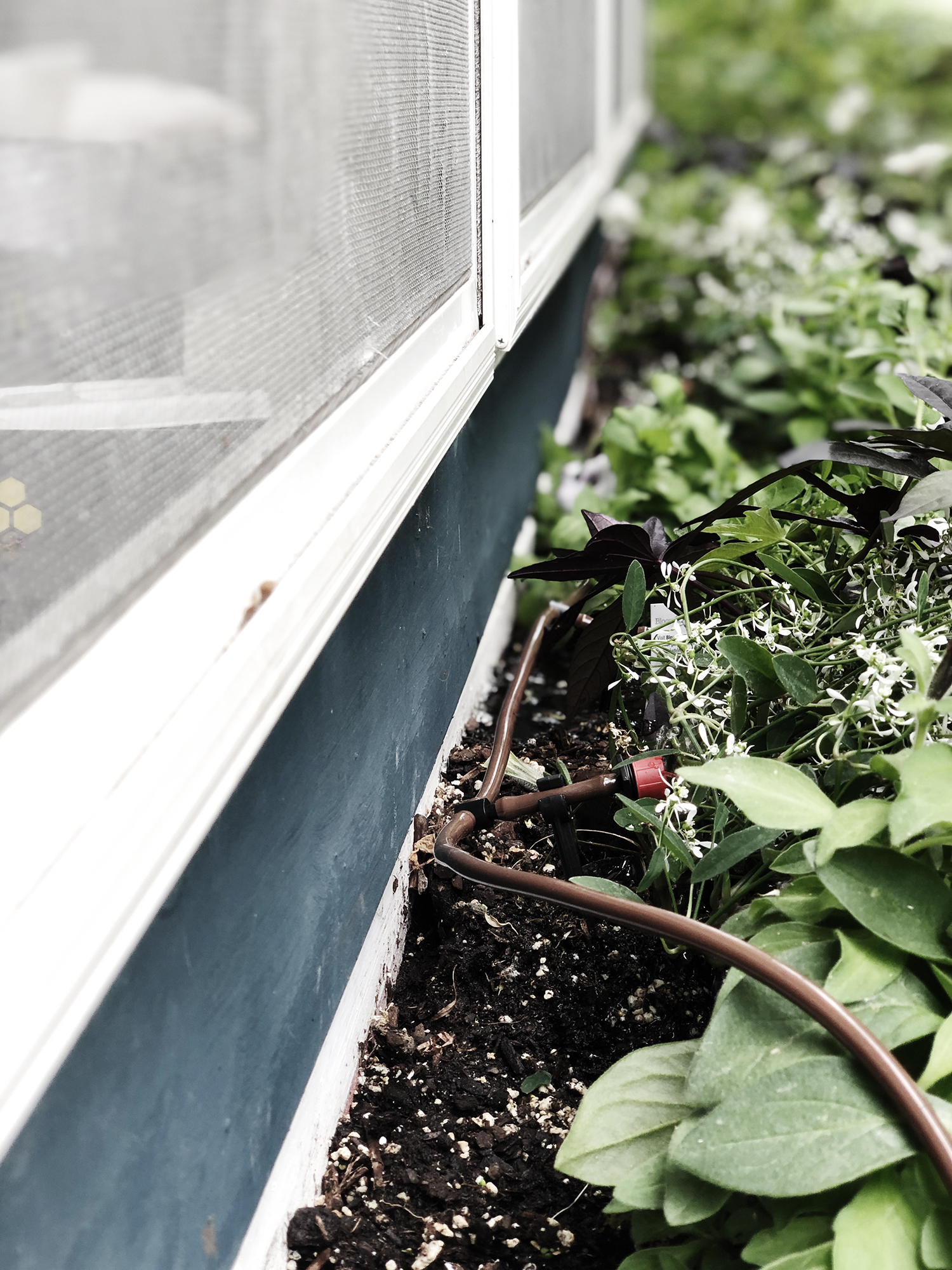 Look at that! A smart drip irrigation system. Now they just need to invent a smart weeder and everything would be great. Come back to this post next summer, I promise you need to try this, and you you'll love having automated smart watering!