Guys! I wanted to give you a little update on our basement. All the way back in November we purchased my forever dream coffee table. I've had my heart set on this baby for years, and I was so excited to bring it home to live in our basement. In case you might not be familiar, this my friends is the Shroom coffee Table from CB2.
It's lovely, minimal, round and made of beautiful porous concrete. You see where I'm going with this?
I knew it was a bit fragile and that we all (the kids and the husband) needed to practice good etiquette when it came to drinks and coasters, etc. I had read that this surface was prone to staining so I took the precautionary steps to seal the surface with a basic clear furniture wax. I thought I was doing what was best for her. I was wrong.
During the month of December we had lots of guests over. One morning I noticed that there were quite a few stains that seemed to have seeped into the surface of the table. Upon further investigation I had heard there was a juice box fight the evening prior in the basement. According to an anonymous tipster, apple juice was squeezed from it's box through a tiny straw at full velocity by some dumb kid(s).
Before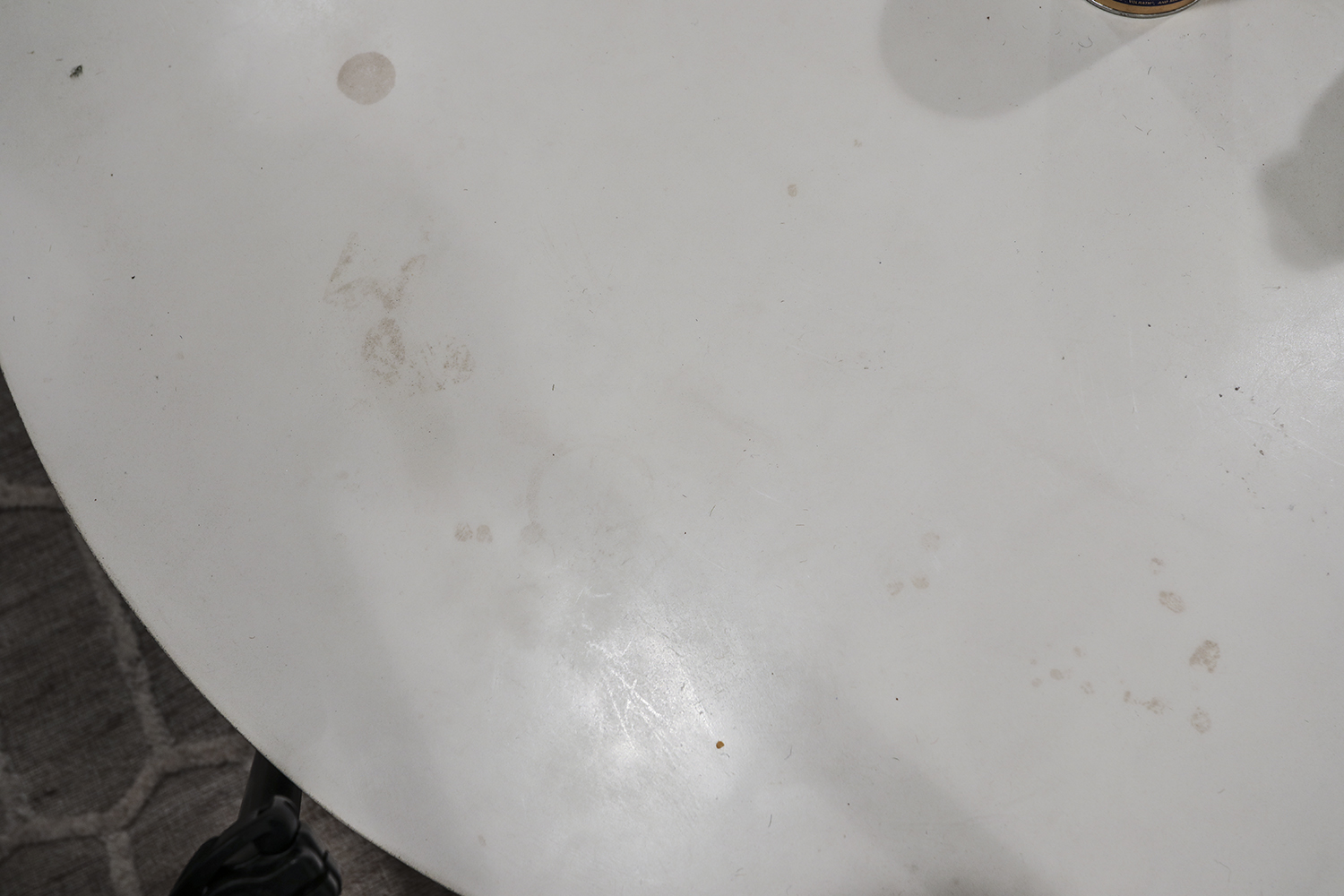 After trying Magic Erasers (literal magic 99% of the time), baking soda & seltzer, and detergent I was still back at square one. Nothing had lightened the surface. So I did what any modern woman would do and asked the internet for help via my Instagram account. You guys had so many good suggestions. The next weekend I went to the hardware store armed with a list of new remedies and had at it.
This time I tried liquid Barkeepers Friend (which typically works on everything), TSP (very minimally), and Soft Scrub with bleach. Guess what had the most impact this time?
After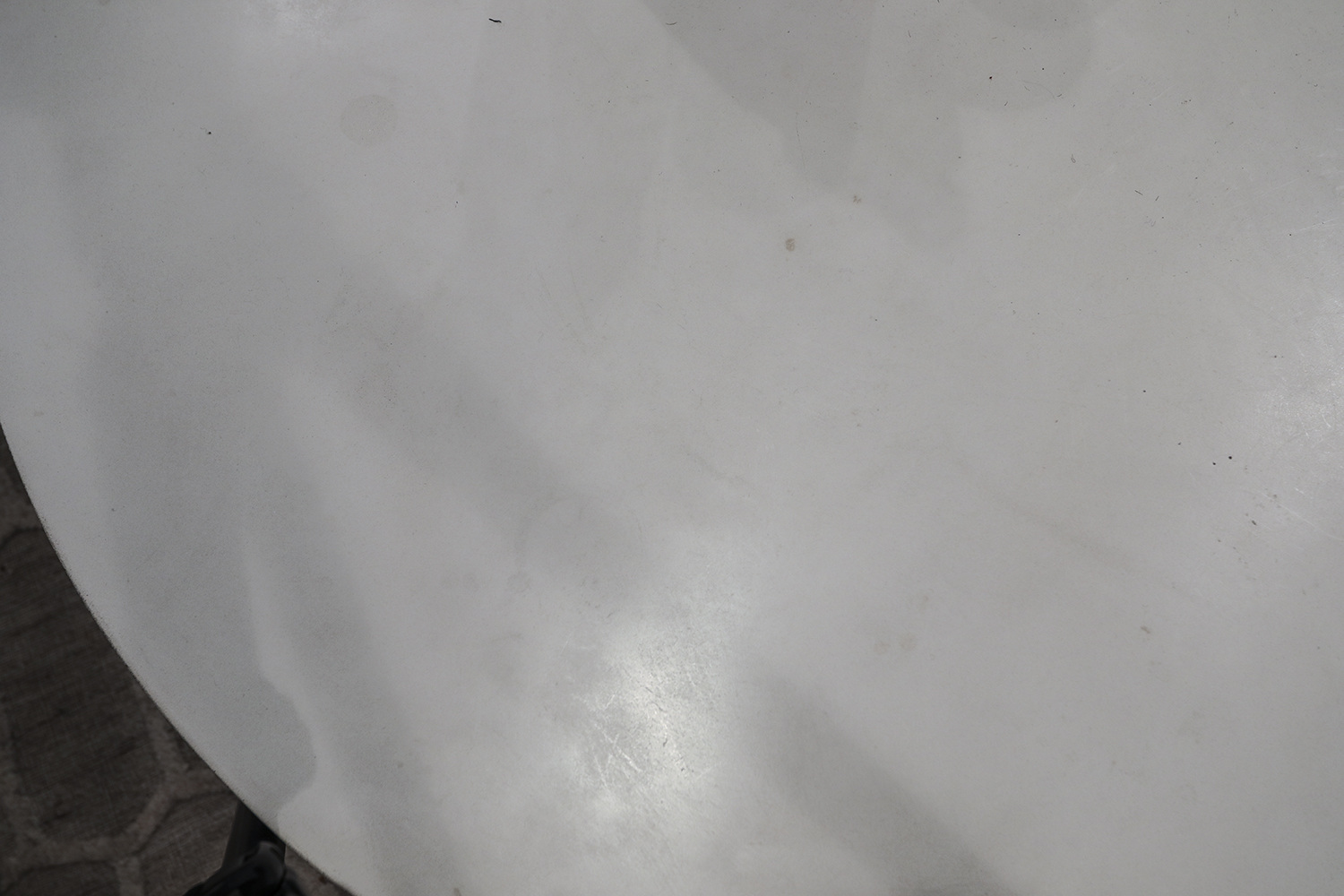 The Soft Scrub was the only thing to touch this stain, it lifted the stain dramatically. Of course I was worried, soft scrub and bleach are pretty abrasive, and I was worried about incurring more damage to the table. I tested in a small spot. After about five minutes I wiped away the soft scrub. Upon first look I noticed the stain was gone, but I also noticed a darkened area where the soft scrub had absorbed into the porous surface. I gave the table time to dry out and when I came back, the stain was nearly gone and the table was just fine.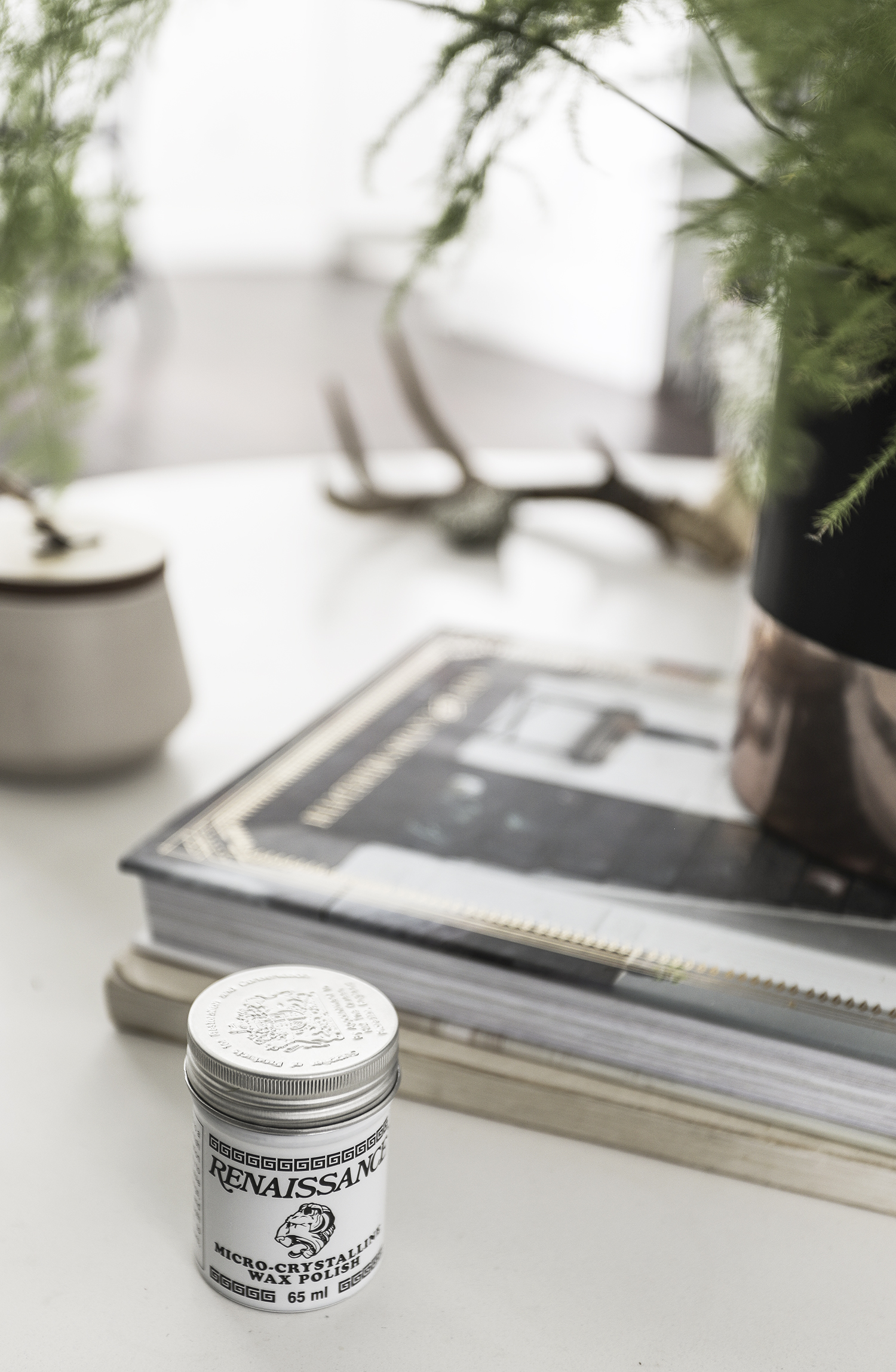 Another reader commented that I should seal the surface with this Renaissance wax that they use at museums in England. It's a super hard wax that dries very quickly and can be used on an number of surfaces. I purchased some buffing pads to go with it and I waxed and buffed the table after all of the stains were lifted. I'm hoping that a regular application of wax will help the life of this baby, because I love her.
Now I get to show you gratuitous pictures of my basement. Have a good weekend, and thanks for all the cleaning tips and suggestions!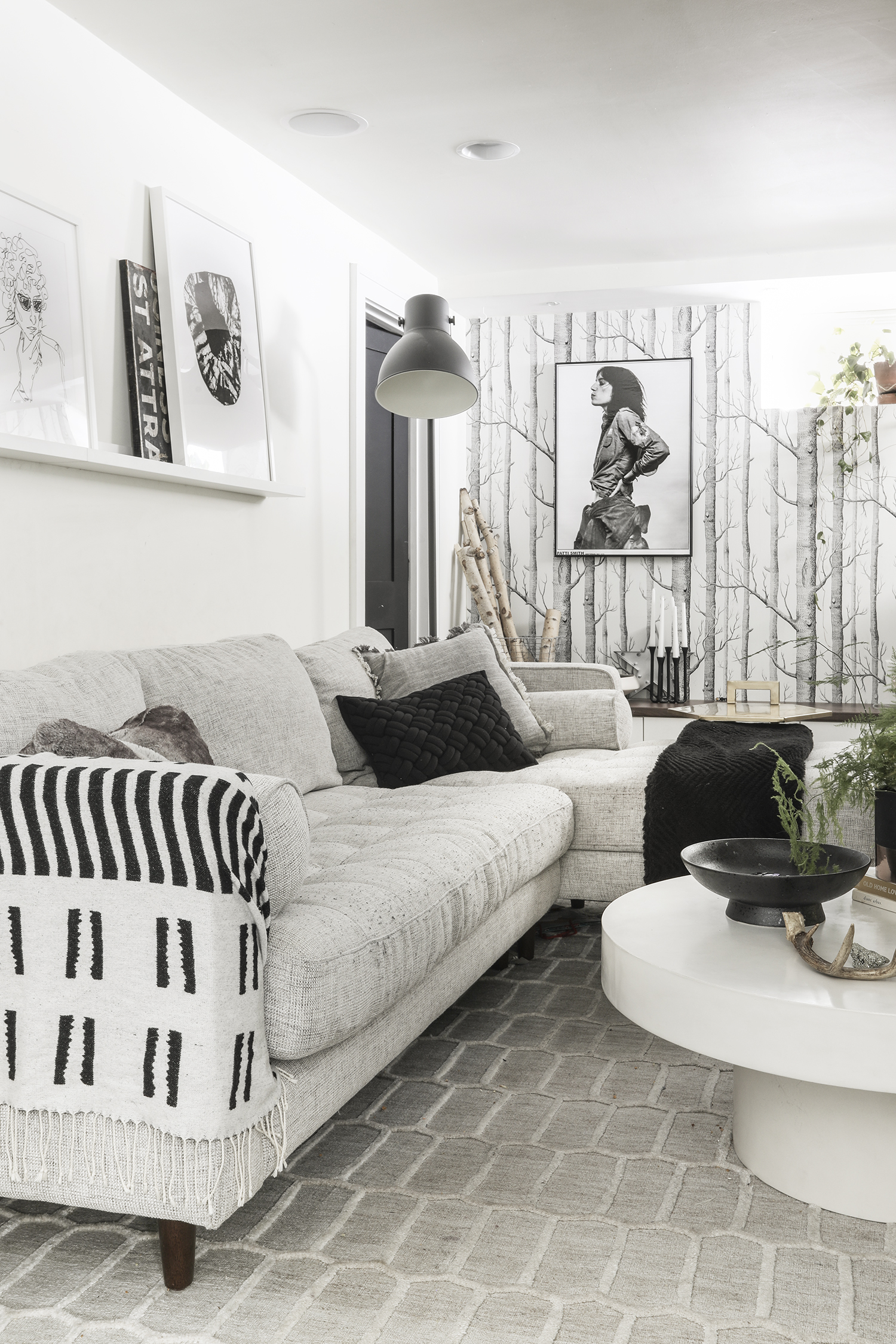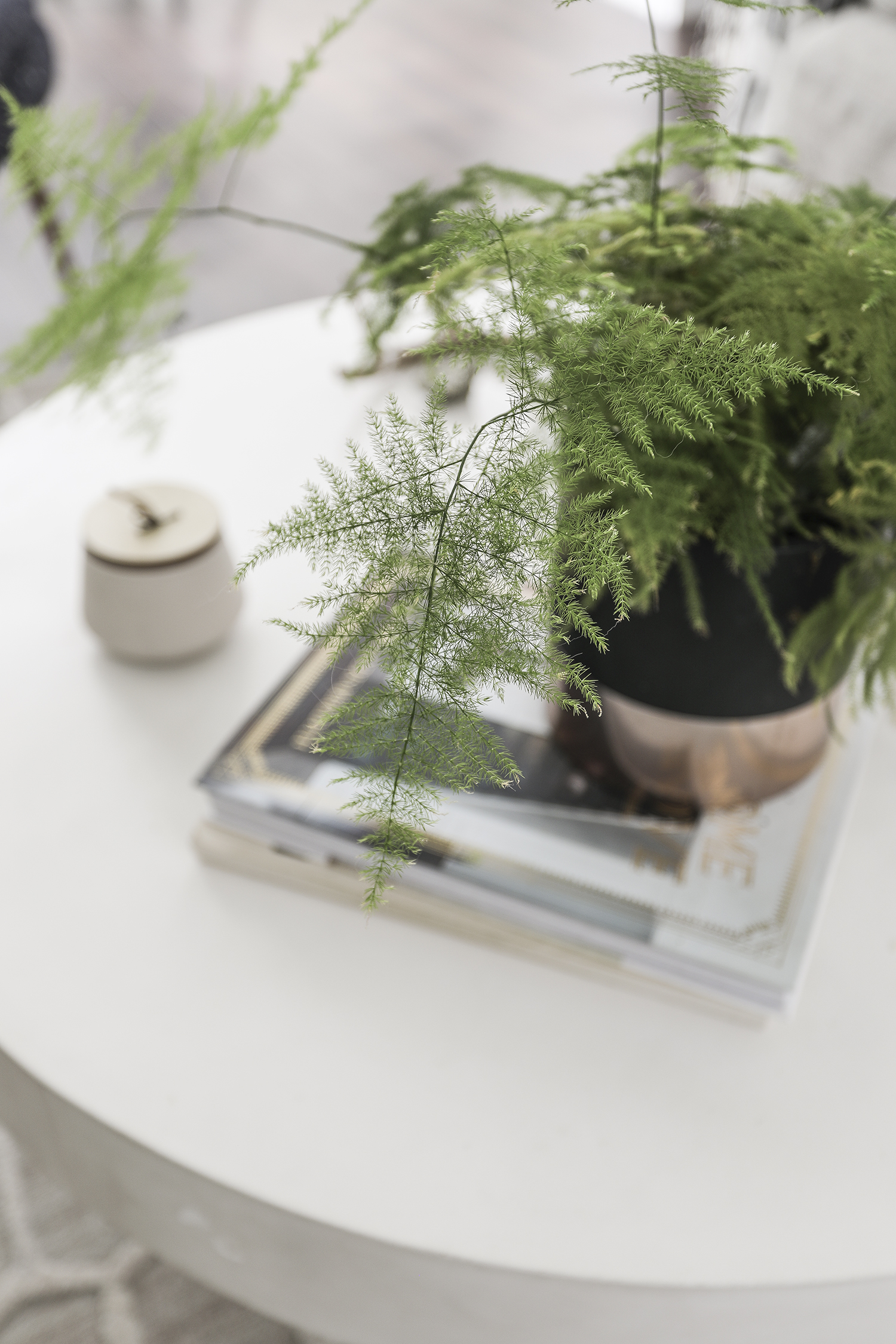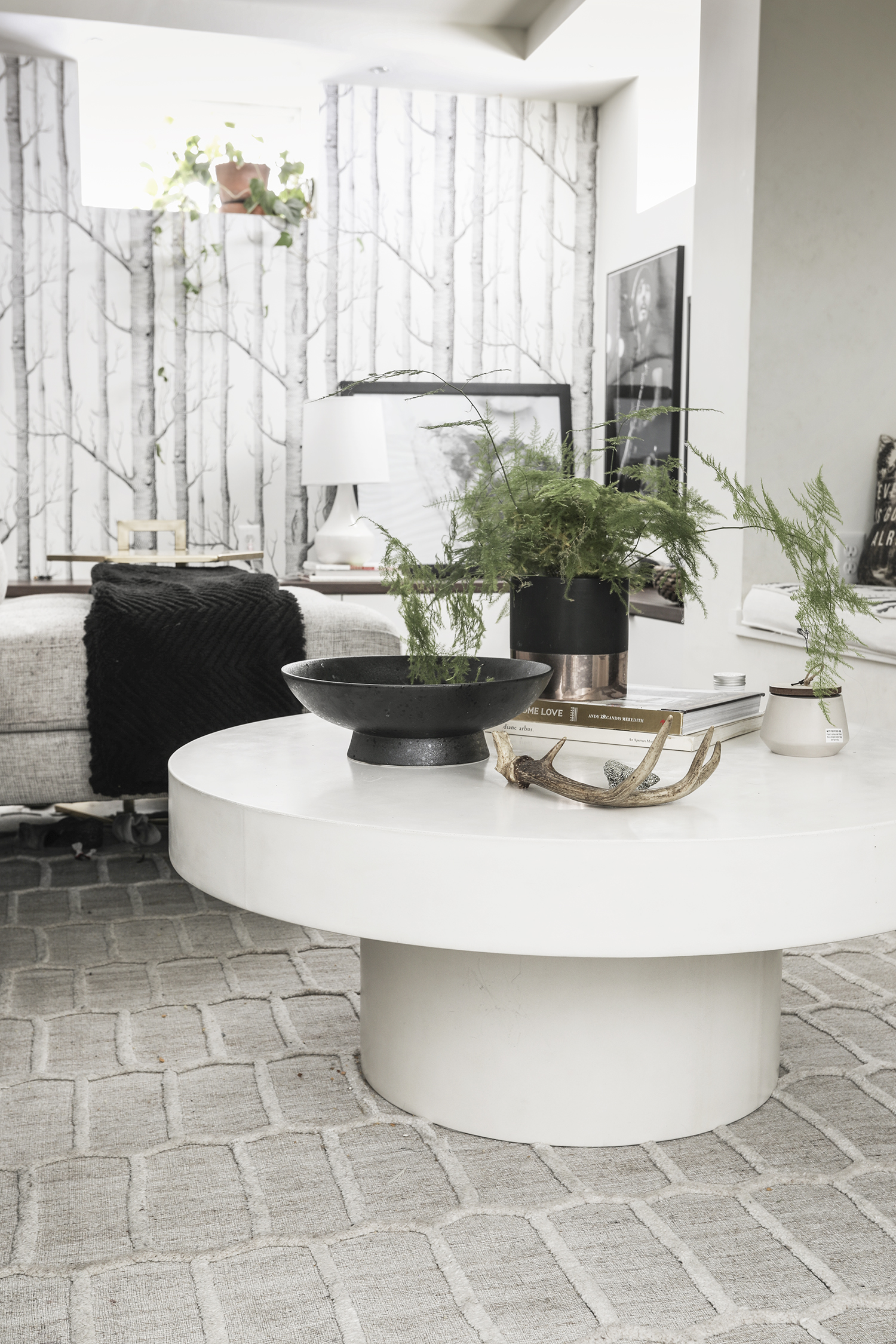 More Basement Posts

Guys! I wanted to give you a little update on our basement. All the way back in November we purchased my forever dream coffee table. I've had my heart set on this baby for years, and I was so excited to bring it home to live in our basement. In case you might not be familiar, this my friends is ...
Read More

I kind of dropped the ball when it came to really putting the finishing touches on the basement decor. It was such a massive project, and I had done so much of the hard work myself that by the time the paint was up and the wallpaper was hung, I just didn't have it in me to really decorate. I ...
Read More

Sorry for disappearing the last two weeks. I had a very thorough and detailed plan to get the bathroom completed, and this post was supposed to be making its debut much much sooner. That was until our house was ravaged by some ungodly disease that made gross stuff happen to your body (aka Norovirus). Let's just say, that new toilet ...
Read More

Friends and pals! Almost a year ago we started the process of having our basement remodeled. It's been an exciting, stressful, and messy project but we are so happy that it's finally over. We are so glad we decided to move ahead with the renovation because it has totally changed the way we live in our house! Winter has been ...
Read More

Okay pals! I'm getting so close to finishing up the basement, like almost, nearly, kinda there! I just got to cross a big sucker off
the list
, which only leaves me with a few easy tasks. I upholstered a piece of peach foam with some of my favorite fabric, and it turned into this very cool bench seat. Not only ...
Read More

Budz! Have you noticed I've only been posting once a week, maybe twice at best. Sorry if I've been slow to respond to e-mails and comments, I'll get to 'em. I've been
so
busy with all of this basement stuff, it's consuming my life and I can't wait for it to be done. Remember, we started planning this basement around ...
Read More

Hi. I know, another stair post, but this is my life, and you get to hear about it. I finished the lower half of the basement stairs almost a month a go to the date. We have been so happy with the
new stairs
, that I just couldn't live with myself if I didn't refinish the upper section of the ...
Read More

BUDZ! Behold, I built stairs. What started out as a quick and easy refinishing project turned into one of the hardest most satisfying things I've done as a homeowner to date. I honestly thought that I could take the old steps (see below) remove the staples and the construction adhesive, strip the paint and refinish the stairs. However that is ...
Read More

Hi Guys! Woah, what a crazy summer this has been. I am so happy that the basement is finally done. It's been overwhelming to say the least. I thought I was totally prepared for a remodeling project and didn't think that it would affect our typical day-to-day lifestyle too much – I was so totally wrong. Yes, it wasn't as ...
Read More

Hey Guys! Lots to share with you this week. My kids are out at Grammy Camp (aka an awesome-fun-time with their Grandma, and an even better more productive time for me) and I've got plans to get tons done around the blog. Anyway, I wanted to start with a quick little basement update. I meant to share where we were ...
Read More

Alright pals, I've got some fun stuff to share today. At least I think it's fun, maybe you will think it's lame and boring, but it's my blog, so whatever ;) We are in the midst of starting our big basement revamp project. This will be the biggest investment we've put in to the house to date. We've been scrimping, ...
Read More