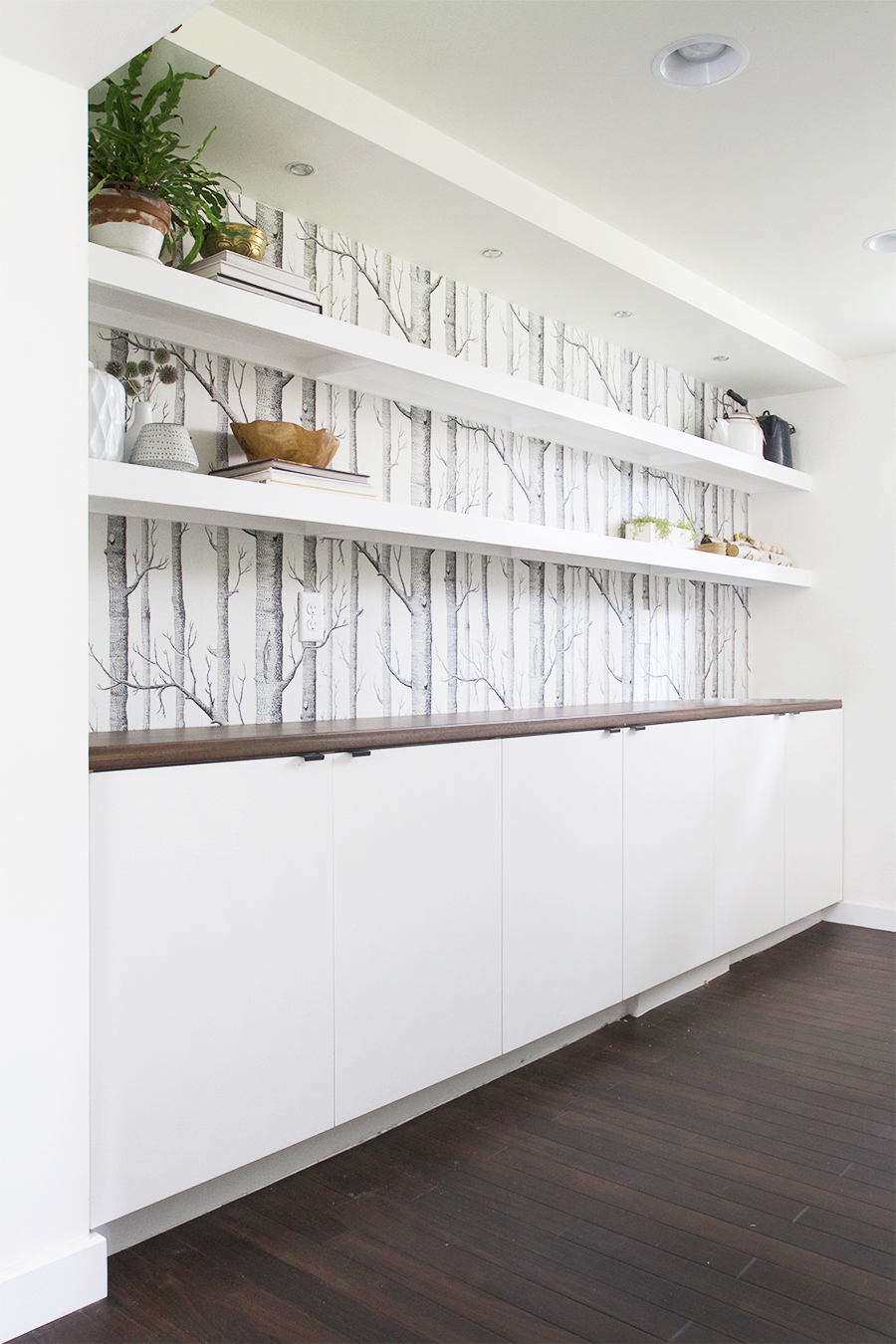 Budz! Have you noticed I've only been posting once a week, maybe twice at best. Sorry if I've been slow to respond to e-mails and comments, I'll get to 'em. I've been so busy with all of this basement stuff, it's consuming my life and I can't wait for it to be done. Remember, we started planning this basement around this time last year, so it's seriously time to wrap this baby up and be done.
I'm happy that I was able to do a lot of the finishing work myself, but it's been a life suck. It's one of those things where you have to ask yourself was it really worth it. All things considered, I think it probably was – I'm sure we saved quite a bit of money, plus I know I wouldn't have been able to just stand back and let someone else have all the fun. I only have a few things left to do, mostly involving paint (which seems easy). Next week I'll start upholstering a bench cushion, and then I will be so close to done. I am so ready for this all to be over, and I'm looking forward to a big project break over the holidays.
Okay, so one of the few remaining big projects was building and installing shelving in two of the spaces. This had always been part of the plan. In the living area we wanted to include record storage for our media zone. That is where this whole shelving plan had started. Then it seemed appropriate for the size and placement of shelving to be repeat somewhere else in the space. That space would end up being the hallway starting at the bottom of the staircase. Check this link for a floor plan modeling in case you are confused as to what I'm talkin' about. There needed to be some visually intriguing elements to this narrow space, and what better way to bring it than with some chunky shelving.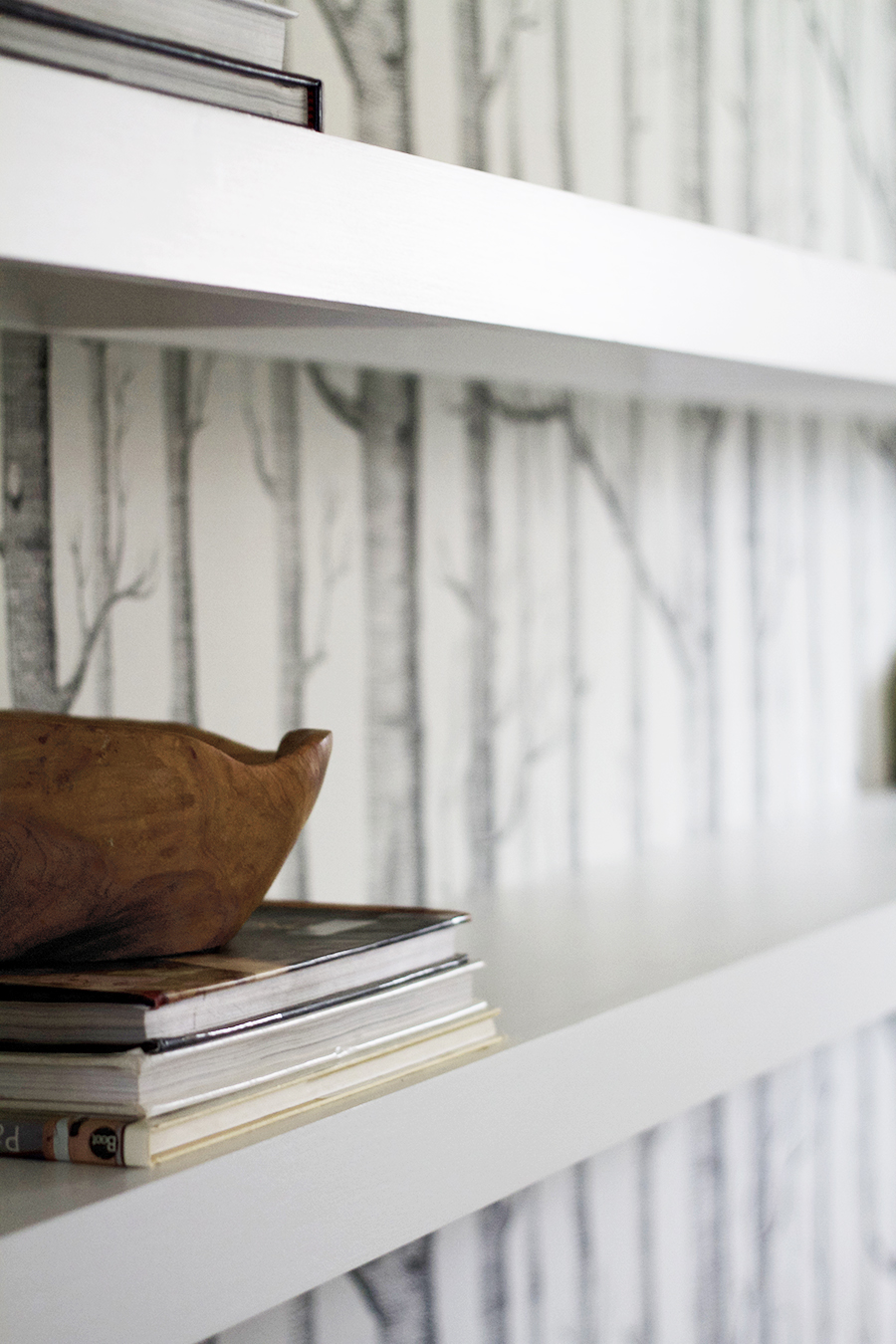 I'm still not a styling wizard by any means, but I did the best that I could with the stuff that I had on hand. We are sick of spending money on this proj, so accessories will just have to be found from what we already have or slowly acquired over time.




Here's a little looping vid – it shows how I constructed the shelving. It's not technically a floating shelf since there is some structural elements that can be seen from below, but the beefed up front really plays up the illusion.
As I have in the past, I purchased all my lumber online at
Baird Brothers
. Now, my overly nosey and kinda jerky FedEx delivery guy asked me what was in the boxes, and why would I have lumber shipped as opposed to going to a lumber yard? The reason is this, Baird Bros sends me quality hardwood that is guaranteed straight, sanded to 180 grit on one side side, and cut to the measurements I specify. I don't have to go to a lumber yard with two seriously bored kids, trying to plan what I need, finding out they don't have all the sizes that I was hoping for, making decisions on the fly, and then figuring out how I get heavy 11′ pieces of lumber home in my station wagon. It's worth the extra cost to me to have it shipped – sometimes you just have to ask yourself what would piss you off more?
Each shelf was made up of 3 sizes of poplar lumber, dimensions vary based on the length of your space. The supporting back and side pieces were made of a piece of 1 x 2 (which is what they call it at the store, but is really ¾" x 1½"). The top shelf pieces is made of a 1 x 12 for the record area, and a 1 x 10 for the hallway area (respectively, ¾" x 11½" and ¾" x 9½"). The front face is composed of a piece called a 1 x 3 who's dimensions are (you guessed it) ¾" x 2½". The side supports were cut to the depth of the shelf piece. For example, the side supports in the hallway were chopped down to a length of 9½" to match the depth of the shelf. The long support piece that runs the length of the space is cut like so: length of space – 1½" = size you cut it. The 1½" account for the width of the 1 x 2s. Get it? The top shelf piece and the 1 x 3 face piece should both be cut down to the entire length of the space. Attach the shelf to the top, securing it to the structural supports on the sides and the back with countersunk wood screws. The face should be attached to the side supports and the shelf – also taking care to countersink screws so that they can be filled in later on.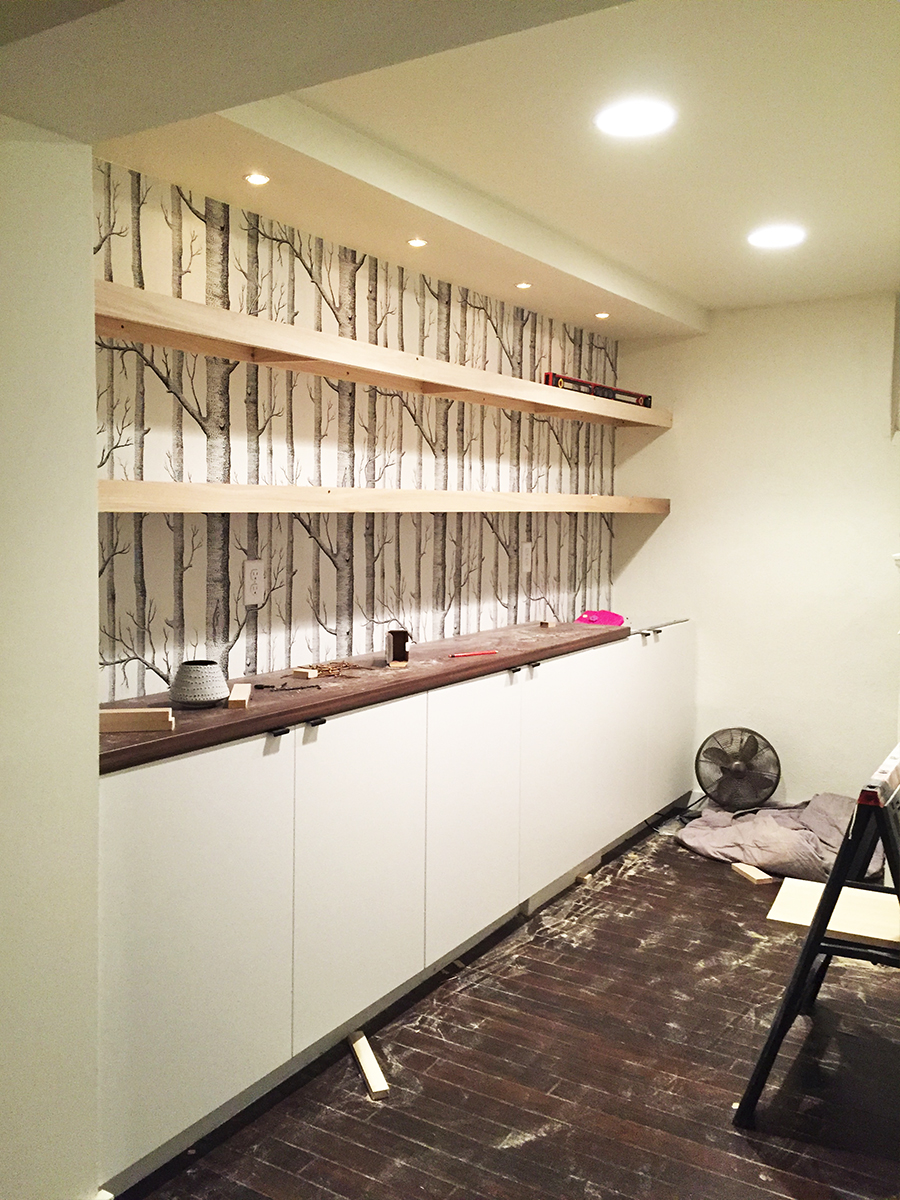 Finishing the shelves properly is half the battle to a believable floating shelf job. Like I mentioned above, I
counter sunk
all of the wood screws that I used. I then filled them in with my go to wood filler,
plastic nails
. This stuff dries quickly and is easy to sand down. Most holes got two applications of the filler. Everything got a decent sanding and then was cleaned of with a
tack cloth
before painting began. Caulking is a must, take time and care to caulk all of your joints for a tyte paint job. I applied three layers of paint, and I used
Valspar optiumus
color matched to Farrow & Balls All White. I sanded with 220 grit sand paper between each coat which left me with a super lush finish after the final coat.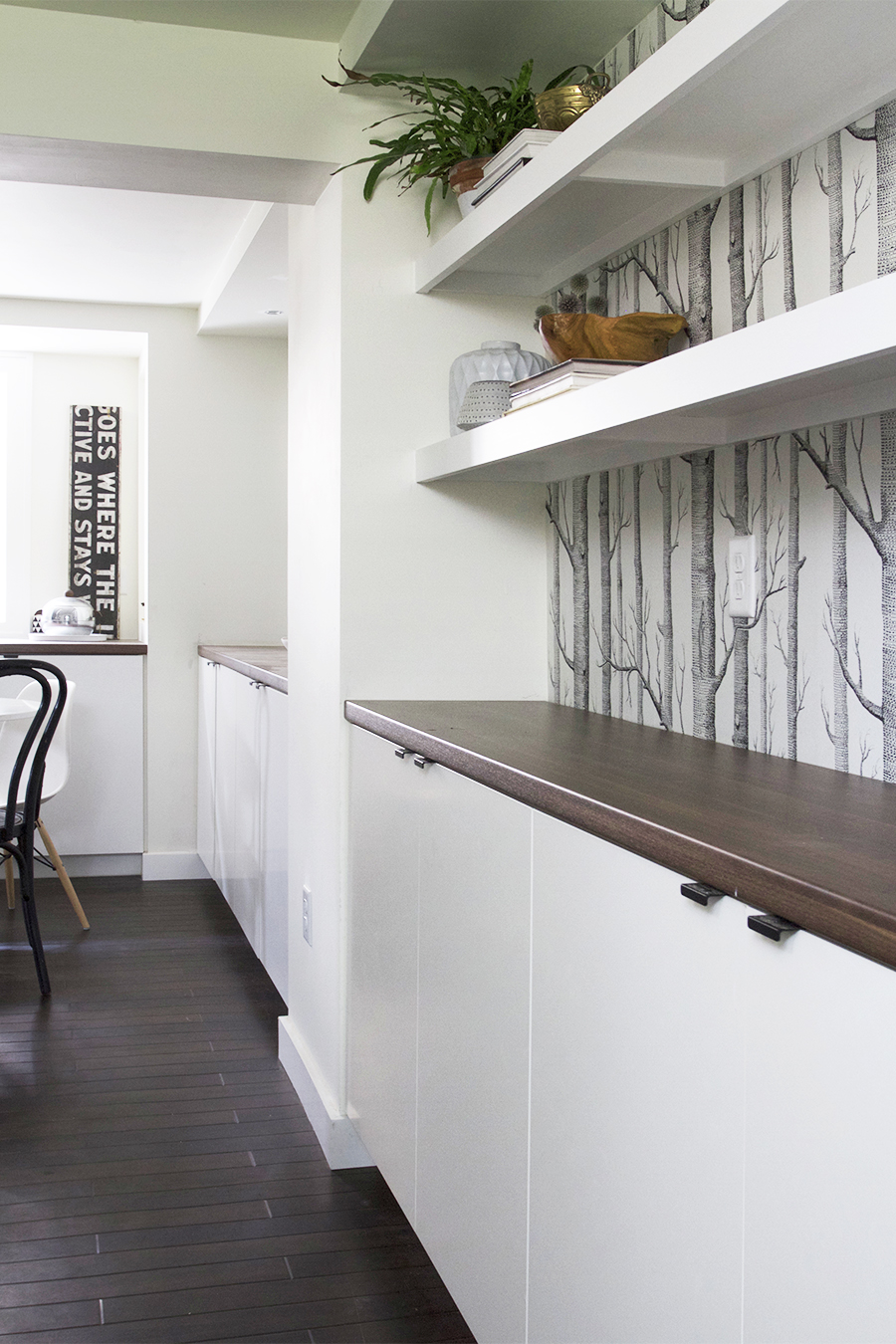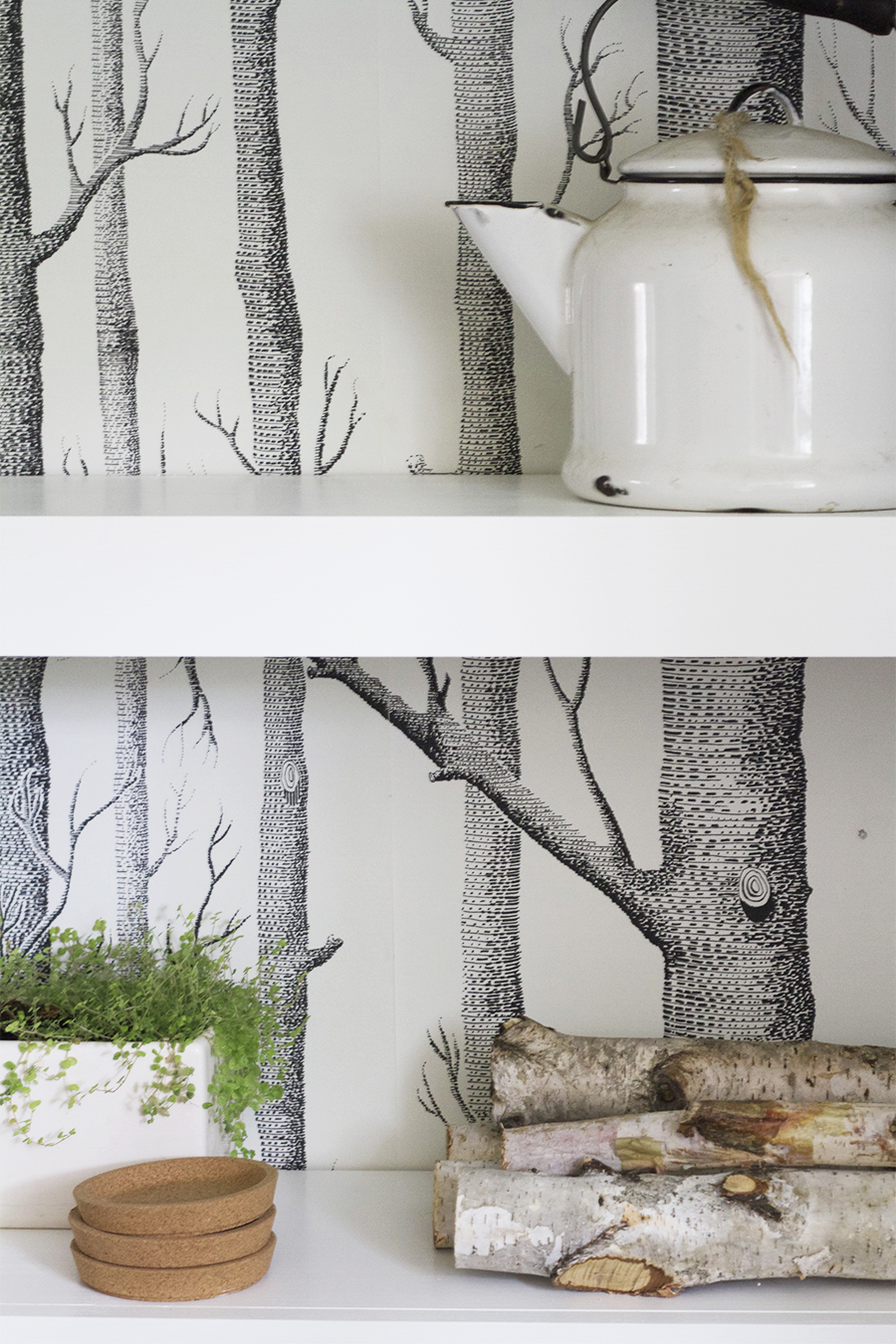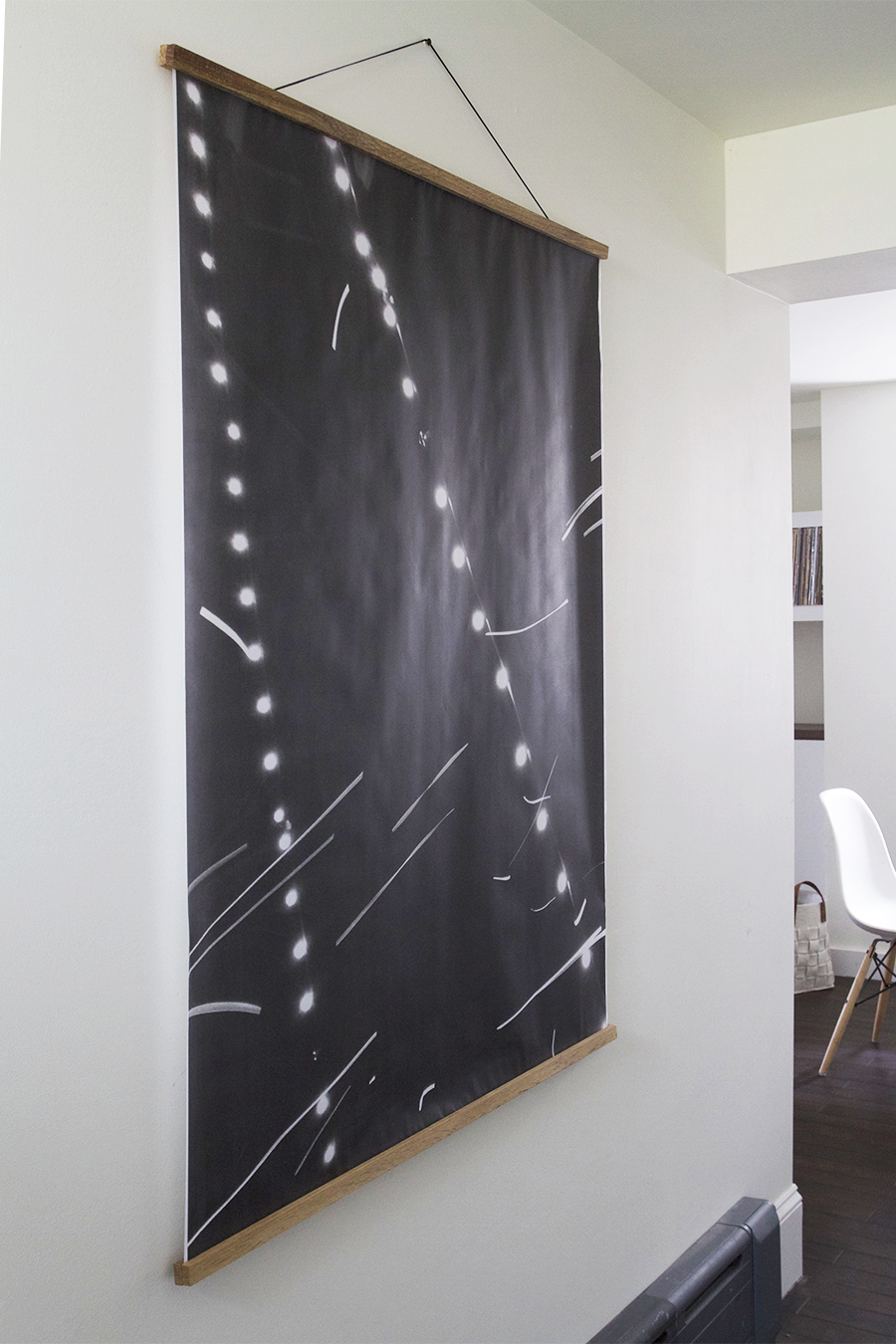 Finding large artwork on the cheap calls for an engineer print, don't you think? I grabbed this one with magnetic mounting brackets over at Parabo Press. Party lights represent.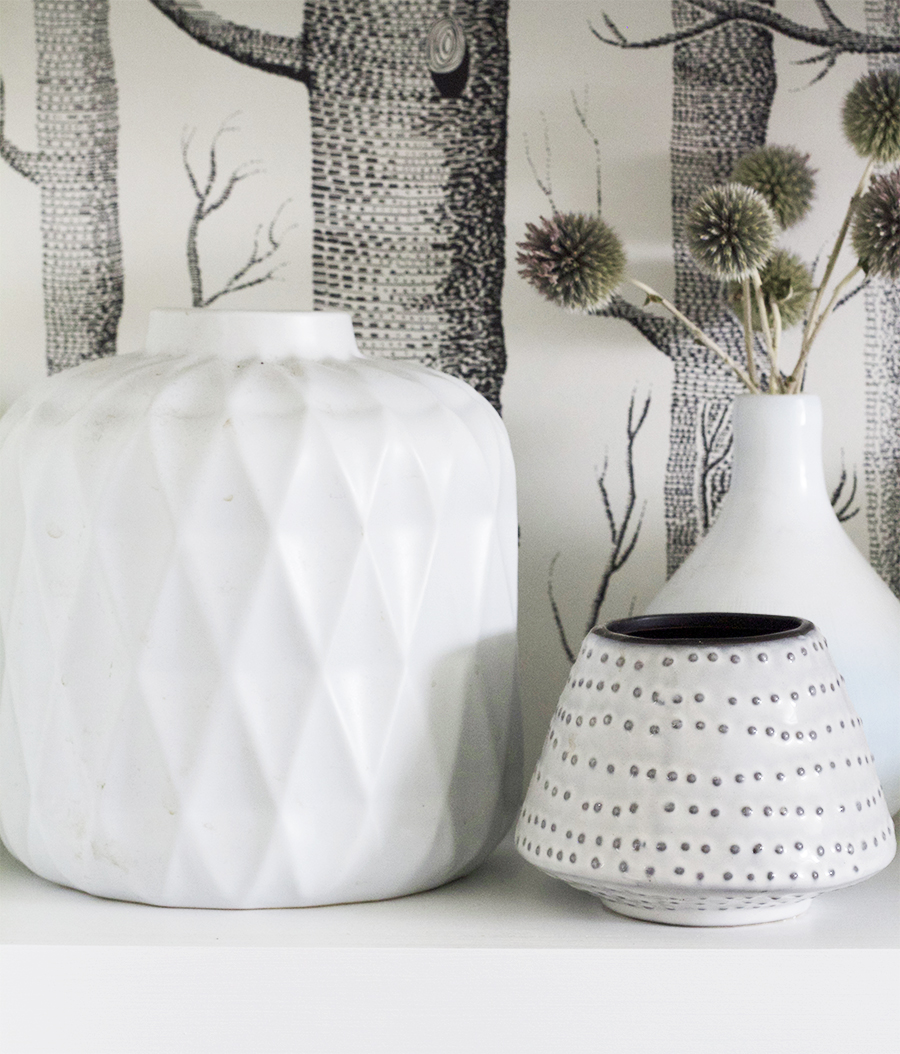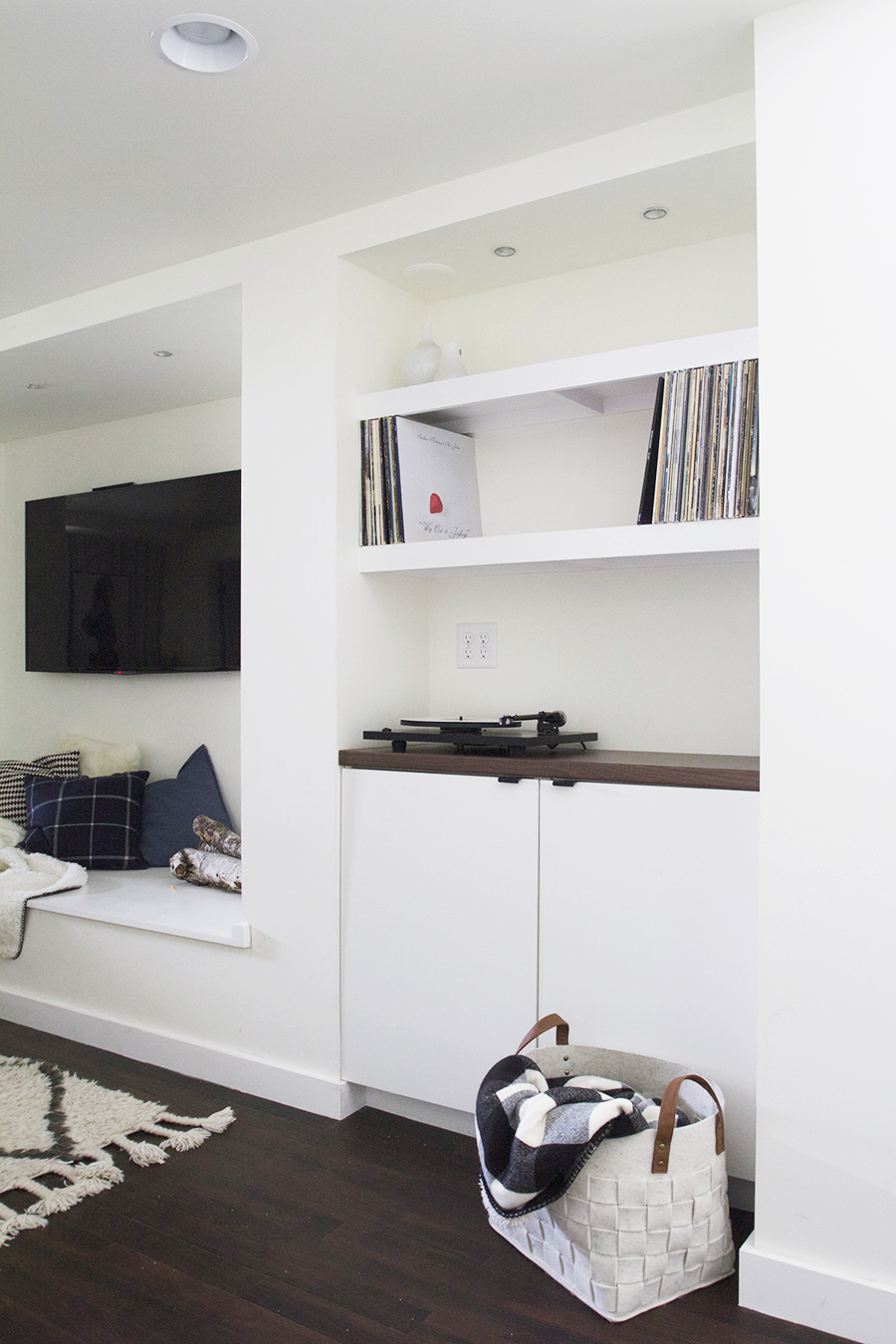 You guys, perfectly sized record shelves – they frame the collection like I had planned it, or some shit.
In case you were wondering, cause maybe you were… The basement record situation will be for casual listening only – we plan on bringing all of our multiple copies down here (cause there was a time that Jeff and I weren't married) as well as going buck on the used classic rock section of the record store.