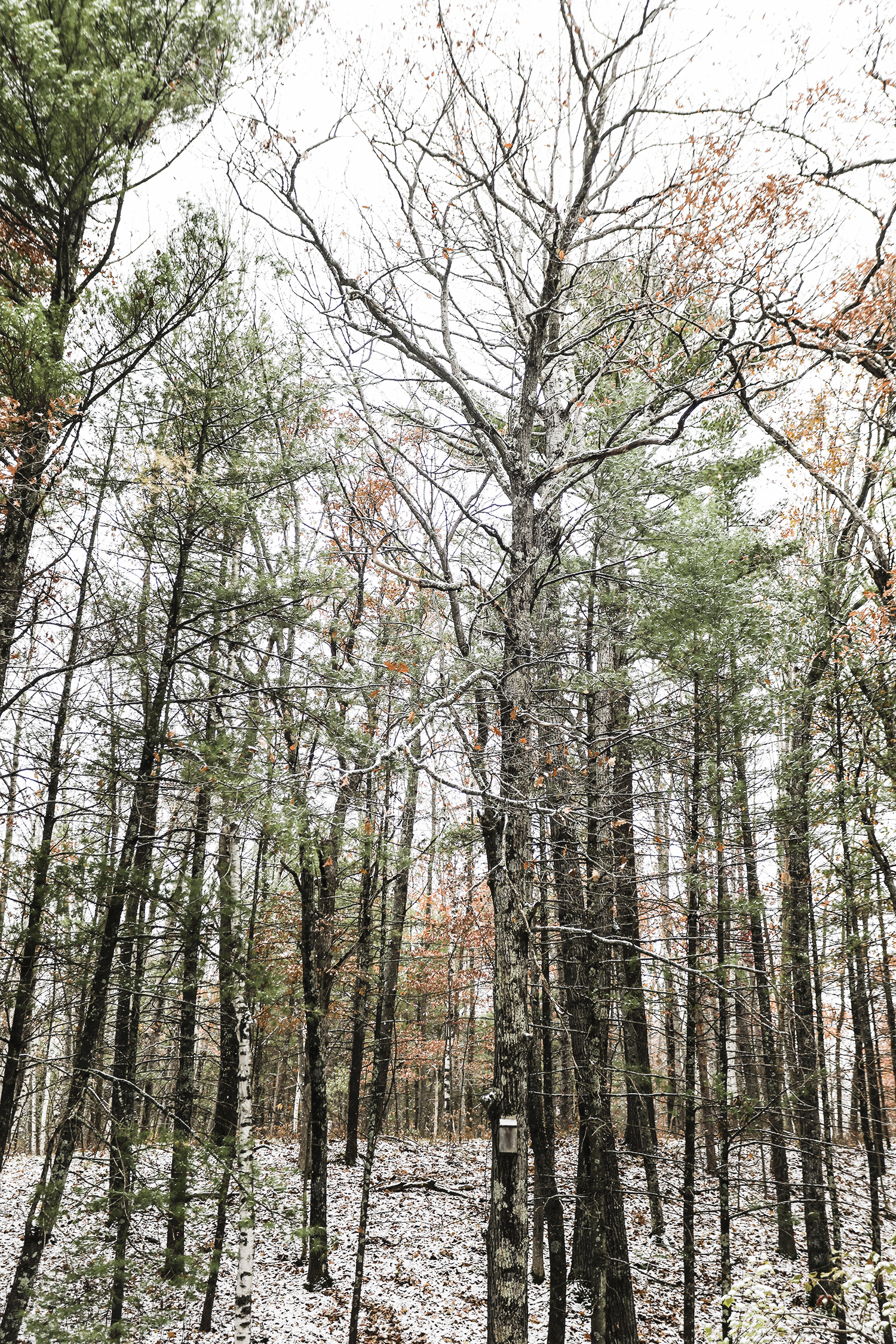 Hey budz! I know I have been missing the last few weeks. I've been racing the weather trying to tie up a bunch of loose ends at the cabin before the winter really starts to set in – which it's starting to do right about now. I've spend a handful of extra long weekends at the cabin where I stay on to work after the family heads home for the week. There has been so much to do this year, and I hope to explain a lot of it in more detailed posts as I settle into my role as blogger and out of my role as full-time handyperson.
Let's start with the exterior! We have had water issues at the cabin – thankfully nothing like a deluge in our basement, but generally the cabin basement can smell pretty musty. I don't know the exact cause, but I can bet that our water diversion system (which is actually no system) needs some improvement. Since taking ownership of the cabin, we quickly realized that when it rains our driveway turns into a pond and a river. All of the water that comes off the giant hill behind our house get stuck in our driveway and can't find its way down to the lake. Jeff and I took on the task of digging a trench (aka Trench Reznor) for a simple all-in-one french drainage system this summer. This would be kinda easy if we were digging in soil and not compacted stone. We could usually dig a few feet of our 90+ foot trench in about 45 minutes, so we chipped away at it every chance we had.
In October we finally finished the digging and were able to install the french drainage system by NDS. And it hasn't rained since – we were hoping to test it out with actual real rain at least once before we had to cover it all up with soil, but we never got a chance. I'll have to remember that trick for next year – find a good reason you need it to rain and it won't happen. We tried to simulate rain with a hose and our drainage did what it was supposed to do, it never backed up and made its way out towards the lake and slowly seeped into the soil, but let's be real, a hose can't replicate a hillside of water. I hope we have this figured out, because I'd hate to have to dig this sucker up in the spring. For those who are wondering – this is 4″ corrugated tubing wrapped in a sock of styrofoam. The sock is meant to keep out soil and allow rain to filter down the the tube. The corrugated tube has perforations in it to accept the water. There is also a small well (large drain) at the center of the "pond" (aka the place by our front door that fills with rain and resembles a small lake). This allows a lot of water to enter the system and make its way down to the lake. Next year I will extend the french drain to the downspout from our roof and this should really take care of the problem. Hopefully in the end it will greatly reduce the musty odor in our cinder block basement.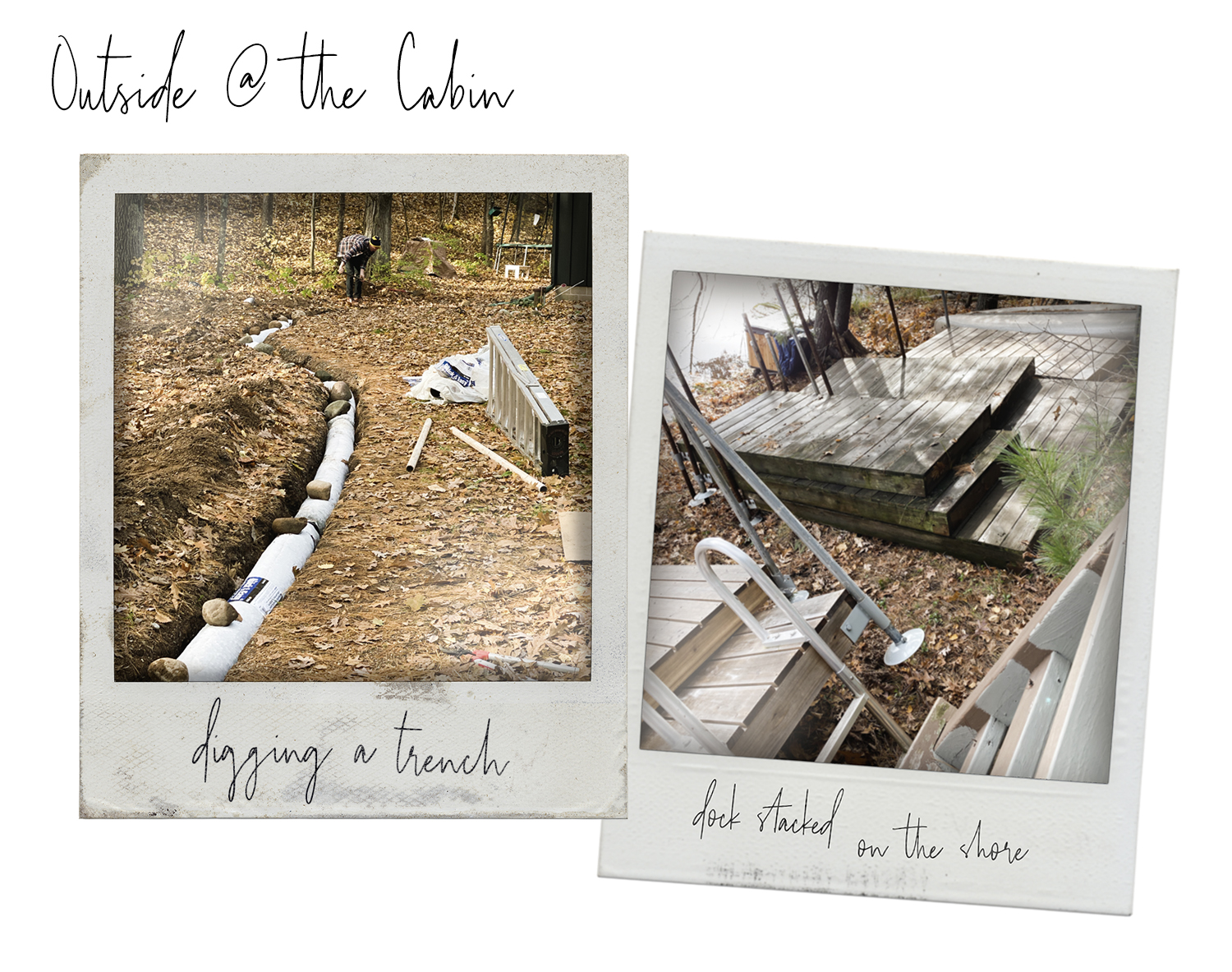 We also got our dock out – or (ahem) we paid a bunch of dudes to do it. We typically have this really old guy (he's like 90, but super strong), come and take it out for us, but it had rained so much this summer that the water was too high for him, and he wasn't able to do it. This old guy was like a secret wizard sorcerer. We never could figure out how he could get all those heavy dock pieces out by himself, but he did! AND he would stack them nice and neat too. These new dock youth don't care much about looks and threw all our dock sections haphazardly on the shore. We tried to straighten them out, but snow and wet leaves made our footing too slippery and we had to abandon the plan. I miss our very old super strong dock guy.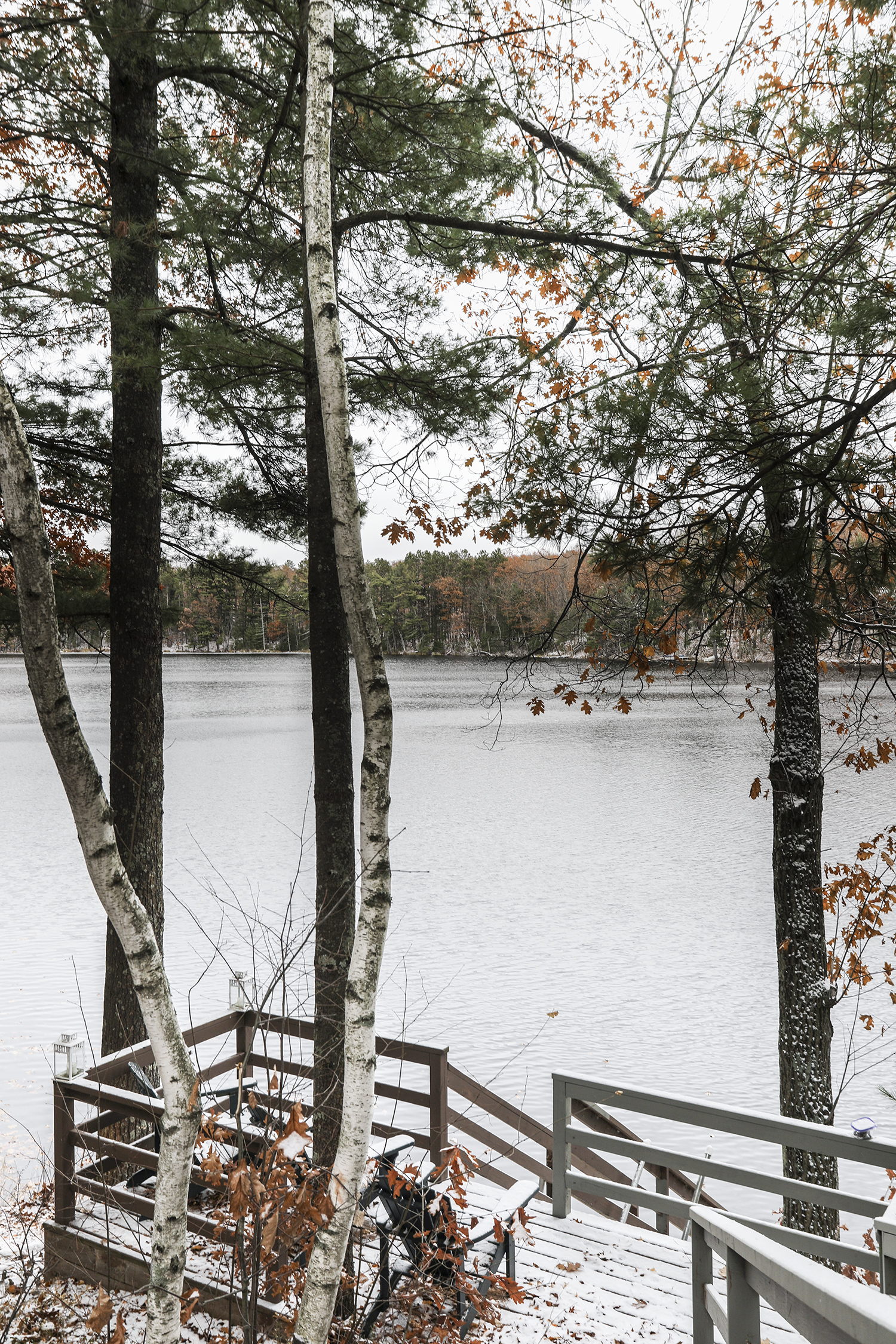 Last weekend it lightly snowed for us all Saturday and it was so pretty – the oak leaves were falling at the same time the snow was! An open lake with snow is one of the best things around, it's so rare to see – I imagine this lake will be frozen over any day now. Saturday was such a cozy day and we did nothing except have a fire and make good food all day long!
We also got to see a sneak peak of what the new dark cabin exterior will look like in winter, and we love it. LOVE IT.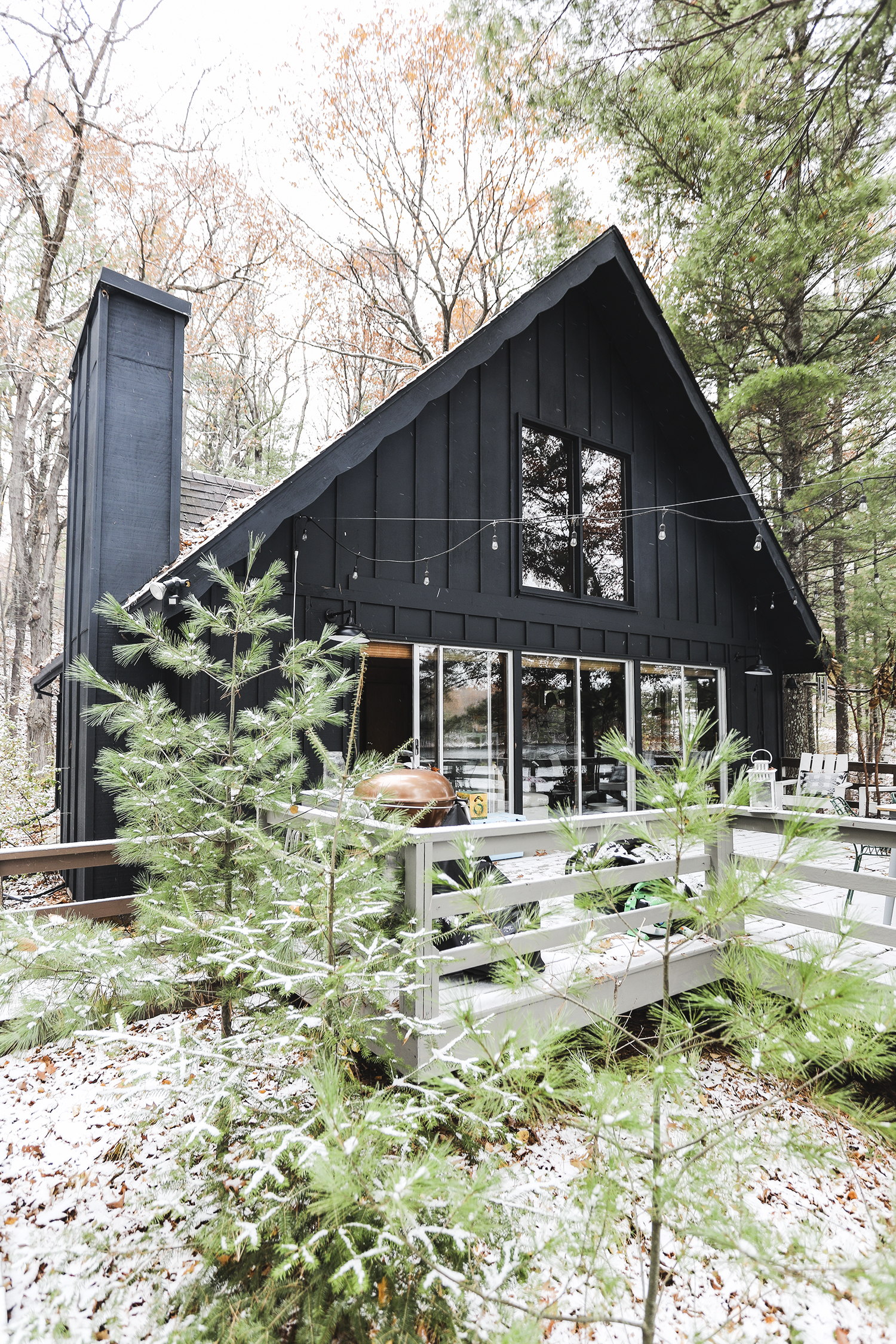 Inside is where my time has been divided between three projects. The biggest of these is the bathroom tiling project. I really wanted to get the tile installed before the winter came and it got too cold to use the tile saw outside. I was able to finish the tile in the nick of time – everything was frozen the morning after I finished! The rest of the bathroom reno projects are inside and obviously way less cold – I'll be able to take them on here and there and I hope to have the bathroom totally finished by Christmas. I'll be posting a more in depth bathroom update real soon.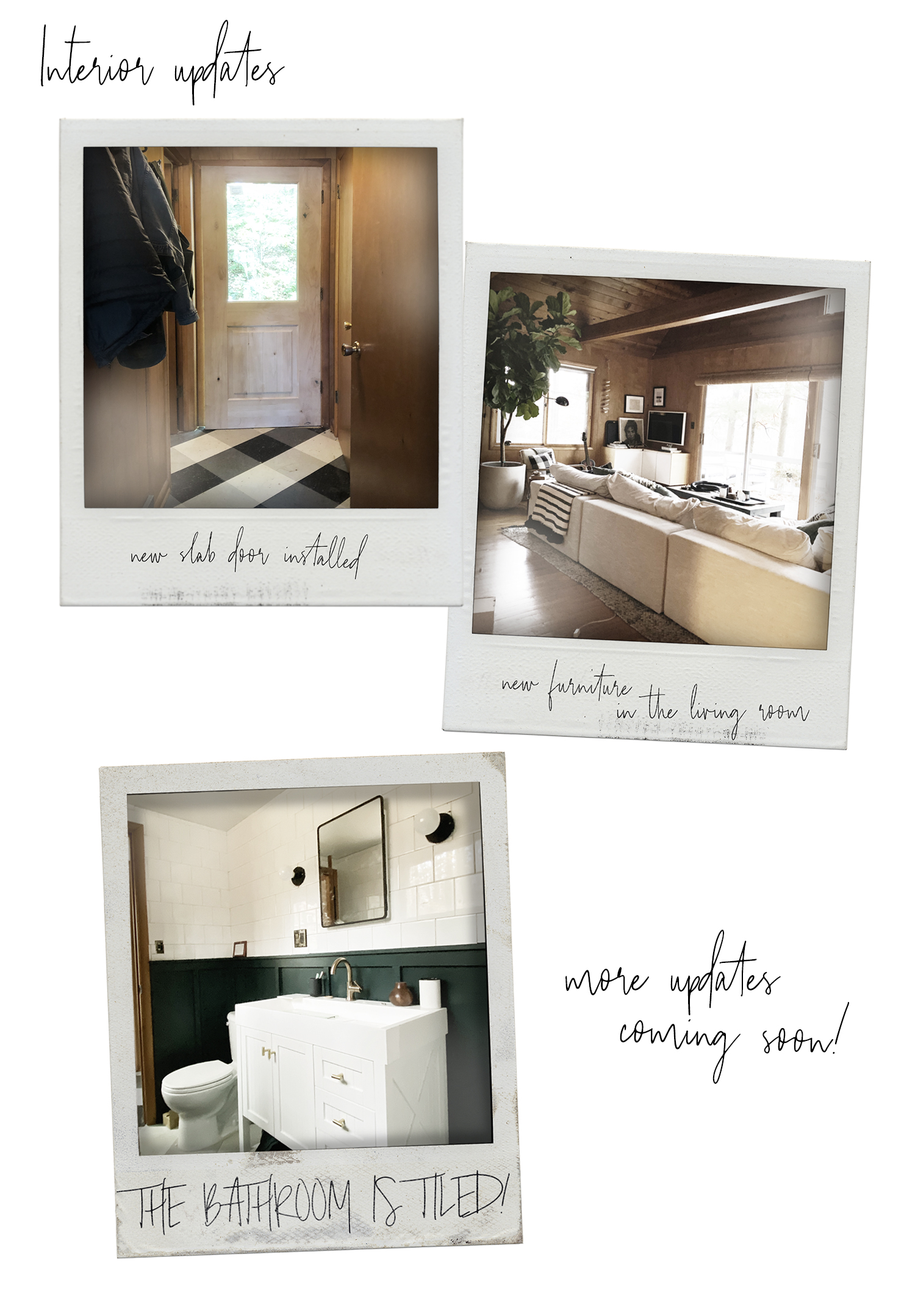 One of those snowball things happened and our new chairs that flank the fireplace caused me to replace the rest of the living room furniture – bah. That'll be its own post in the coming weeks, but I am so excited about our new Gaba sectional from Article. It's so cozy. I had my brother and his family up last weekend and all 8 of us were so snuggled in on that sofa. The kids liked to lay across the wide back and play vid games. I have no doubts that this new sofa was the right move.
I also got a new fiddle leaf fig because something really bad happened to my other. I won't go into details, but I cried. Jeff told me to go get a new one before the weather got too cold to transport it here. I promised this one that nothing bad would ever happen to it.
Oh, and I had a total fail experience early this fall. The front door that was originally here at the cabin was a hollow core door. It was fine, not the best, but fine. The outer veneer however was cracked and peeling, and I wanted to replace it before winter. I had a plan to peel off the old veneer and replace it with a new sheet just like Nicole Curtis did on the Minnehaha house that one time. All good ideas in theory. I had the door curing outside and had taken a short nap (like I always do) on a sunny September day, when all of a sudden a rogue rain storm popped up and ruined the door (a hollow core door basically melts when it rains) – it was all the rain's fault, my daily need for a nap had nothing to do with it.
The door was already nearing its end days. Before I had decided to veneer it we had debated whether or not we should replace it with a new solid door, our only hesitation was the cost. After the door was ruined it was an easy but expensive decision to order a new solid slab wood door. I think this one looks great – I took photos of how to install a slab door to share with yous guys in a blog post. BUT, I can't share it until I have real deal "after" photos and that involves painting the door, which involves time, which involves…. See my problem? I think I'm gonna paint it black (or maybe white). There's just too much wood in this cabin, and I think a black cabin door would look cool.

I'll leave you with this fall sunrise that I was lucky enough to witness during one of my mornings working on the cabin. The sun rises so late and so far off to the south now. During the summer it rises much further left (aka North, duh). Thanks for reading – I'll be back with more in depth posts real soon.