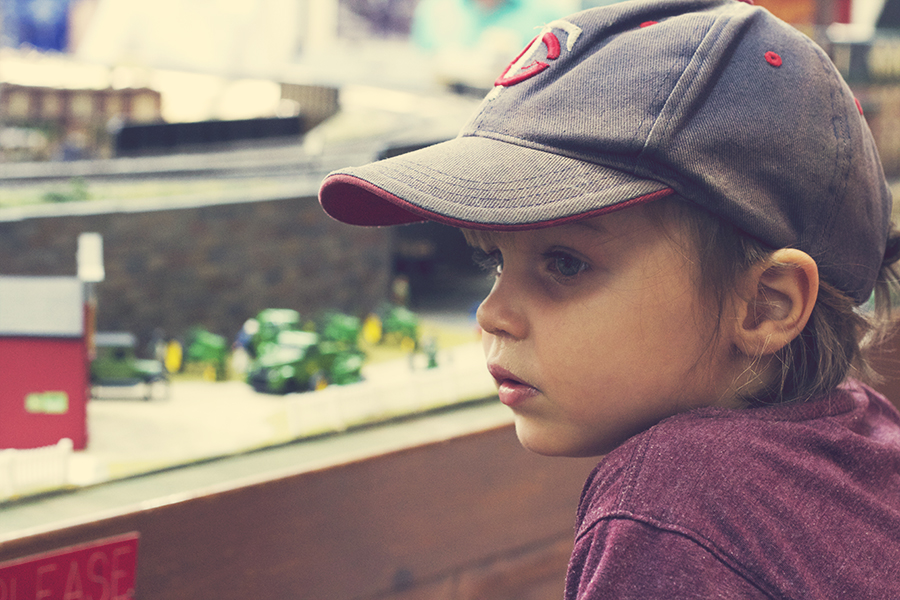 We spent Tuesday celebrating our little guy, Gus' 3rd birthday! If you haven't been keeping track, that's 2 birthdays in less than 2 weeks. We've been busy! It's always been very important for me to give the kids killer birthdays that are each their own special day, even though they share birthdays so close together. Me and my young bro have birthdays that are 3 days apart, so I understand the importance of separate birthdays. Not wanting to impose on our friends and family during the busy summer days, I invited everyone over for two very casual birthday celebraishes in the back yard, both took place on weekday nights as not to clog anyones weekend.
Anyways, back to our little G-man and the 3rd anniversary of the day of his birth. We spent part of the day at the train museum in St. Paul – Gus totally loves this place, and is infatuated with anything that has wheels. The museum is located in an old railroad building and boasts a miniature model of Minneapolis and St.Paul, pretty cool huh? We watched the trains go around, and around, and around, pretty exciting stuff for a three year old.
Later in the day we had the fam and a few friends over for cake, ice cream, bubbles, glow sticks, and a train party in the backyard. It was a pretty happy day for our little guy.
It's bittersweet to watch the smallest one grow up but I am so excited for Gus to keep on growing and learning! Finn starts all day kindergarten this year and I am secretly (and not so secretly) super amped to have the next year to spend a bunch of one-on-one time tramping around with my not-so-little-guy, Gus.