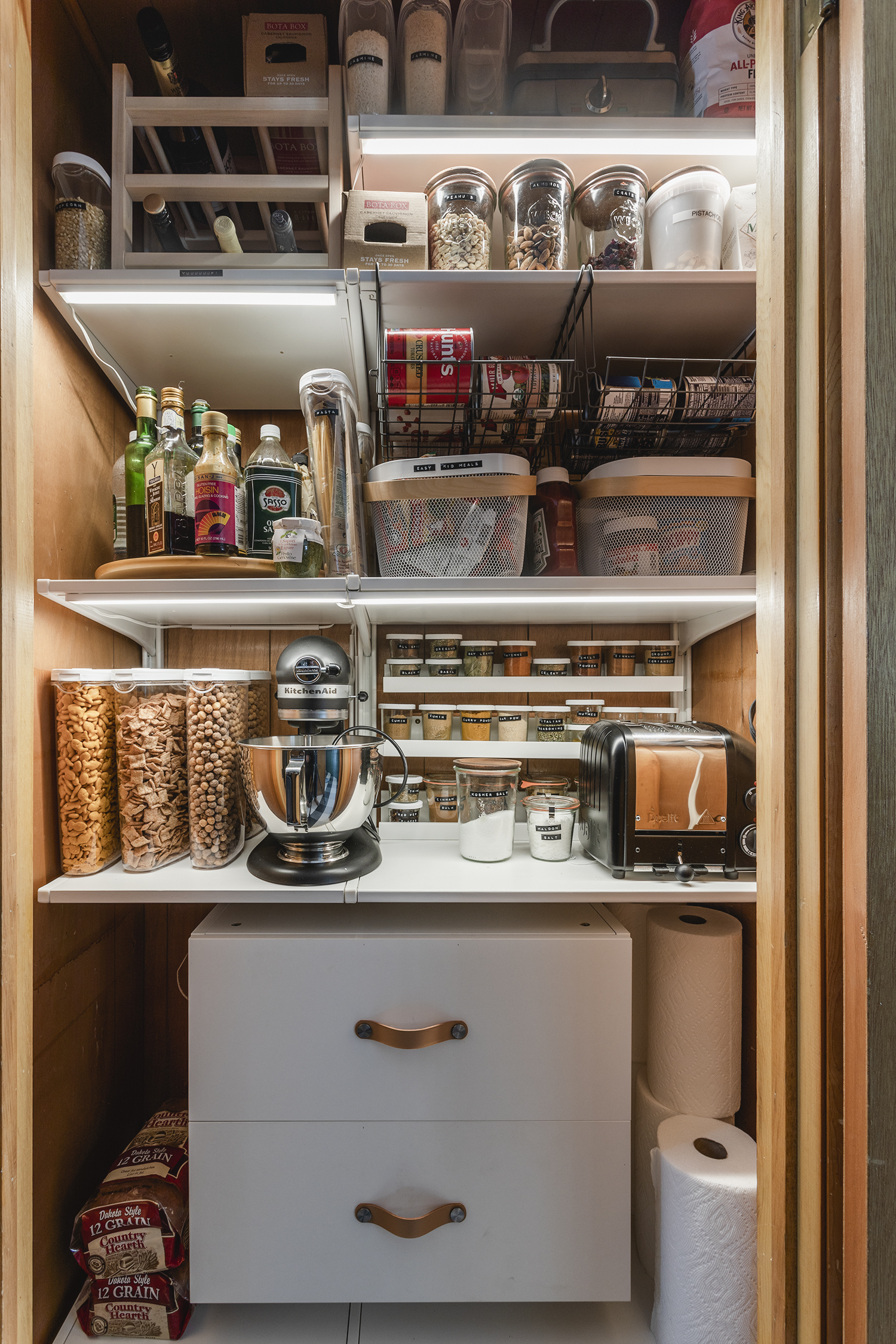 Hey-O! I spent a little time at the cabin this week waiting for a special delivery and I was able to wrap up the pantry. We've been planning and working on the pantry here and there since the beginning of the new year. If you need a refresher on the plan,
check out this post
. We are playing musical chairs with our three entry closets at the cabin and we have transformed the closet closest to the kitchen into what we think is a highly functional pantry closet! We are so excited to have this space under control!
The pantry had been living in one of the other three closets for the last 2.5 years – Although it was the furthest from the kitchen, it was the only closet with shelves and it had made the most sense to stock our dry goods there. This was a great plan to get us on our feet at the cabin, but there was so many items we lost to the back of the pantry just because we couldn't see them. Now everything is visible and easy to get at.
The system is made primarily of Ikea's Algot shelving system. I've used this system in other closets, and it works really well. I will be the first to admit that it's not nearly as dynamic or modular as other systems like the Elfa you can find at the container store, but it's way more affordable and with a lot of planning (Ikea has an easy to use Algot Planner), it's easy to make the system work for you. I opted to hang some a set of Ikea Sektion drawers as well – they mount straight to the wall off a bracket and allow us to have deep storage that we can look down into. We don't have to risk losing sight of dry goods in the back of the pantry.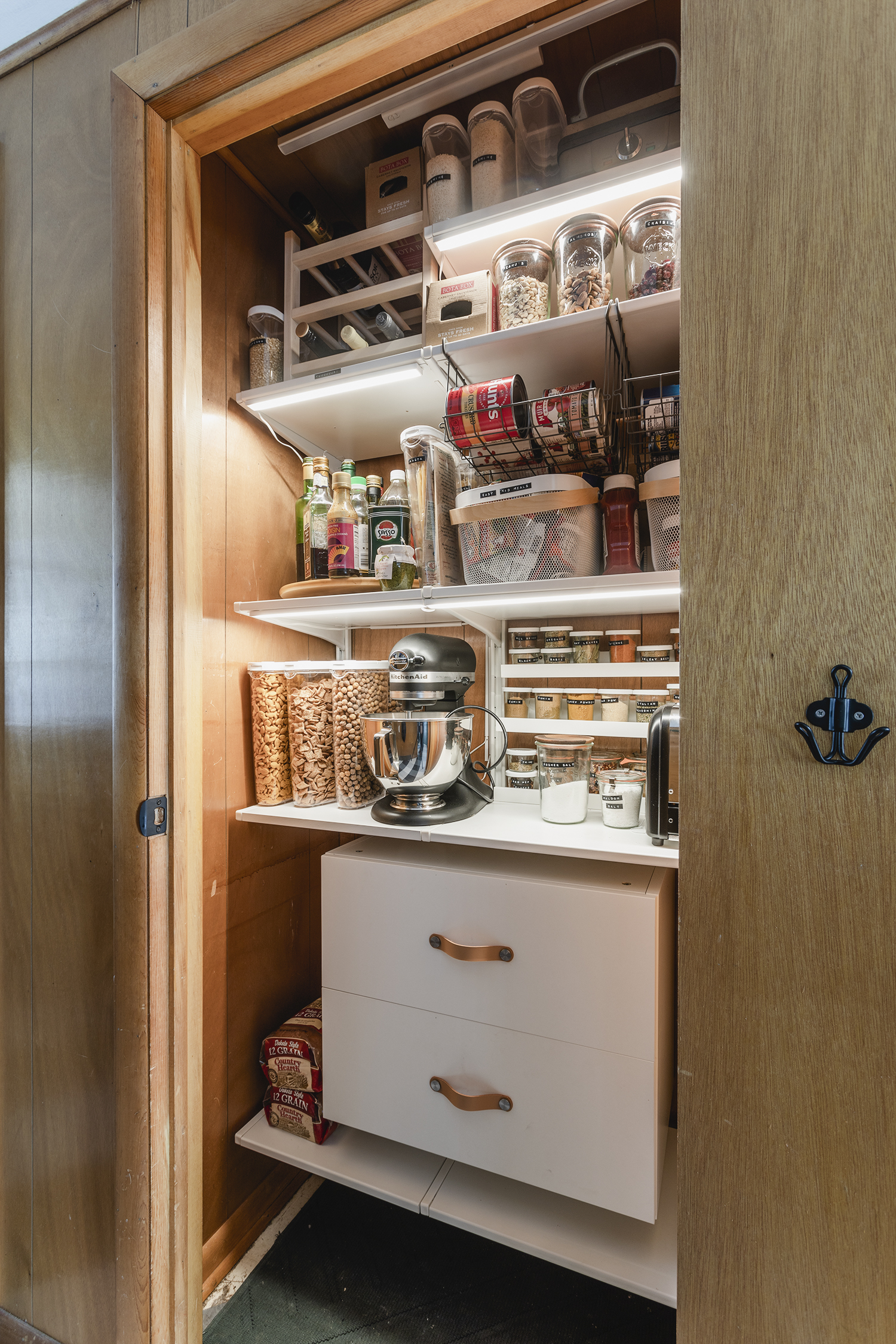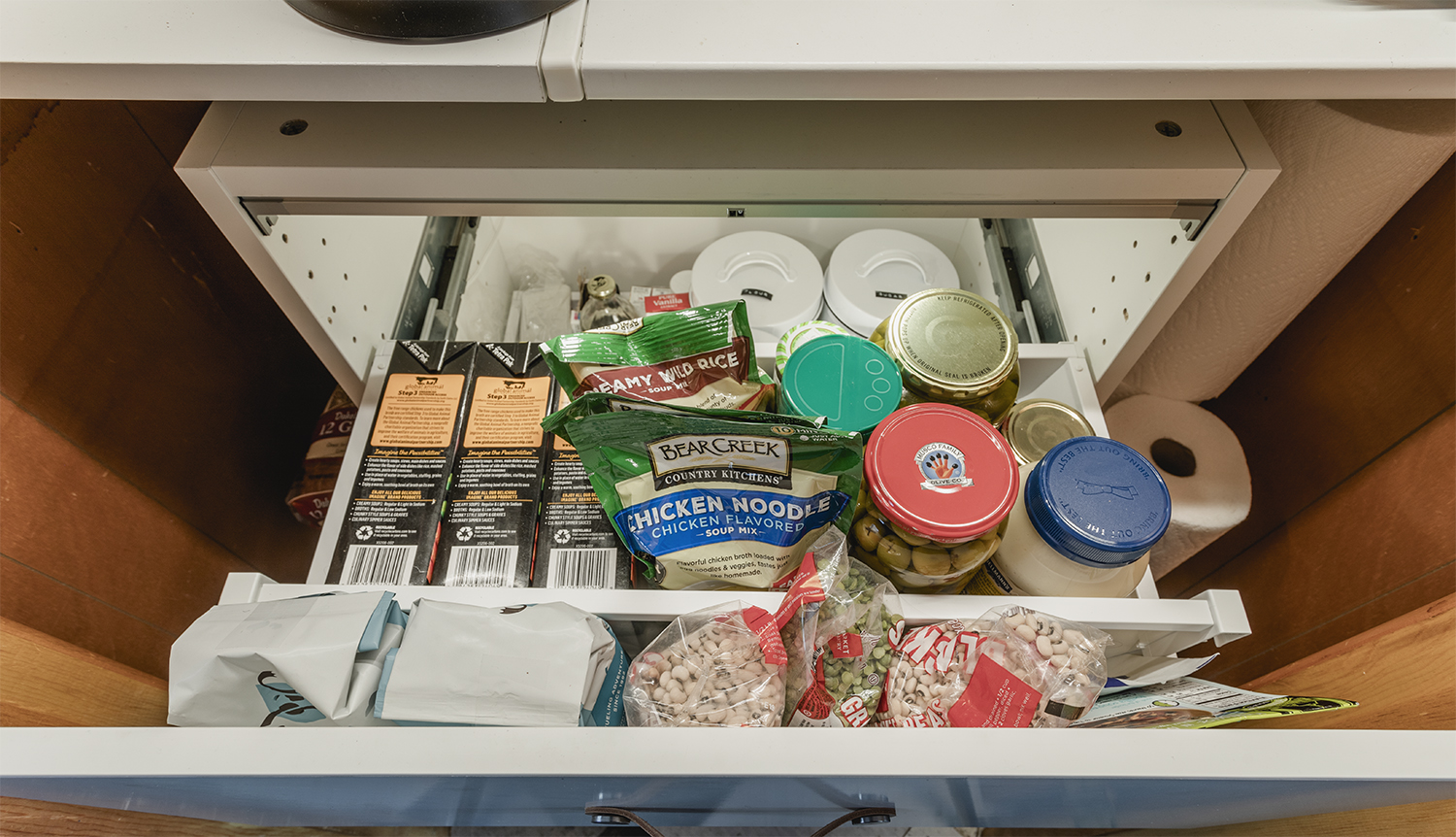 Another BIG problem we had was overbuying spices because we couldn't see them! We were constantly doubling up on oregano and paprika. I organized all our spices including bulk spices using weck jars. Normally weck jars come with glass lids but I was able to find easy to open white covers for all the spice jars. I've been labeling everything with my old-school label maker – super fun and satisfying and fits the vibe of the cabin. Then, I elevated the jars on art-ledge-shelves at the back of the pantry so that we could see what we had. No more doubling up!
There was an outlet already in this pantry and I took full advantage by adding tons of lights. There are lights all over the place in this closet. In the drawers and on the shelves. Ikea makes great lighting systems and for this job I used a combination of Omlopp integrated lights for the drawers and under counter lights for the shelves. I don't think this pantry would work for us without the lights, there just isn't enough overhead or natural light coming from the hallway to help us see what we've got.
I don't need to talk about every single element of this space, but I'd like to highlight a few of my favorite items that I think make the space work really well. We used wire hanging baskets for our canned goods. This allows us to get a quick look at what we have and if we're running low. The lazy susan is a game changer. Not only are we good at buying doubles on spices, we do the same with sauces, vinegars and oils. The lazy susan is jammed packed, but it's so easy to see what we have! On the top shelf we added a wooden wine rack from Ikea – it's totally meant for wine, but we're using it as a place to store booze and boxed wine because we're classy like that – now everything can be seen instead of getting pushed and forgotten in the back of the liquor shelf. Incredible!