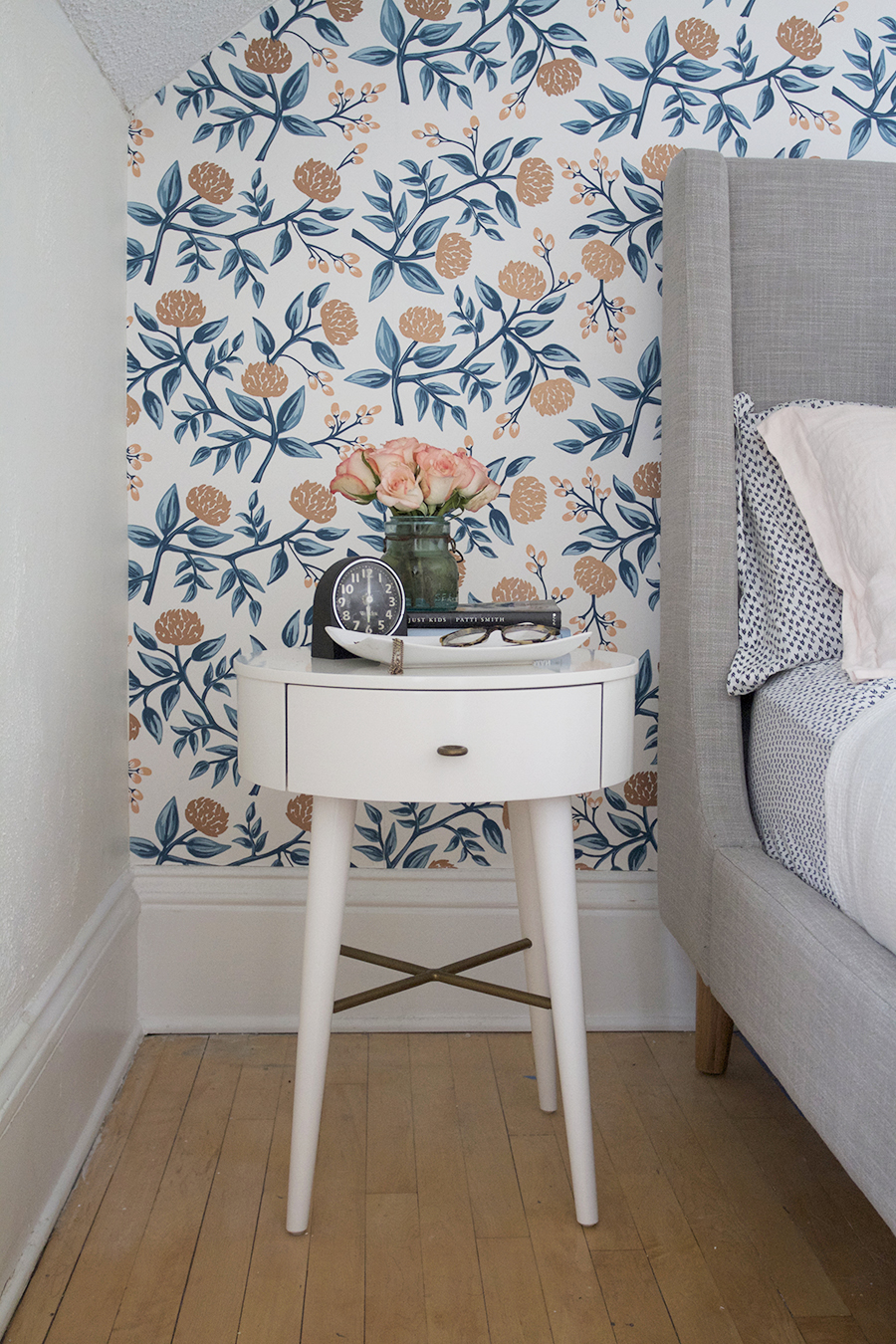 Who doesn't like an excuse to look at gratuitous photos of pretty nightstands? Good, glad I'm not alone. It goes without saying, but I'm gonna say it anyway. I wasn't going to take the time to make our bedroom all pretty without doing something about the bed side tables. We were getting new nightstands.
Of course this girls working within a budget, so the world is not my oyster. It is in fact more like some sort of mussel or clam. With my budget in mind my original plan was to purchase two of these Stockholm tables from Ikea, paint them white and add some pretty hardware. I needed something petit in size, capable of storage and low in cost. These Ikea tables would have run me a hair under $200 bones, and would have done the trick.
Then a sale happened and I couldn't resist the Penelope nighstand from West Elm. I was able to get these tables for the same price as the Ikea tables! Here is how I reasoned this into being. These side tables retail for $199 each for a total of $398. My buddies over at WE were having a 20% off sale a few weeks ago, which if you do your math is a savings of $40 per table. Now I'm down to a cost of $318 for two tables, I also had a West Elm "Design Dollars" from my bed purchase a few months ago, this save me an additional $100 bucks. Now these tables are down to $218, which was good enough for me to go ahead and pull the trigger on. However, West Elm charged me incorrectly and I called to straighten it out, in doing so they took care of the tax and shipping which put me well under $200 bucks. I would describe that as a win. I feel like I should be on an episode of Extreme Couponing or something.
Also, I sold my old Heywood Wakefield side table for $80 bucks on Craigslist. Thank god for Craigslist.
I love these nightstands because they are the perfect size, 18″ diameter, anything bigger would have overwhelmed the space. They have a drawer which is perfect for remotes and notebooks and stuff like that. I always need drawers in my life! I love the tapered legs, giving it a nod to that mid-century vibe without going all in, and the antique brass is the perfect compliment to the metallic flowers in the wallpaper.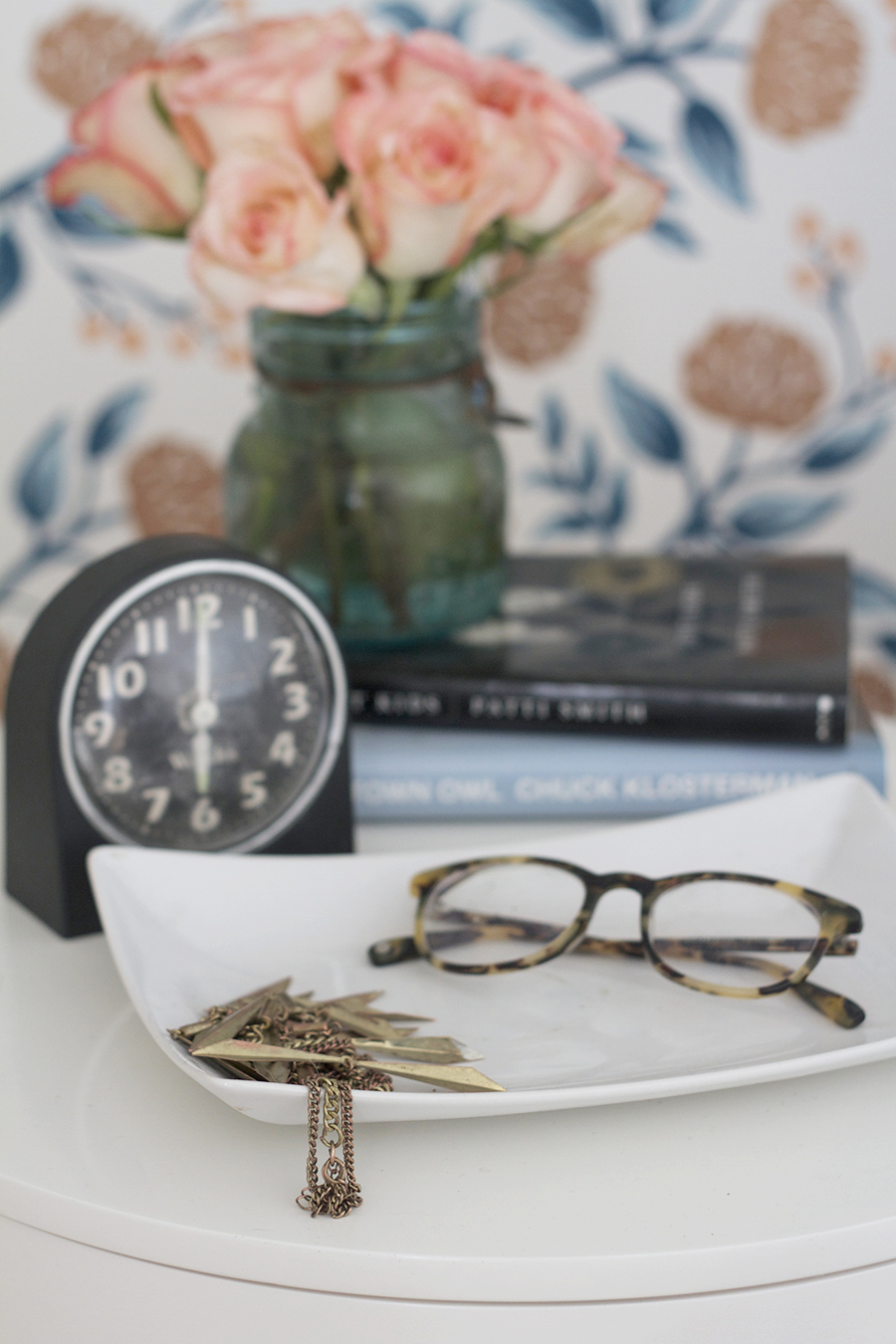 I'm no stylist or anything, but I like to pretend I am for fun. When it comes to styling a nightstand it's just like anything else. You want to create a composition, a still life if you will. You need height, texture and color, plus it has to be functional. I used a small bouquet of flowers to add a pretty smell and soft texture. Books are my go-to when I need to create height but don't have any tall objects. Stick a few books under anything and you're on your way to creating a pretty tablescape. For my lady side table I included a small tray to set my jewelry (ha) and glasses on, and then a clock to tell the time. Of course none of us use clocks anymore because we have computers in our pockets, but whatever, we'll pretend I might look at it to tell the time of day.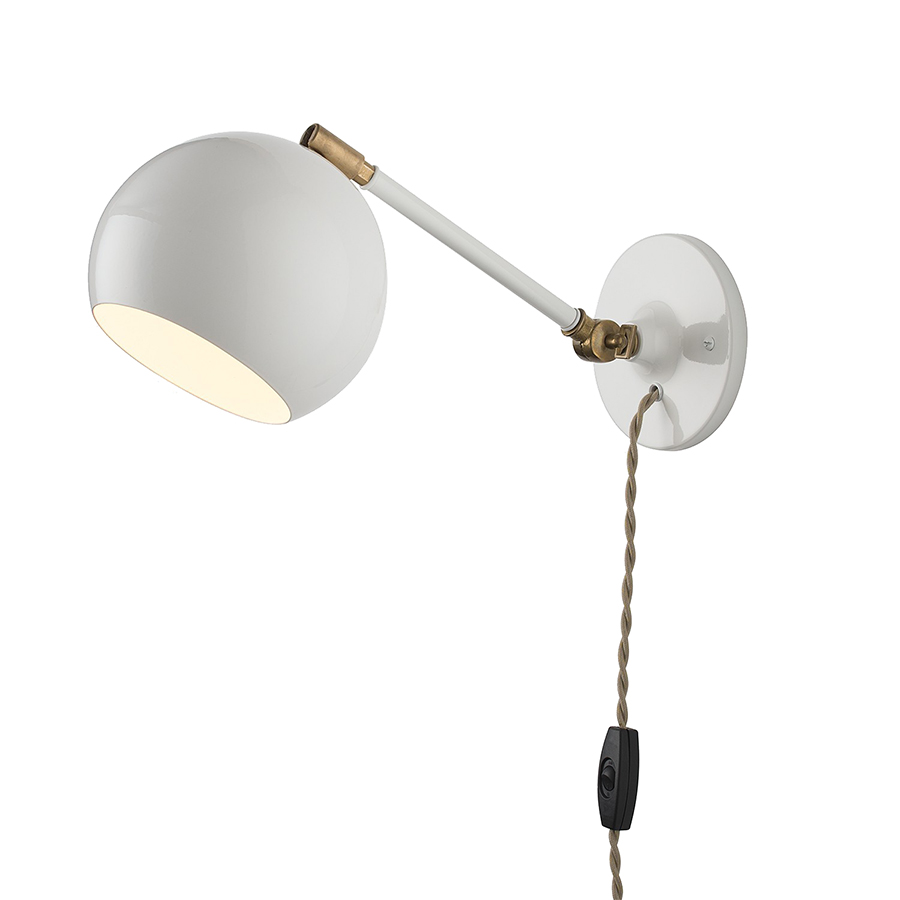 Did you happen to notice something was missing? If you guessed lighting, then pat yourself on the back. We need lights on this side of the room because you can't have a bed without a light, and frankly its just dark as eff over here. We will be adding sconces (specifically these ones from SchoolHouse Electric) someday when we find the perfect deal again – since we are shy on table top space adding a sconce to each side of the bed is the perfect solution. I heart them bad. So you hear that SchoolHouse, I need a deal? A cyber Monday sale would be perfect for me right about now.

For Jeff's side, I kept it much more simple. A few basketball books and a photo of us guys being young tiny teens. He also gets a simple paper white in a small coral (not pink) cup. Ta-da.

So are you sick of hearing about my bedroom yet, hang in there, it's almost over. I am hoping to be wrapping up by the end of the year. I still have to construct and build a corner shelving unit, get sconces, replace ceiling fans, strip the door hinges, touch up the paint, decide what to do for art on the "big wall" and then I will be done. Hang in there, we're getting close.