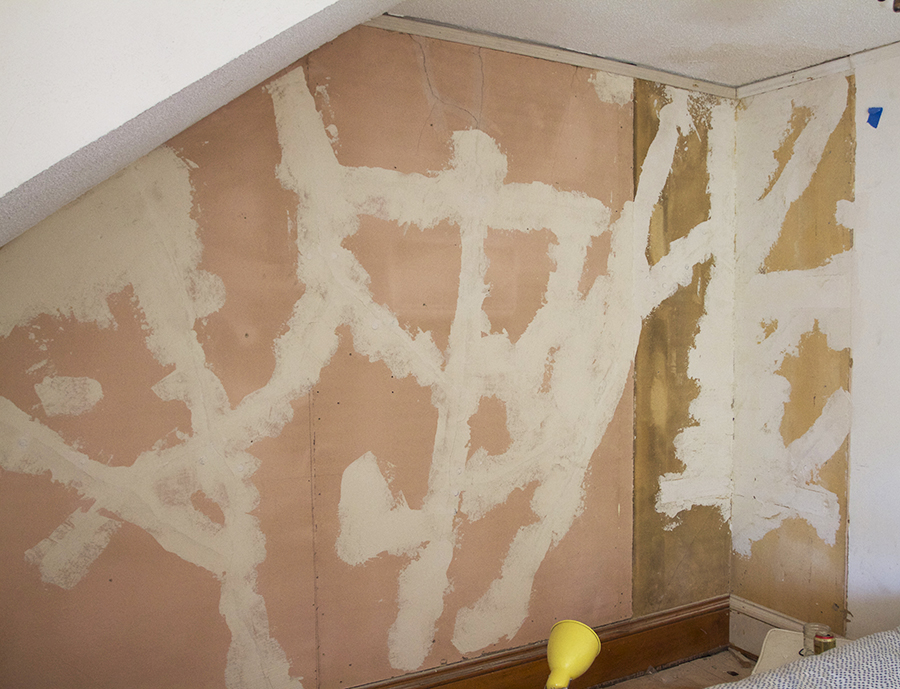 Hey Guys! Long time no see. I miss you tons. I've been VERY busy using every scrap of spare time I have working on my bedroom walls. After we had the pressure tank removed last week I wanted to jump right in and begin repairing the walls and replacing the baseboard and "crown molding" (it is not very regal). I needed to get the bedroom back into suitable order ASAP.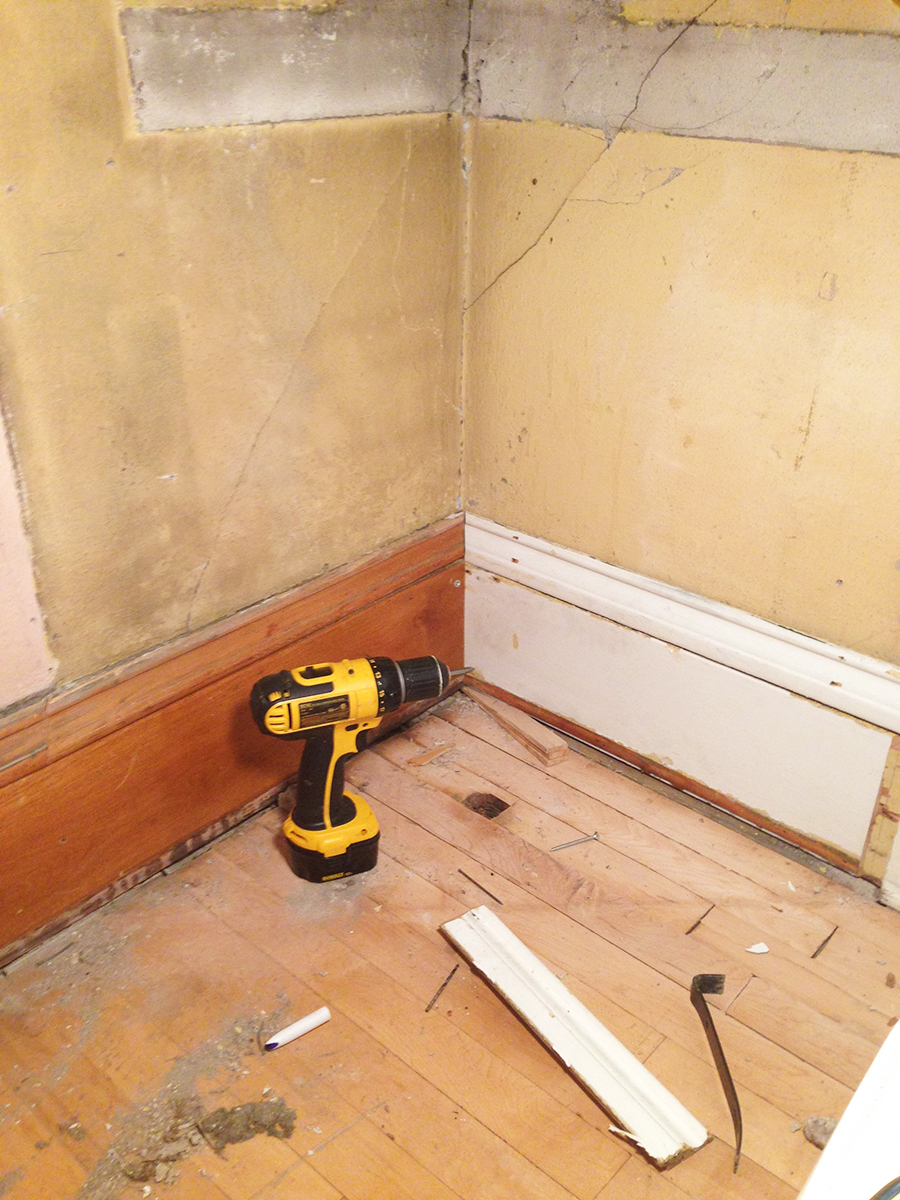 One of the biggest unknowns when I began planning out this whole bedroom project was how I was going to replace the missing baseboard and ceiling moldings in the corner of the room. I assumed I'd be able to find something at a salvage yard but I didn't know for sure. Last week I went out with the kids to visit a few local architectural salvage places. I first stopped at Architectural Antiques, which was mind blowingly beautiful and crammed full of architectural wonderfulness, but they didn't have a lot of scrap trim to dig through. They suggested I head over the river and take a look at the baseboard collection at Bauer Bros. Oh my god, I thought the hardware store was my favorite store, but this might be my new heaven. We wandered through an entire warehouse brimming with radiators, claw foot tubs, light fixtures, hardware and much much more before hitting the trim and molding section. This was a hunt and gather sort of an operation so with the kids help we began digging through hundreds of pieces of trim searching for something that matched our own. After about an hour we had a 12′ piece of baseboard that was nearly identical to the one we had as well as a piece of ceiling molding. It was so awesome, and fun, and exhilarating. I can't wait to go back.
The next challenge was having to install the baseboard and molding, something I have zero experience doing. After watching a few videos, including this gem, I felt confident that I could take on this task. I began by doing a little baseboard musical chairs. The piece that I needed to patch was only less than a few feet long, but since the baseboard I found was slightly different I didn't want the pieces to join on a seam and look patched. Instead, I felt like the slight differences would be much less noticeable if the met up in a corner. So I began the process of removing the baseboard from the south wall so that I could used it to patch the small bit of missing baseboard on the west wall. Then I used the newly found baseboard piece from the salvage store of on the entire length of the south wall. I did the same thing with the ceiling moldings and in no time the wall was and corner were starting to look not so shitty. I am so GD proud.
I used my neighbors miter saw for all my cuts, which was totally awesome. I am for sure adding one onto my birthday wish list. A girl can dream, right? After the walls and floor are fully repaired I'll go ahead and caulk my seams, fill my holes and prime and paint the molding. Hopefully it will look like it's always been there.
I ran into a few problems installing the trim. For one the new piece of baseboard was slightly warped and wall that I was attaching it to was slightly bowed. It took a lot of muscle to get that baby to sit right where it was supposed to. I literally spent a few hours muscling it into place. Secondly, cutting angles around a the roof line was a real hard thing for me to figure out. However, I was able to do it in a very unprofessional manner using my old reliable friend, trial and error.
My most unknown challenge thus far has been the floors, I was so worried that I would ruin them when I had to remove a section of them last week to get at the pipe joint connection to the radiator system which was hidden between the floor and ceiling joists. I was so relieved when I was able to successfully reinstall the original floors without destroying them, I felt like the rest of the projects were downhill from there. I am now left with the task of sanding down the floors in the corner so that they match the natural look of the floors in the rest of the bedroom. Using my mouse sander and some 60 grit sand paper I went to town. In no time the floors were beginning to resemble the rest of the room, so yeah, I am totally ruling this and feel like a total badass. After I get the walls fixed up I'll add a layer of satin poly in the corner and they should blend in perfectly with the rest of the space.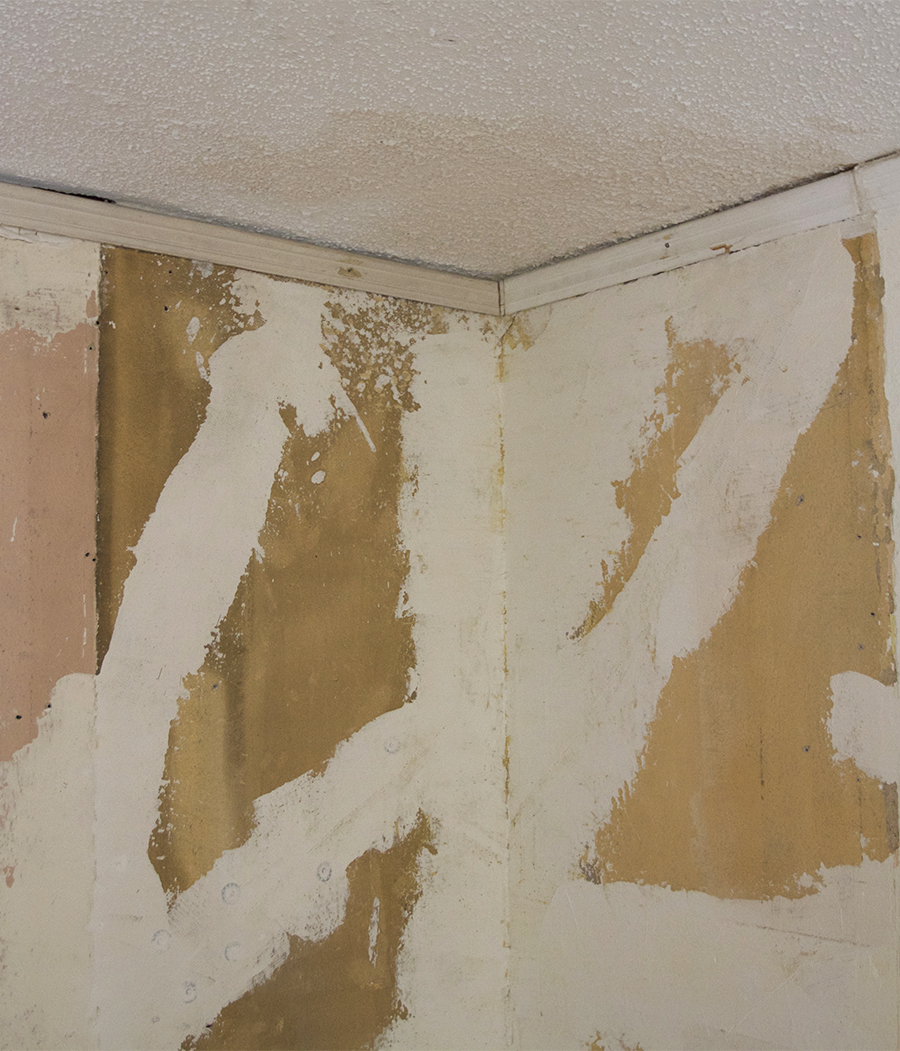 I hated doing it, but I had to. IT was adding popcorn patch to my hated popcorn textured ceilings. The way I saw it I had two options. Either drywall over the entire ceiling or suck it up and patch the corner. I choose the latter because it's easier, duh. Someday when we do decide to drywall over the popcorn ceilings, we will do all the areas that suffer this gross fate in one fell swoop, that day is not today.
Using the cans of popcorn repair spray is not fun. This is my second experience doing this. After doing it to patch a water stain on the first floor I knew that I was in for a total stinky mess. I used plastic drop cloth and some push pins to thoroughly close off the area that I was going to be patching leaving a bit of extra space for feathering in. I also did this step before I installed any of my newly found molding as to not destroy them with popcorn filth. The popcorn cans are a total rip off, they run about 15 bucks a pop and have a total of 6 seconds of spray in them. This time, instead of standing directly under the area I was working in, I just put my bare arm in my newly created plastic spray booth. I'd spray a swoop of ceiling texture for a literal second and then use my eyeballs to check where I needed to aim for next. This process worked well, although I was disappointed that I needed two cans of that expensive popcorn stuff to do this small area of ceiling. Whatever – it's done, and the corner is now beginning to look better.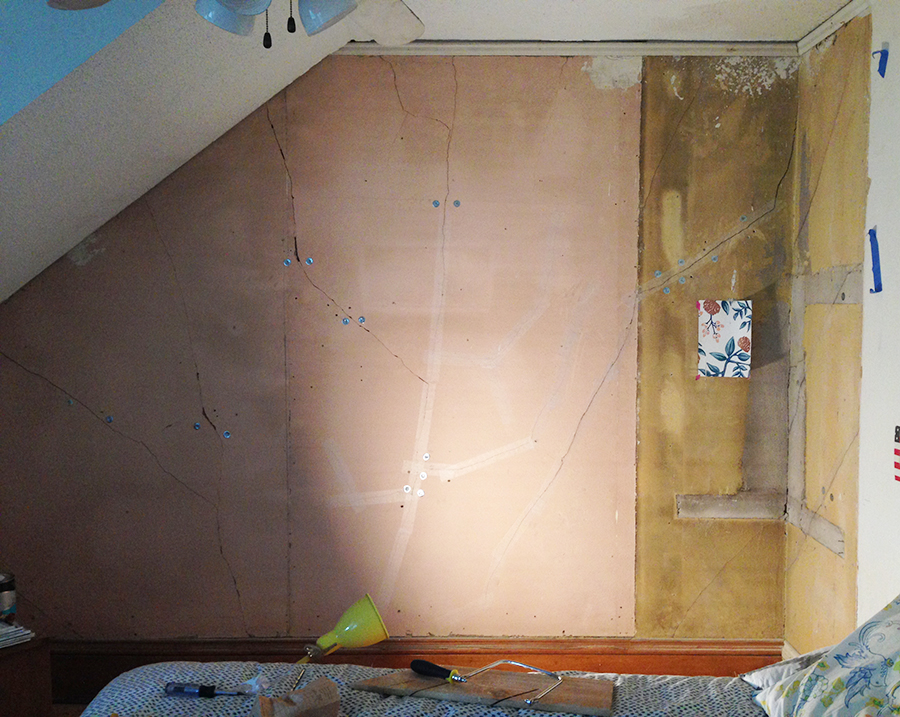 I just started the real-deal hard part: repairing and skim coating the walls. There were a lot of cracks in the plaster, due to general house settling. With the walls being hidden behind panelling no one had bothered to repair them. A few spots were loose from the lath, and I used the plaster buttons on Daniel's recommendaish to attach them back. I'm glad I read other peoples cool blogs to know about such cool hardware technologies, the buttons seemed to work really well considering how basic they are. I also began my initial layer of joint compound and mesh to repair the cracked areas. Things are starting to look real nice around here. Next up, sanding and skim coating, and sanding and skim coating, and then hopefully wallpaper and beautifulness. I'll share more about what I'm thinking later this week. Until then, you know where I'll be.