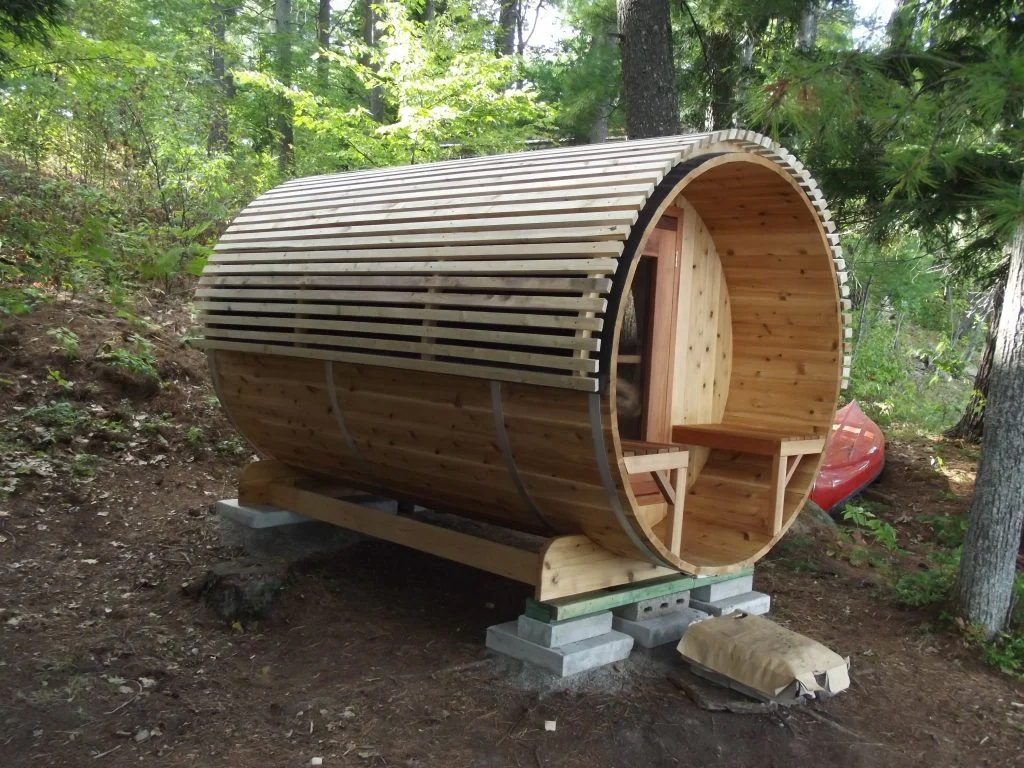 Hello, people of the internet! I'm glad you guys are here, and I genuinely hope you are all healthy and well. Let me start by saying that this is not our sauna, but this will be very similar to what our sauna looks like. This photo is from saunafin.com, which just happens to be the place we ordered our sauna from.
About three months into quarantine we realized that the home goals that we had made for the year were quickly changing. We had talked about getting the house painted and adding onto the deck at the cabin maybe even getting a hot tub, but all of that began to melt away as the days of quarantine lingered on. Then, after a champagne fueled morning, we decided we needed a project so our weekend mornings wouldn't be entirely filled with just drinking champ. What could we do that didn't involve a contractor but could be a significant improvement and investment to the cabin? What about a barrel sauna? We've always talked about how it would be so cool and magical to have one tucked into the woods. We have always enjoyed a hot sauna followed by a lake jump, or a steamy sauna in the middle of winter. Why the hell not make it a reality?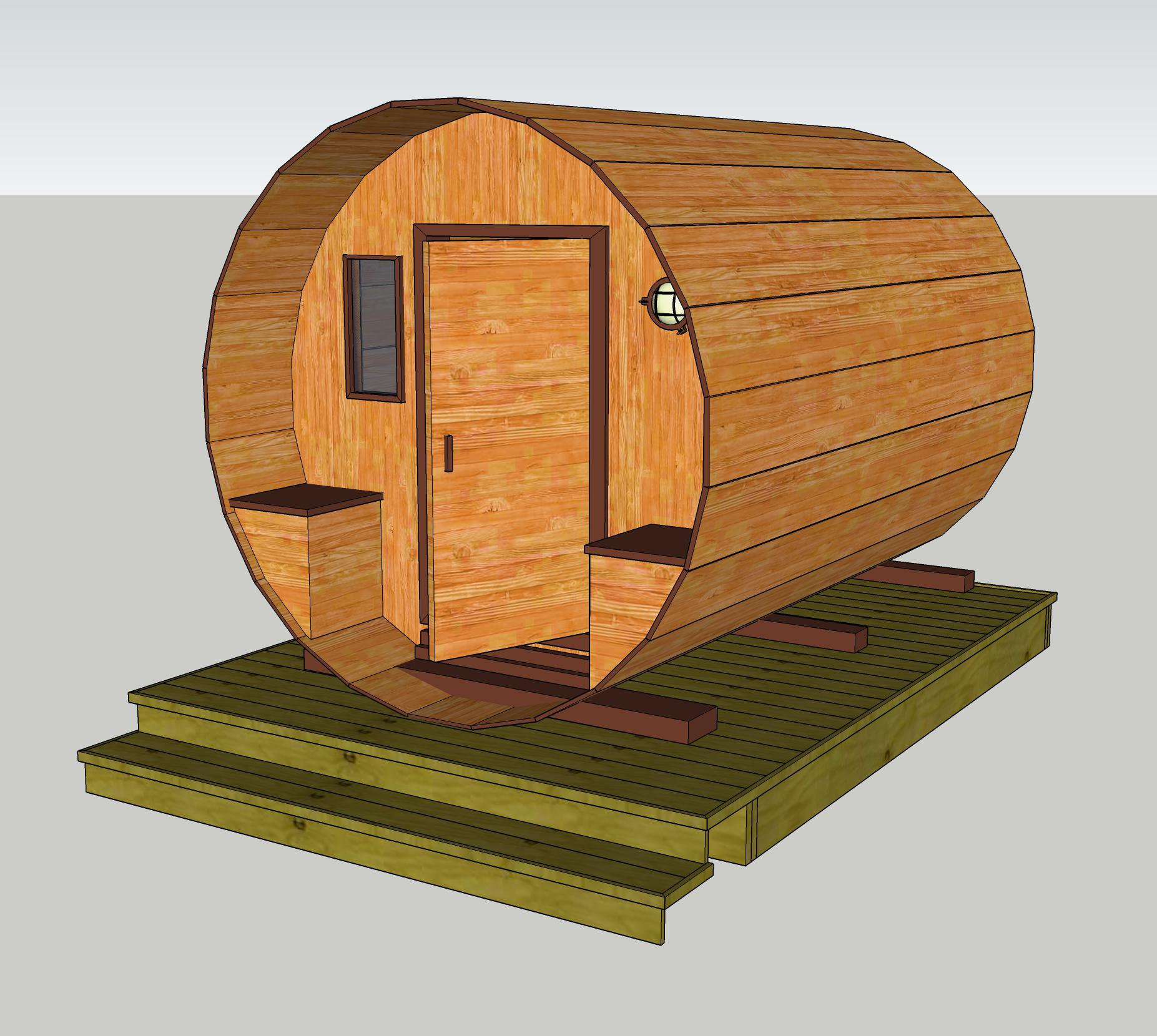 And so it began, we started researching Sauna kit companies, comparing prices, figuring out what features we wanted and taking trips into the woods to figure out where the best spot for our sauna would be. It was really fun to have something to focus our energies on. I especially, was so thankful to have a project.
After much consideration we decided the sauna couldn't be too far from the cabin, because we plan on using it all year round and when it's -20º you don't want to take too long of a walk through the woods. The sauna would be nestled into the woods near the front of the cabin (aka not the lake side). To make the space really feel magical we wanted to clear out a bit of the woods that took up the "side yard" (aka side forest) of the cabin. We'd move the trampoline further into the woods, put the sauna where the trampoline formally lived, and create garden beds and trails to connect the spaces in the woods.
Just a quick side note: someday we'd like to continue the "trails" down the side of the house and out to the lake, that way there would be a straight shot from the sauna to the lake – we might even put a hot tub destination in between the two – more on that in tomorrow'w post outlining the landscaping.
There was a 12+ week wait for the sauna, so we placed our order and I got to work on figuring out the logistics of building a floating deck.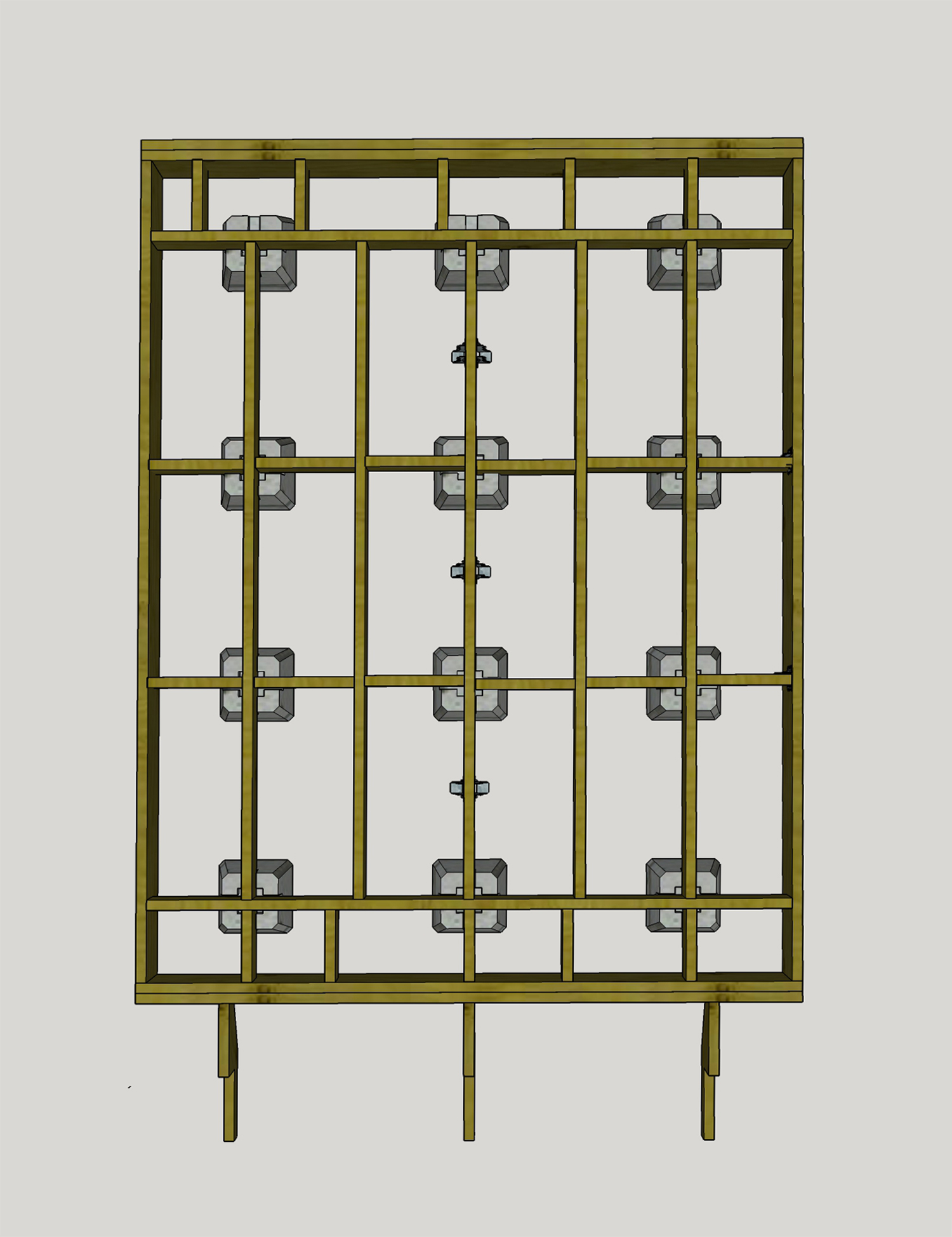 My go to favorite tool for designing ANYTHING is sketchup, and it was such a big help for figuring out the best way to frame and float a deck. Not only does it work as a planning tool, but it also provides me a way to create an accurate shopping list and limit waste and over spending. I myself had never made a deck, so I was a little nervous going into it. I decided to used pre-formed concrete deck blocks that are built to fit 2x framing horizontally or 4×4 posts vertically. They were a life saver and I highly recommend to anyone looking to build a floating deck. Figuring out a plan for the framing took a bit of head scratching. I wanted to use the concrete deck blocks, but I also wanted to include a skirting around the outside of the framing so the blocks themselves wouldn't be visible.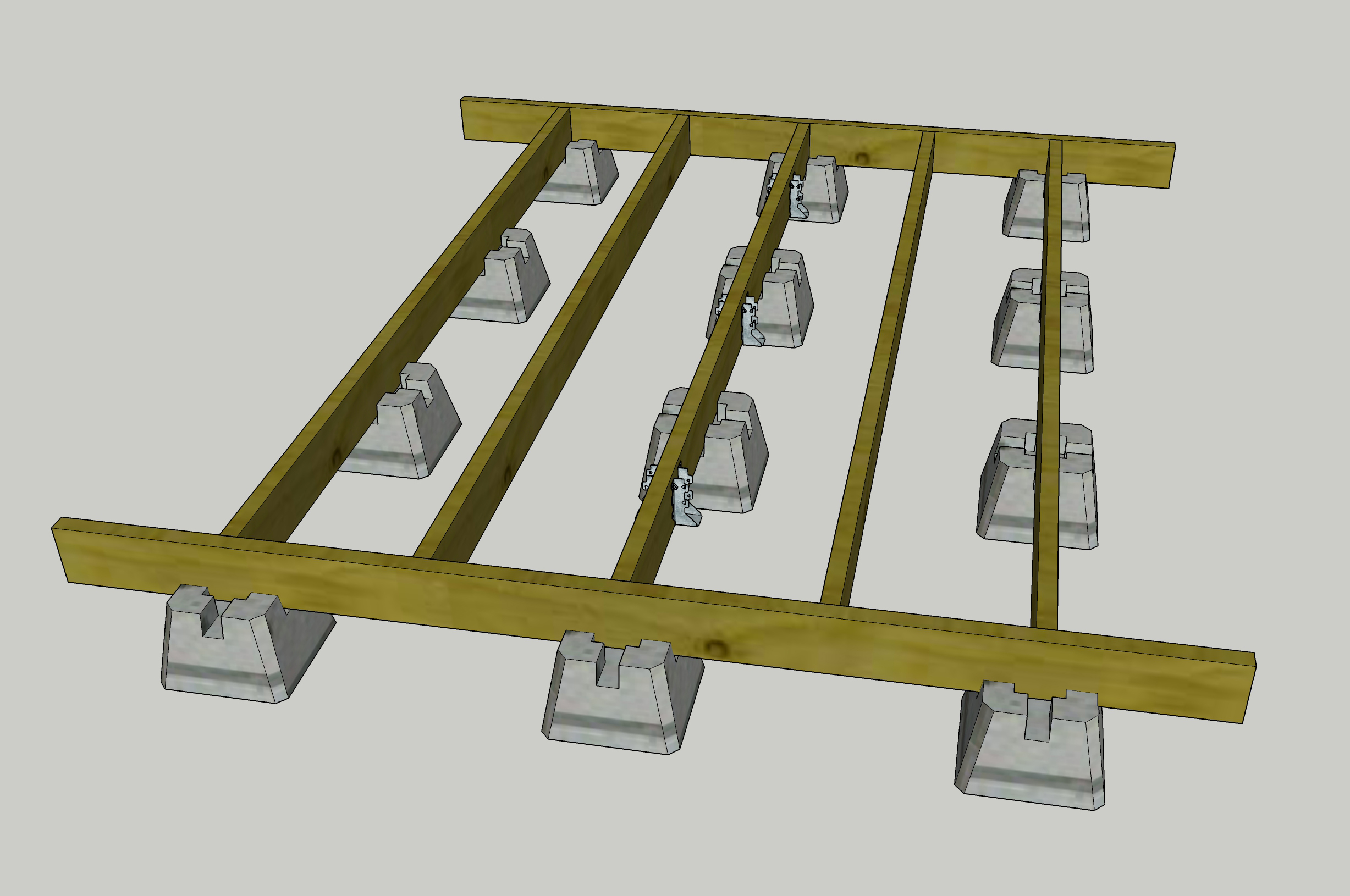 The inner framing was made up of 2×6 pressure treaded cedar tone boards, and the skirt around the perimeter was 2×10 boards. We decided to use cedar decking since the sauna itself is made up of clear red cedar. At the front of the deck I added two steps going up to the deck. I nearly had my brain explode tryin to figure out how to build runners for the steps, but thanks to sketchup I was able to finally get my measurements correct after about 5 attempts. I ordered all the lumber online and then had no contact pickup at the home depot. God bless my Toyota 4Runner, it basically converts from a glorified mom-car into a truck when I need it too.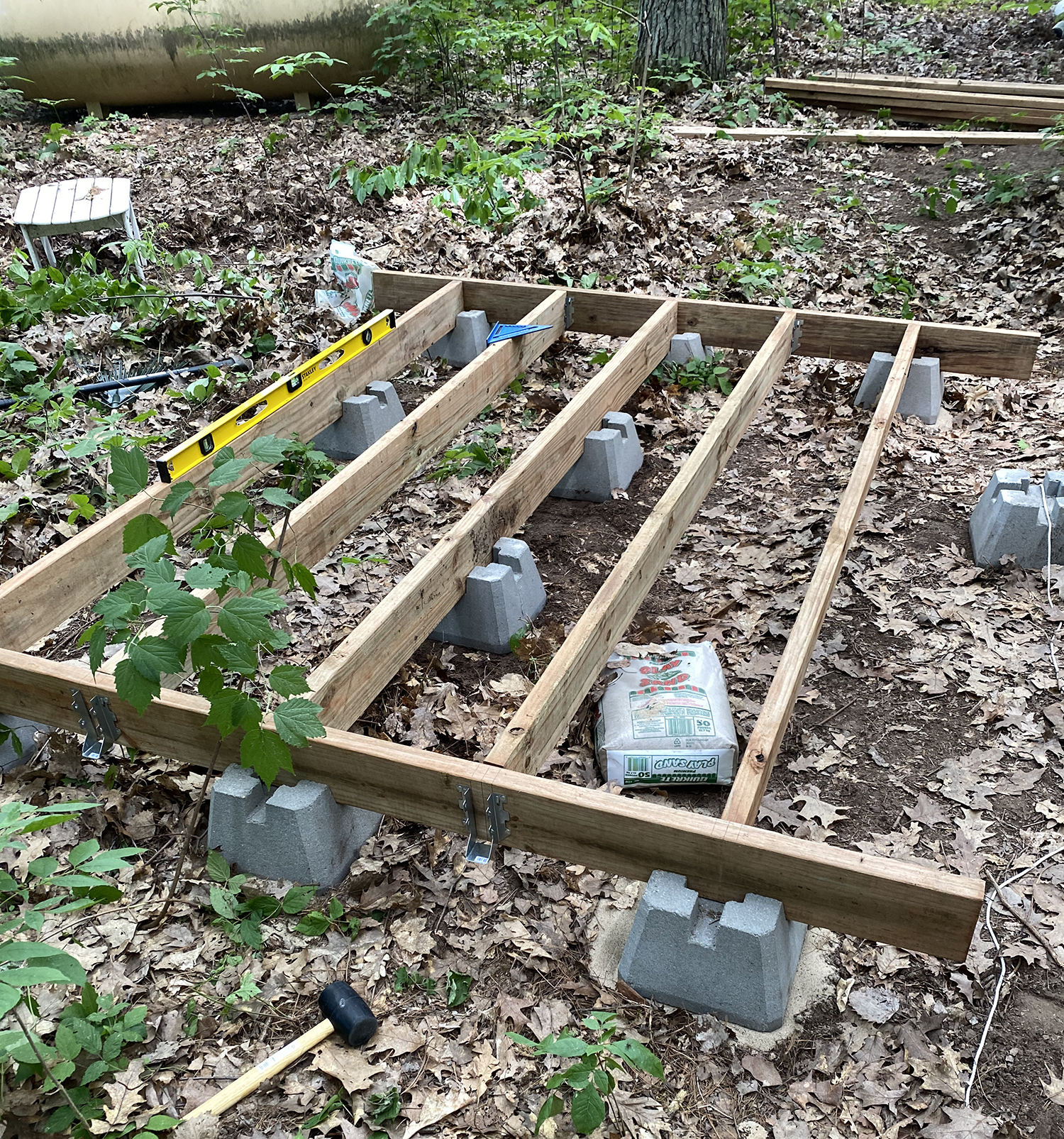 I don't feel like such a profesh deck builder that I can hand out advice, but I can tell you I watched this video a few times and took a lot of info from it before I dove into my project.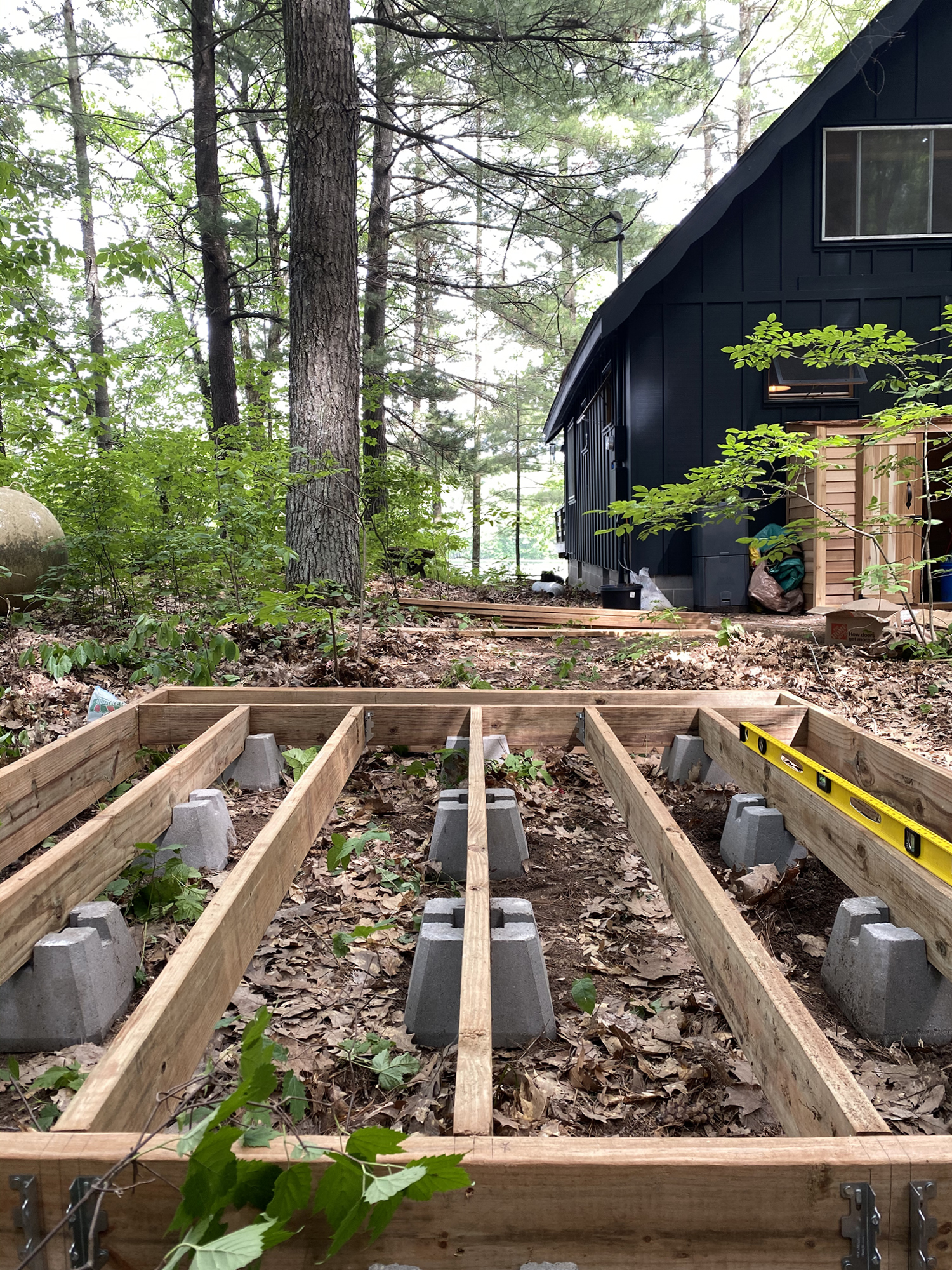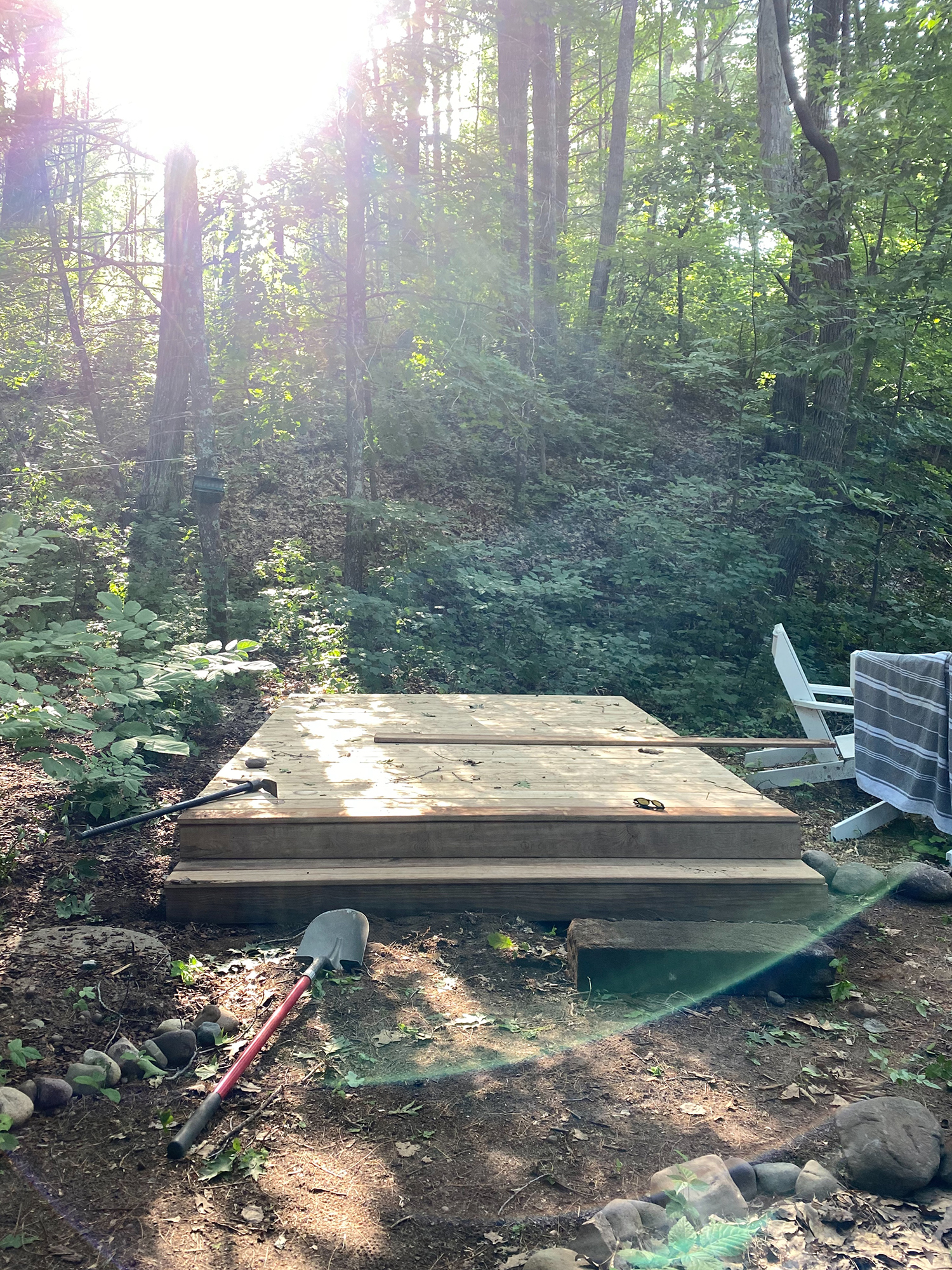 The deck is basically complete, I have plans of getting my hands on some 1x cedar so that I can put a finish trim around the decking. Besides that though, we are just waiting for the sauna to be delivered (hopefully within the next two weeks). The sauna comes as a kit and needs to be assembled, and it should take a few days from start to finish to complete the build. I'm so excited to get at it!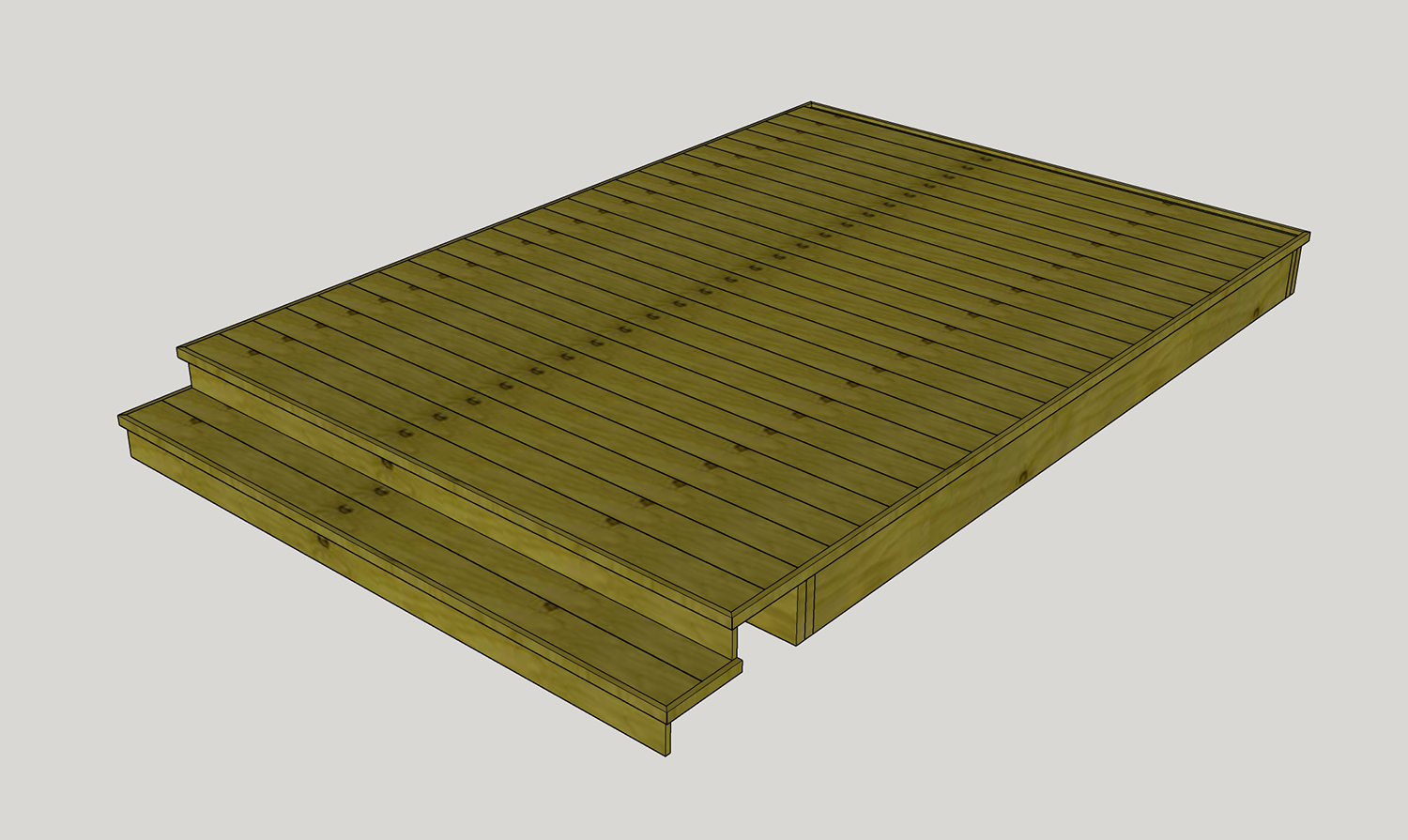 Check back tomorrow for the scoop on creating woodland gardens in the woods!