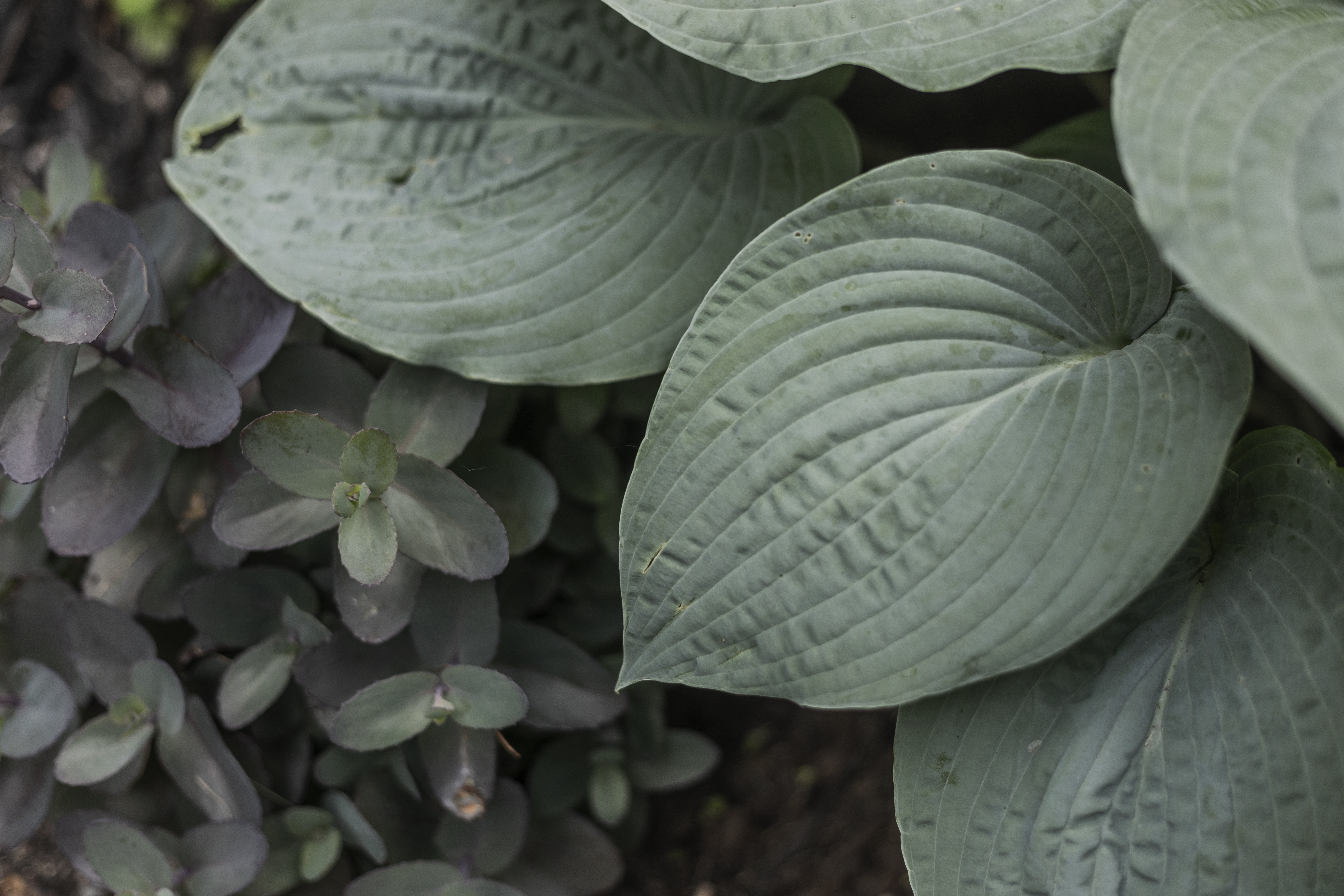 We've spent the better part of the last 4 months at the cabin. We head home from time-to-time to check the mail, check on the neighborhood and mow the lawn. I've been missing my garden in a major way. I look forward to spring more than any other time of year. I love tending to my gardens, paying attention to every tiny detail and watching closely as they grow bigger and stronger. That being said, I am so impressed (and a little sad) with how well my babies are doing without me this year. The garden's are all grown up and can practically take care of themselves, They don't even need me anymore. The perennials are large enough that they fill in the garden nicely and drown out a lot of weeds (not all, but a lot).
These photos of the garden were taken about four weeks ago, I'm eager to see how it's changed when we return again next week. The highlight was seeing the climbing roses bloom on the fence and seeing how well our window boxes do with the automatic watering system I rigged up.
Minus the clover (that I can't seem to get rid of), I love this corner of our foundation garden. I placed Salvia Caradonna along the foundation of the house, in front of that is a blue Hosta, and purple Sedum, and in the very front is my favorite new perennial, Foam Flower and Heuchera.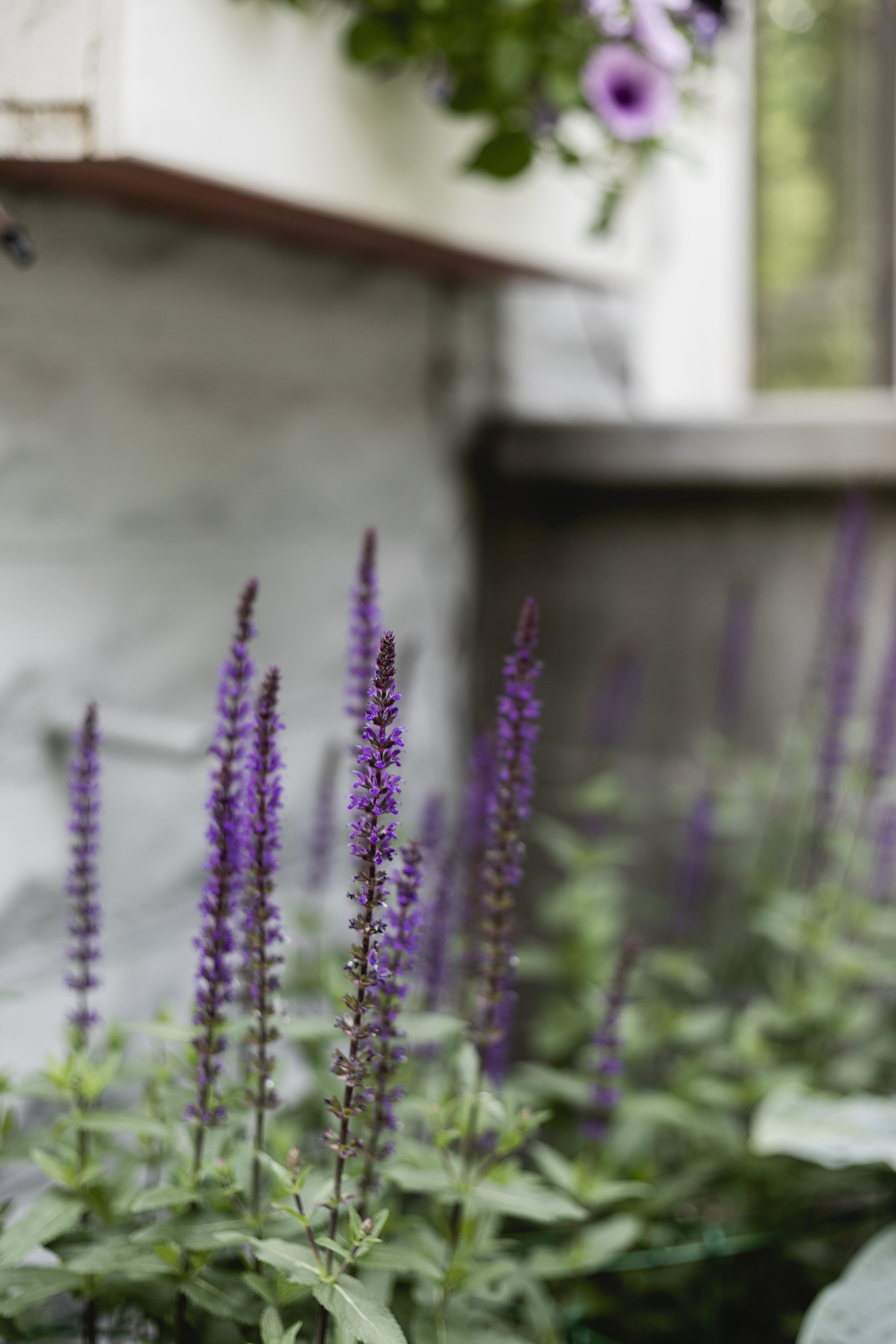 The Caradonna has purple stems and a very architectural look. It's my fav brand of Salvia.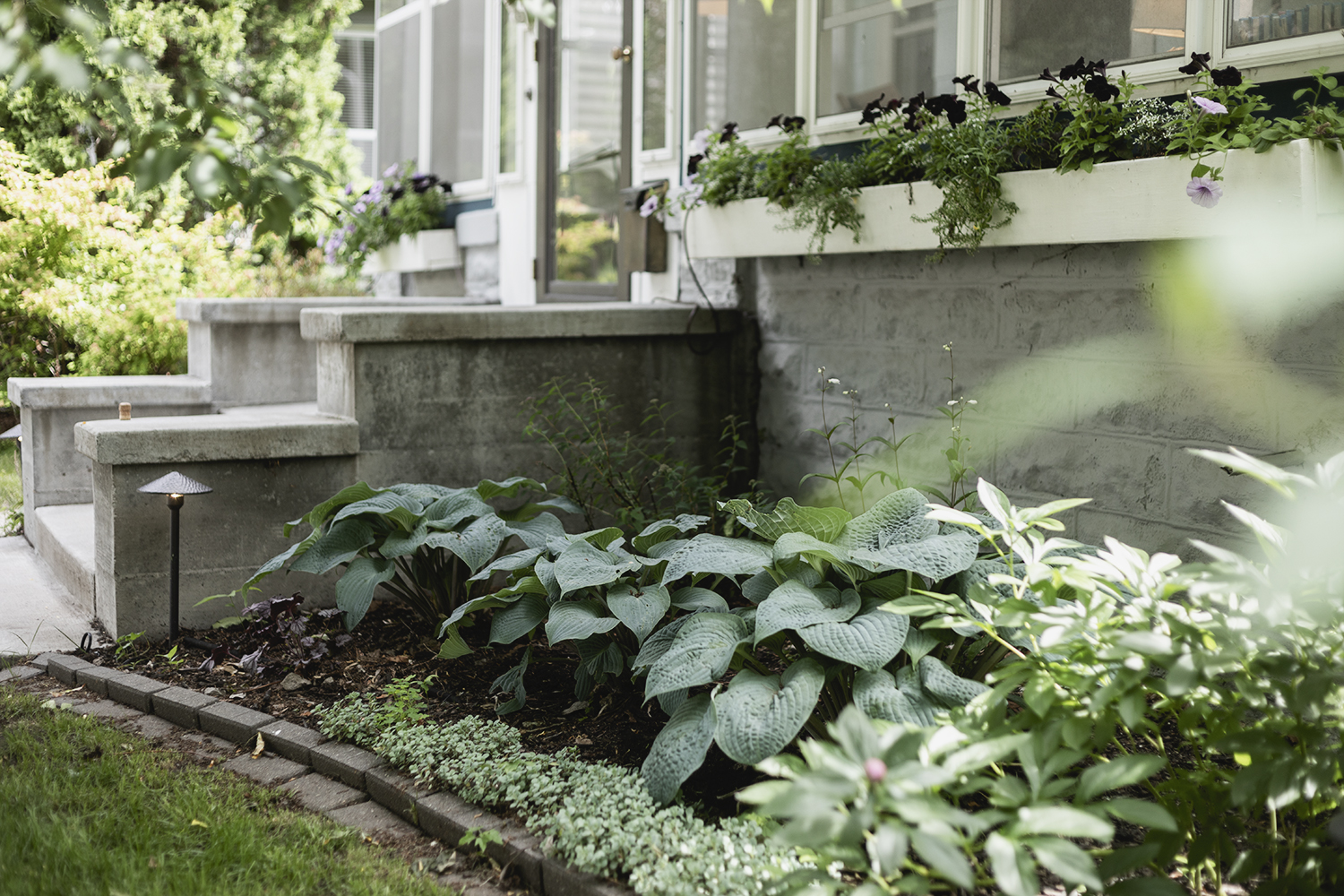 In the back row we have a new (last summer) Spirea bush and a row of Husker Red Penstemon. In the middle a row of blue Hosta and in the very front there is purple Heuchera and a creeping sedum that produces tiny pink flowers at the end of the summer.

My window boxes are my only annual planters this year. I ordered online in March. The boxes are a little sparser than normal, but I'm glad to have them. It's such a nice welcome home every time we drive up to the house.

This photo was from a trip home in early May. Finn's spring snow crabapple was blooming and it was amazing. We planted this tree 10 years ago during our first summer in our home. This was planted in honor of Finn, which is fitting because today he turns 12! It's now over 25 feet tall. I'm in awe, and it is stunning.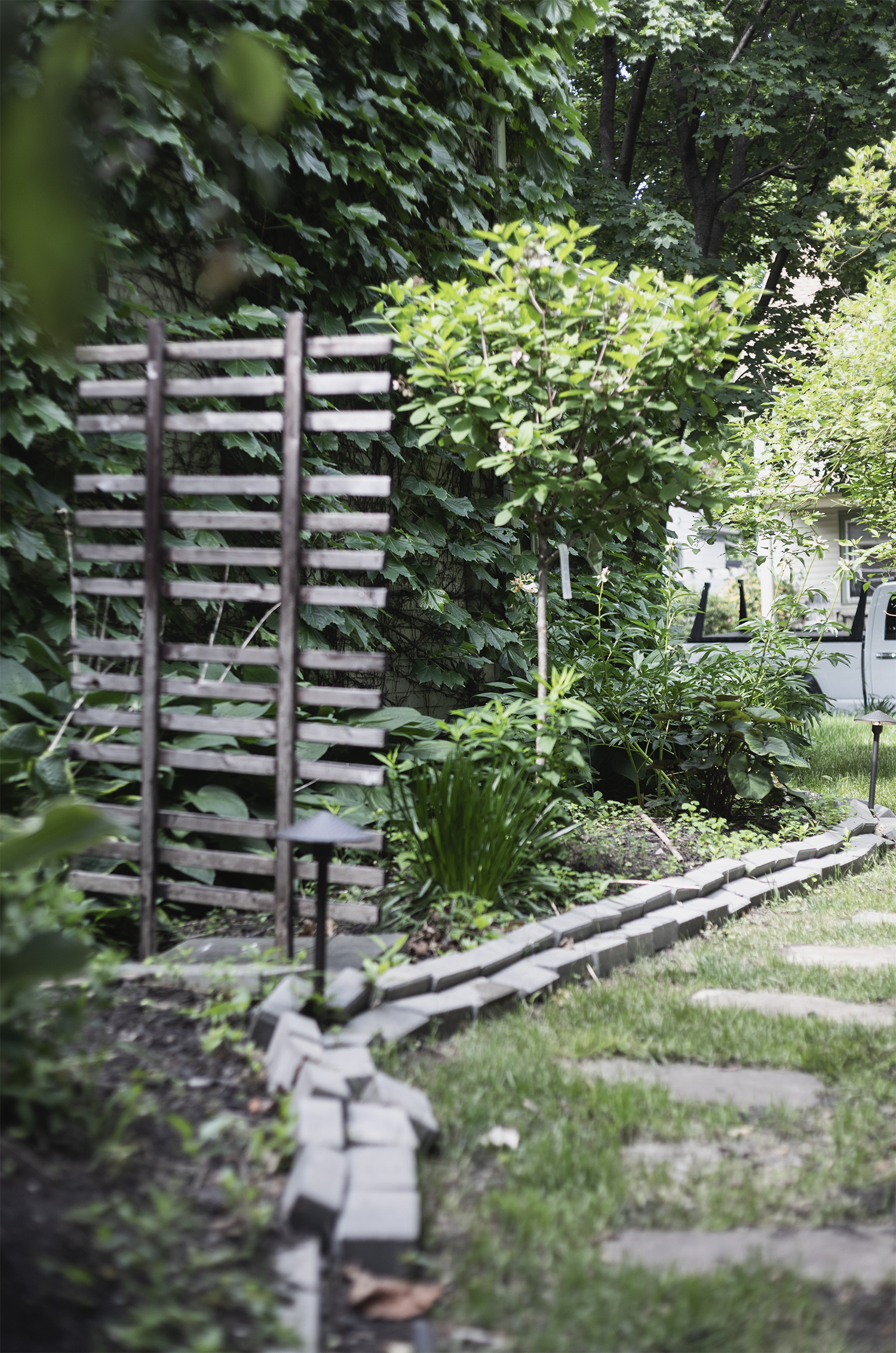 This is the garden on the side of our house, it leads from the front yard to the back. It's about three years old. Originally it was a raised bed garden that I planted when the kids were little. It wasn't getting the attention it deserved so I removed the raised beds and turned it into a perennial garden. There is lots that needs to be done in this space including installing that paver border. It will all get done in time.

In the back corner of the yard we have the firepit hang area and behind that is our patio. If it wasn't for that climbing rose the patio would look pretty rough this year. I have no annuals in any of the planter boxes. However, the roses and the not-yet-blooming Hydrangea tree behind the chairs really help to define the spaces.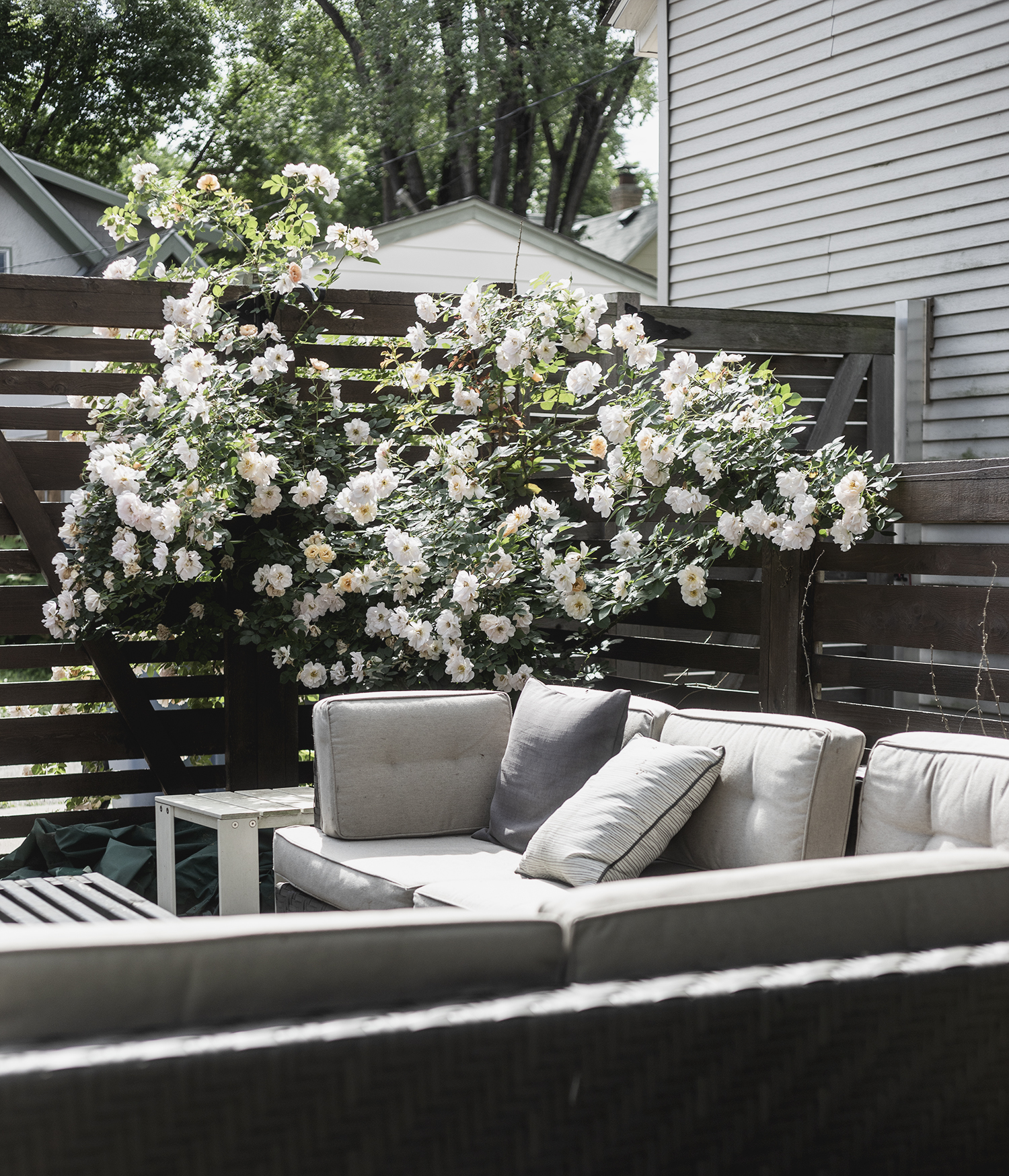 I'm going to post a bunch of rose photos now, because this rose vine is so incredible. This climbing rose is called 'Above and Beyond'. I planted two roses on either end of the patio about three seasons ago. It's grown so much! I've begun trying to train it to grow on the fence with wire and floral ties. My goal is for the two roses to grow towards one another so the end result is a rose fence.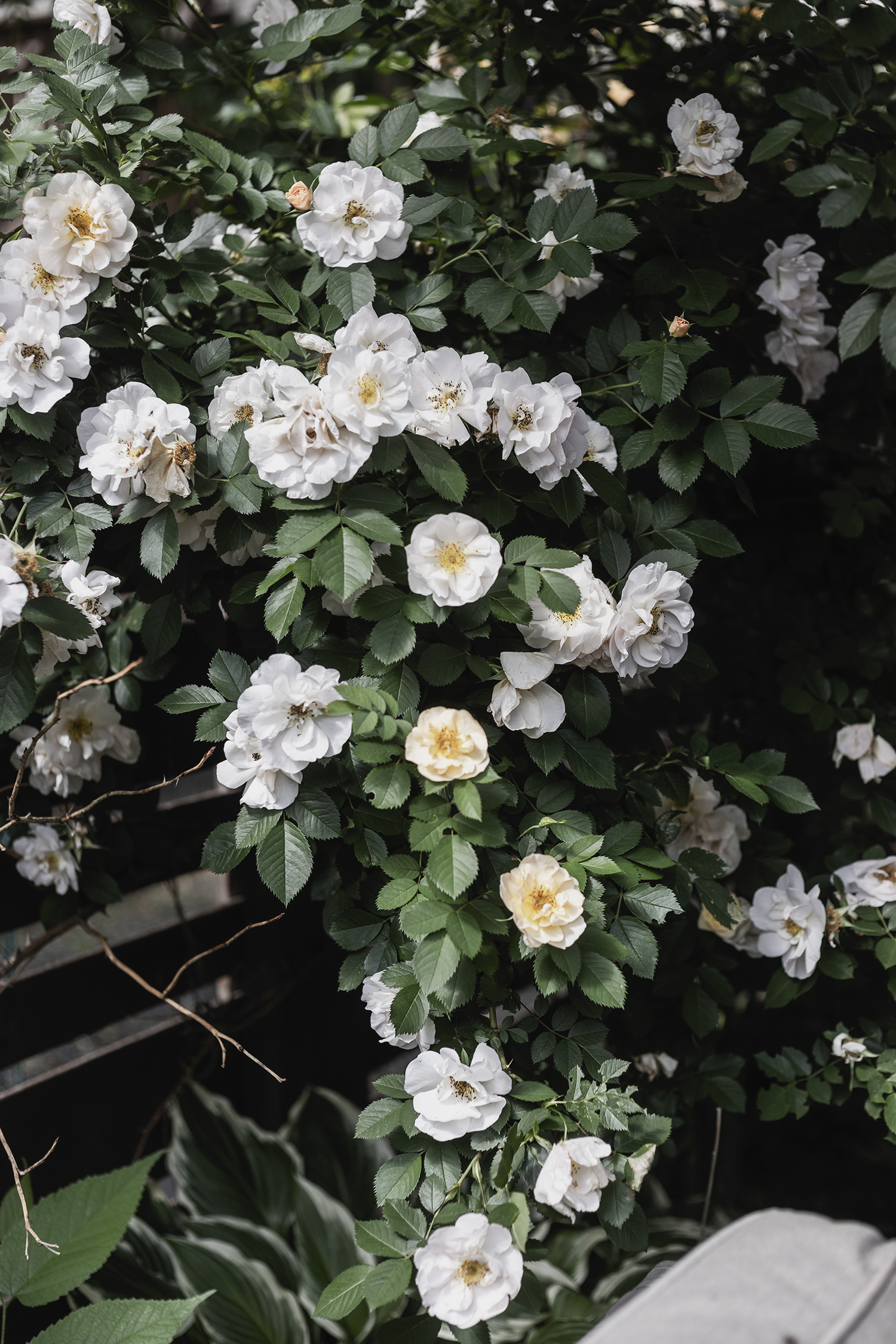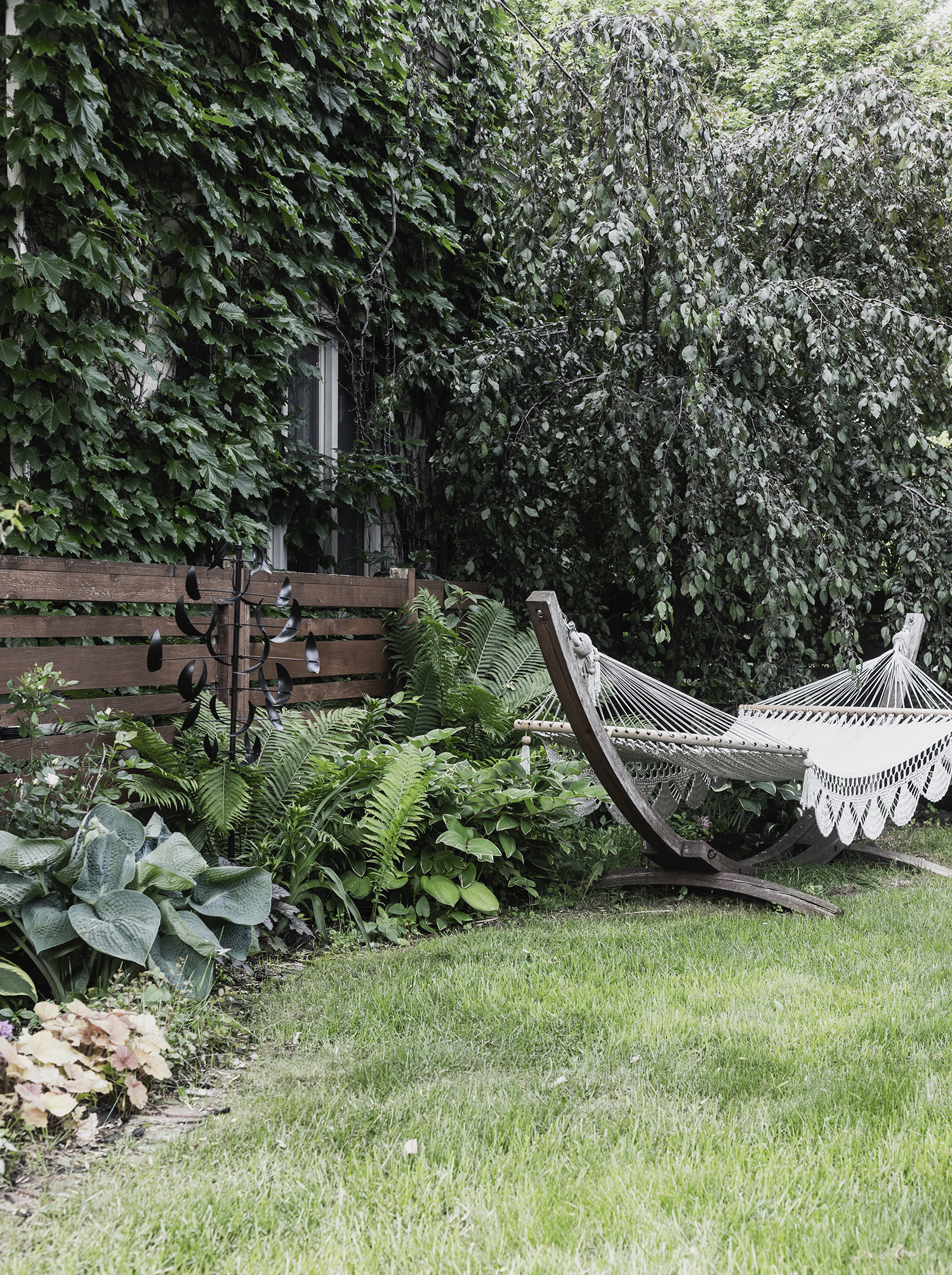 Don't look at all those weeds, k? This is the shady side of the garden. We missed the blooming of the ruby tears crabapple (behind the hammock) but I love the way it's dark foliage looks in the yard. I've been slowly trying to edit those ferns. They are pretty and prehistoric but they spread like crazy. They'd work in a large yard with bigger garden beds but they take over here.

I love the dark Heuchera foliage with this petit curly leafed Hosta.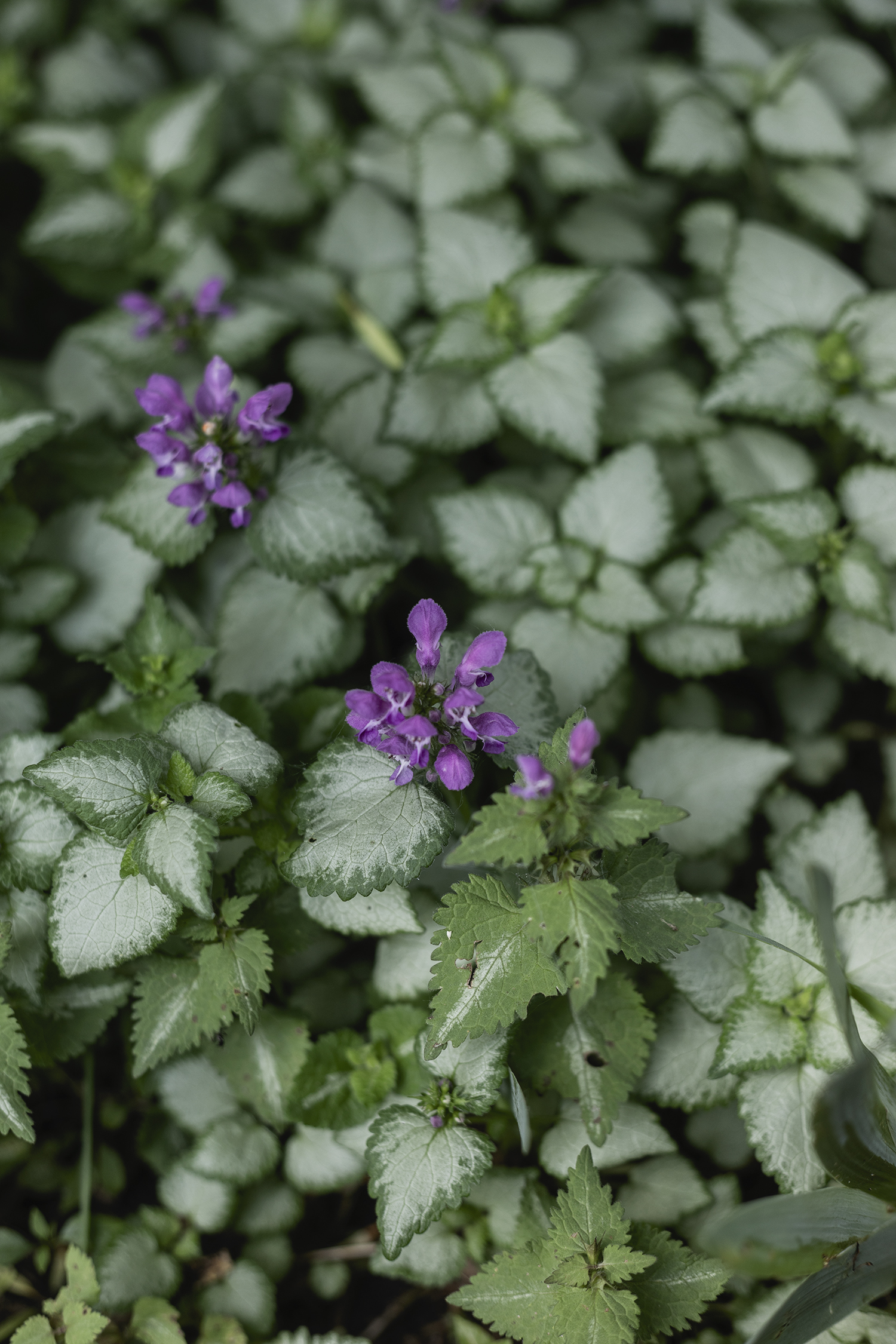 Lamium, or strawberry vine is my favorite ground cover. The foliage comes in a variety of colors, they transition from silver, to white to green and the flowers come in purple, white and yellow. It grows quickly and blooms at least twice a summer.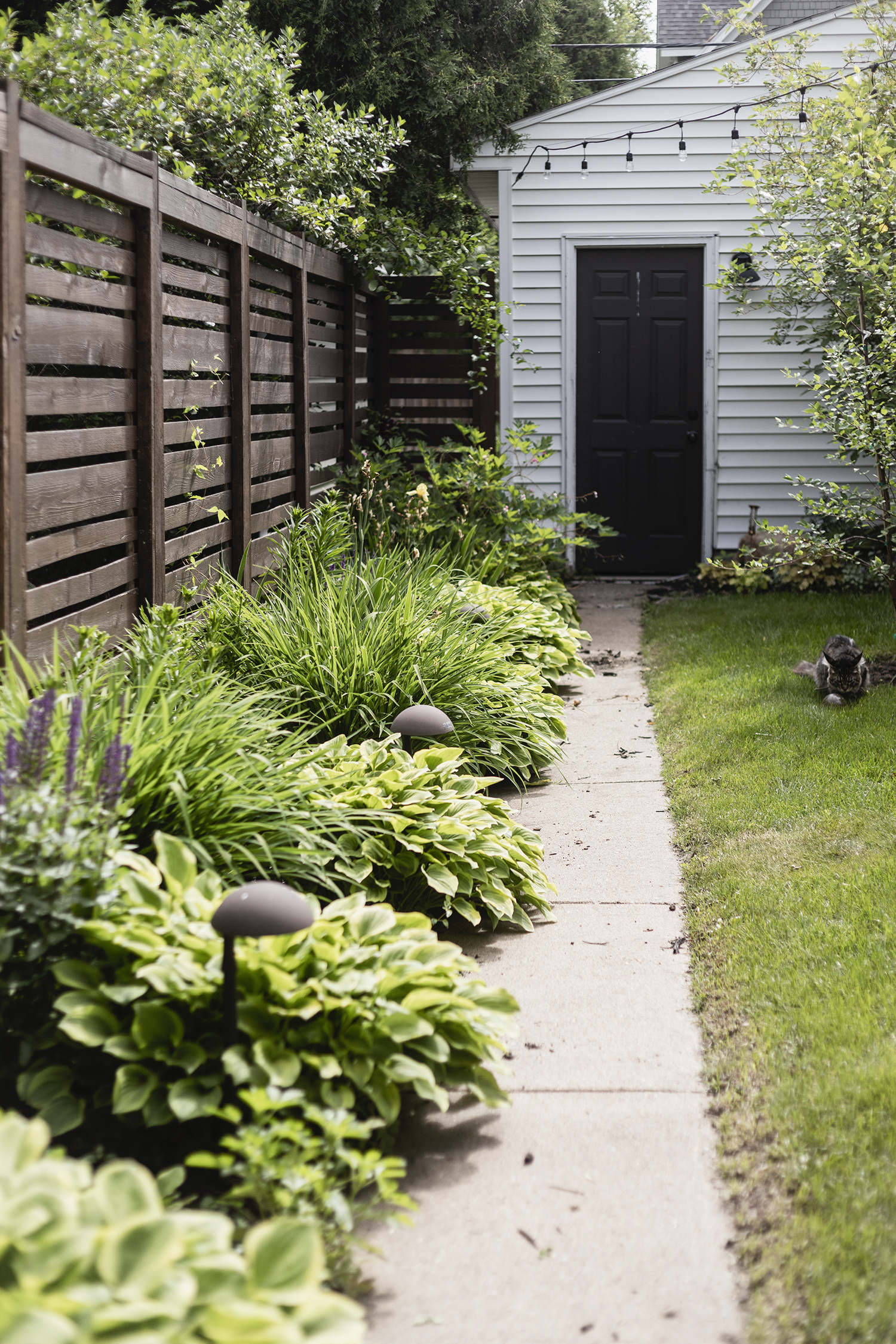 This is my sunny garden, and it does well without me around. In the right of the photo you may notice a new tree I planted. This is a fast growing River Birch. I wanted more shade in the backyard, and I thought this would be a good way to achieve shade quickly. Our neighbors tree provides a lot of shade currently, but it is an Ash tree and will someday likely be removed because of concerns about Emerald Ash Borer Beetle. For a long time we had been concerned about adding a tree to the yard and disrupting kid play, but as our kids get older they play in the backyard less and less and it seemed like a good time to transition to a shaded yard.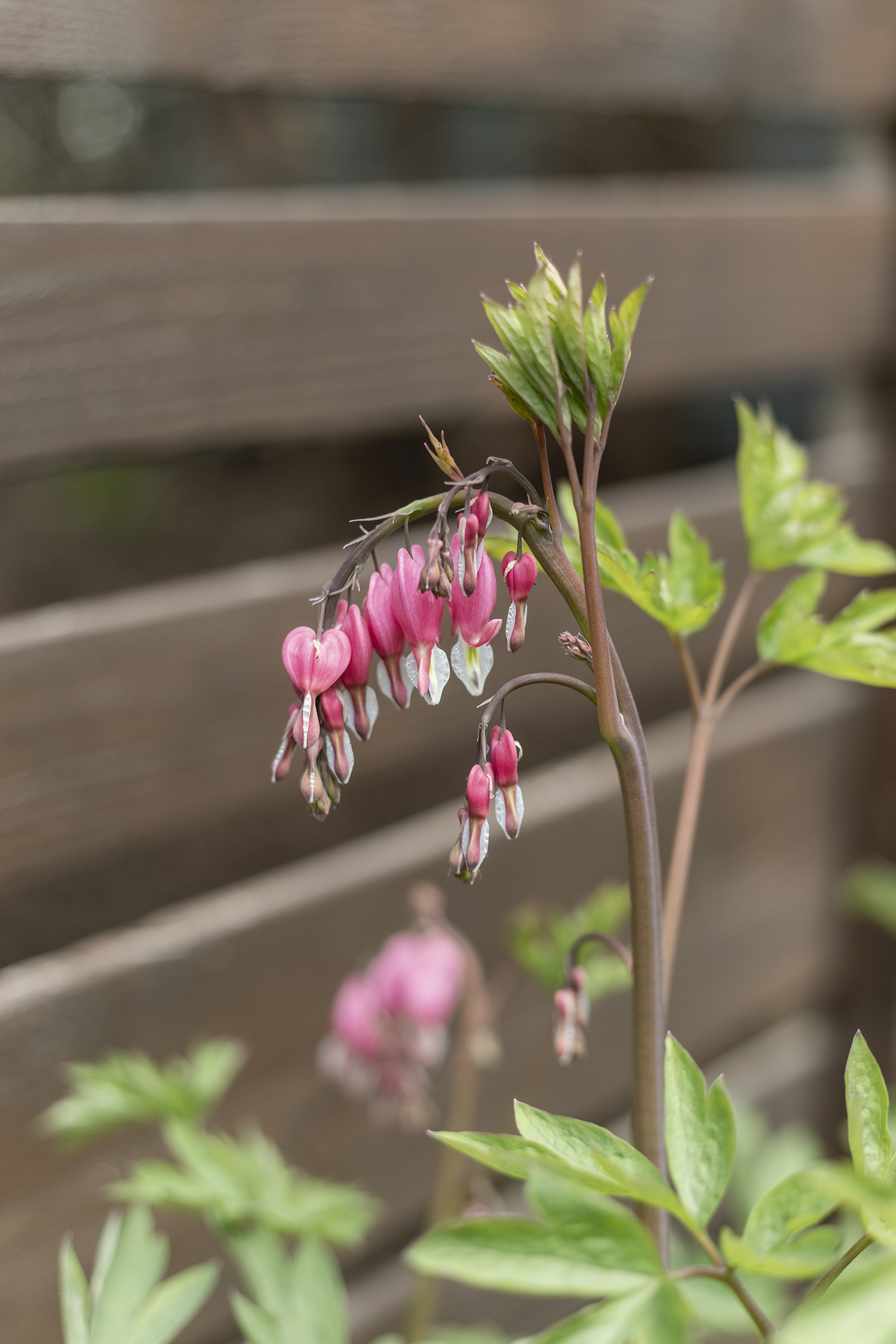 Our bleeding heart didn't disappoint this year, it's always a stunner!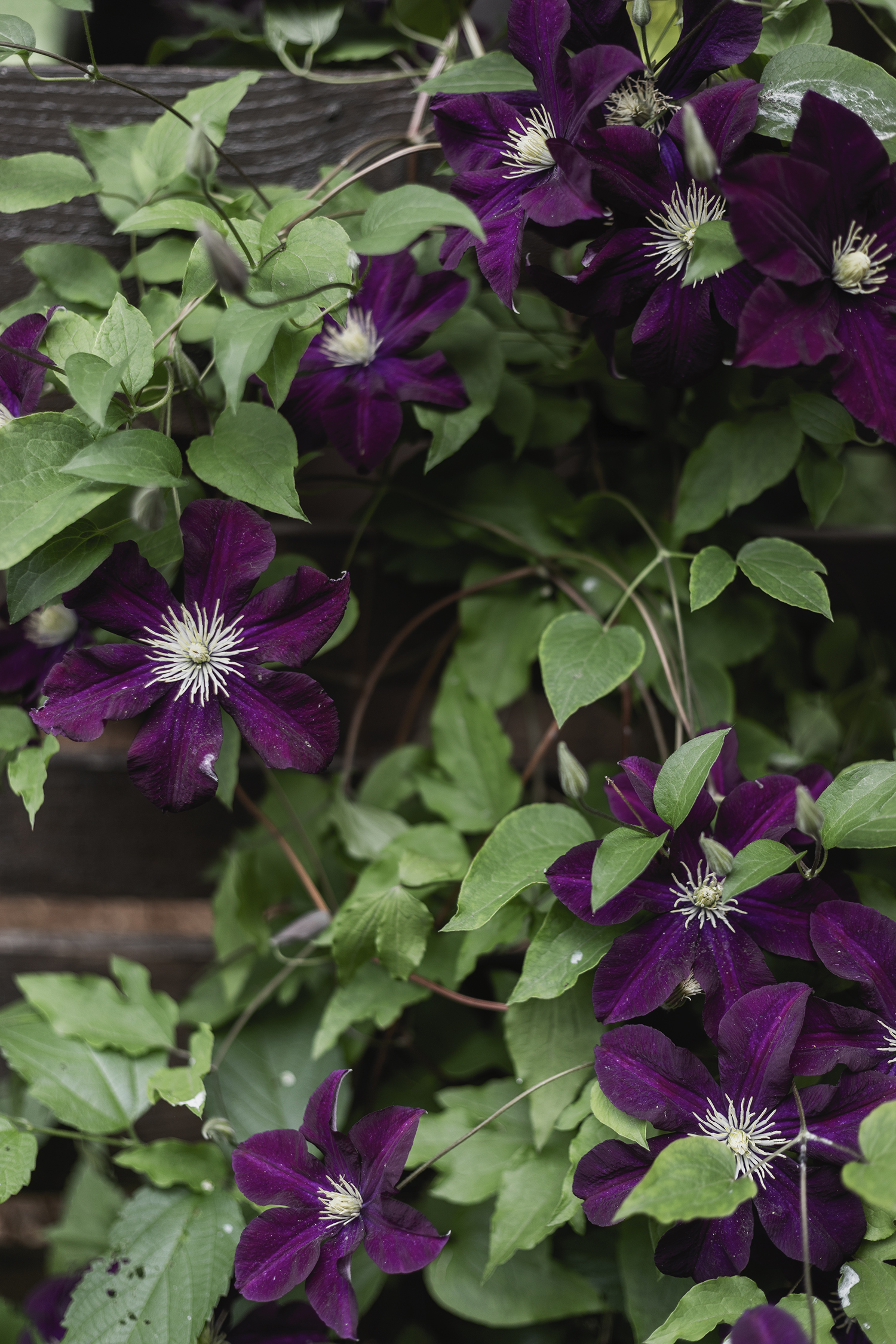 The Clematis is growing on the fence! I've had this Clematis for years, I thought it would fill in quickly, but Clematis seems to take a long time to grow and are so sensitive to broken branches. We're getting there though.
Thanks again for being here. I'd like to share a post of my cabin garden soon. I've had a lot of opportunity to tend to it this year. It's fun starting at square one again and awaiting progress every season. I realize the gardening takes a lot of patience and it doesn't happen over night. There is such satisfaction in seeing it all come together and look beautiful on its own too. I'd like to share that with you guys!