Old, New Sofa
Guys, I've only been talking about it for like 9 months, but our new living room sofa is being delivered tomorrow!!! I'm so excited, I can barely stand it. And although I'm so excited about the new living room furniture, I'm a little sad about replacing the porch sofa with the old living room sofa, and saying goodbye to the current wicker porch couch. My emotions have gotten the best of me and I now have a sofa dilemma on my hands; does the old living room sofa make it's home on the new porch, or do I stick with the good ol' funny porch sofa?
We've been "surviving" in the porch with a hand-me-down white wicker sofa. The blue cushioned wicker sofa with white polka dots came to live with us in 2008 after living the first 7 years of it's life on my parents back porch. At first our relationship was strictly utilitarian; we needed a place to sit while hanging on the porch. Then, somehow I began to love that weird misshapen sofa. Spending pregnant afternoons with Finn, taking spring naps in the sun, and staying up way too late with good buddies all happened on that porch couch.
Yes, the cushions are attached to the sofa with duct tape and industrial strength velcro so they don't slide around, yes, when you sit there long enough the metal brace supporting the wicker starts to dig into your butt and leaves you temporarily paralyzed from the waist down, and yes, the cushions are speckled with kids stains, and are more faded then Keith Richards. So, whats a a girl do when she's fallen in love with the memories of an old blue sofa?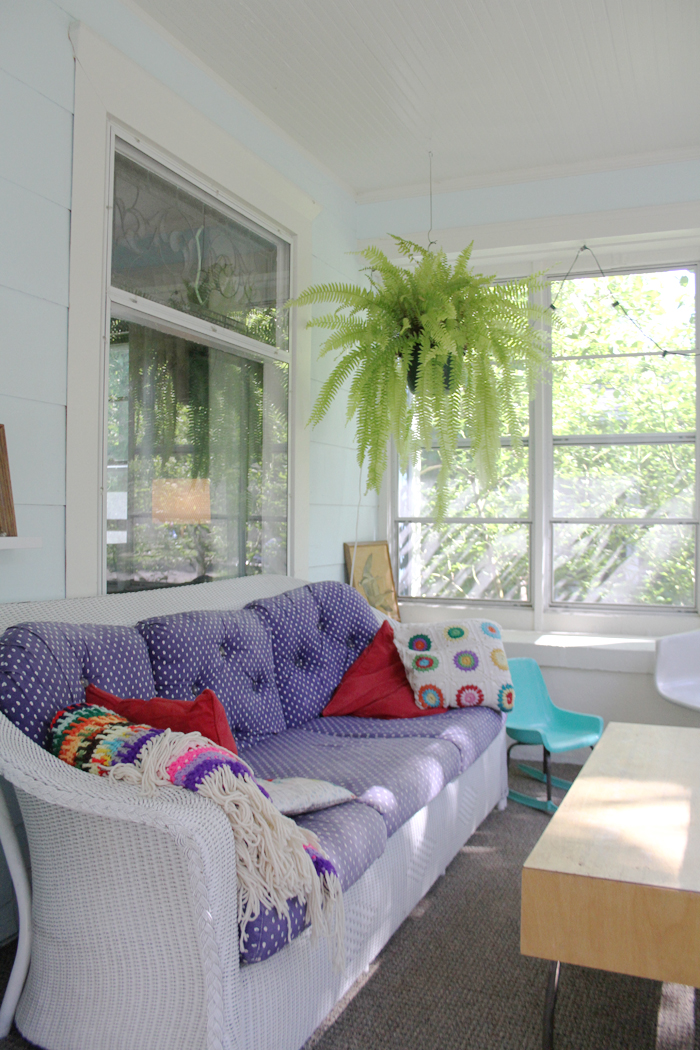 Old, Old Sofa
I guess I'm looking for reassurance and a reality check, the "New Old Sofa" if obviously better and more comfortable than the "Old, Old Sofa", right? It's time to say goodbye, isn't it? What would you do? I can't be the only one that has an emotional relationship with a piece of furniture, can I?