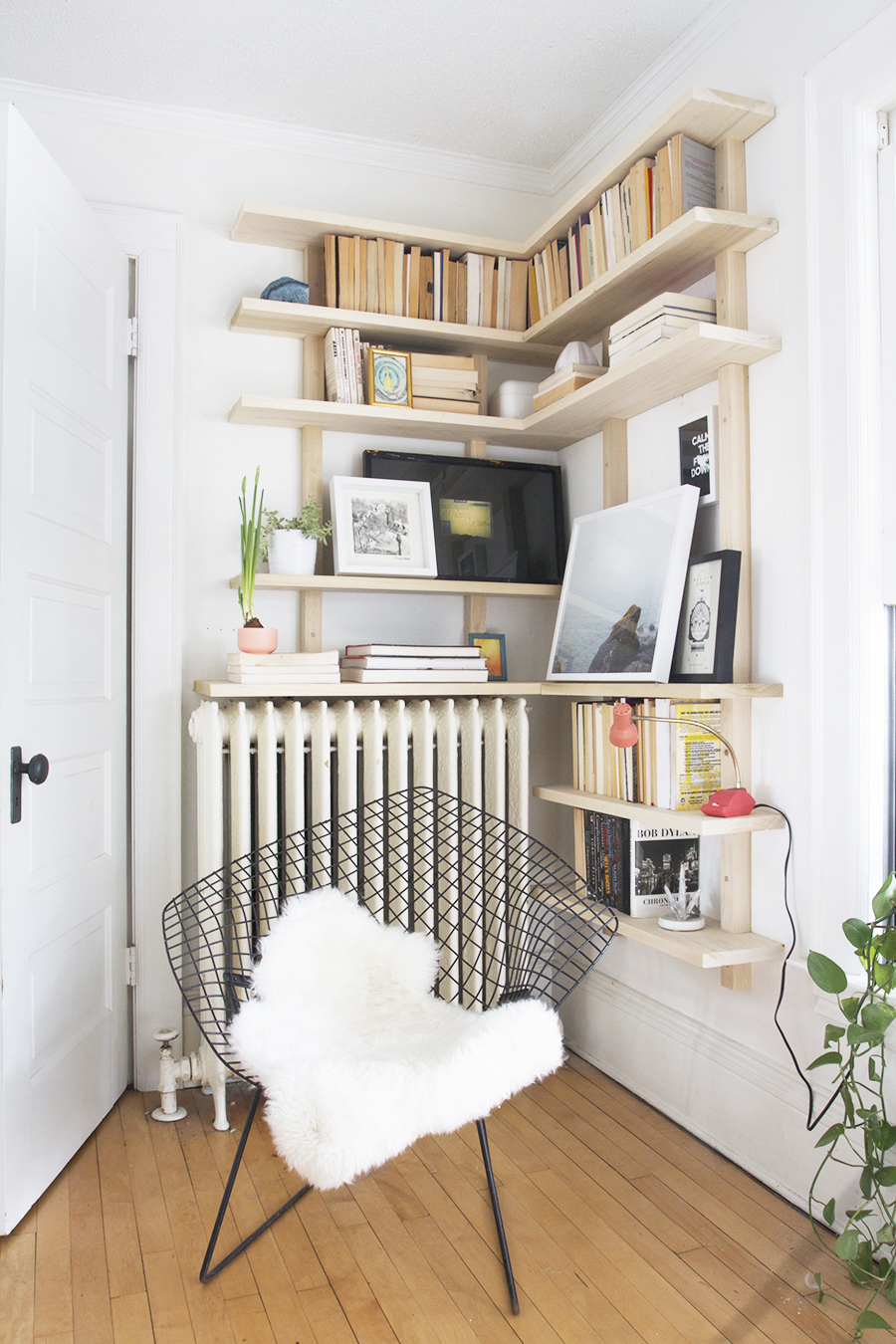 Twelve years ago on a cold November night I lay slumbering peacefully in my twin bed in my tiny college bedroom (Jeff may have been there too, but don't tell my folks). I had decorated my room after seeing an episode of Trading Spaces wherein Doug painted a room a shade of blue that was nearly grey and hung glass icicles around the top of a four-poster bed.
Side note – I tried to Google a picture of it to show you guys, but Trading Spaces was practically on TV before the internet even knew how to poop on the toilet. Get it? The internet was like slightly older than a baby. Anyway people didn't put photos on the internet back then because it took up too many KB's and whatever.
Trading Spaces inspired me to take my first decorating baby steps. I basically painted my room blue, had a vintage table as a desk and hung some bookshelves from my wall because I had no space to put books anywhere else – there was definitely no icicles.
Back to when I was sleeping. So, I was sleeping in my bed…and then I wasn't, because all of the books and all of the boards and all of the brackets that I had expertly hung on my wall (without anchors, ha) came tumbling down on top of me (and Jeff) in the middle of the night. Who knew that I was supposed to use anchors? I mean who knew? I was like 19. 19 year olds don't know that stuff.
However, twelve years later and I think I finally figured it out. Booyahchaweagle!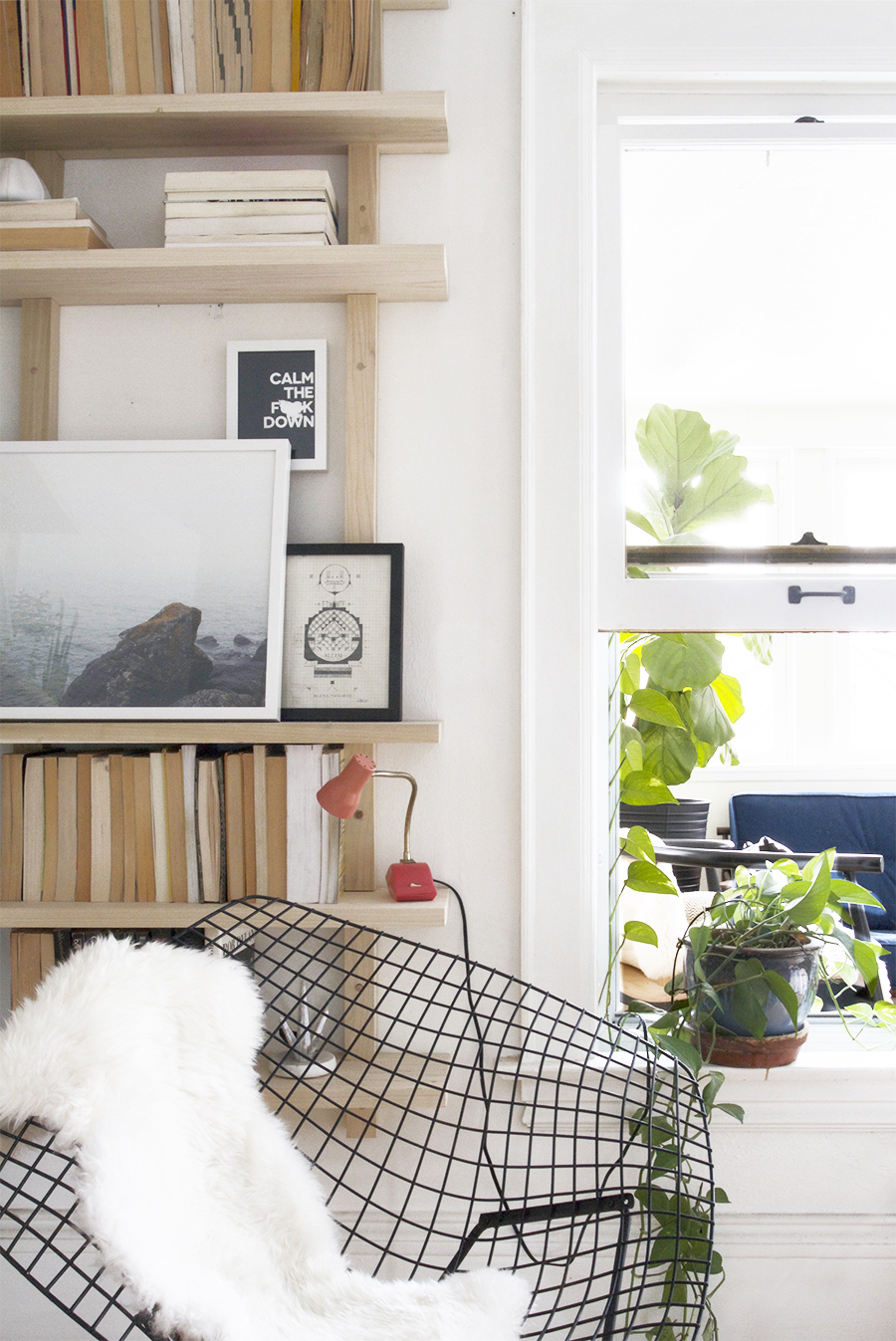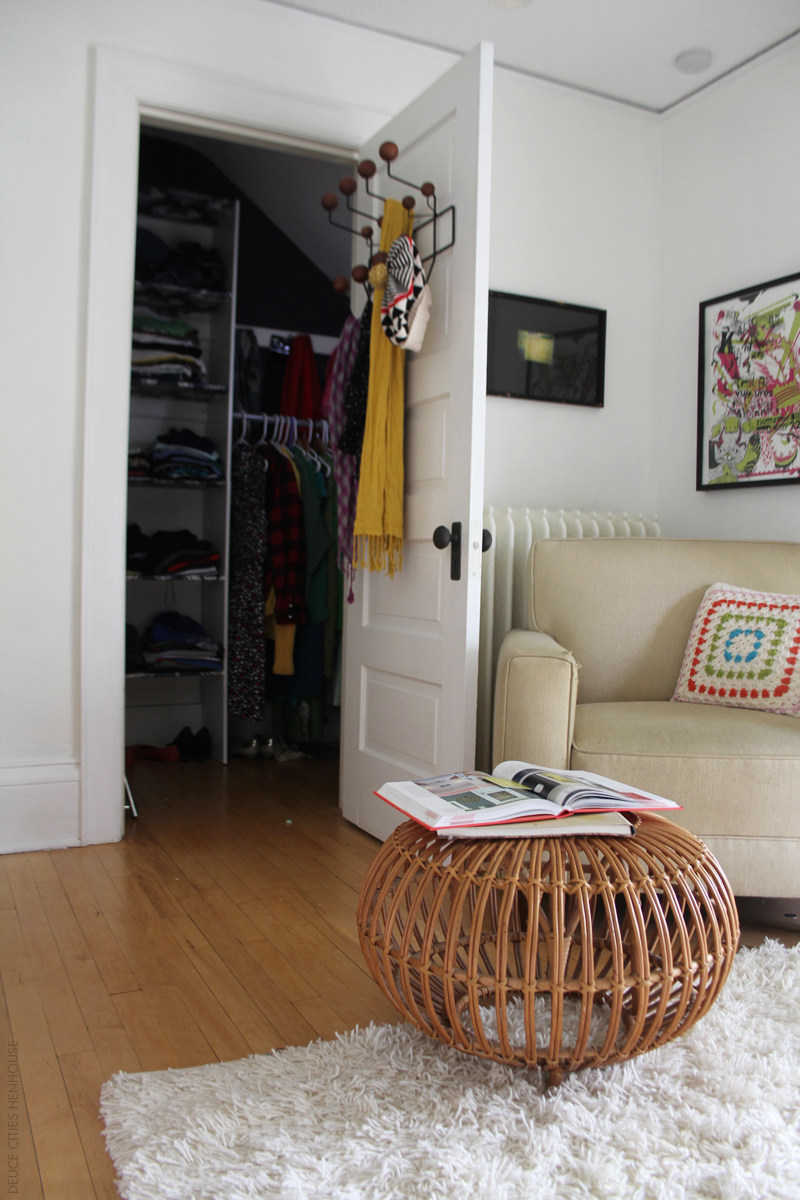 Here's a before shot in case you didn't remember what it used to look like just a few short months ago. This photo illustrates how bad that picture molding was and how much better it looks now with the strip of 1″ cove. More on that over here.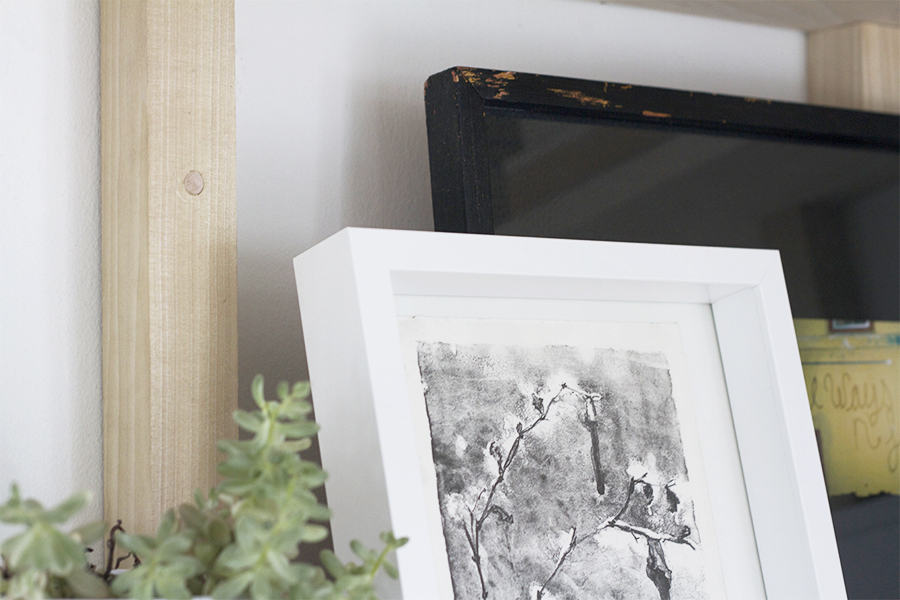 Somebody, please tell me – why does it feel like my head is going to explode? Holy balls! Everything is so crazy busy right now. For instance, I've been working on writing this blog post for a week, and these shelves have been built for nearly three. I have been super excited to share with you the new bookshelf I built and installed in the corner of the bedroom, like I was just bursting with pride and wanted to show off (I am a show off sometimes) my handy work, but I just didn't have any time . Did you hear that, I built it – like from scratch, like from regular slabs of wood that sat in my garage. I laid out a plan, chopped that shit up, attached it to a wall, kept the whole thing level and plumb and did it in a way that looks good and most likely won't fall of the wall like that one time.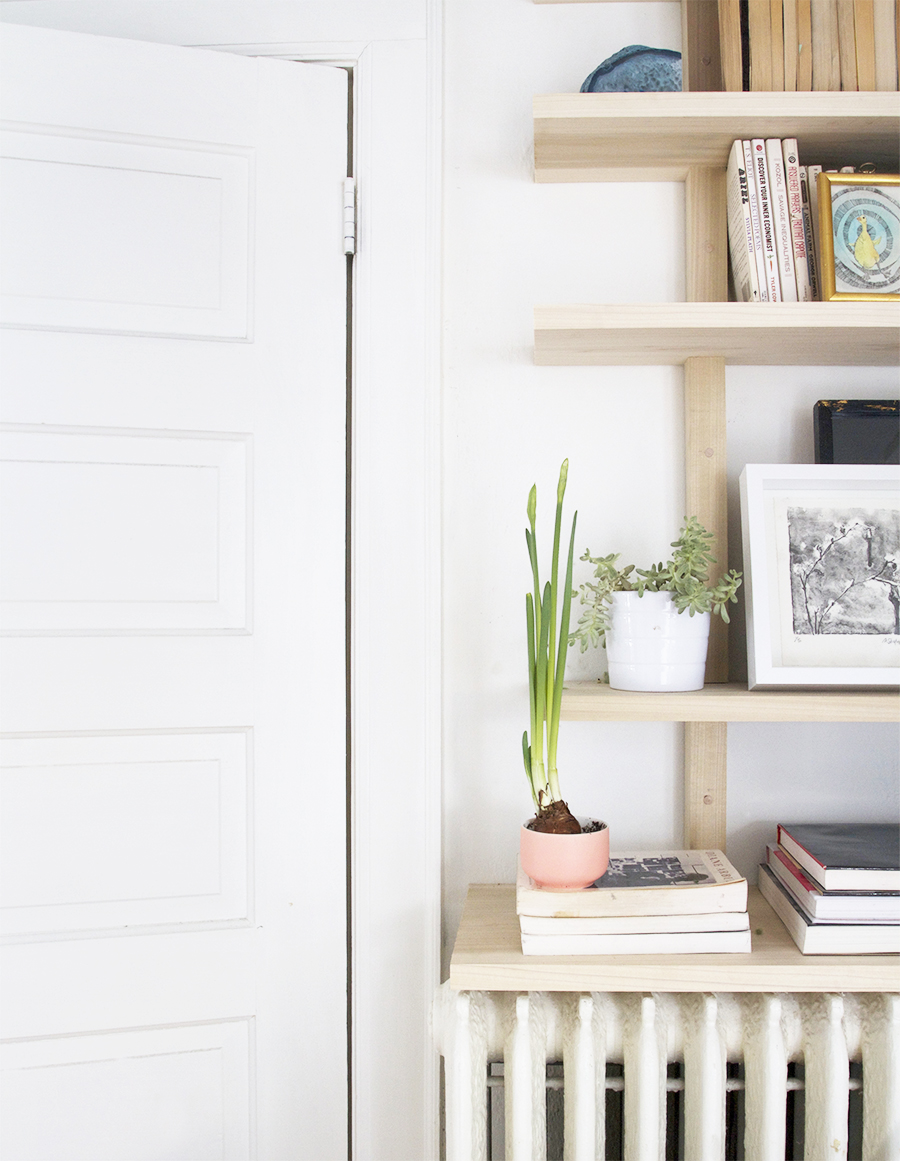 If you're a fan of Victoria's blog you can probably see that I pulled a lot of inspiration from the bookshelf she had installed by Michael Woo around her window. I loved it at first sight. I loved the light wood, the design, and the airiness of it. When planning my corner shelving unit, I had originally explored installing an Elfa system or possibly Algot system from Ikea. I was almost about to push the ORDER button when I decided that was just not what I wanted. That's when I started looking on the internet for cool looking bookshelves and then I remembered how much I loved Victoria's.
I started planning, doing lots of sketches and measurements. I didn't know how Victoria's shelf was made, but she did make mention to it being somewhat modular – it wasn't permanent to the space and she could take it with her when she went. I couldn't figure out how she made hers without screw holes and in the end I figured that there was probably some mad carpentry skills at work. Each of the shelves probably wraps itself around the vertical pieces and nestles in – it probably easily comes apart when it's time to move too, it's probably really slick and great. Being that there was no way I had the skills to pull that off, I came up with a new system.
There would be screw holes (which I would expertly sync and fill in with wood plugs), and there would be what I'm referring to as "cantilevered boards" held in place with a screw boring into the vertical beam below while being sandwiched by the vertical beam from above. More on that below. The corner joints were connected with two wood dowels to ensure stability and limit sagging.
I did something kind of crazy and I purchased all of my lumber online. Yep, online. It's mostly due to the fact that I had been feeling totally out of my league when I try and "talk the talk" to the pros at the retail stores. Even if those "pros" are just pimply faced teens at the Home Depot, they still act like I have no idea what I am talking about. I'm sure part of that has to do with being a woman and bros not taking me seriously when I show up looking for lumber or salvage or whatever, especially when I come in with two young kids in tow. I guess I could just not let it bother me, but it does and I'm not good at feeling uncomfortable with people. So I decide to do the brave thing and order anonymously on the old internet. And guess what? It worked like a charm.
Here's what I ordered from Baird Brothers Lumber:
2 – 2×2 Poplar Length: 6 Foot Length
2 – 2×2 Poplar Length: 4 Foot Length
1 – 1-1/16″ x 7-1/2″ Poplar Length: 5 Foot Length
4 – 1-1/16″ x 7-1/2″ Poplar Length: 6 Foot Length
1 – 1-1/16″ x 11-1/2″ Poplar Length: 4 Foot Length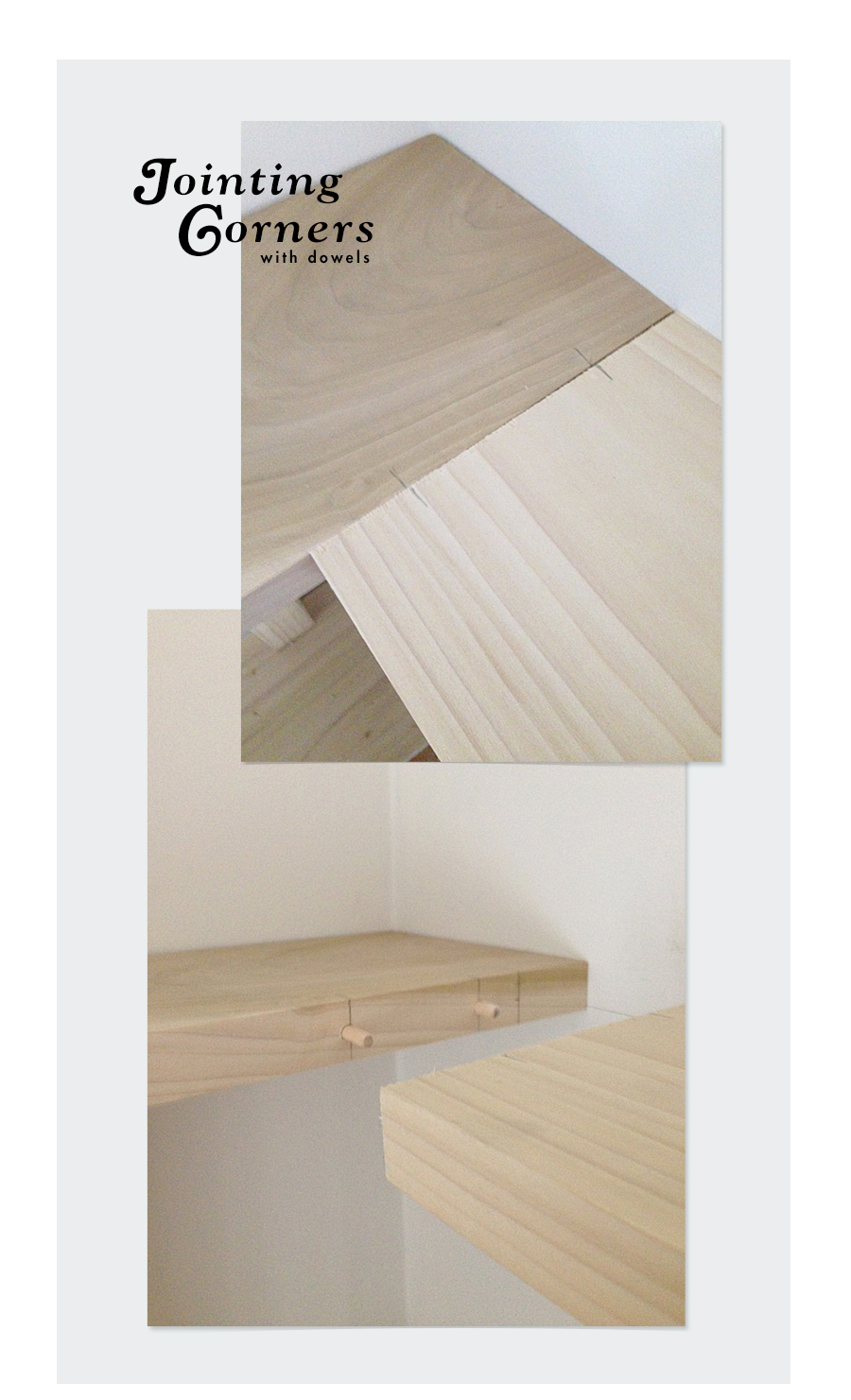 To line up the dowels I marked the tops of both with a pencil line. Then using a square I marked the line on the sides of the board. Using a ruler I marked the center of both of these lines and then I drilled pilot holes, and followed it up with 1/4″ bit drilling to a depth of a 3/4 of an inch to accept the size of the dowel. Once I did a dry fit and everything fit properly, I used wood glue to secure the dowels and give the corners added strength.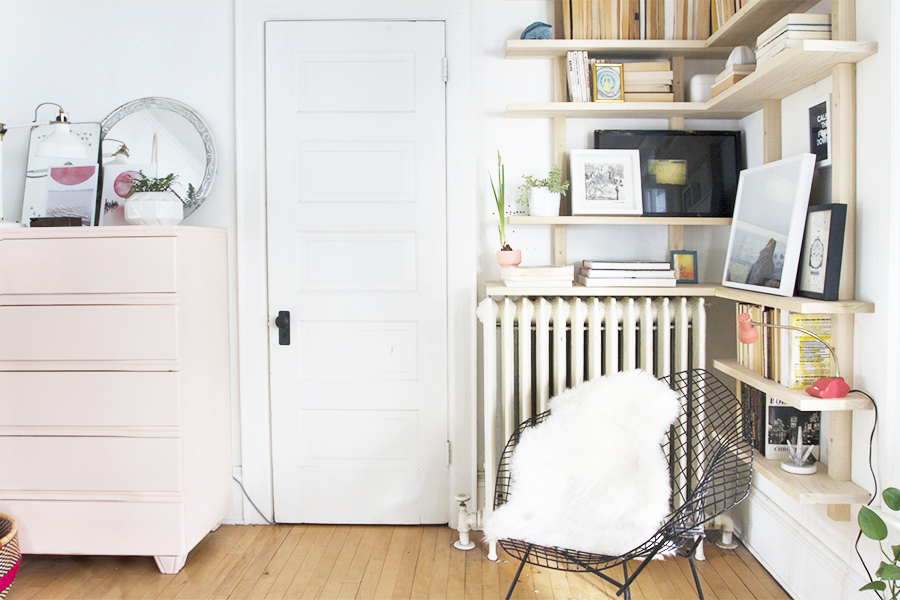 This photo makes it feel a tiny bit lop sided but that's just because all of that stuff on top of my dresser hasn't been hung on the wall and such. It will get more balanced soonish. Promise.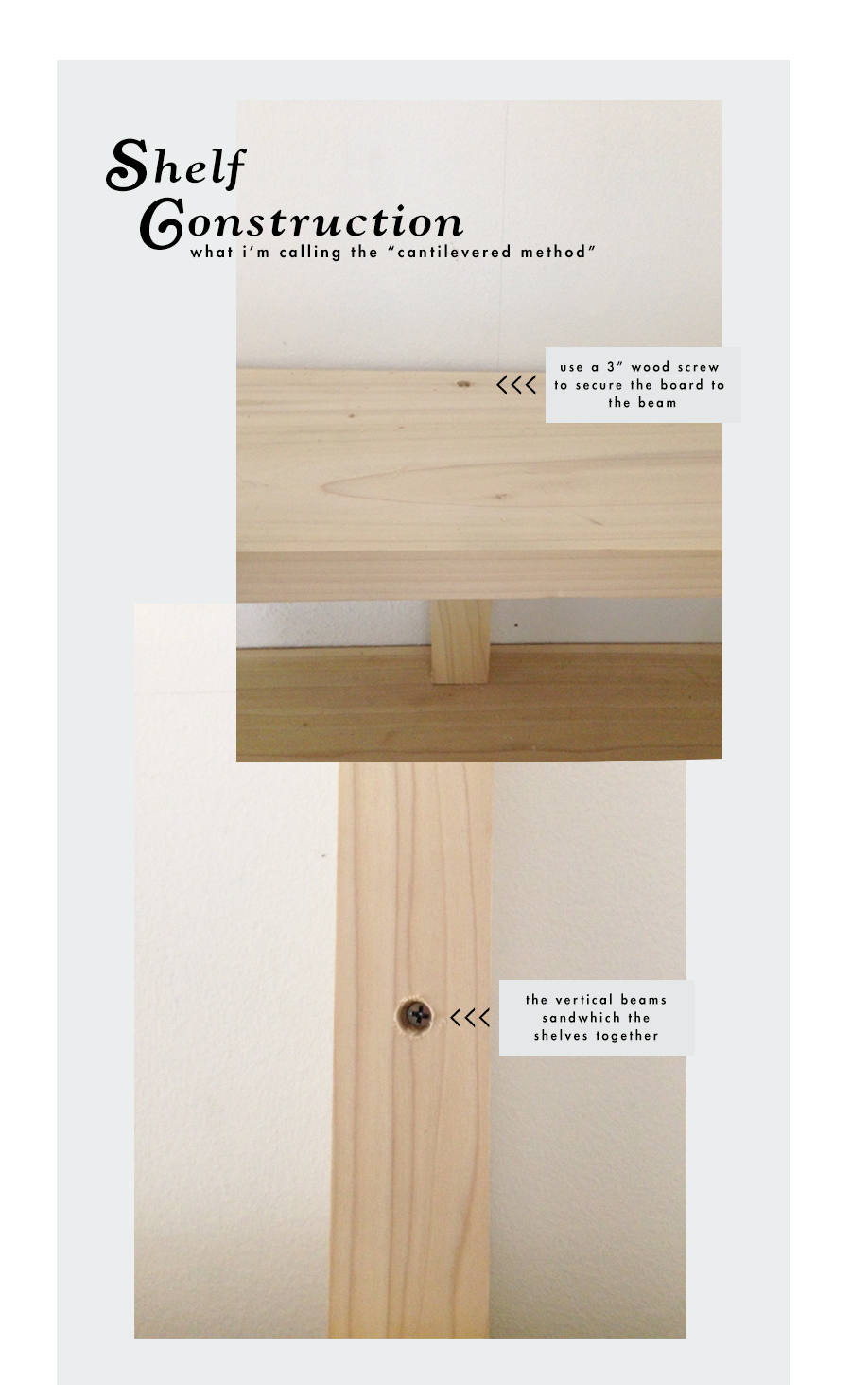 The construction of the shelves is pretty basic. Each level of shelving consist of four vertical shelves attached to the wall with screws on studs. I mapped everything out on the wall in pencil before assembling, this gave me a guide to follow and helped to ensure I was staying plumb, level and square. I would lay the shelf on top of the posts or beams, I dunno what the correct terminology is, and then I would attach it using 3″ wood screws (drilling a pilot hole of course to prevent cracking). On top of that I would attach the next level of vertical posts sandwiching the shelf between the upper and lower posts. Does that make any sense? Hopefully this visuals will help fill in, where I can't explain. I sucked at technical writing in high school.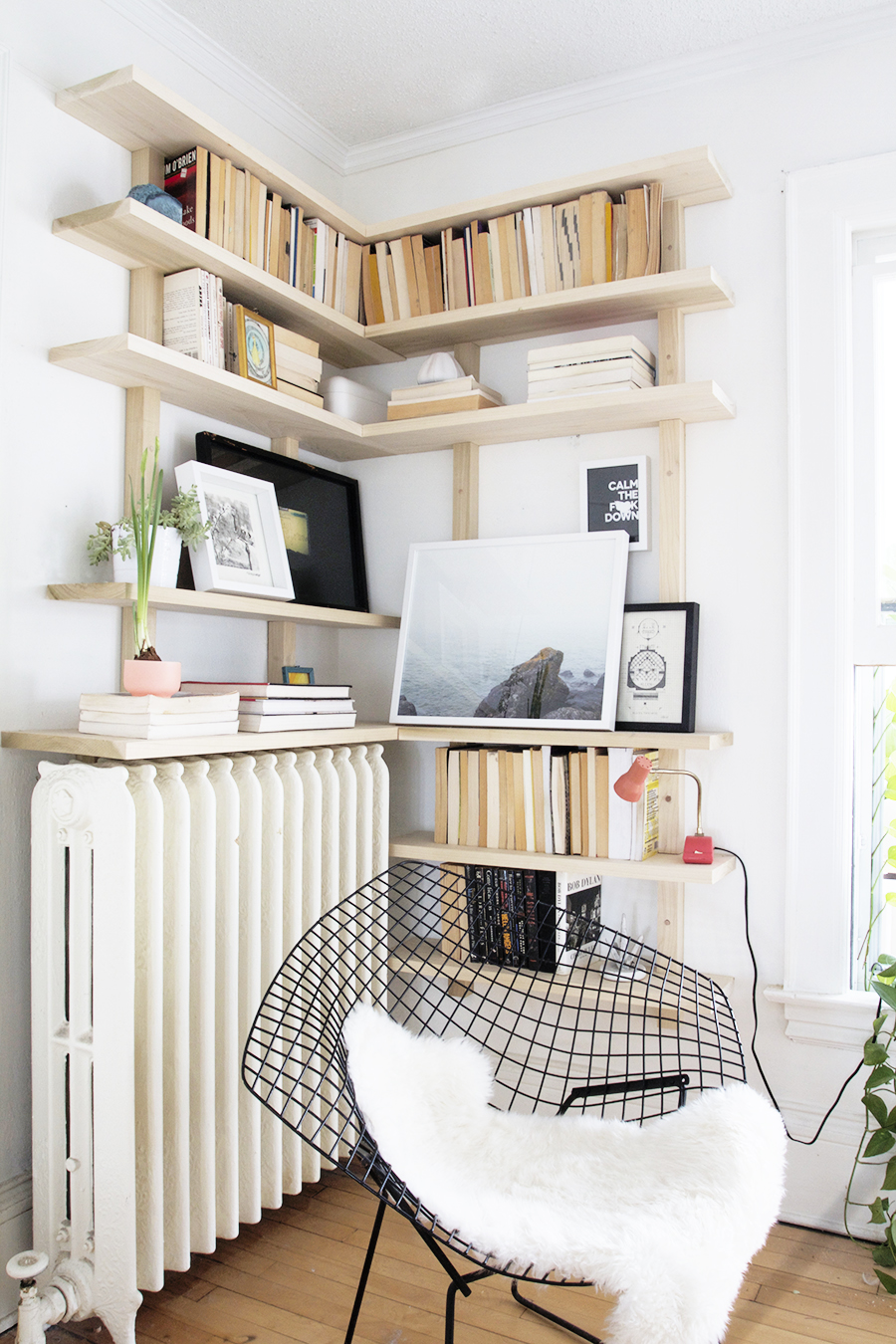 Like I mentioned in a post from last week, I wanted to go monochromatic in my shelf styling. I turned the spines of a lot of the books around so they butted up against the wall showing their yellowing aging pages. Part of my design included leaving the top two shelves for paper backs. I had envisioned these shelves full of books sitting vertically, all perfectly tucked in tight. The middle shelves were meant to showcase artwork and small vignettes of vessels, plants and horizontal larger books. The bottom shelves are slightly larger in height then the top shelves allowing for our larger hardcover and paperback books. Plans man, they work!
I included a framed photo made by my pal Aaron Anderson and a print made in college by my bff Matt Scharenbroich. Last weekend I grabbed this amazing photo from Courtney Reints at the MCAD art sale (represent!) and behind it I tucked in my 45 Wall Design inspirational tiny poster, also back there is our family crest, also lovingly made by Aaron Anderson.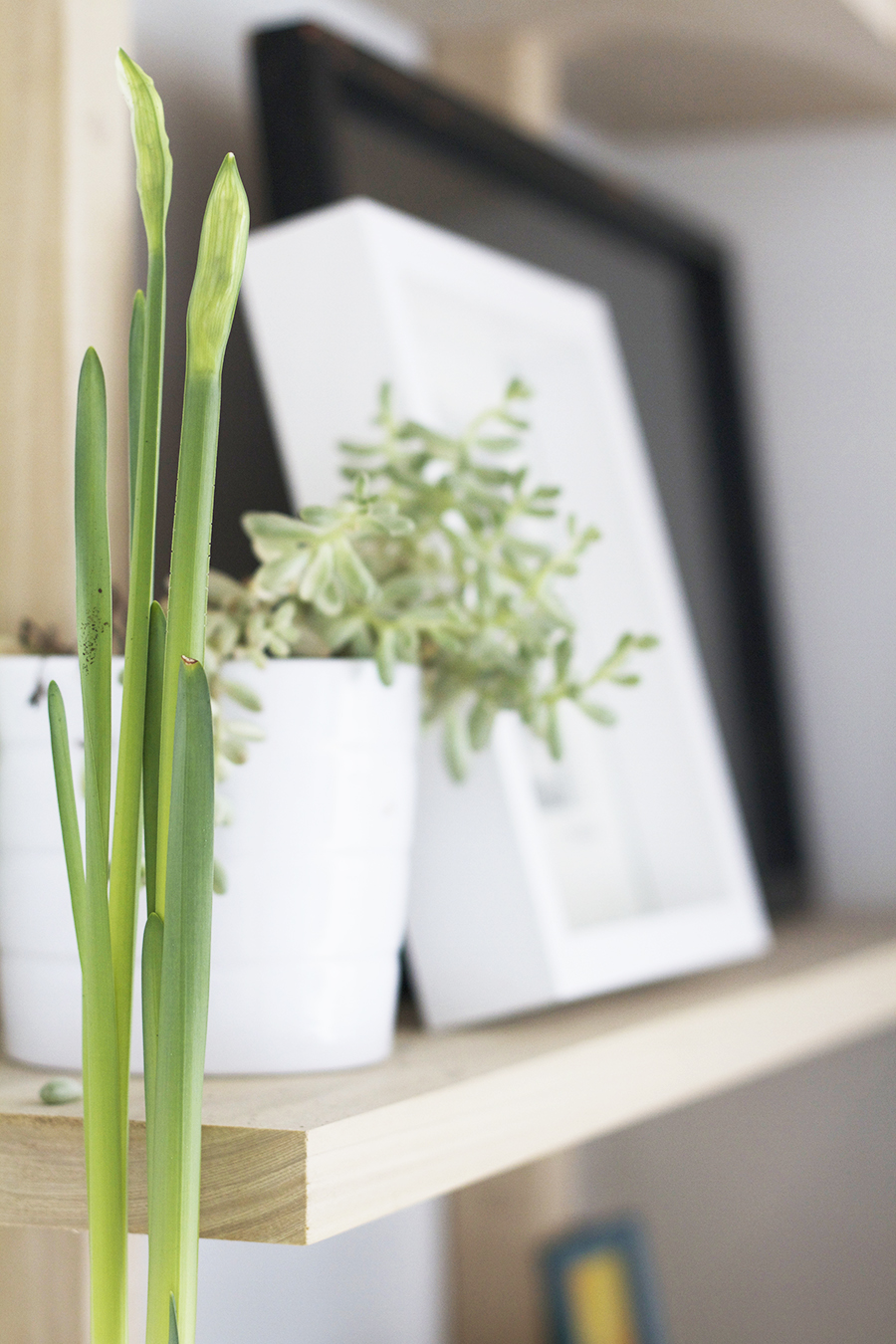 Here's a funny joke for you guys, since I took these photos 10 days ago, that succulent has totally gone on to meet the big cacti in the sky. Why do succulents hate me?