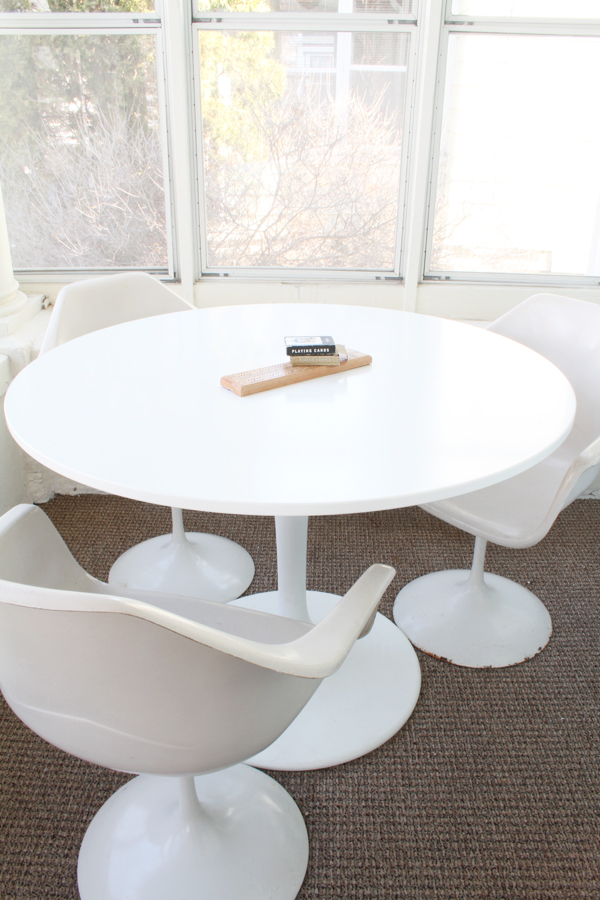 Guys! I'm moving full steam ahead with the spring even if the weather isn't. That being said, I got a new table for the porch last night, and I played cribbage on it, drank a beer, and listened to the Twins game while wearing my coat. It felt good!
I am so excited about this table, let me tell you why. You know I love my porch, it is hands down our favorite place in the house. I never thought I would love 400 square feet of space only usable for part of the year so GD much, but I do. For as much as I love gushing over furniture and decor, I've never tried to put a look together in the porch. It's such a hodge podge of hand me downs. The sofa is white wicker with royal blue cushions, the coffee table is from our college days and I've added our modern Burke (I think) tulip arm chairs for extra seating. The only thing I've ever really given a lot of thought to is adding a table for the corner of our porch.
There are two sections of the porch separated by the front door and vestibule. We always hang out on the wicker sofa side (soon to be the old living room sofa side). There is a whole other side of the porch that we leave unused, a total waste of valuable porch square footage.
Jeff and I have recently realized that we want the porch to be our own mini cabin in the city, we've even dubbed it "urban cabin". We want it to encompass the chill vibes of being at a northern Minnesota cabin. We've already started collecting vintage cabin artwork, as well as old quilts and pillows to have ready for urban cabin sofa naps (or snuggling under when the spring is 30º cooler than it should be). Another thing we've recently added to maximize urban cabin vibes; an apple airport express modem that we can run through the stereo to play all our favorite jams while hanging on the porch. We can even stream our favorite urban-cabin-classis-rock radio station, KQRS, for that true up-north feel.
So, I've been trucking around a set of four Burke tulip chairs for a few years, I really, really like them. Even though they are knock off Saarinen style chairs, they still feel very iconic. I've wanted to make them work somewhere but haven't been able to pull it off. I tried them in the dining room, nope, didn't work. I tried them out on the patio, nope, didn't work, I finally put them in the porch hoping that someday we could get a tulip style table that worked with them. I've had my eyes on the Docksta table at Ikea for awhile as the perfect piece for these knock of tulip chairs. The only thing was, I didn't feel like shelling out $200 buckaroos for porch furniture. Even though I love the porch, it is a porch after all, and it's hard for me want to invest lots of money into porch furniture. So I've been watching craigslist like a hawk, always barely missing out on the Docksta table whenever they come available. Then it happened, Sunday morning, there it was, in mint condition, and for way less than anyone else had been asking for it. I bought this bad boy for $75 and am totally thrilled with my deal.
I will have to show you more pics of this porch setup as the spring starts to get in full gear. Imagine it with hanging plants, blue skys and lots of sunshine. It's gonna be the best. We'll be able to use it for rainy day meals, drawing with the kids, forts and most importantly we can play cribbage at nights with our buddies.