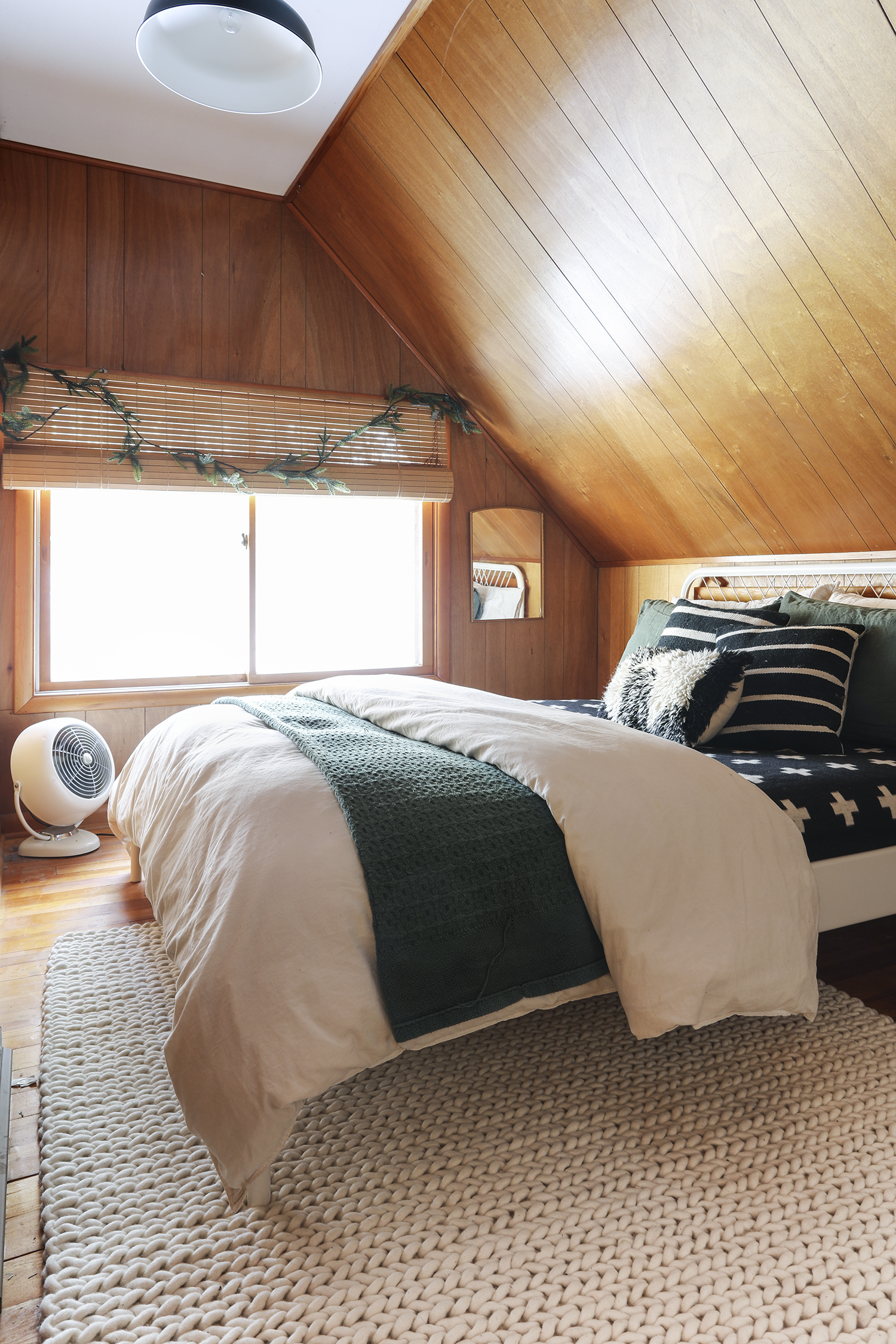 This post is made in collaboration with Sukhi – Handmade rugs direct from the makers
Budz! I'm feeling really good about where our cabin bedroom has started from and come to. I think we can call this reveal worthy! This is maybe my favorite space in all of the cabin. I am a big sucker for a small cozy room. Back in the early aughts, when I used to have roommates, I was always okay with taking the smallest room in the apartment. Small rooms made me feel good, I was a very anxious and nervous 19 year old and a tiny room was no different than the security blanket I slept with every night. I am trying to be kinda funny, but I'm also being legit serious too, small bedrooms just feel comforting (as long as there is a window). So when we toured our cabin with our realtor and the two second floor bedrooms were equally very small, I was okay with it because I knew that in a cabin especially, small and cozy is kinda alright.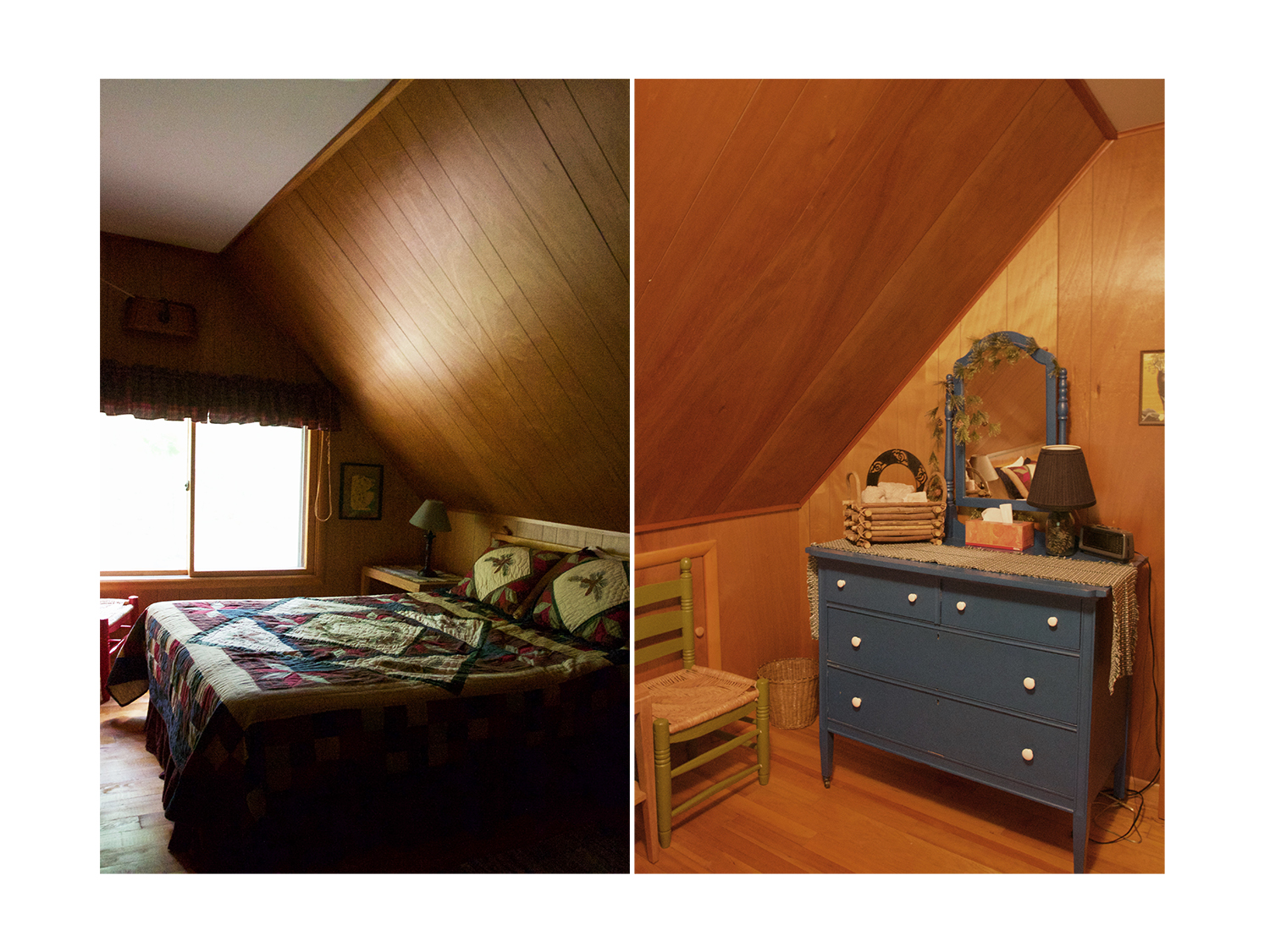 Of course the biggest challenge with every room in the cabin is embracing the wood paneling and making it feel fresh, modern and airy while still retaining its cabin-ness. Although we didn't do any changes to the structure of the room, embracing the wood tones was number one on the to-do list. I'm going to share my very secret formula with you, the main ingredient is white.
I've found that white is the number one neutralizer when it comes to overly powerful textures, patterns and colors. The second ingredient is using ye olde color wheel to find complimentary tones. The walls in this space have a lot of red and orange tones to them, using their complimentary color helps to off set the intensity and saturation of the walls. In this instance, I use a different tones of green as an accent color to compliment the red and orange in the wood paneling. You might have noticed I use this recipe all over the cabin, because it works!
When you can't (or choose not to) paint the walls, the easiest way to add a complimentary or neutral color is through textiles, rugs, furniture and decor.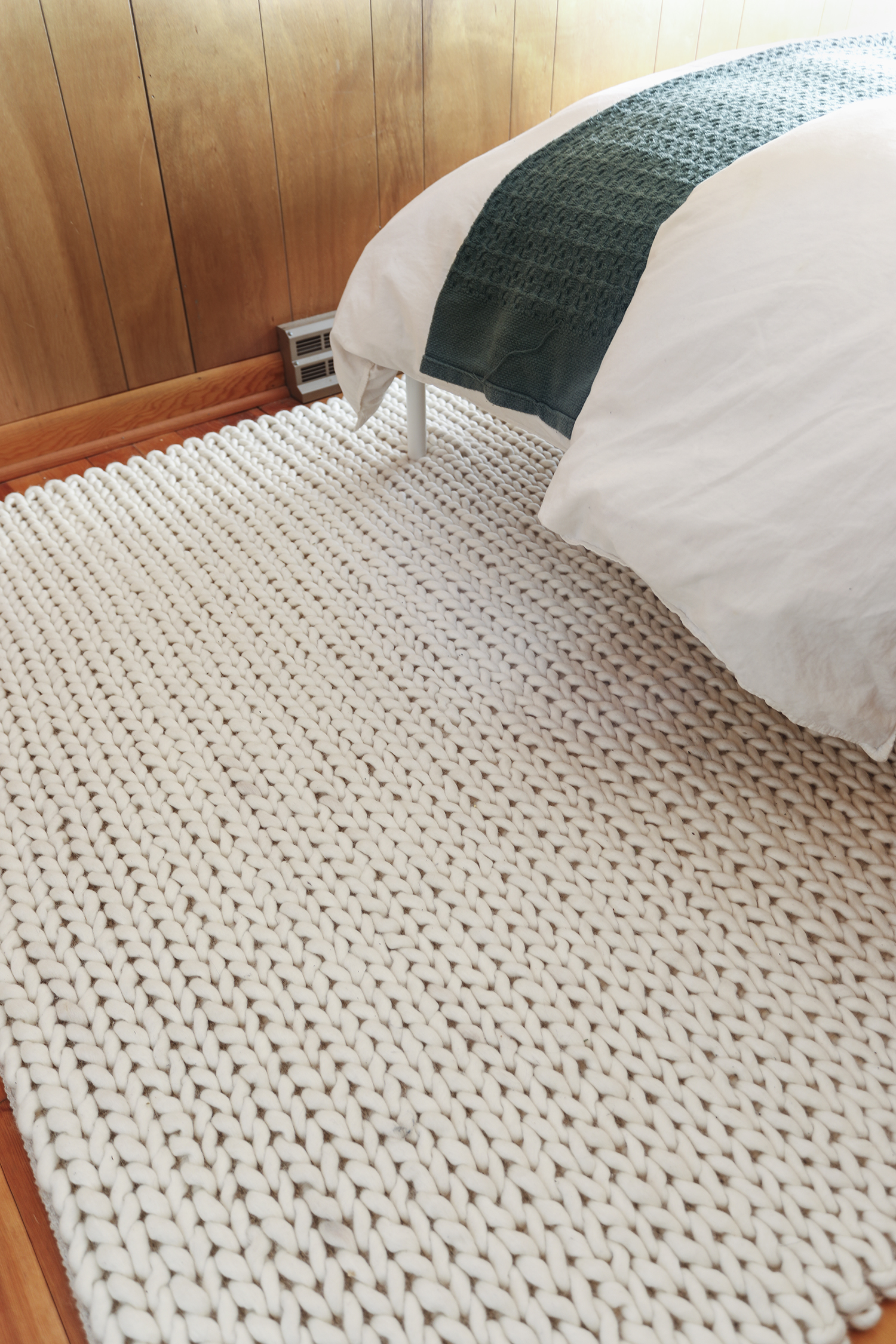 The room didn't feel really done until just recently when this braided wool Kalim rug showed up. This wool rug from Sukhi is so cozy, warm and chunky, baah I love it!
Sukhi is a rug company with a mission! They believe in preserving rug making traditions, fair working conditions, and equitable wages. By working directly with artisans and cutting out the middle man, they are able to both pay a living wage to their makers, provide hand made rugs, and keep prices competitive. Twist my arm, I can get behind those values.
Back to the rug though. This might be my favorite rug of all time – I'd love an even bigger one for our bedroom at home. The natural wool is so pretty, it even has flecks of light grey just like it came right off the sheep. Having a big swath of creamy white on the floor moves light around the space and breaks up all the wood tones on the floor and walls. It's just what the room needed.
These handmade rugs take about 4 weeks for delivery. I was anxious to get it, and as soon as it was delivered to the cabin, I unrolled it, took off my slippers and stepped on that soft wool. I immediately called Jeff in from the other room and commanded him to walk on it with his bare feet too because I am a big boss – he was mildly impressed and for him to have any reaction a design element means it's really great. It's the oversized woolen knit pattern that really gets me though. That chunked up knit is so good, I just love the texture and scale.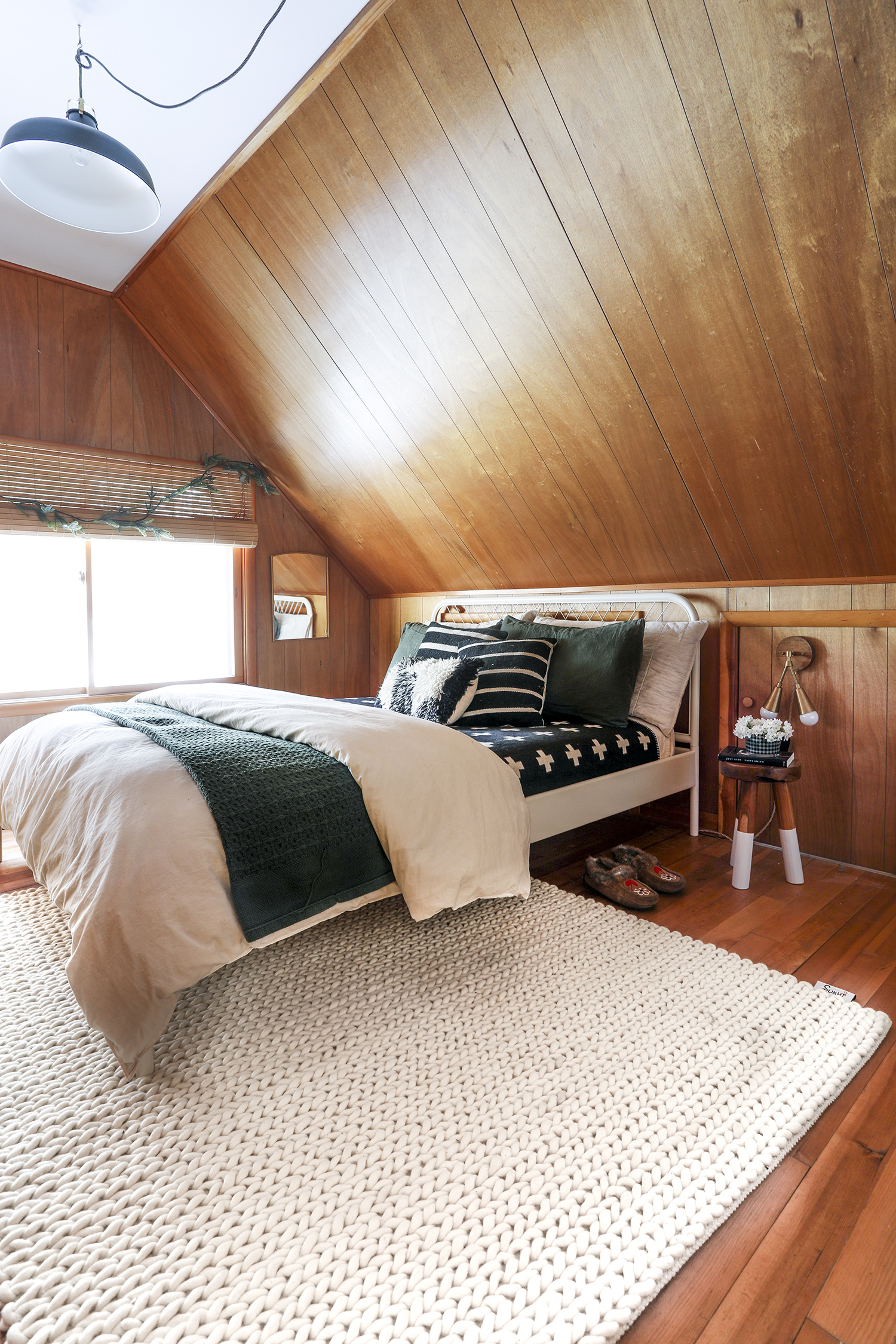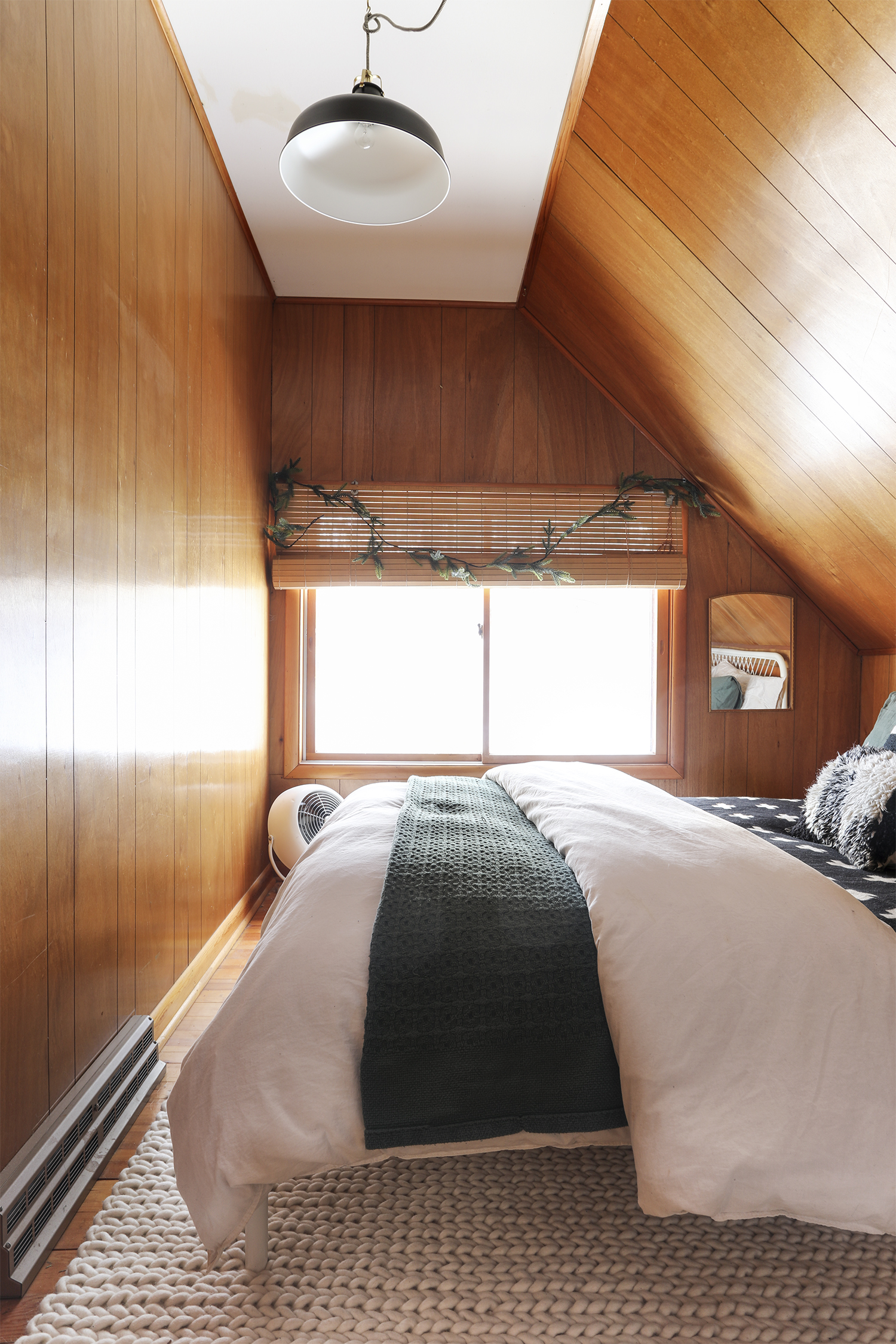 Textiles are expensive, bros! I am so bad at investing in nice linens and textiles for the bed. I'm just starting to come around in my old age. For reference, at the age of 37, I still don't have a legit set of towels in my house. I wish I had the budget to go crazy and purchase all the good stuff at once but we had too much else on our plates with BUYING A CABIN and all. So, I've been slowly adding textiles to our cabin bed over the last year and a half. It started with the bare bones basics – new sheets, a duvet cover and a hand-me-down throw blanket. The next thing on my list was a feather bed topper – have you ever slept in a bed with a feather bed topper? It's totally the best. We love a firm mattress but pairing that with the koosh of a feather bed is just crazy good. Overtime we added new pillow inserts, quilted pillow shams, linen pillow covers and a brand new super soft cotton blanket from Pia Wallen to the mix (I'd been dreaming of owning that blanket for years).
Sleeping is the best now.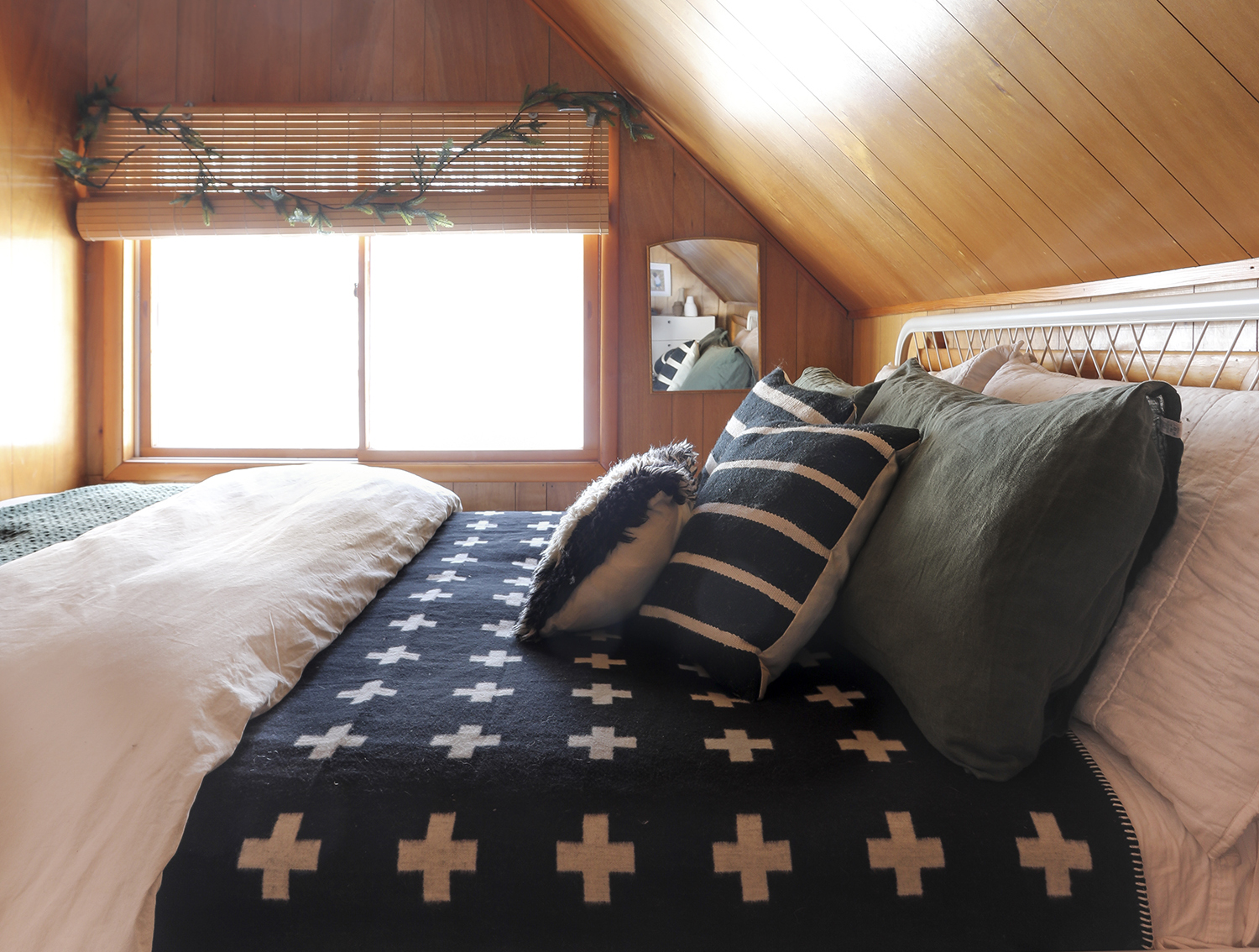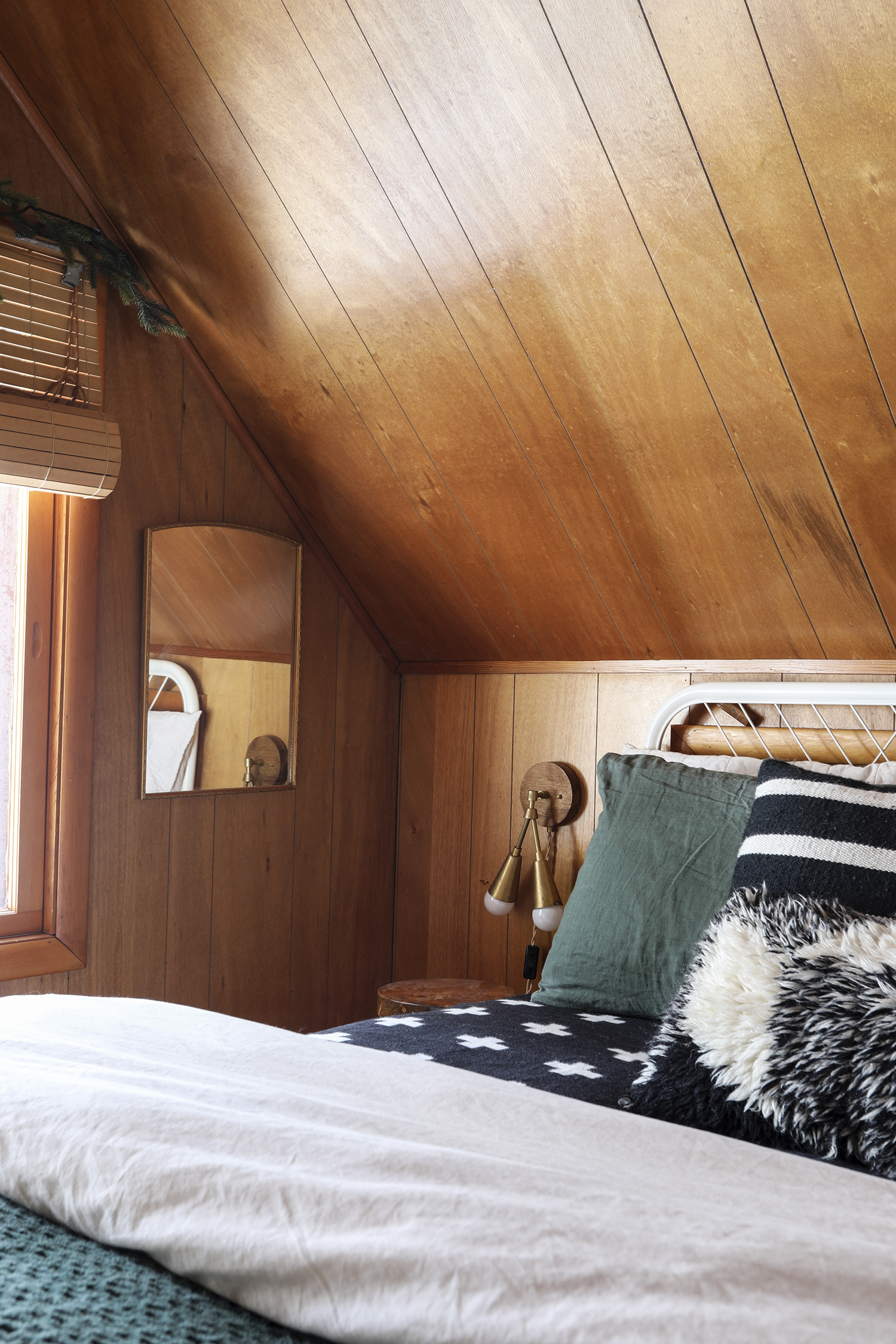 Surprise! I made custom lighting for the bedroom. As you can see there is very limited wall space on the knee wall behind the bed. I dare you to ask me if I have plans to tear this wall down and add a huge dormer someday. I'll save that for another post though. For now, I've got a knee wall complete with sliding doors for access to the eves and insulation. To combat such a troublesome wall I decided to ignore it. I went ahead and installed a pair of sconces directly onto the doors and said "what sliding doors".
In case you're interested in replicating these sconces, I shared a DIY tutorial over here.
I replaced the ceiling light with an inexpensive pendant from Ikea. I'm not in love with the look, but for now it's way better than the flush mount fixture full of bugs that was there.
On the dresser I added another lamp, it's my favorite new little tubby wooden lamp. It's so cute.
I kept the decor simple – as there's not a lot of room for it. There are a few items atop the dresser including this cute set of candle stick holders. The bedside tables are stools, the ceiling is so low I needed something really short.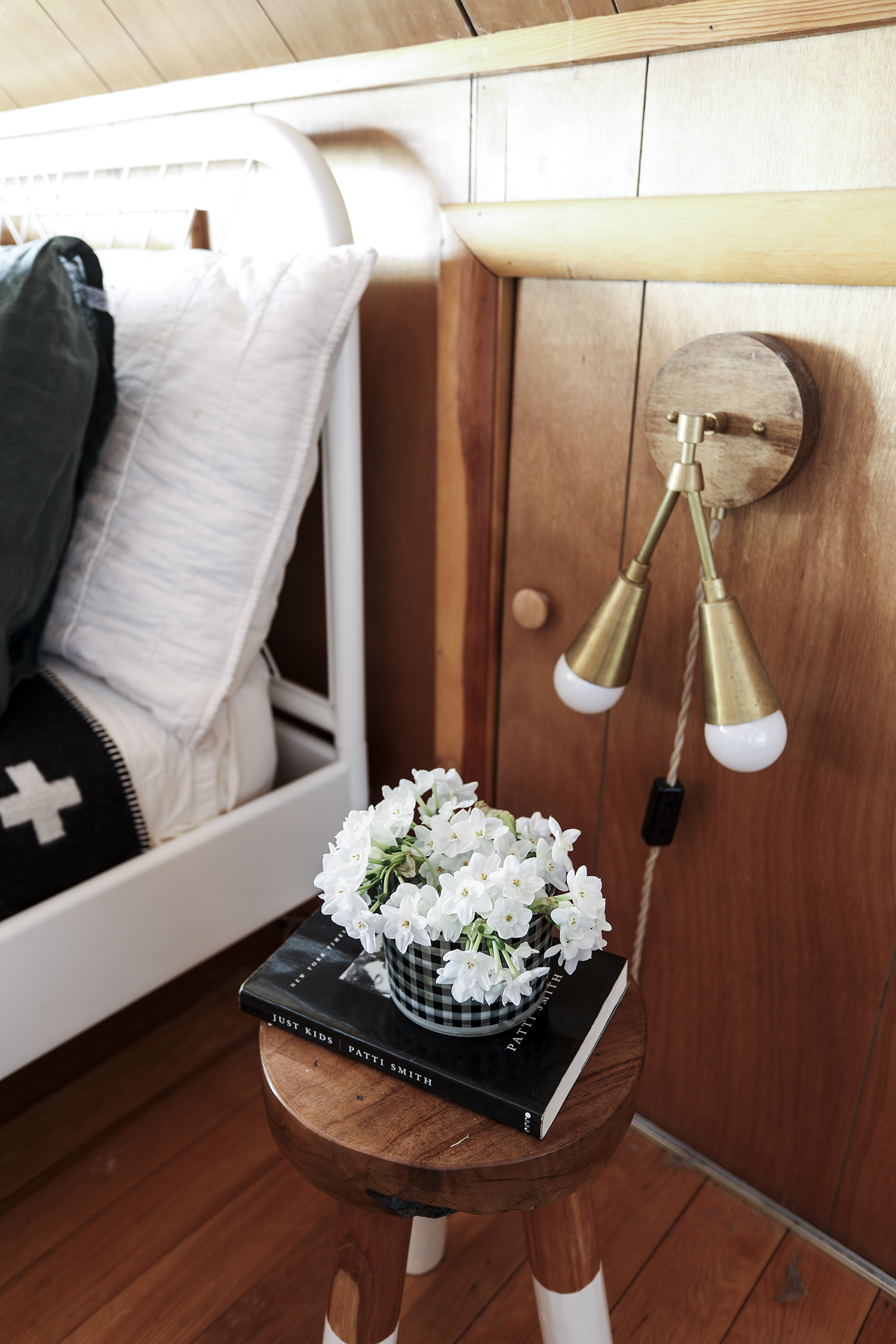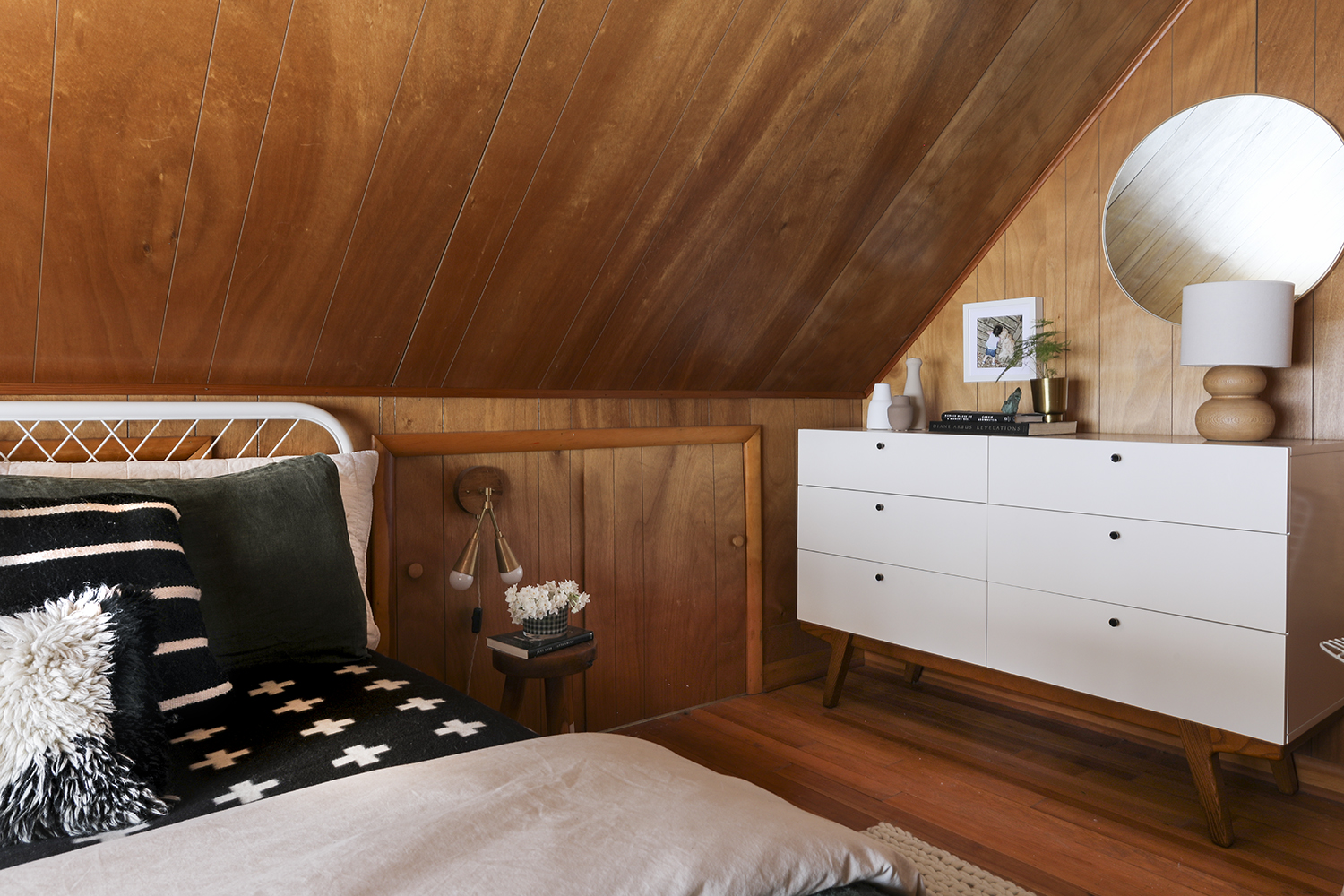 New dresser for the win! We were short on storage space – we had been using the dresser (pictured in the before shots at the beginning of the post) for the past 18 months. I had painted it white, but it didn't offer a ton of storage, and since this is our primary clothing storage at the cabin, it's important that we have room! This allows us both to have three large drawers and doubles the amount of space we have for storage.
I could jibber jabber about this dresser all day, but I don't have to because I already jabbed about it enough in this post.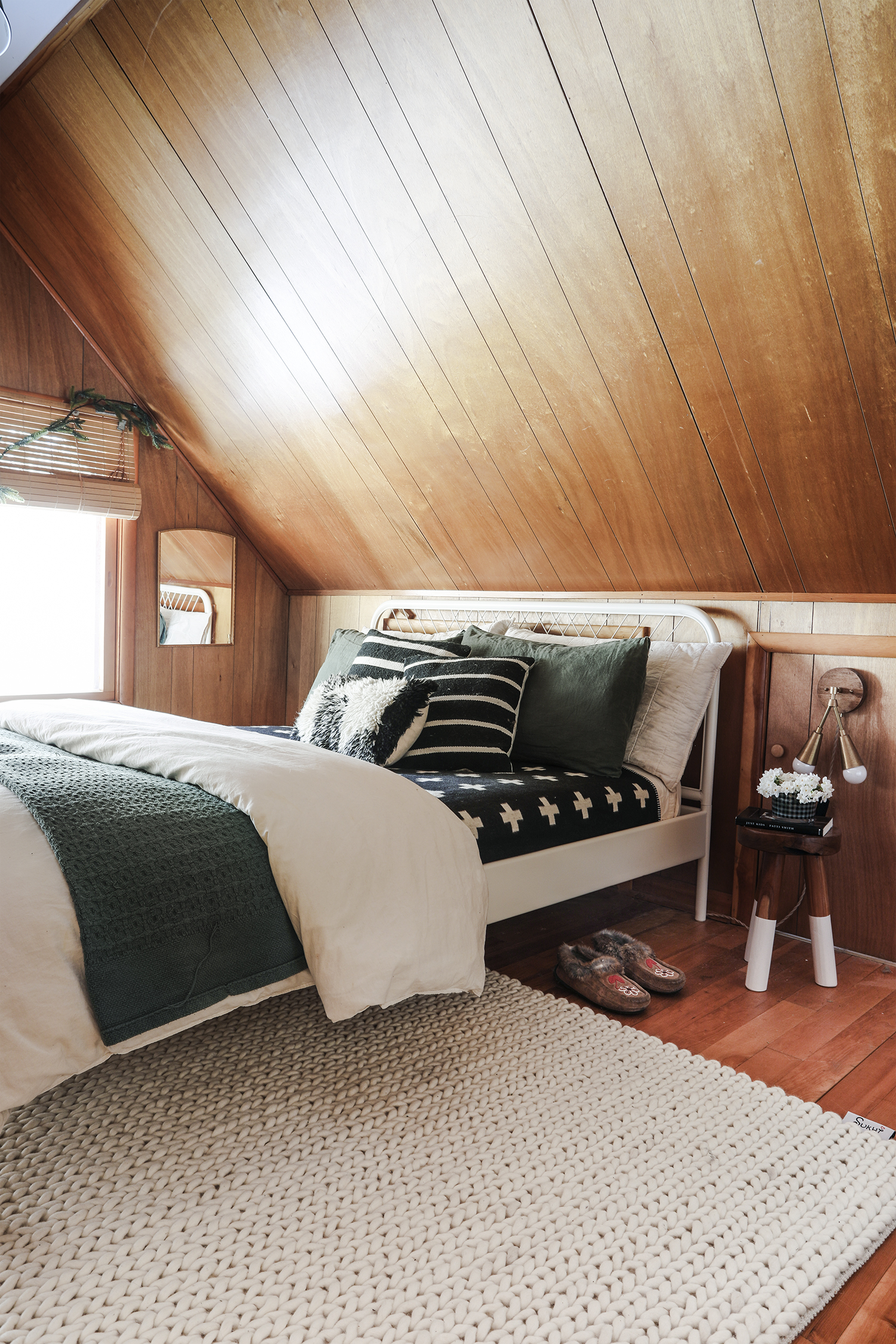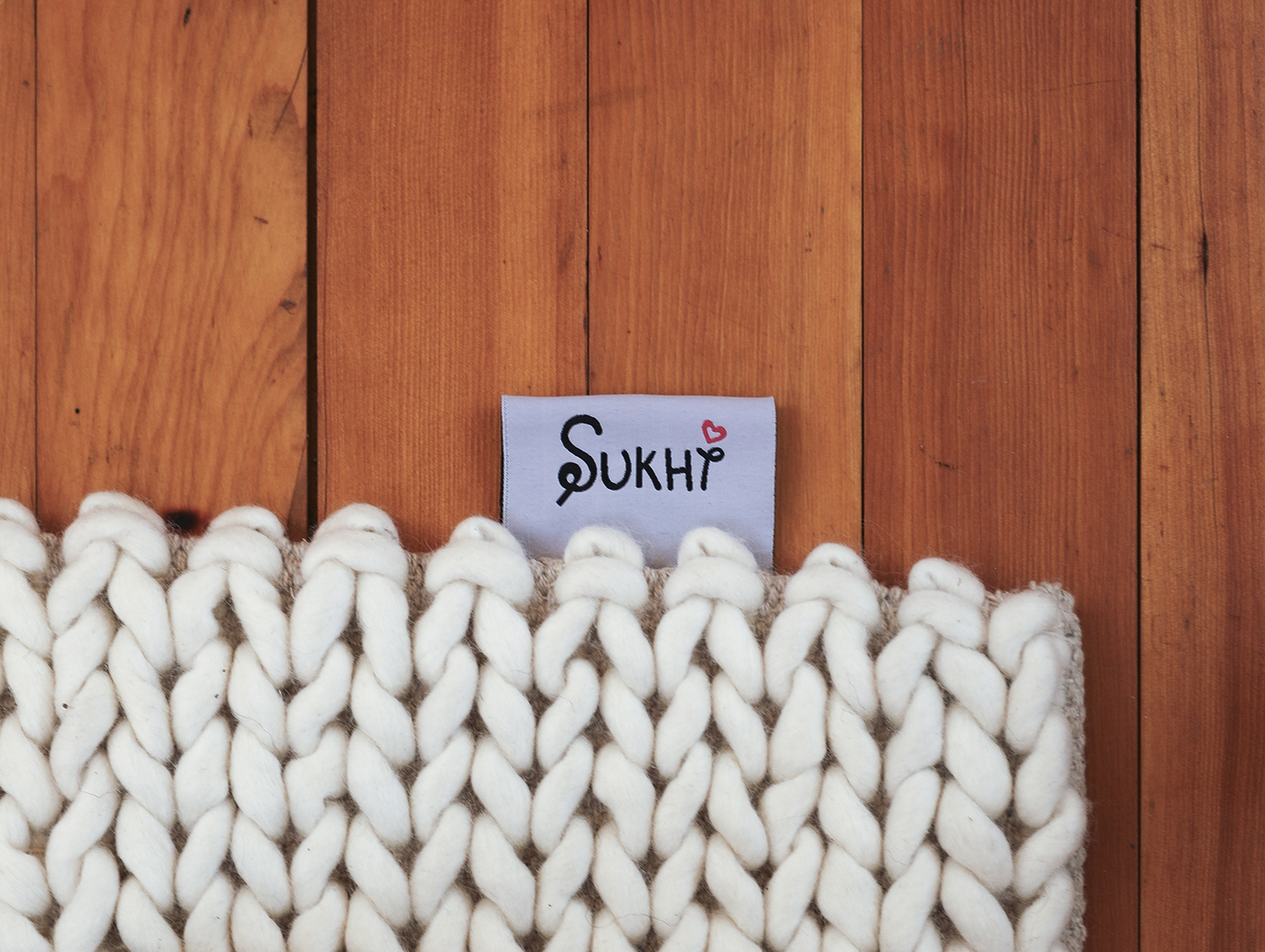 Thanks again to Sukhi for the wonderful rug! Please go check out their assortment of rugs – they have all kinds of beautiful high quality rugs and
felt rugs
in a variety of styles. I'm so happy to work with a company that supports a great global mission.
More Cabin Bedroom Posts

Hey Guys! So far I'm sticking to this two posts a week goal that I set for myself for 2019. Two posts a weeks means sometimes I'm just going to share something really quick and simple, like this new dresser we just had delivered for the cabin bedroom ...
Read More

↑ drag cursor over image ↑ Wazzup team? I wanted to share instructions for these two plug-in sconces that I recently made for our bedroom at the cabin. I wanted to design something that had retro feel to reference the age of the cabin (circa 1968) but I wanted it to be a little sophisticated as well, so I went ...
Read More