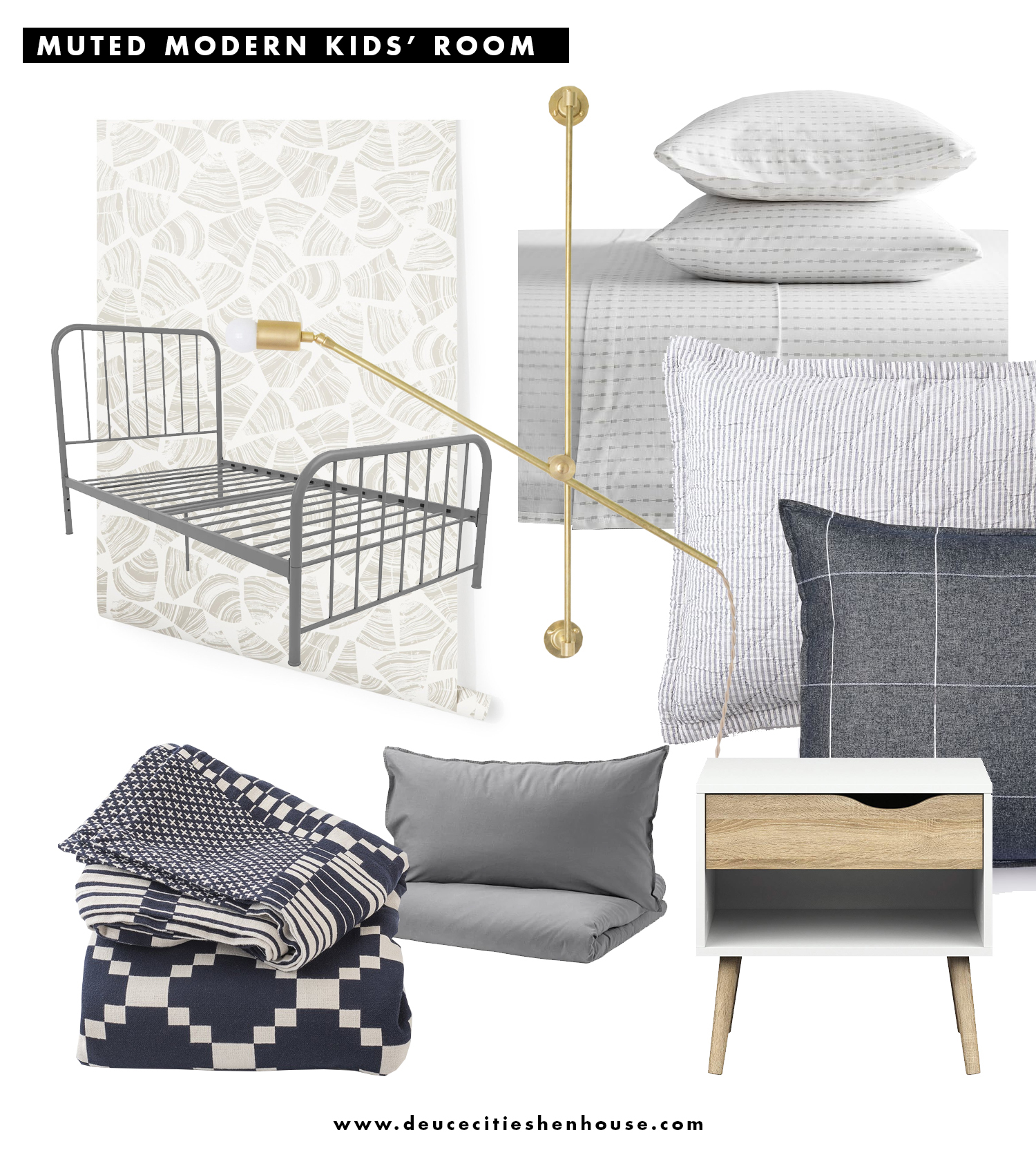 The Look

Holy buckets, team! It sure took a long time to get this post out. Sometimes the hardest part is coming up with the plan. Boy did I stall on this one. Designing spaces in our home usually comes easily to me. Once I put time in to sussing out a design, I usually get pretty close to the final result on the first try.
I've had a re-vamp of the kids' shared bedroom on my to-do list for over a year now. I thought inspiration would just come to me, and I'd have it. It's been really, really hard. You may remember how I color blocked the kids room a few years back, and you might also remember the very modular and minimal bunkbed we had for the space. I thought that this room would last them a long time, but as they accumulated more and more small-kid stuff, the room begin to shrink and it was hard to keep on top of the chaos.
The boys hated the top bunk, it was hot in the summer AND in the winter, and generally it was just a disgusting mess of gold fish crackers, empty water glasses, and small toys. Kids are gross monsters.
It came to a head this fall during a week when Jeff was away commuting to California for work, the boys had just started school, and the weather was the perfect temperature for me to get to work. I cranked up some tunes, and got after their mess of a bedroom.
I have been as organized as a mom can be with their toys and pieces. I often would have obsessive fits and would spend an afternoon going through all the toys to make sure that every Magnatile was found, every Lego brick was back to its set, and every micro Thomas the train was back in its dumb box. I guess this absurd attention to detail paid off because after dumping out every toy box and every drawer I was able to put together full sets of almost all of their toys. I'm highlighting this because it was a very important element when it came time to recycling these toys. There is nothing that is more sickening to me as a parent than the amount of crap kids accumulate. Friends and family are always so sweet to give the boys gifts for their b-days and Christmas, but the toys add up, and it becomes excessive way too quickly.
So how did we recycle all of their stuff? After school let out, I had everything bagged up in XL Ziplock bags and boxes so people could see what they were getting. I set everything out on our front stoop, and I had the boys begin the task of having a "free sale" on the steps. During the course of two nights in the early fall the boys were able to find neighborhood kids and parents to repurpose all of their things. It was really nice for them to see where their things were going, they felt pride in giving their stuff a new home, and they understood that they were sharing joy with other kids in the neighborhood. We even found a teacher who was able to take all of the Matchbox cars and random Lego pieces to her elementary classroom. I was relieved that a minimal amount of trash was going in the garbage, and I was proud of my kids for taking part in the process.
Fast forward to now. The boys have been living like hobos on the floor of their room with a mattress and no toys. I've been dragging my feet when it came to a design for them because nothing seemed just right. The thing that was holding me up most of all was their beds. All I knew was that I wanted for them to have matching beds aligned on each side of the room. Unfortunately, not a lot of my fav retailers specialize in twin beds, or if they do they are way too much money to spend on a pair of sticky-handed-gross kids. I have literally looked at every bed on the internet. I've filled up many shopping carts, and in the end had just not been able to pull the trigger on anything.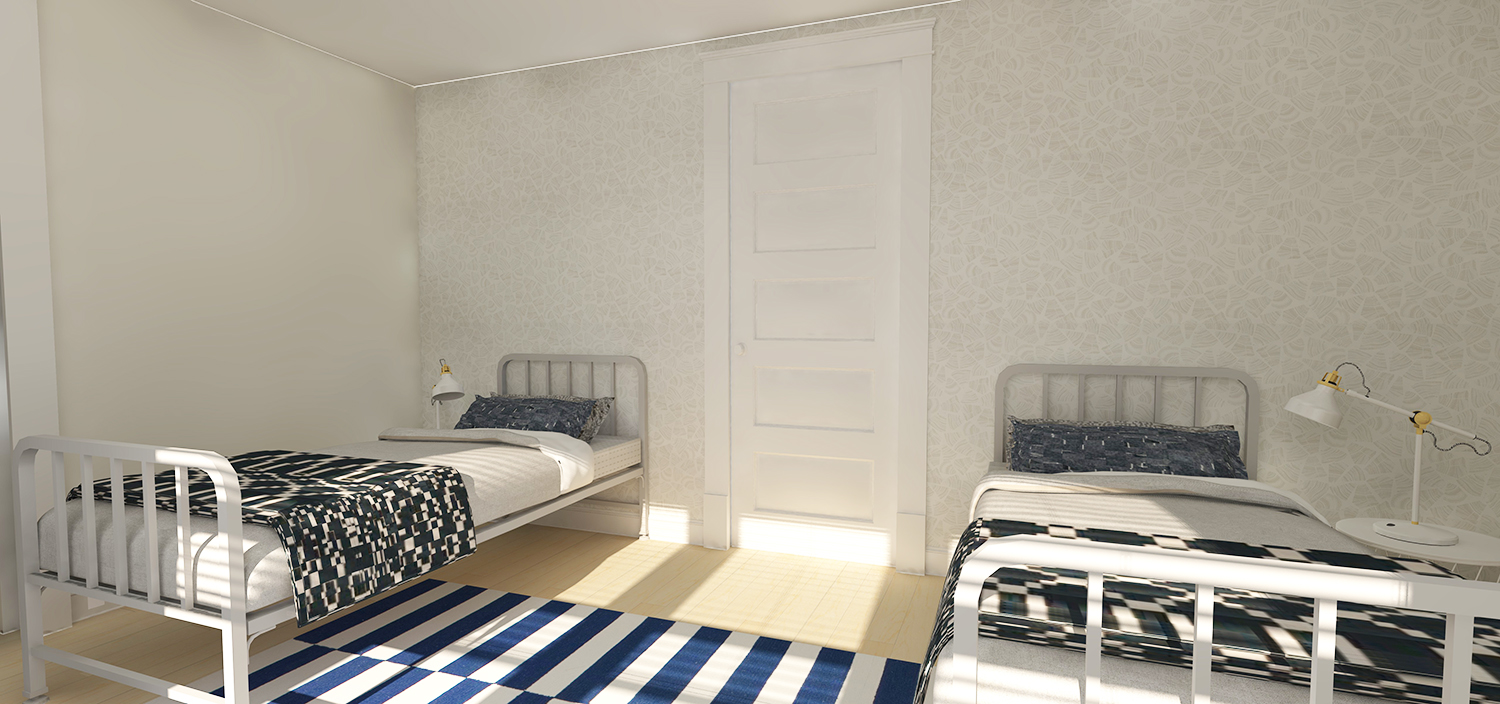 I was finally inspired this week to just buy a simple minimal metal bed for a super inexpensive price. I quickly threw my plan into a SketchUp model I had been playing with for months, and a design began to come together. Saving so much money on the bed allowed us a little room in the budget to purchase the boys some nice fresh linens which they have been in need of for a long time. I've been loving that blue and white blanket (pictured in my mood board at the top of the post) for months. I always feel confident in my decisions when I know that something excites me every time I see it. I used the blanket as a spring board and found a bunch of graphic textiles and soft textures that would accompany it. I'm really happy with what I came up.
There will be two phases for this room of course. First it'll be a great heroic feat to have their mattresses off the floor. I can't wait for them to feel excited about being in their bedrooms again. Then there will be the hard task of painting over the color blocked walls and ceiling. I knew when I was color blocking those walls back in 2015 that my future self would hate me for having to paint the ceiling. The day is here.
The kids have done a number on the baes board and trim, most of it is just dirt and grime, but there are a few places where the paint has chipped and needs to be patched and sanded down. The main door needs a lot of TLC, as you know I've been slowly working through stripping and renovating all of our painted doors on the second floor. I don't see why I shouldn't follow suit in the boys room as well. Both of their closet door hardware needs to be stripped too.
Once the brutal job of painting is out of the way, I'm going to wallpaper the wall behind their beds with this print from Hygge & West that I have been eyeing for a long time.
My hope is that this room is neutral and grown up enough that it will last them through high school. Fingers crossed.

Because it's very possible that you are struggling with finding an understated but modern bed for your kids bedroom, I took it upon myself to spend hours compiling a list of what I was drawn to most in my hunt for the perfect bed. I hope this helps someone down the road.
Twin Size Metal Frame Beds
Twin Size Wood Beds
Twin Size Upholstered Beds
More Kid Bedroom Posts