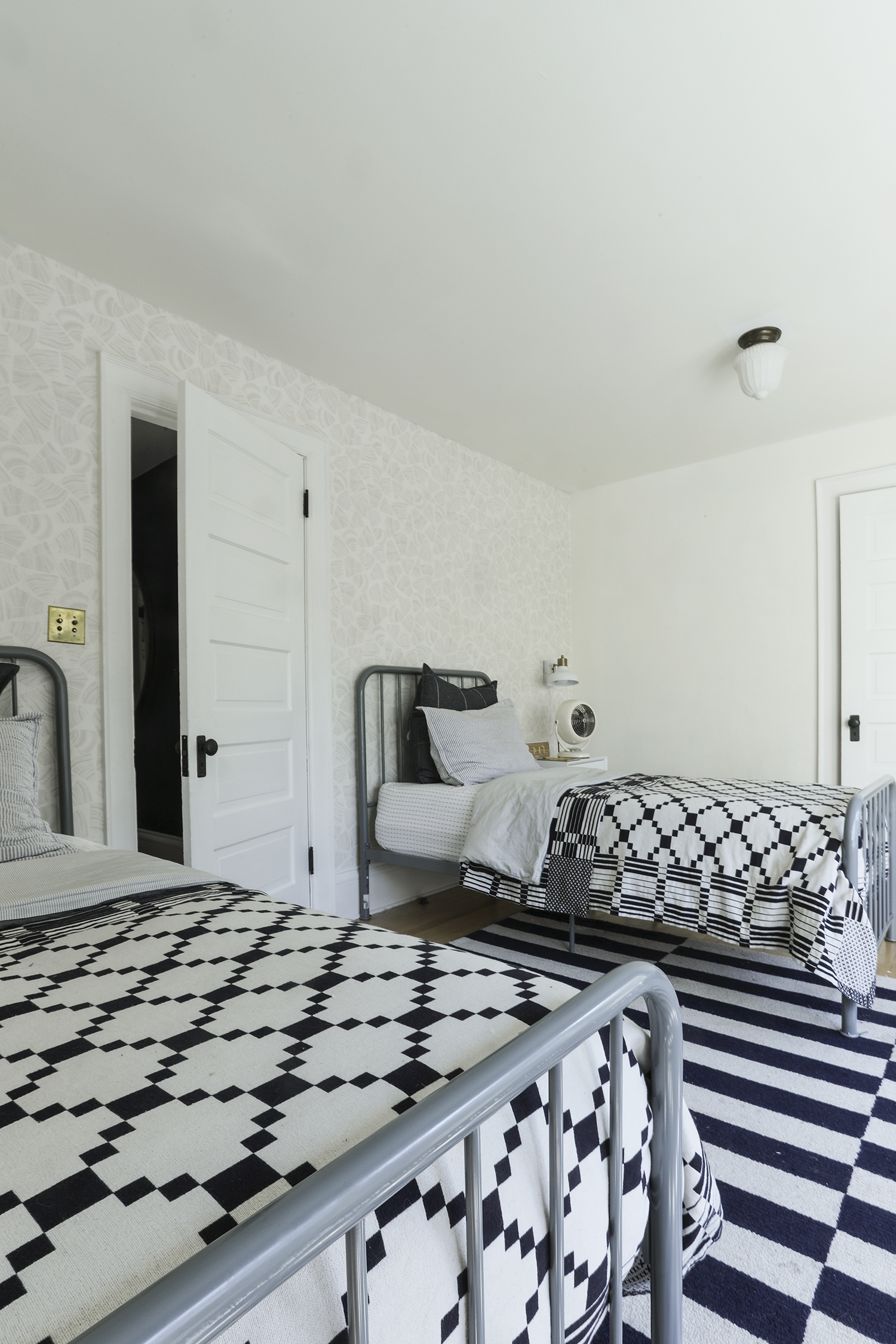 This post is created in partnership with All Modern, All Modern gifted some of the furniture in this post, but all opinions are my own.
Wow! I would have never imagined that it would have taken me nearly a year to get the kids' bedroom project wrapped up to the point where I could post about it. My life has been consumed with helping my kids with their school work ever since March, and my priorities have had to shift a lot. I feel privileged to be have the availability to spend time helping my kids, but I have missed being able to work on projects. I've been slowly chipping away at their bedroom makeover project. I have had a paint brush at the ready trying to steal away 15 minutes here or there if the time allowed ever since we "moved back" to Minneapolis at the beginning of the school year.
It feels really good to wrap this up. I've had tools and paint cans at the ready and I feel like the second floor of my house has been consumed for months. It'll be really nice to have things start to settle down as we begin to gear up for the winter months.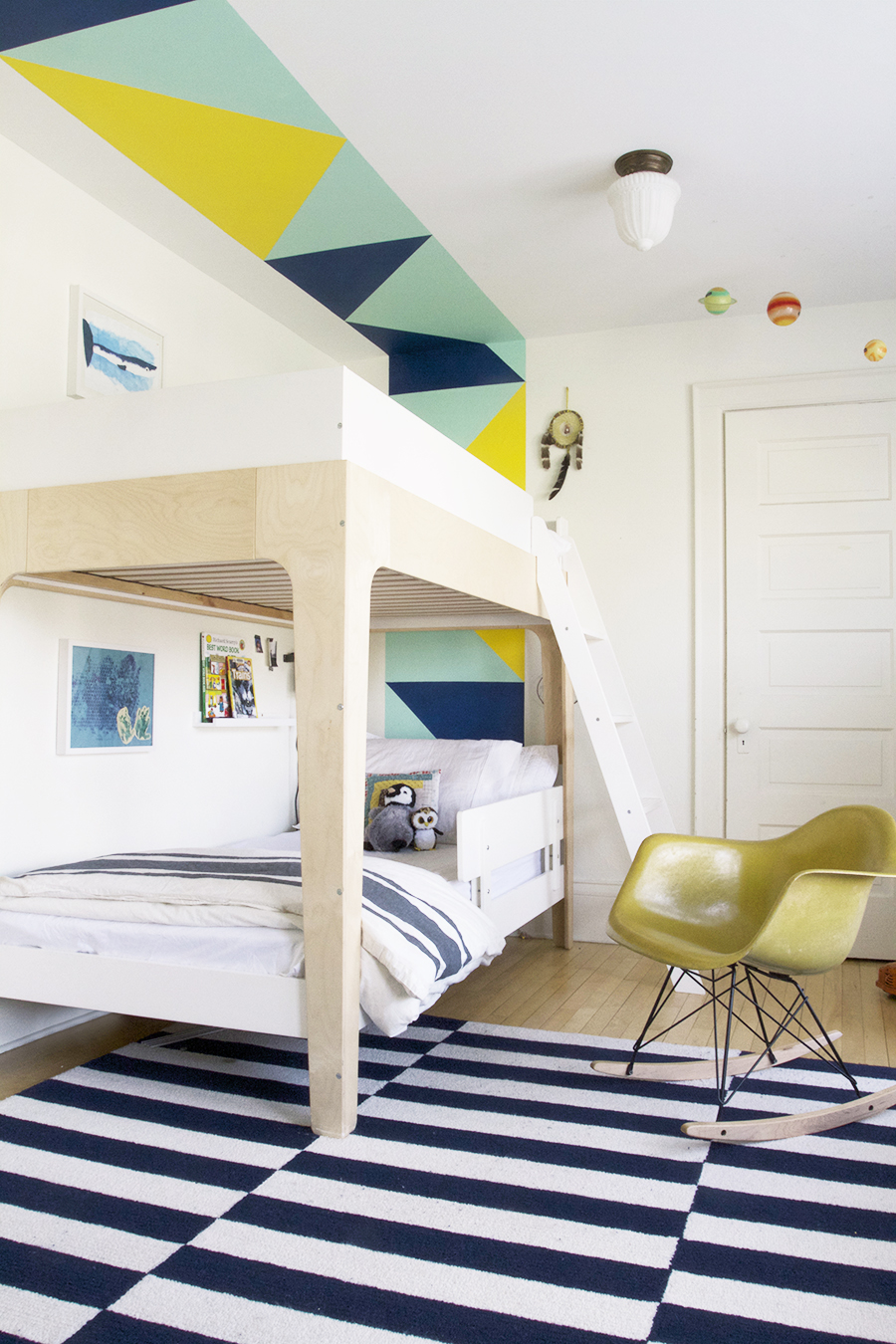 So let me take you around the space. Our boys have shared a room since our youngest was two years old. For a long time they had bunkbeds, but they were not happy with that set up. The hot air would rise in the summer and make the top bunk unbearable for them. For this makeover we opted for two twin beds instead.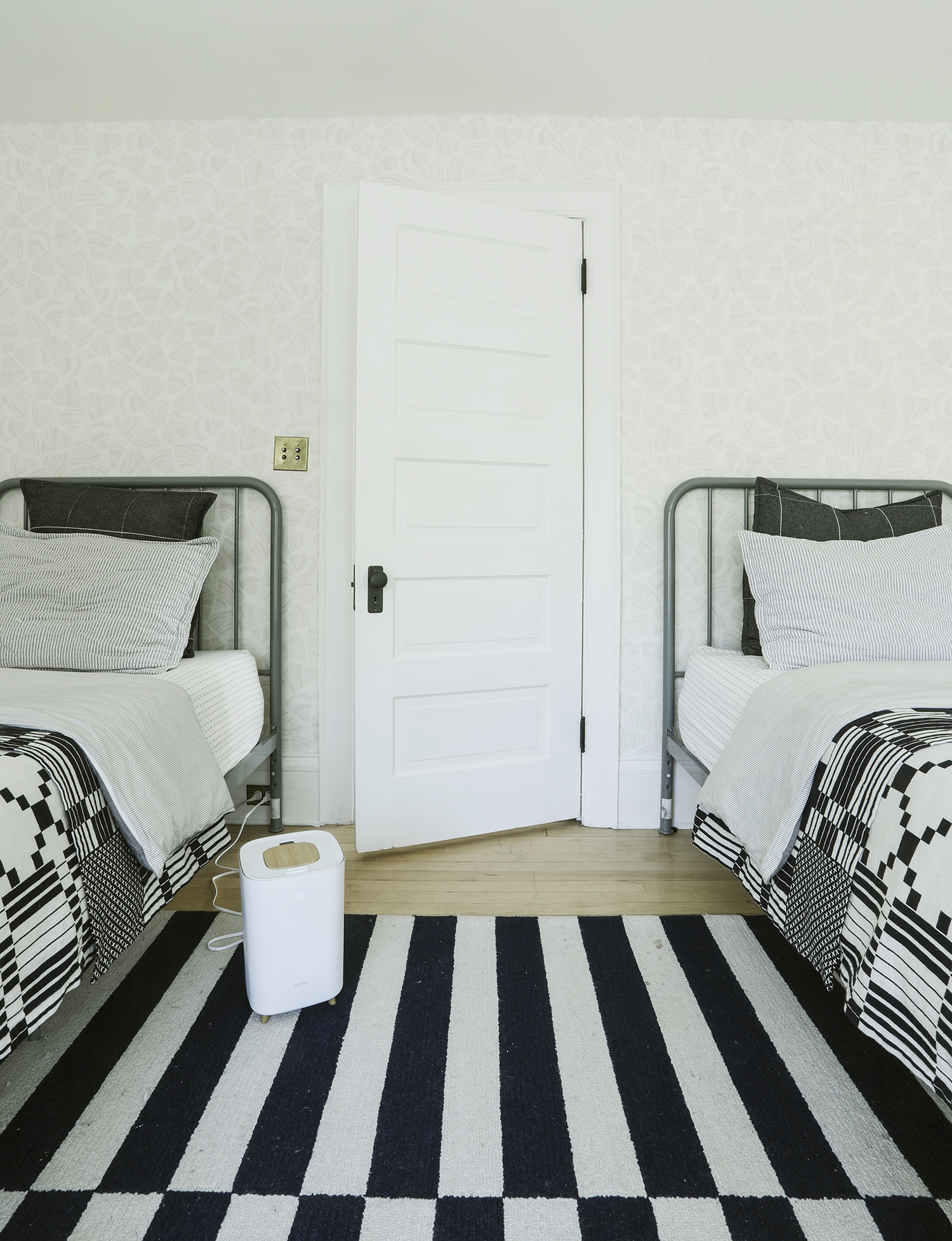 Pattern & Bedding
I wanted to keep their navy striped rug and reuse it in the newest rendition of their bedroom. I had always enjoyed the energy the contrasting bold patterns had given in their room before. The bright and geometric ceiling mural vibrated against the bold rug. In this more "mature" iteration of their bedroom, I continued to add lots of pattern with bed linens, but in a much more subtle way by repeating a more subdued color palette. I really enjoy all of these bold patterns playing off of each other, and I especially love the muted wallpaper as the backdrop.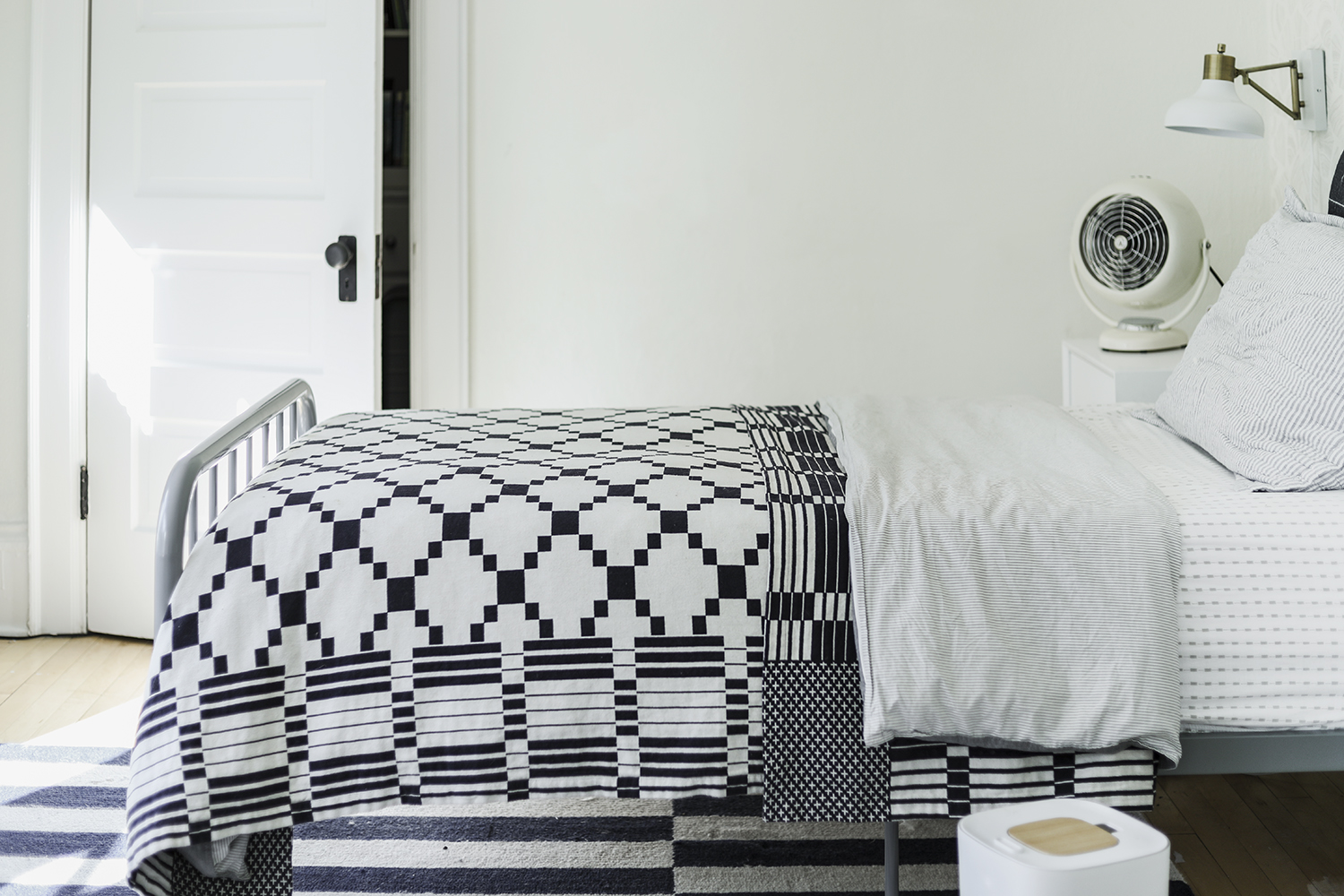 Nighstands and Lighting
I wanted the space to have drawer storage so that table tops would be uncluttered. A nightstand with drawers was a must! This cutie is made of solid wood and I know it will stand up to the spills and mess that my kids will bestow upon them. I also wanted to find a swing plug-in sconce so that they could easily read in the evenings without disrupting once another. Jeff and I have taught our kids to be fan sleepers, and we have been hooked on the Vornado Jr. for years. We are big fan fans!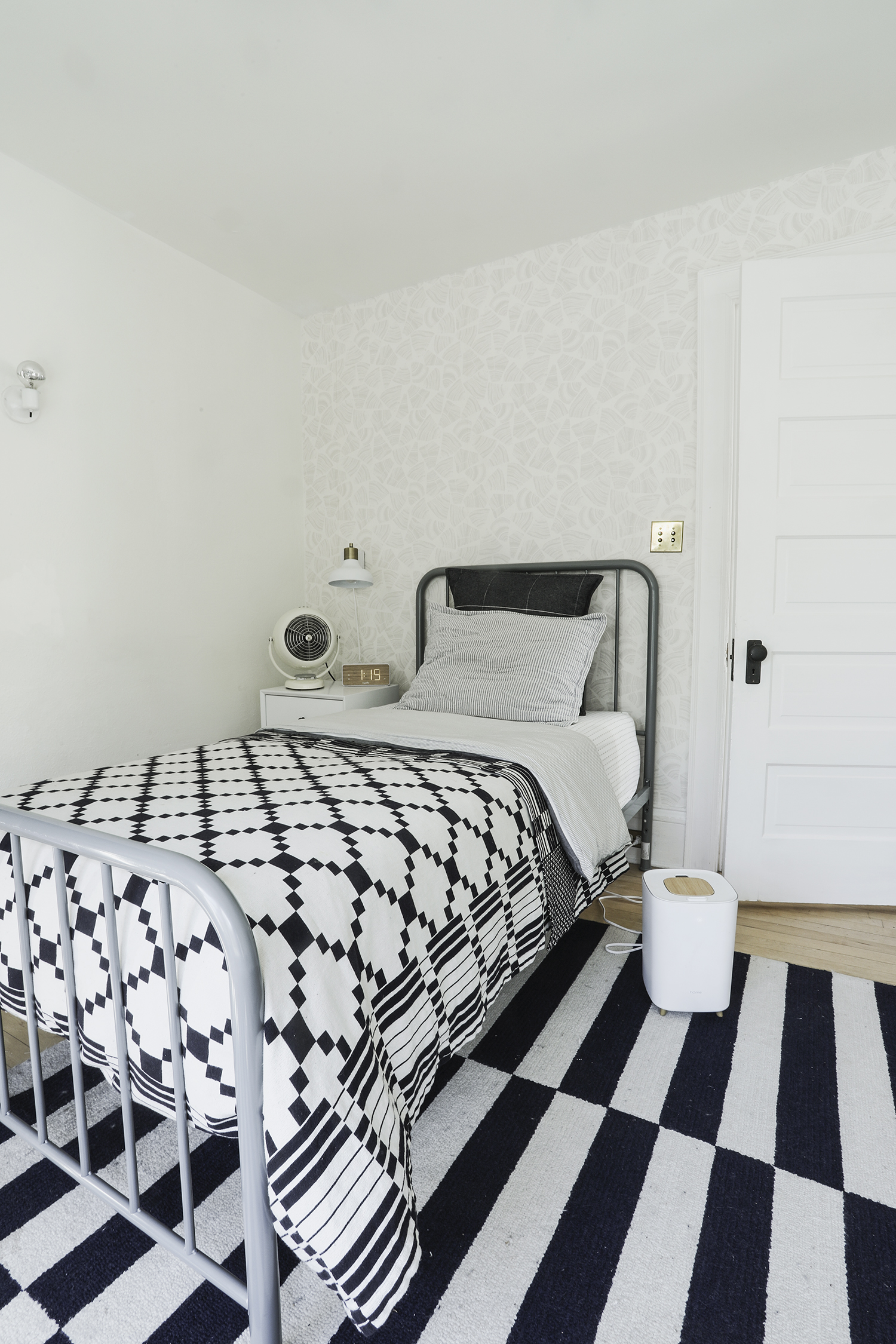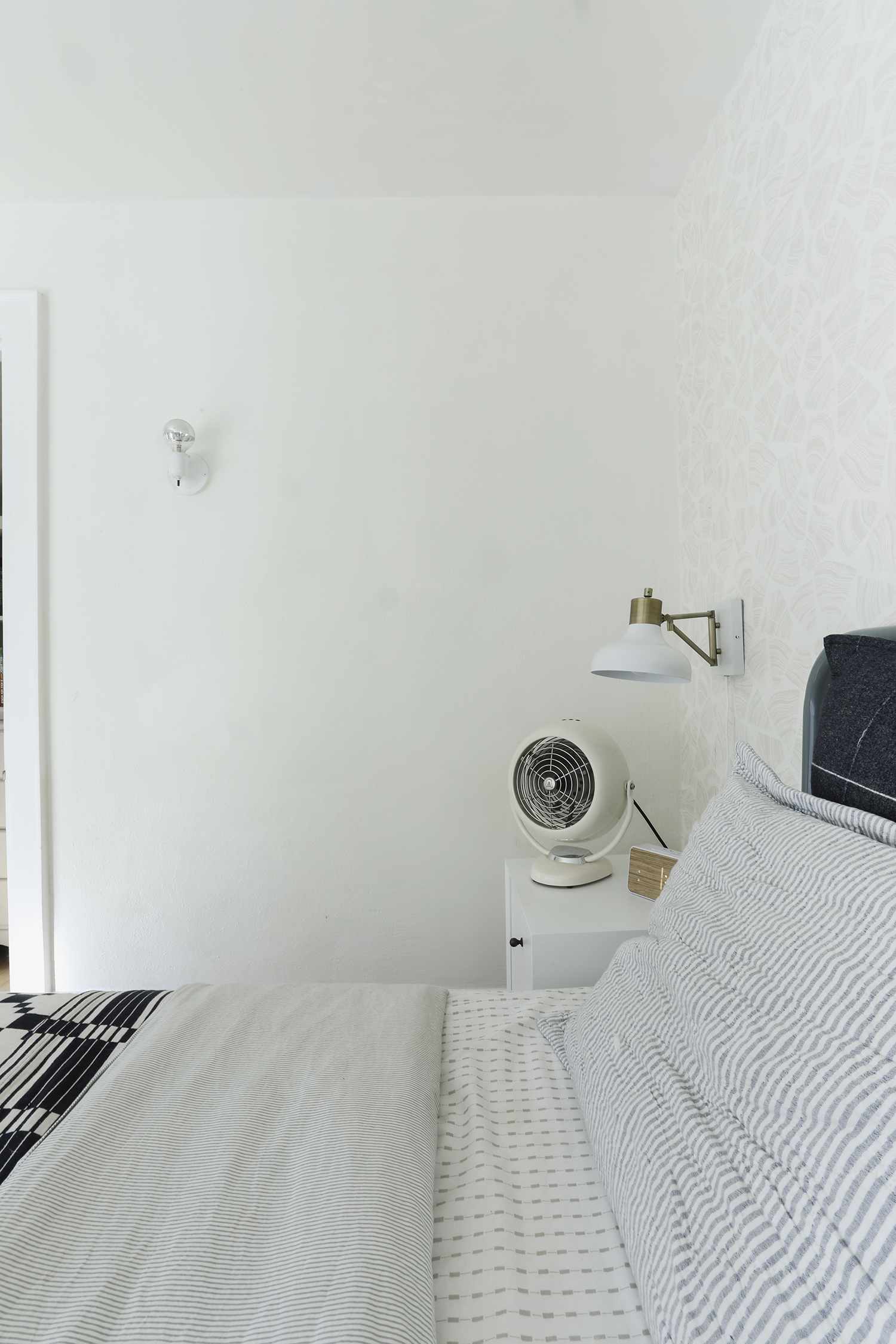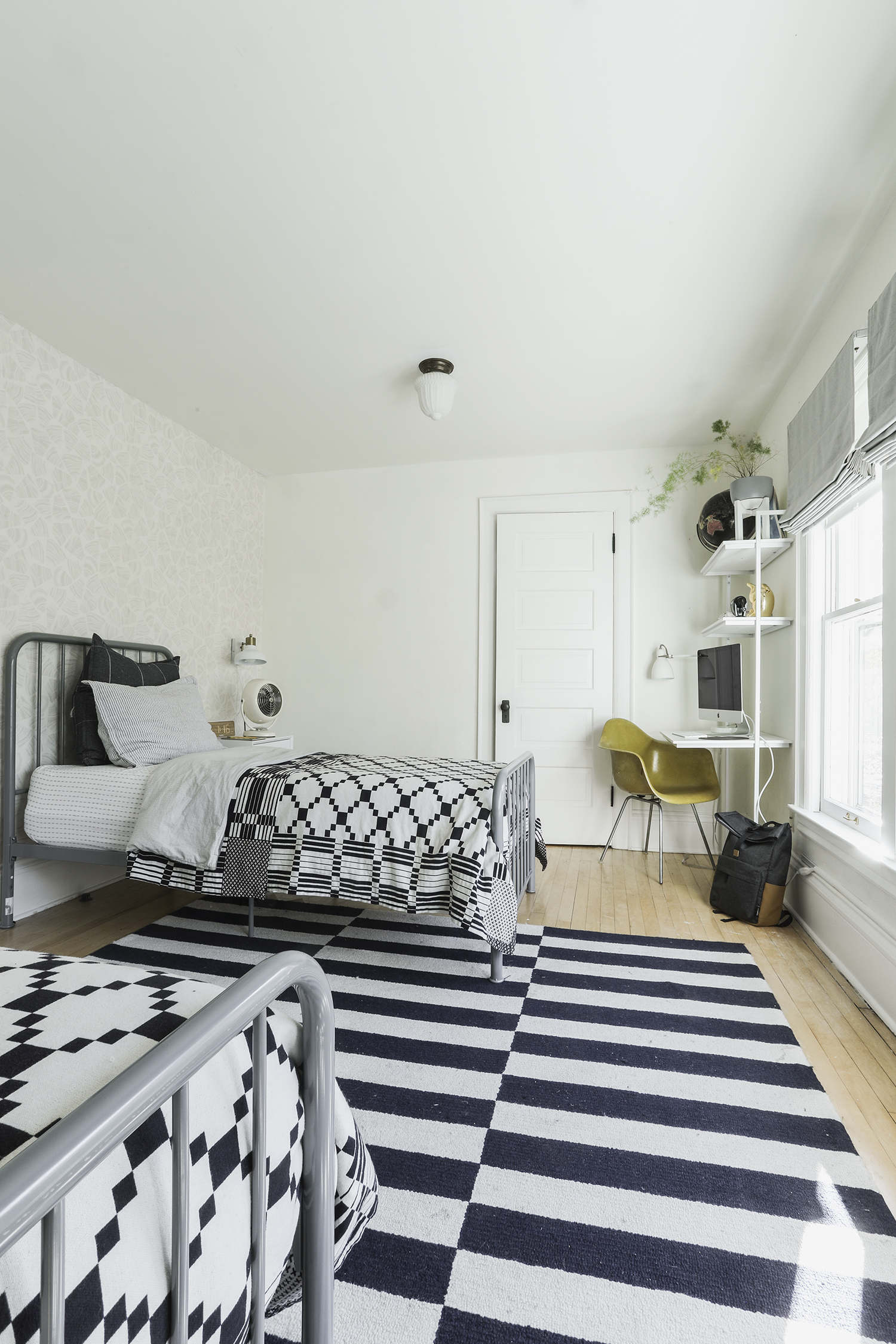 The Desk
Having a work space for the kids was always part of the plan, but now of course, it is a necessity as the kids school district has only been doing distance learning this year. Finn (our oldest) works in the basement and this has become Gus' zone for his distance learning. We had originally set both boys up in the basement for their school work, but that just proved to be too far away from where I was. Gus needs the most assistance throughout the day, so it works well that his work space is near my office.
I had always envisioned a wall desk wood be best for this space. There isn't a ton of room and this narrow desks works perfectly for what we need. It took a while to find just the right desk that could fit an imac – there are a few different variations of this desk on the market and not all can fit a computer of this size. I switched out the rocker legs on the vintage eames chairs for the original 'H' base. It's perfectly sized to slide in under the desk when not in use.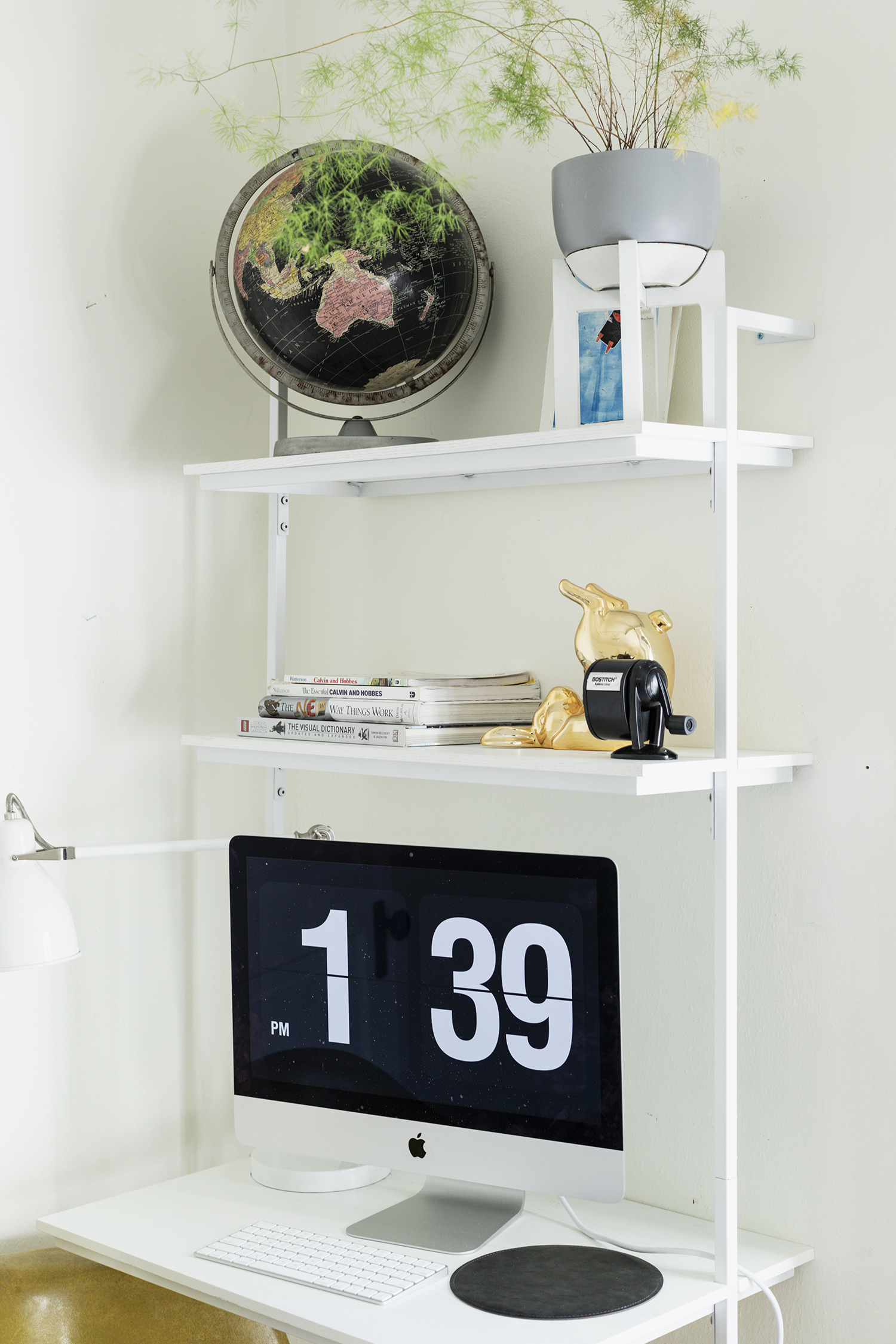 The Closets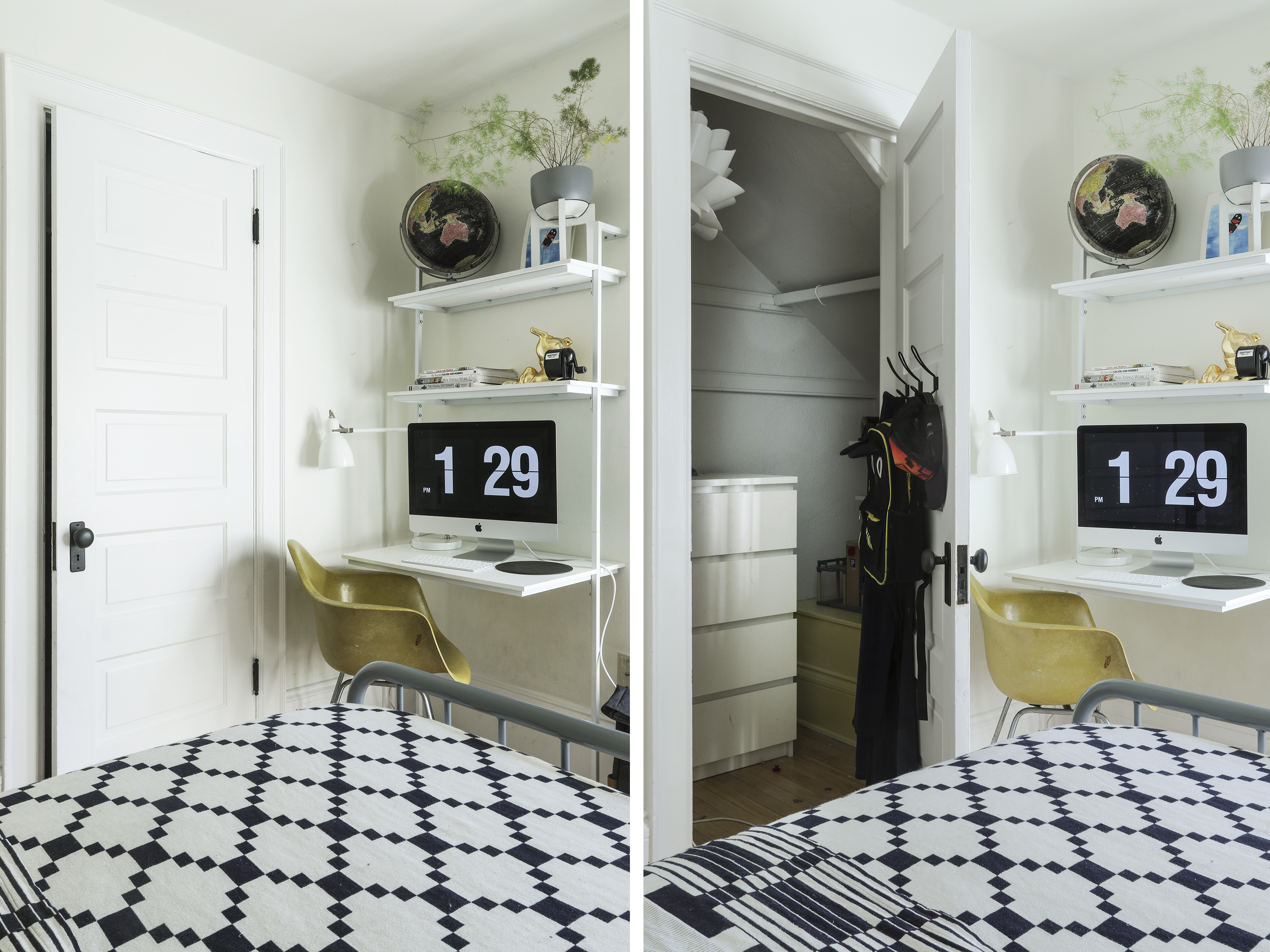 Both boys have generous sized closets for the era of the house, it's a 1910 four square. The first time we ever saw this house I was smitten by the toy boxes inside each closet in this bedroom. I'm pretty sure that this bedroom was always intended to be a room for two kids to share! Since they are at the age where they no longer need toy boxes I decided to make the boxes into hampers instead. I also painted them both yellow just because I could! We put a dresser in each closet for their clothes, which works well for us – we aren't a big hanger family, so no need to leave room for clothes to hang. When we first started their bedroom redeux, the boys and I spent quite a bit of time going through all of their toys and organizing their book collection. I've always been good at keeping parts and pieces of their toy sets together so we were able to set them out on our stoop with a free sign and pass them all onto neighborhood kids!
I painted all of the doors and trim which hadn't been done since we moved in 10 years ago. I also stripped all the door knob, backplate and hinge hardware on both the closets doors. I added hooks inside the doors, so the kids had a place to hang bathrobes, backpacks and pjs.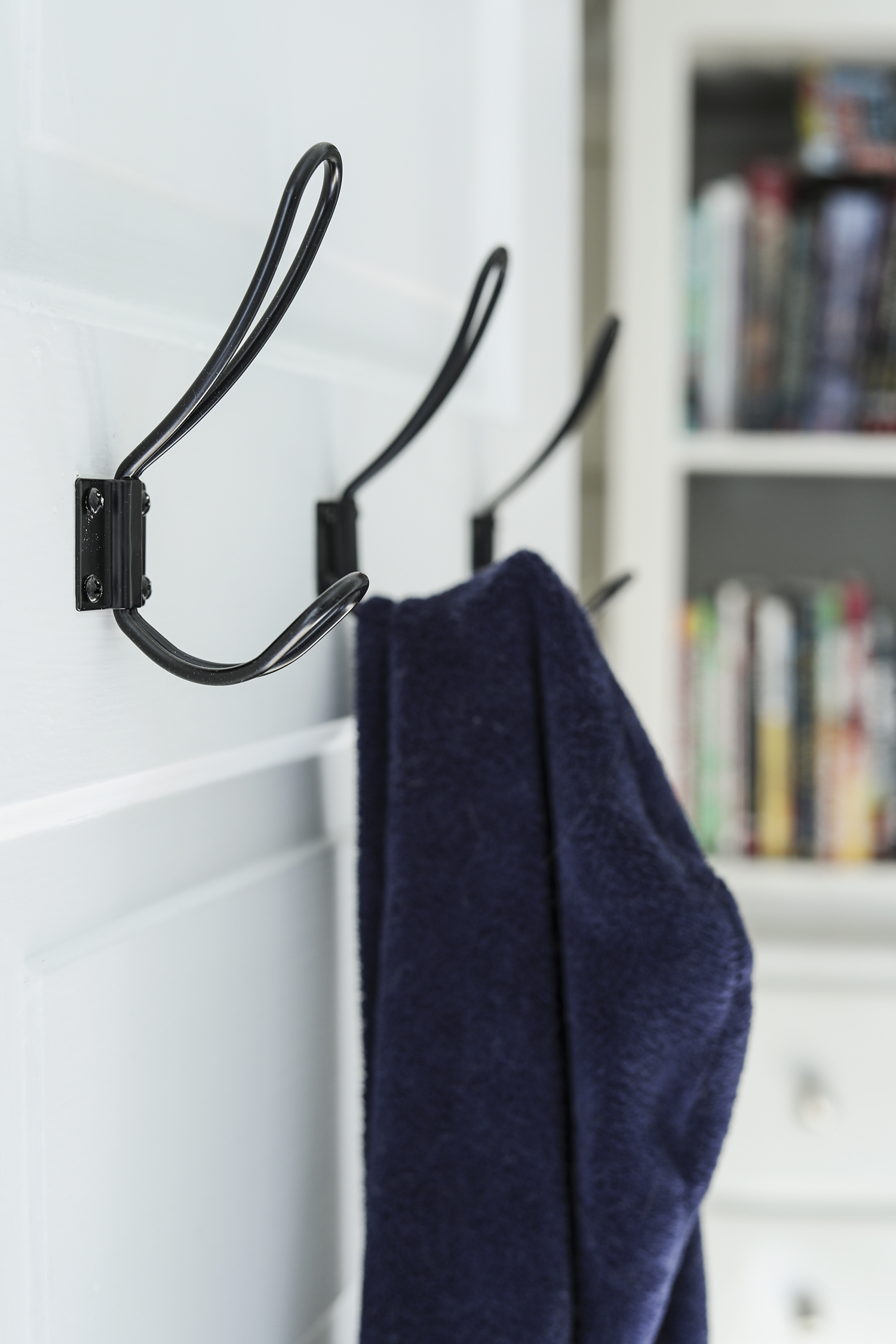 The Un-Frame TV Hack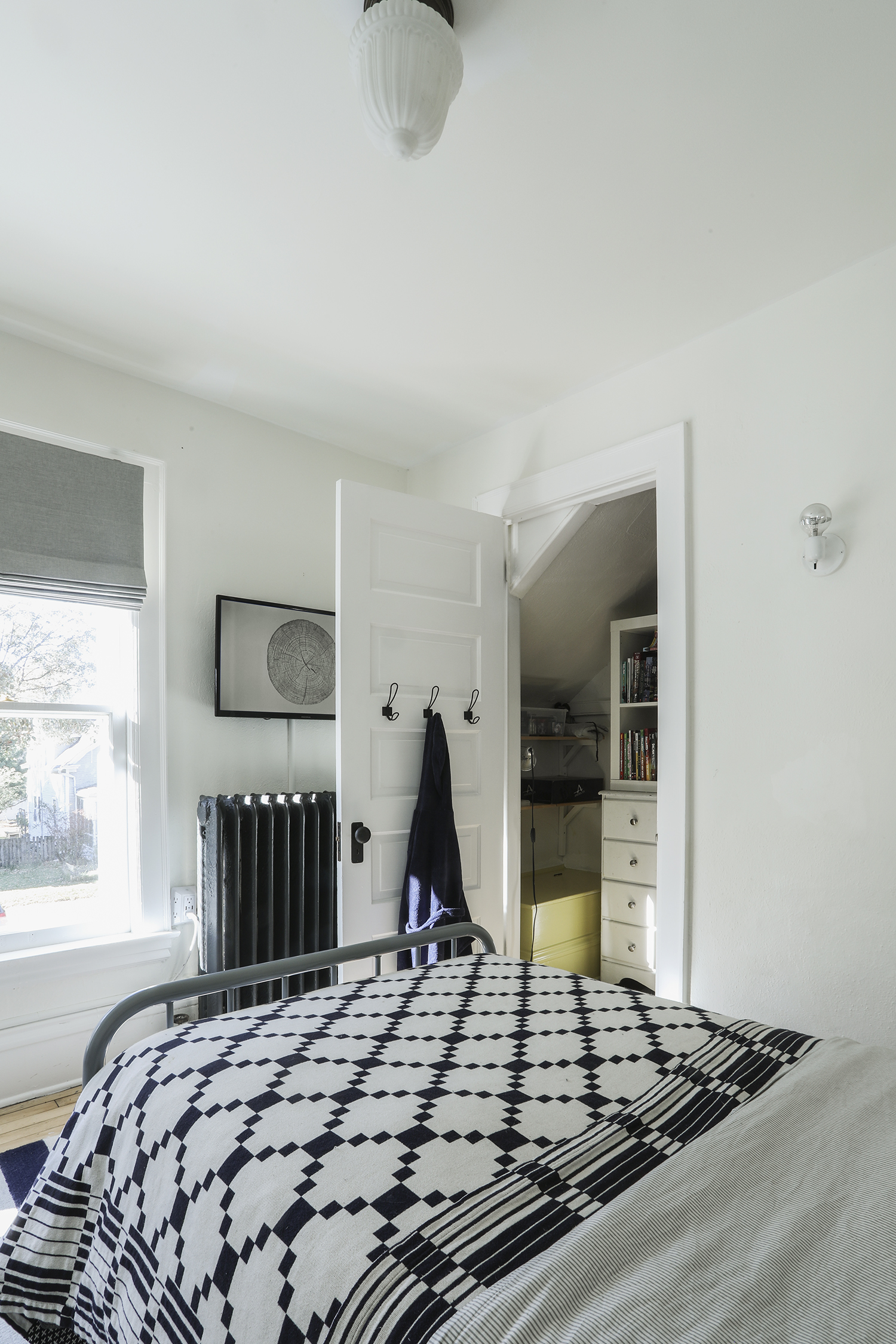 The kids need a TV in their room. It's one of the only places they have to hang out and watch tv, and I mean, I didn't want to deprive them of having a tv! We've had this Roku TV for a long time, but we've never had it wall mounted. To free up space in the room I wanted to mount it on the wall above their radiator. I didn't want it to look like a black box though, and wished I had a Frame TV so that I could have the tv display art when not in use. After doing a little research, I figured out that I could download the google photos app/channel for the TV and for my iphone. In the google photos app, I created a folder called "screensaver" and added a single image to it. To reference the wood block print on the wallpaper, I purchased this cross section of a tree print for $4 from etsy. It was an instant download. Once downloaded, I cropped the hi-res image to a 16:9 ratio and then I uploaded to the google photos app on my phone. Back on the TV I set the screensaver to engage after 1 minute, (all in the Settings > Themes section of the Roku TV interface) I also selected the screensaver to use my google photos library. Typically this would cycle through an album of images but since I just put the single image in the google photo album, it doesn't cycle at all. You can adjust your display settings to help with the realism of the image, and you can adjust your energy saver settings so that the image appears for longer or shorter depending on your preferences.
Roku TV, you've been hacked!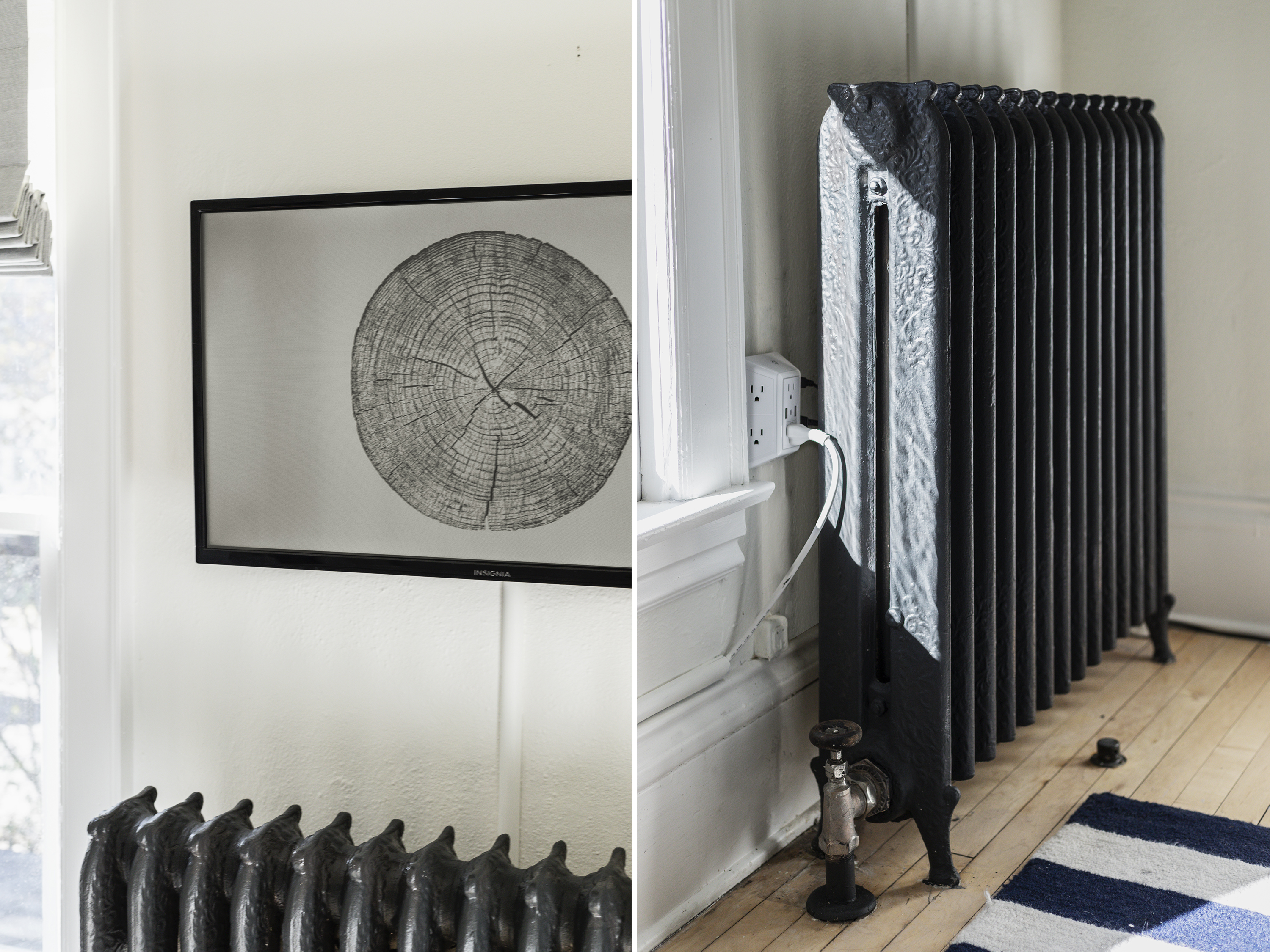 Part of the reason this room get so hot in both winter and summer was because of the radiator's valve being painted shut. I used my favorite stripper, peel away to strip the valve and in doing so, uncovered a brass pipe fitting and wooden valve handle. The valve now works and we can have more control over temperature adjustments. We are stilling trying to figure out the sweet spot, but at least we have options! I painted the radiator a dark charcoal color (leftover from the dinin room) while I was at it because it was in desperate need of a fresh look.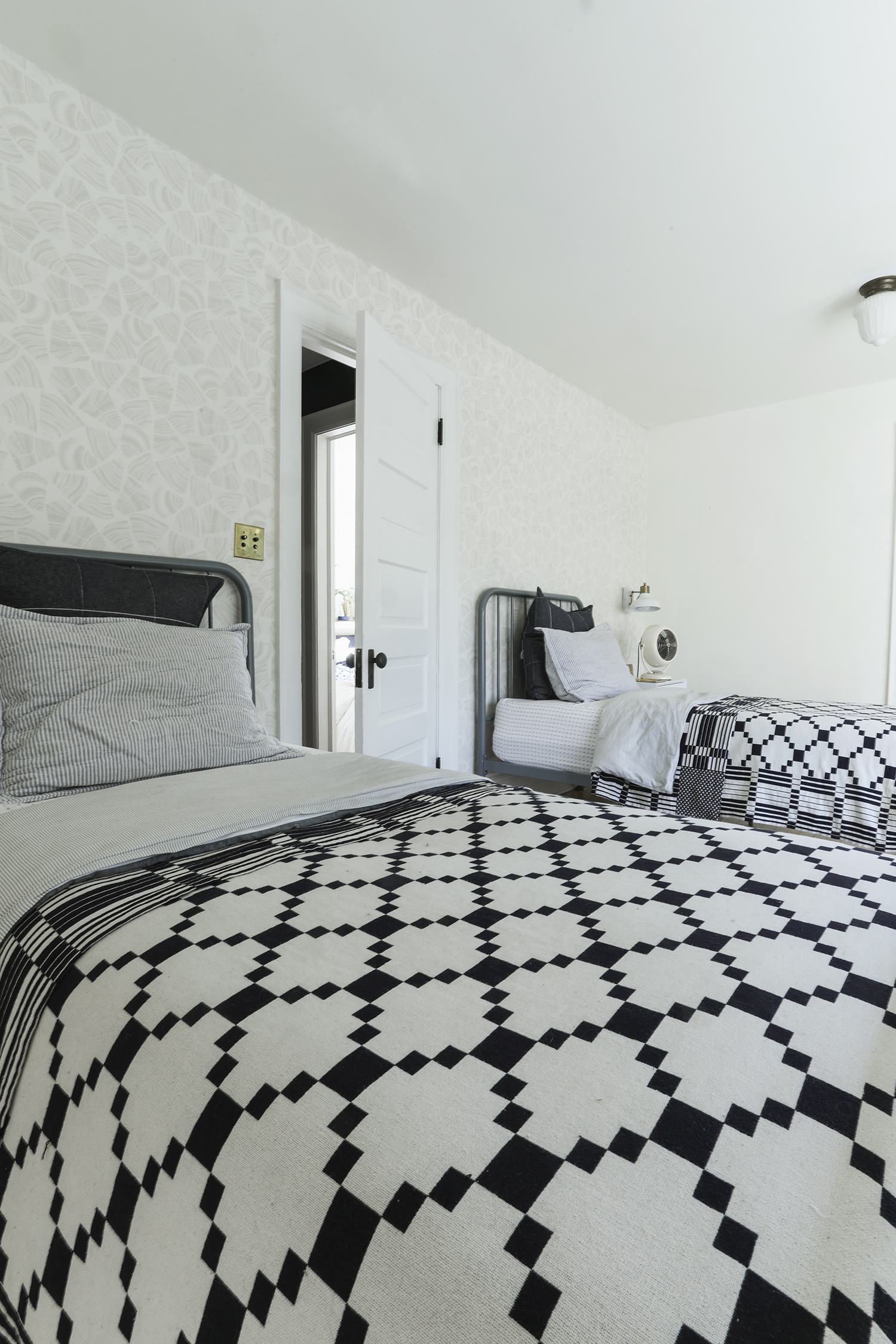 The Windows

Spiffing up the windows was a big part of this project! They needed a lot of TLC and I was really avoiding giving it to them. I knew it was going to be a lot of work and only having small chunks of time to work on them made it really hard for me to get after this looming project. Eventually I grabbed an entire block of hours one fall weekend and was able to get at it! They all needed to be lightly scraped, I patched a few holes and gouges with wood epoxy and then sanded smooth. They were dirty so I took time to wash them good before I started priming. All of the windows got shiny new unlacquered brass hardware that will have a nice patina over time.
Because this set of three windows faces west and is on the second story, this bedroom gets so hot in the afternoons. It was time to up our window covering game and invest in some light filtering solar shades to knock out some of that afternoon sun! We went with a solar 5% filtering roller shade in the color pearl that is inset into the window frame. We paired it with a blackout lined roman shade (in moorland moss) that is hung slightly outside the width of the windows. We've never had custom window coverings before and we think this is going to be a great investment in the comfort of this room.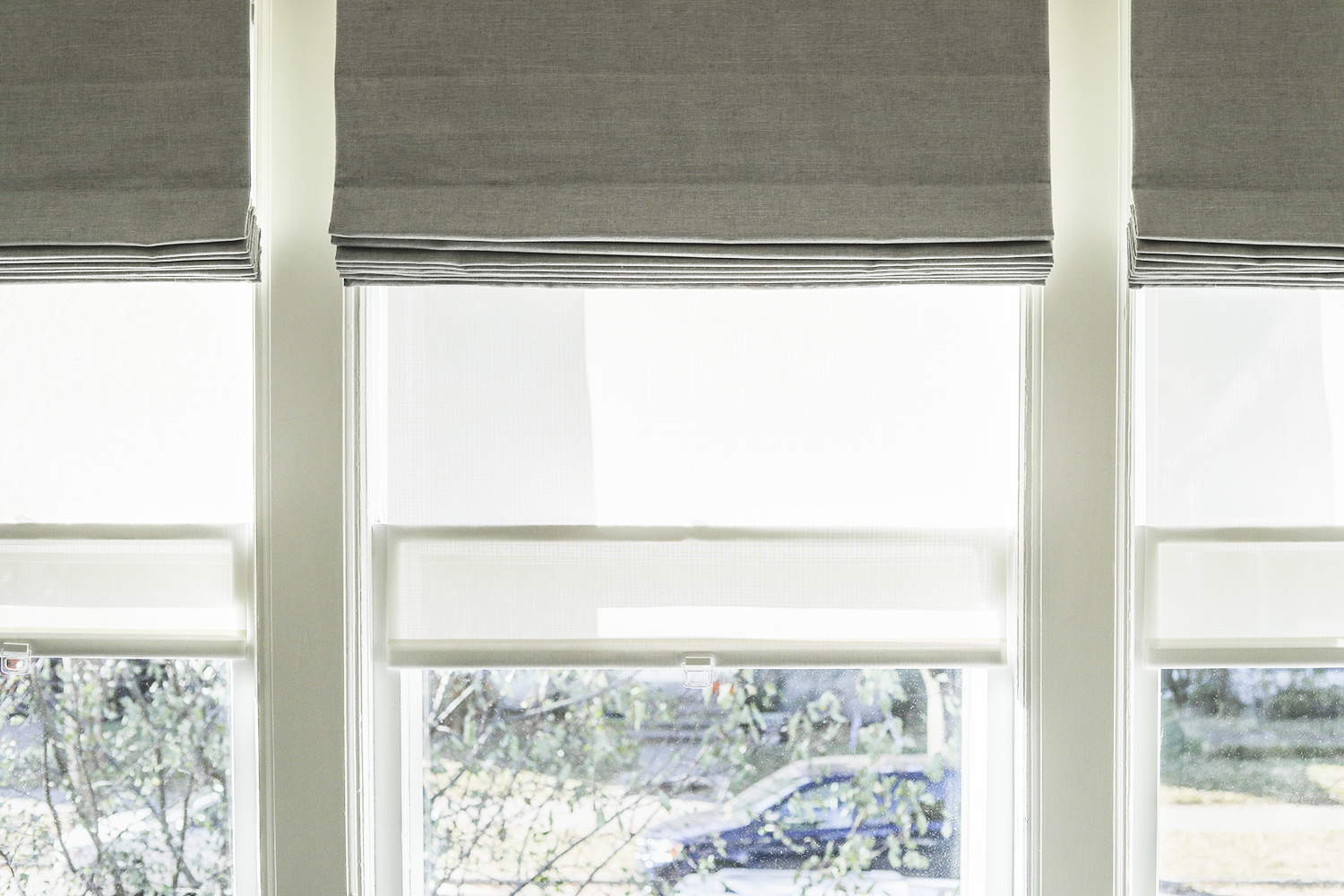 The Wallpper
I adore this wallpaper collaboration by Hygge & West and Askov Finaylson! I've had my eyes on it since it came out a few years ago, and I'm so excited I got to use it somewhere in my home. It also comes in a dark blue colorway, but I like how subtle this pattern was against the much bolder patterns in the room. I shared my wallpaper-hanging-process earlier this spring – again I've been working on this project forever!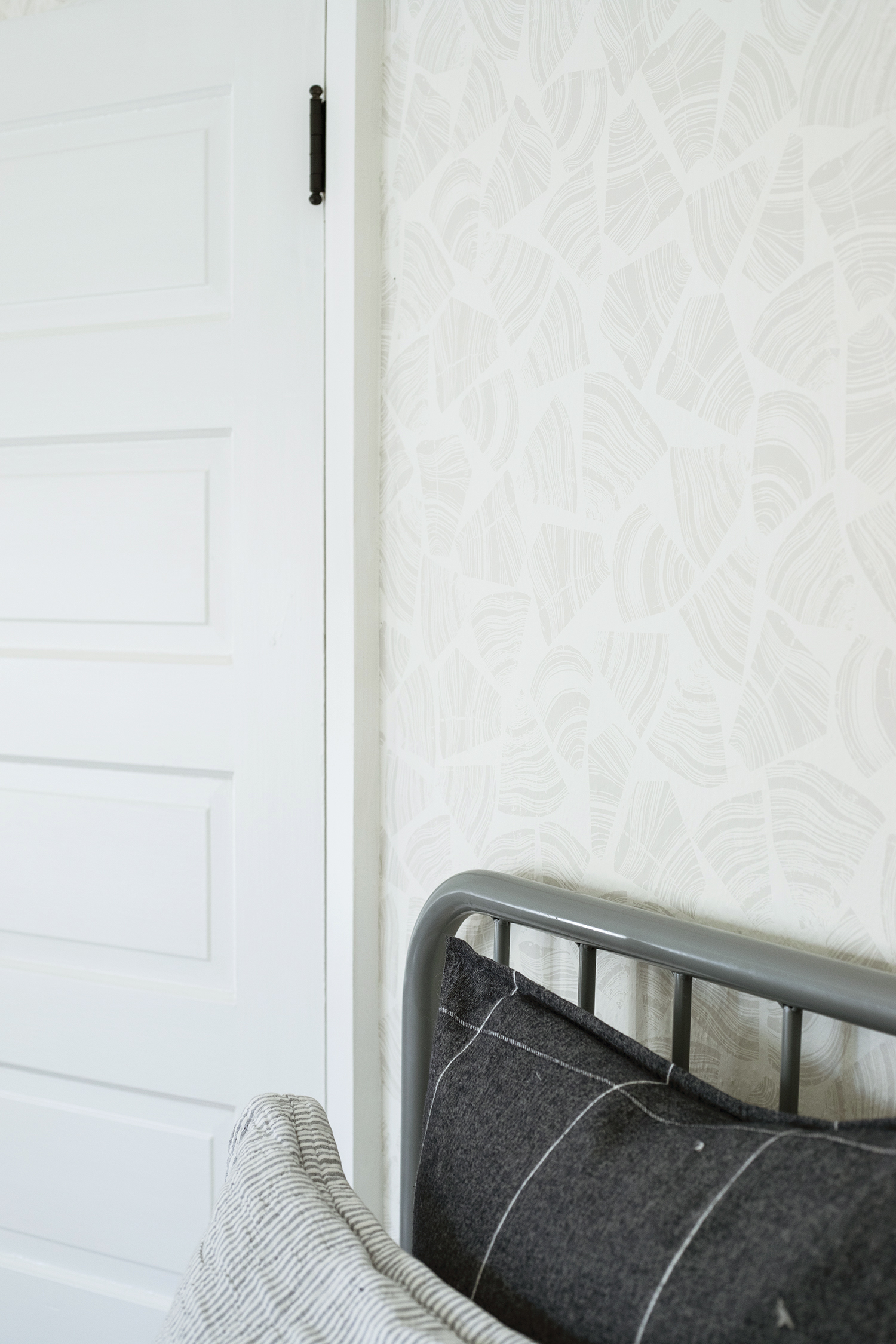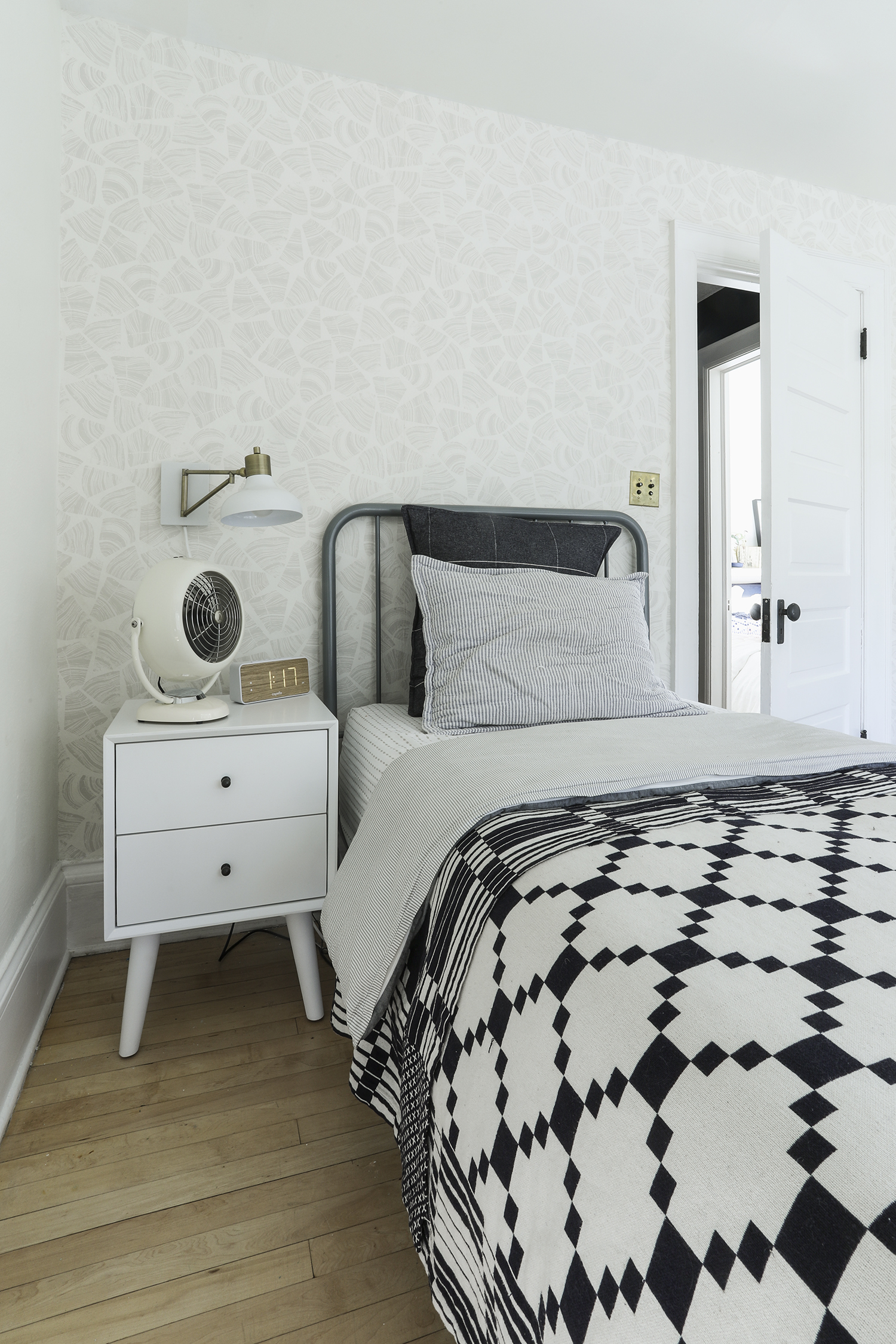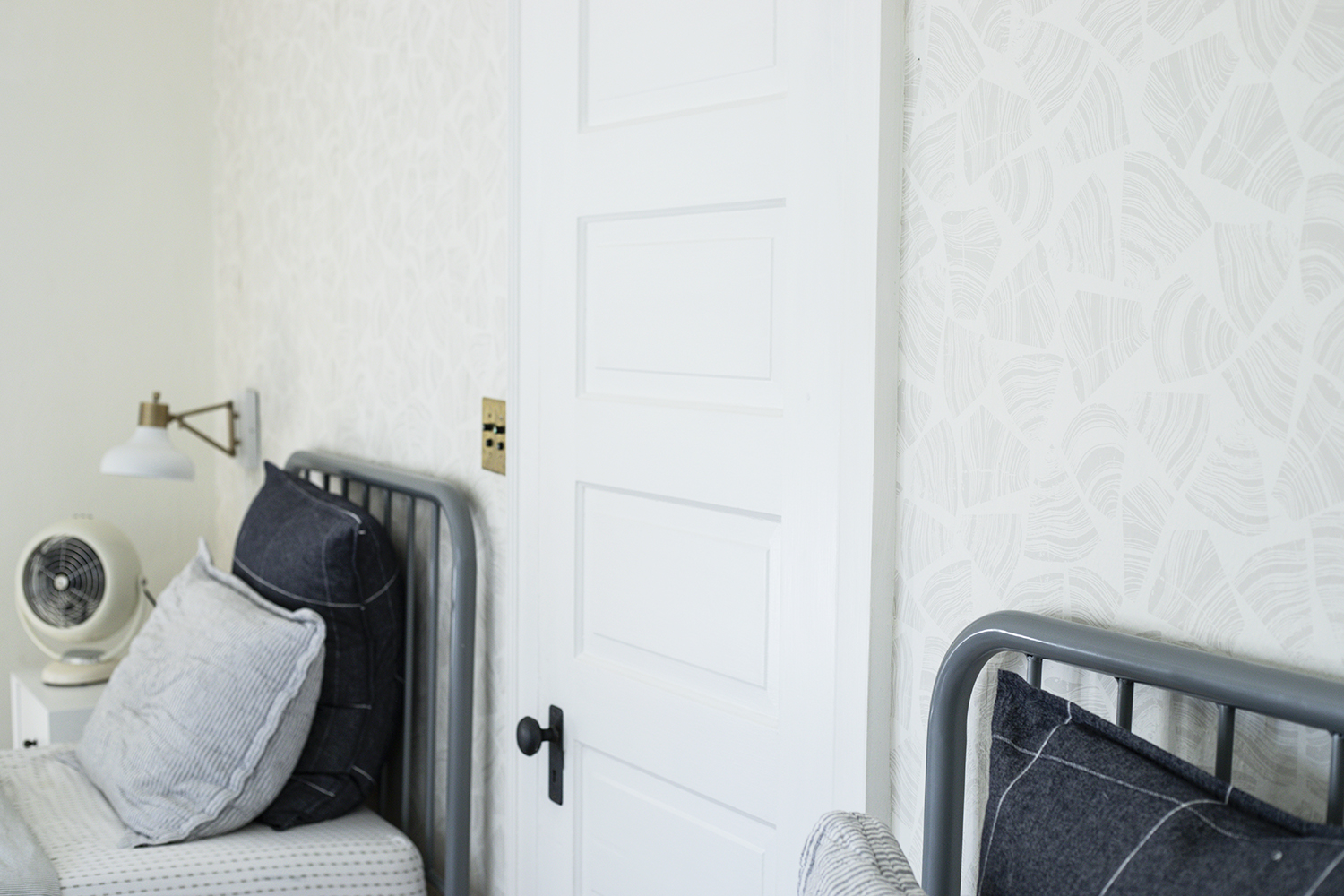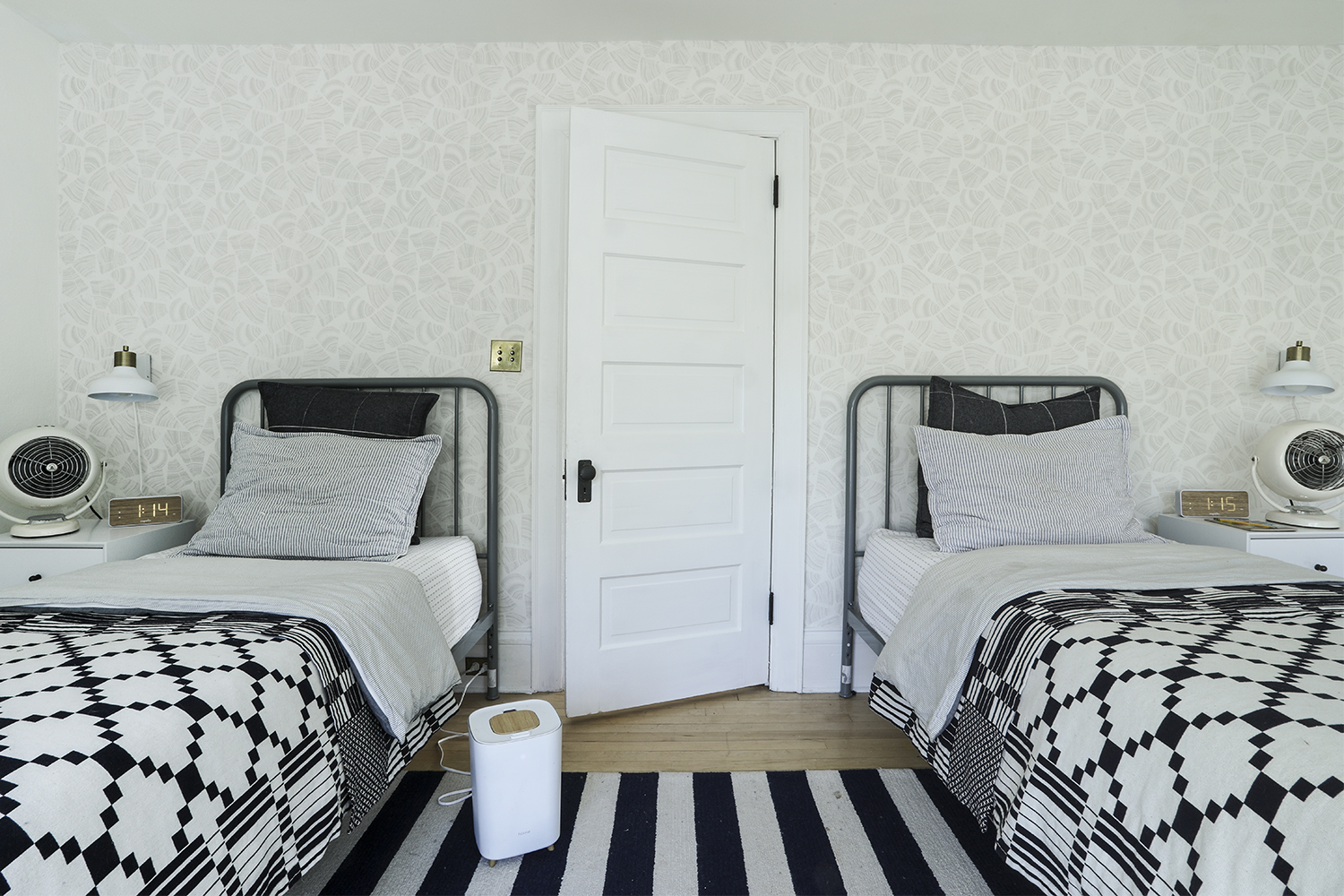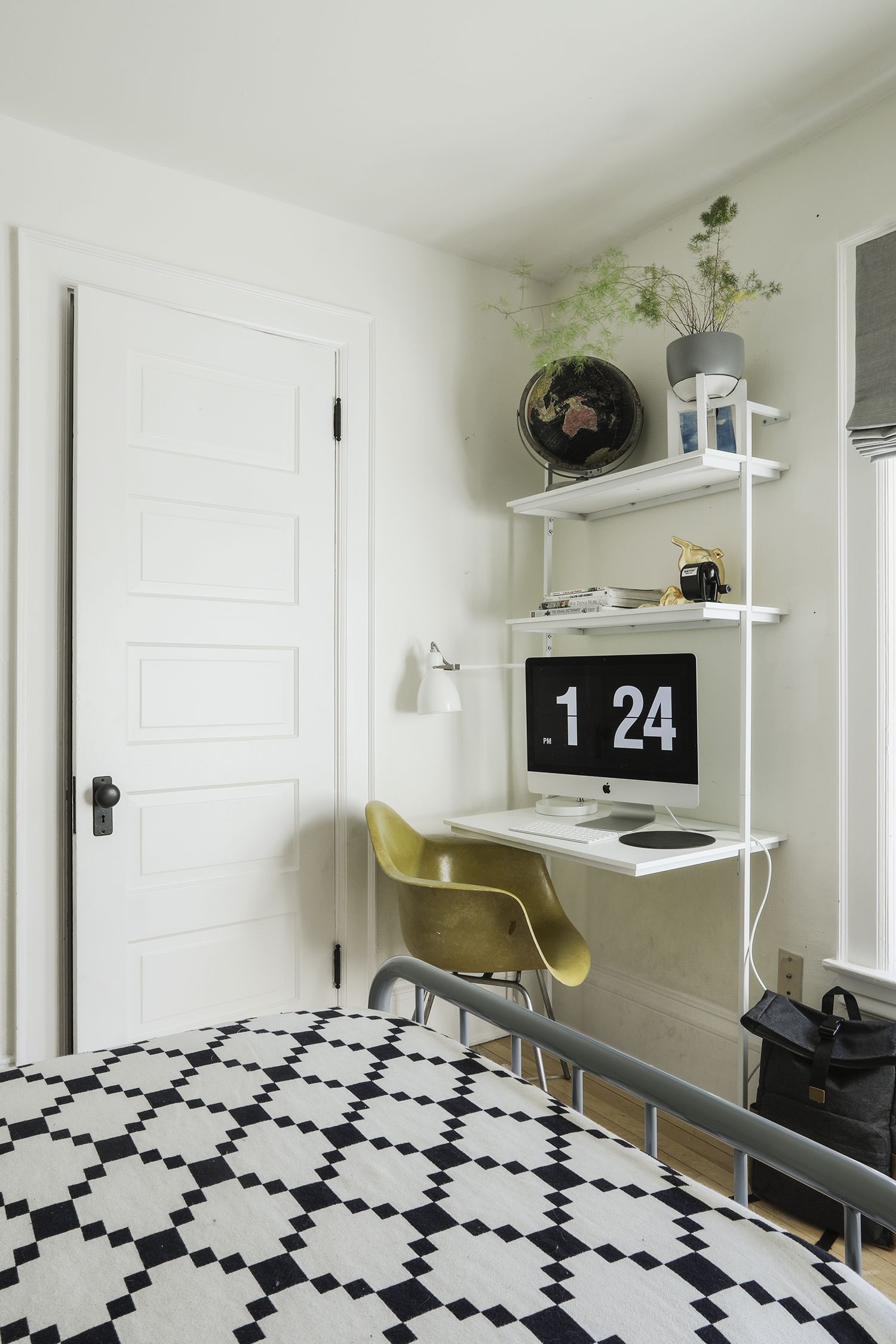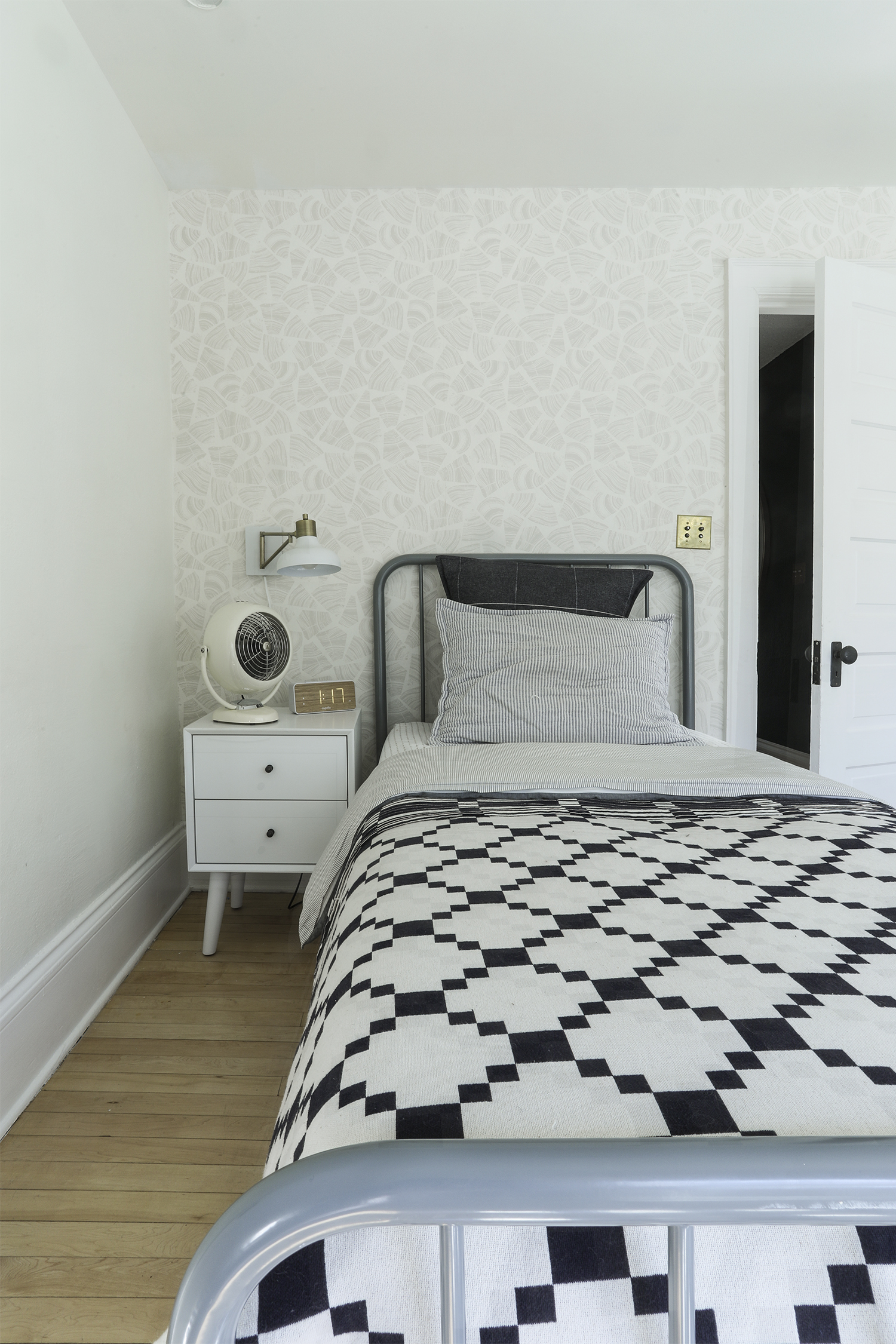 I feel so happy to have this project wrapped up! I hope it gives my kids a place to feel comfortable and comforted during this crazy winter to come. Thanks for reading!