Hello budz! I know I keep saying I am 'so busy' all the time, but I promise I will shut up about it soon. Life will be more relaxed after this week is over, and then I promise that I will begin to chat about new Ikea catalogs, my bedroom tanker project and other crap like that. I hope you don't hate me for dumping a bunch of non-housy posts on you and being very slow to respond to your great comments (I will I swear it) but this last month has just been nuts! July has been full of birthdays, bridal parties, weddings, cabins and CSA boxes. So before you decide to never come back and visit me again, let me share one more CSA recipe (because it's super good and it's one of my favs) and then I'll be back with some new home content.
In case you didn't know – My name is Alison Allen, and I am a watermelon addict. I have a refrigerator full of sliced watermelon all of the times. I eat it everyday as a snack, every morning with breakfast and late at night, whoops. When this recipe showed up in our veggie box this week I was amped, and it didn't disappoint this watermelon lova.
Did you dawgs know that watermelon can be served up in a super savory fashion with a little salt, pepper, olive oil and citrus? It's the best – not kidding. Don't forget that watermelon isn't all sugar and water it's actually made up of lots of good nutrients and provides a high amount of vitamins, minerals and antioxidants for a low amount of calories, blaow.
This recipe is topped of with some highly fancy and very french chiffonade chopped basil, and I've made something very similar to it before with mint – I bet there are even other herbs that it would taste tyte with it too. If you're looking for even more adventure (and quite a bit of onion breath), check out my old fav over here from Nigella Watson.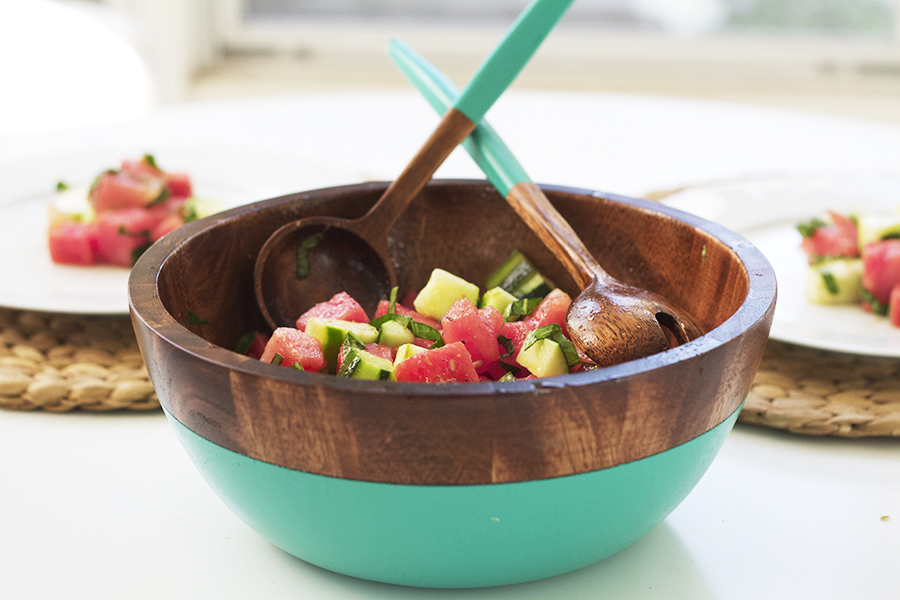 Thanks to redEnvelope for gifting me this super sweet turquoise dipped Acacia wood bowl with tongs. I totally love it and was in mad need of a new salad bowl.
Cucumber & Watermelon Salad with BasilRecipe from Driftless Organics


Ingredients:
▼ 1 cucumber
▼ 3 cups watermelon cut into 1" cubes
▼ juice & zest from 1 small lime
▼ 1 tbsp honey
▼ 3 tbsp olive oil
▼ salt & pepper to taste
▼ ¼ c. fresh basil leaves, cut into chiffonade


Cut watermelon into 1″ cubes. Peel long stripes into cucumbers, cut lengthwise, & scoop out seeds with a spoon. Cut into chunks the size of the watermelon cubes. In a serving bowl, whisk together lime juice, zest, honey, oil, salt & pepper. Add cucumbers and watermelon and toss gently to coat and serve immediately. Serves 4.