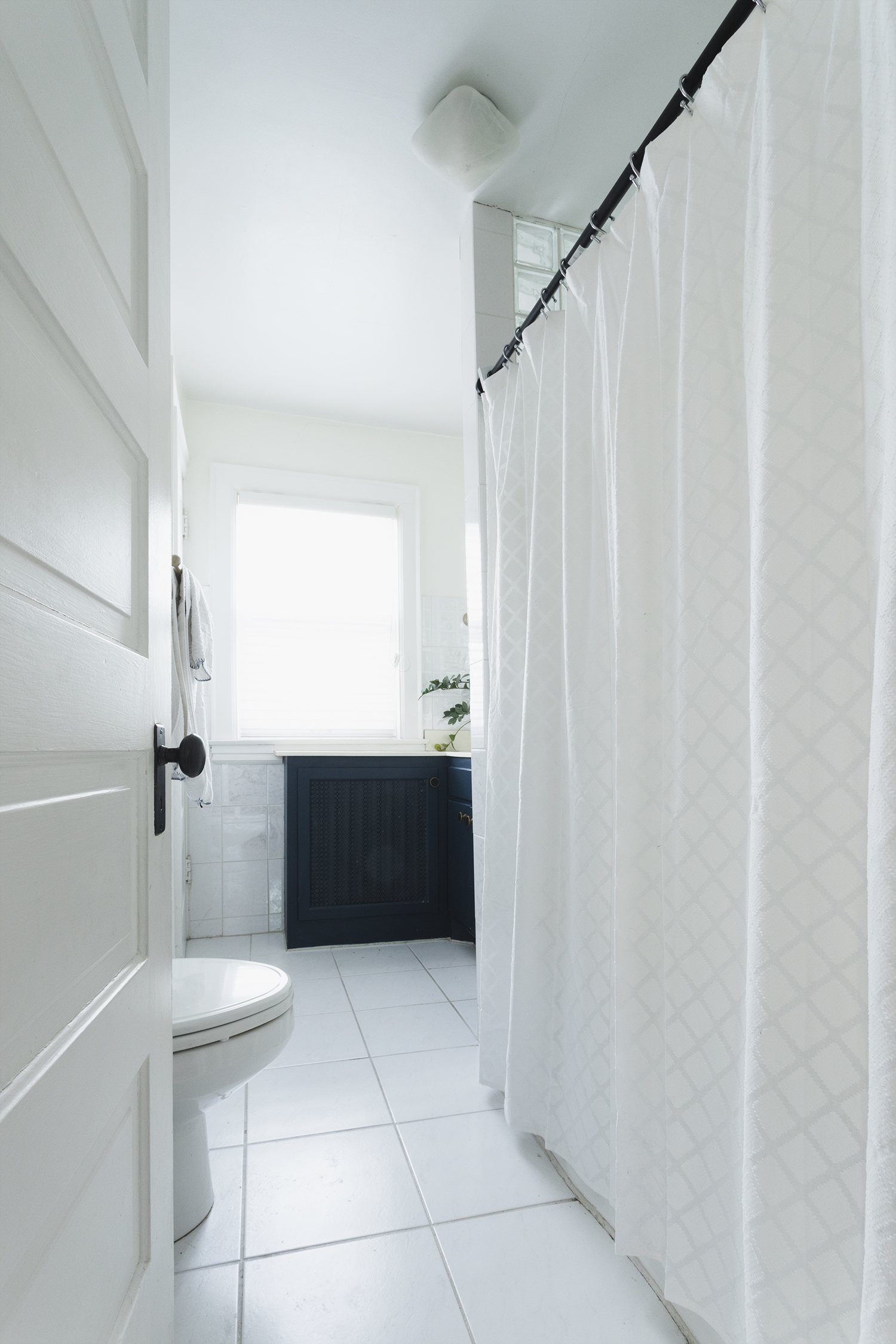 A lot of you have probably never seen our most used bathroom – our second floor bathroom which all four of use every single day. It's obvious that I haven't ever given it much thought or care. Welcome to my most embarrassing post. A quick recap, I painted the vanity and tried to spruce up the towel bars a few years back, but honestly that's all that we've done to this space. I'm thankful and feel fortunate that I inherited a white neutral palette from the previous owners. It could have been way worse, I'm sure. But I'm not fond of any of the tile. The flooring is dated and the grout is hard to keep clean, and the wall tile has a iridescent, marble-like print on it (although it reads white most of the time). There is also glass block tile too, woof.
After putting a little elbow grease into three bathrooms (1 | 2 | 3), I think it's time to tackle the most used bathroom of them all – but not in a full-on remodel sort of way, but in a give-a-little-tiny-shit sort of a way.
I think we can all agree that the first photo I'm sharing is not bad, but there is a lot that I'm hiding from you. Let me take you on a tour.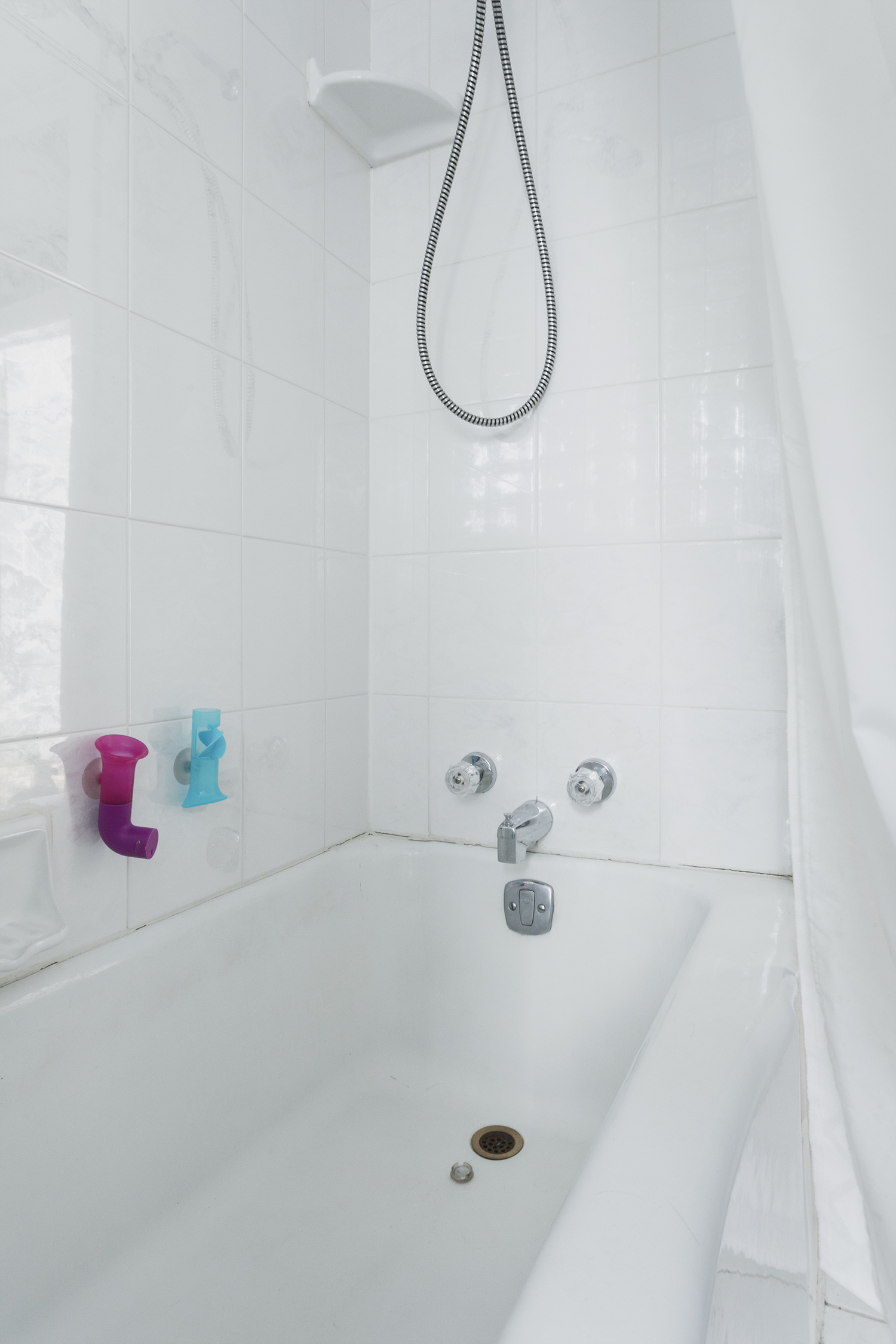 Caulking
The entire bathroom needs to be re-caulked. The old caulk needs to be removed and replaced with new silicone caulk. It is something I haven't done in years in this room, and it very much needs to be done. Doing that alone would give it a much cleaner look.
Tub & Shower Trim
I've wasted so much time looking into bath and shower trim for a two handle faucet configuration. "They" don't really condone two handled faucets anymore because of the risk of getting scalded by the hot valve. Thus, it is very hard to find any sort of replacement for our tub trim. However, I found a small box of extra tile, so it's possible that I could remove and patch in some tile so that I could install a more modern mixer valve. This project is way more of a mind melter than replacing the towel bar or painting the vanity, so it's gonna take me awhile and a lot of second guessing to figure out how to go about doing it. Anyone with experience on the topic, please leave a detailed comment below, please.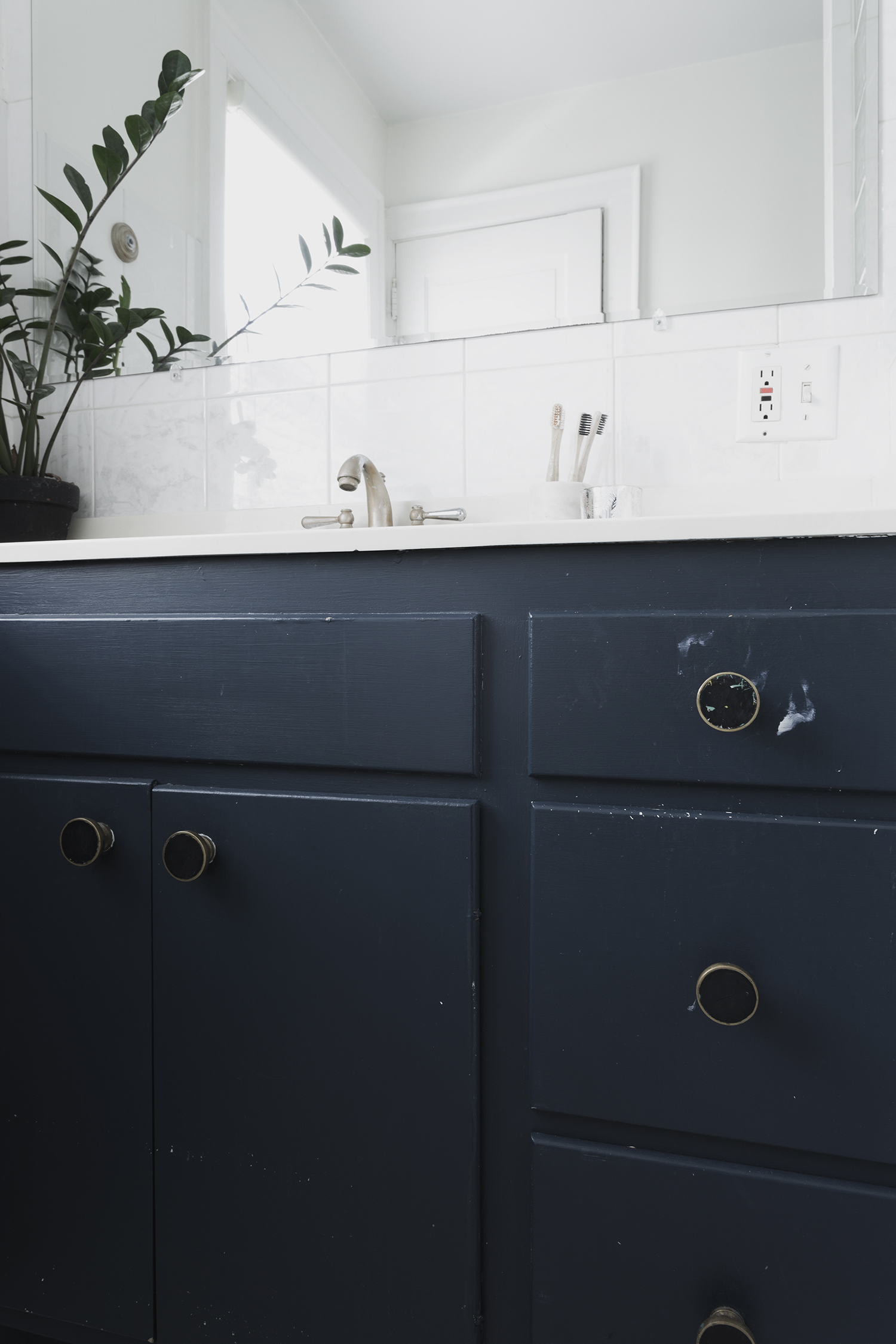 Painting
I painted the vanity hague blue by farrow and ball about five years back, but it obviously needs to be retouched. My kids are messy. It might be time for some new drawer pulls too.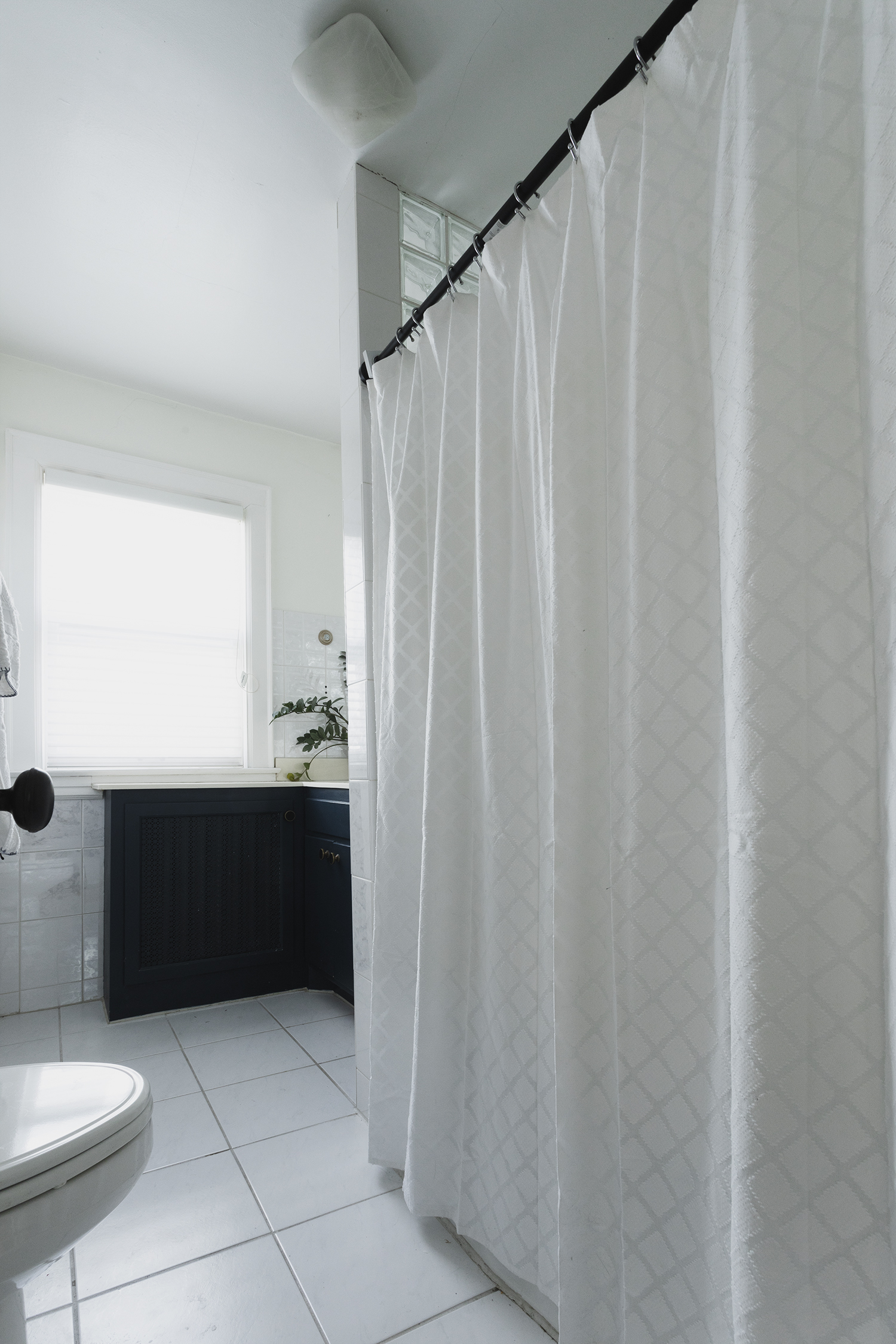 Lighting
I built a light fixture for over the mirror when I was going through my DIY lighting phase (still kinda am) so I can check that off the list. Howevez, I also need to replace the flush mount fixture in the center of the room. Q: How many Allen's does it take to replace a light bulb A: None, cause they are all lazy and they won't do it, even the tall one. The light bulb in the flush mount burnt out three or four years ago and it hasn't been replaced, cause why wouldja?. Like I said, we have given zero craps about this room.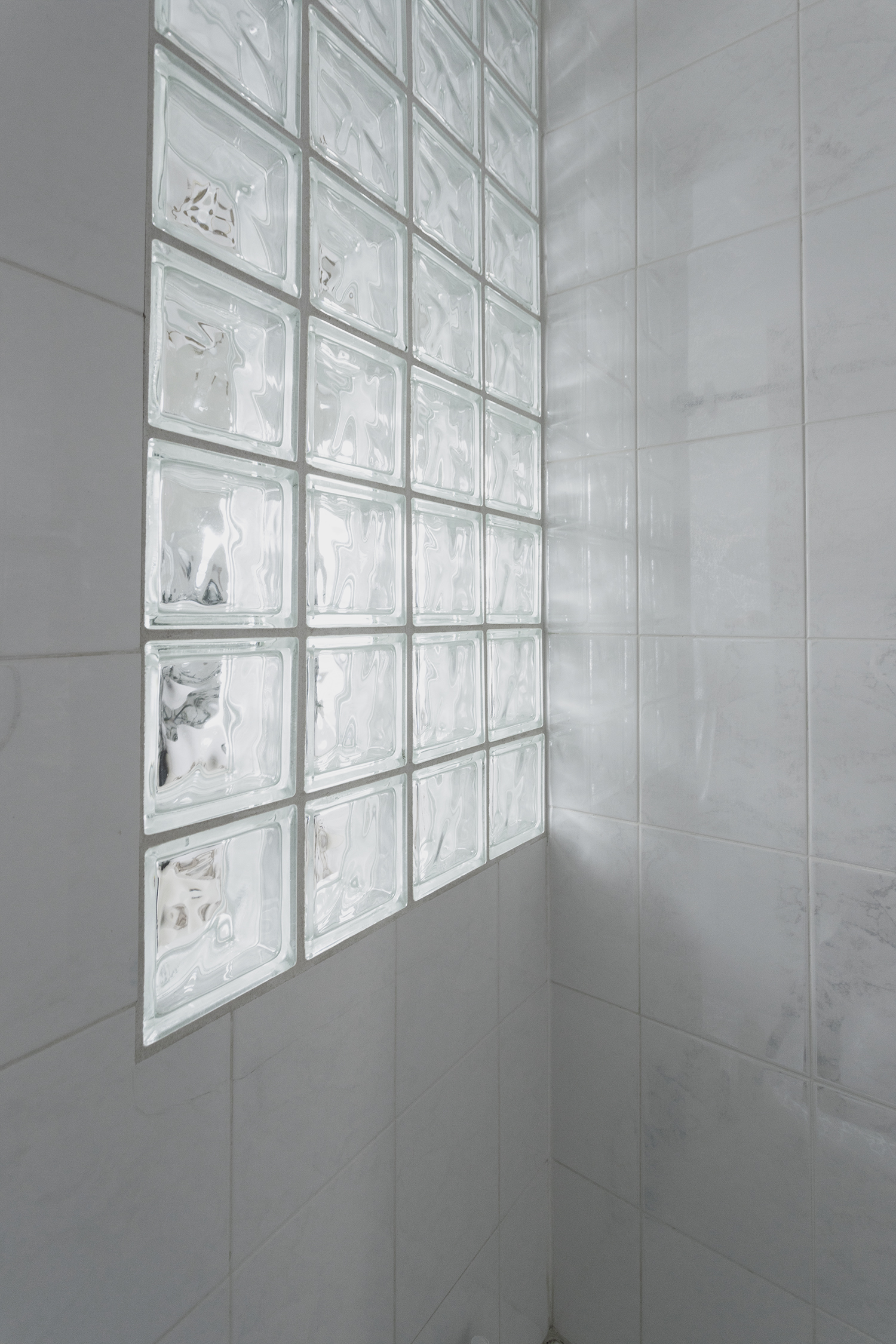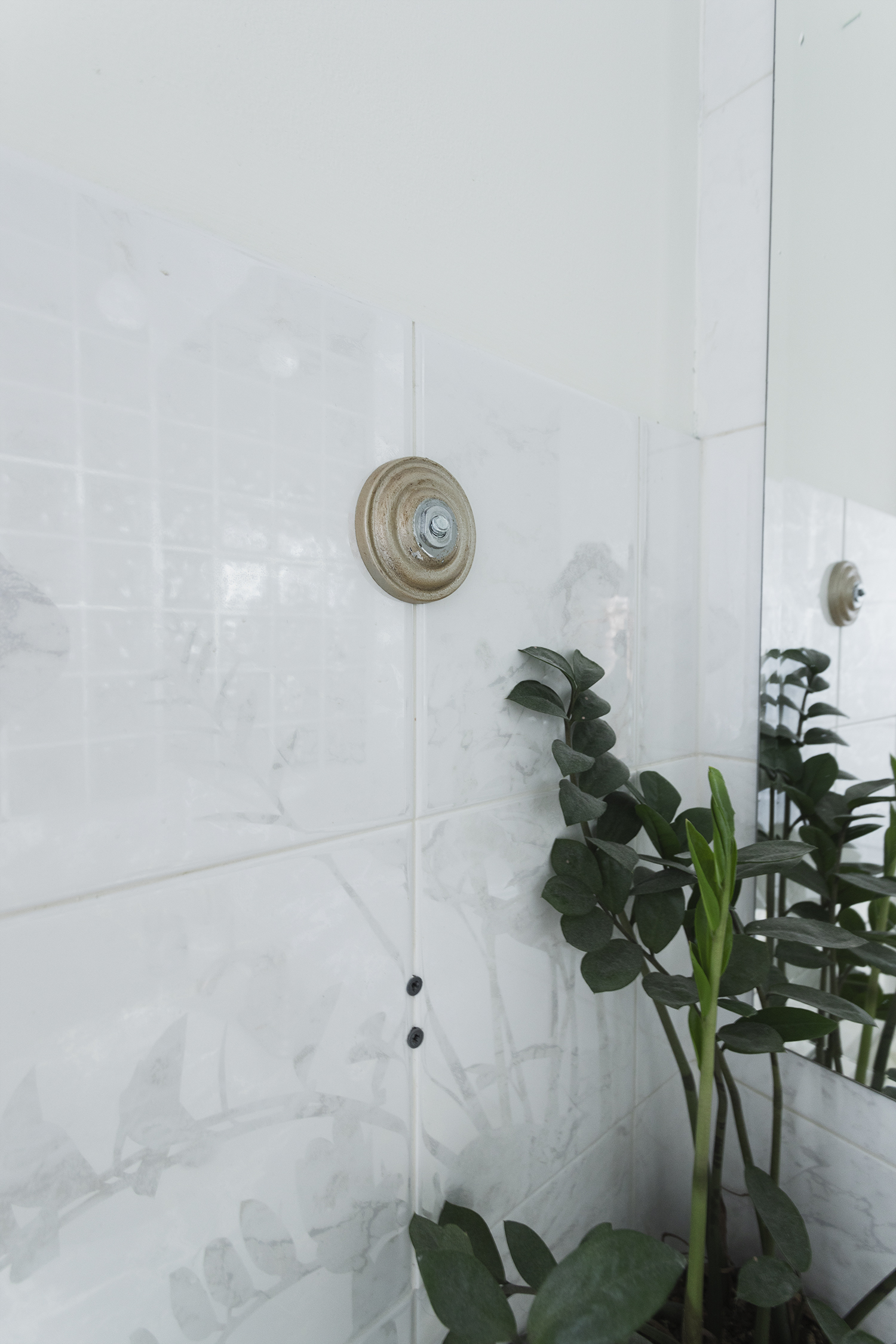 Toilet Paper & Towel Hangers
In an attempt to try and freshen up the space a few years ago, I painted the chrome towel hangers gold. Although it helped create a more cohesive look, the shape and design of the towel bars is not something I prefer, and I would like to update those with hooks – our family is more of a hook family. Also, most of them have fallen off the wall, so it doesn't really matter whether or not I ever painted them anyways.
The toilet paper holder has been broken for a year now, so we have come up with a new creative way to hang toilet paper on it. We are the worst. I'm sorry to all my guests who have ever had to use this bathroom.
Linens
Hi, I am a 38 year old adult mother of two who has never had a matching set of actual nice towels. We have matching towels at the cabin for god's sake, but not here at our home! The Allen's are going to get proper towels and washcloths this year, and they are all going to match!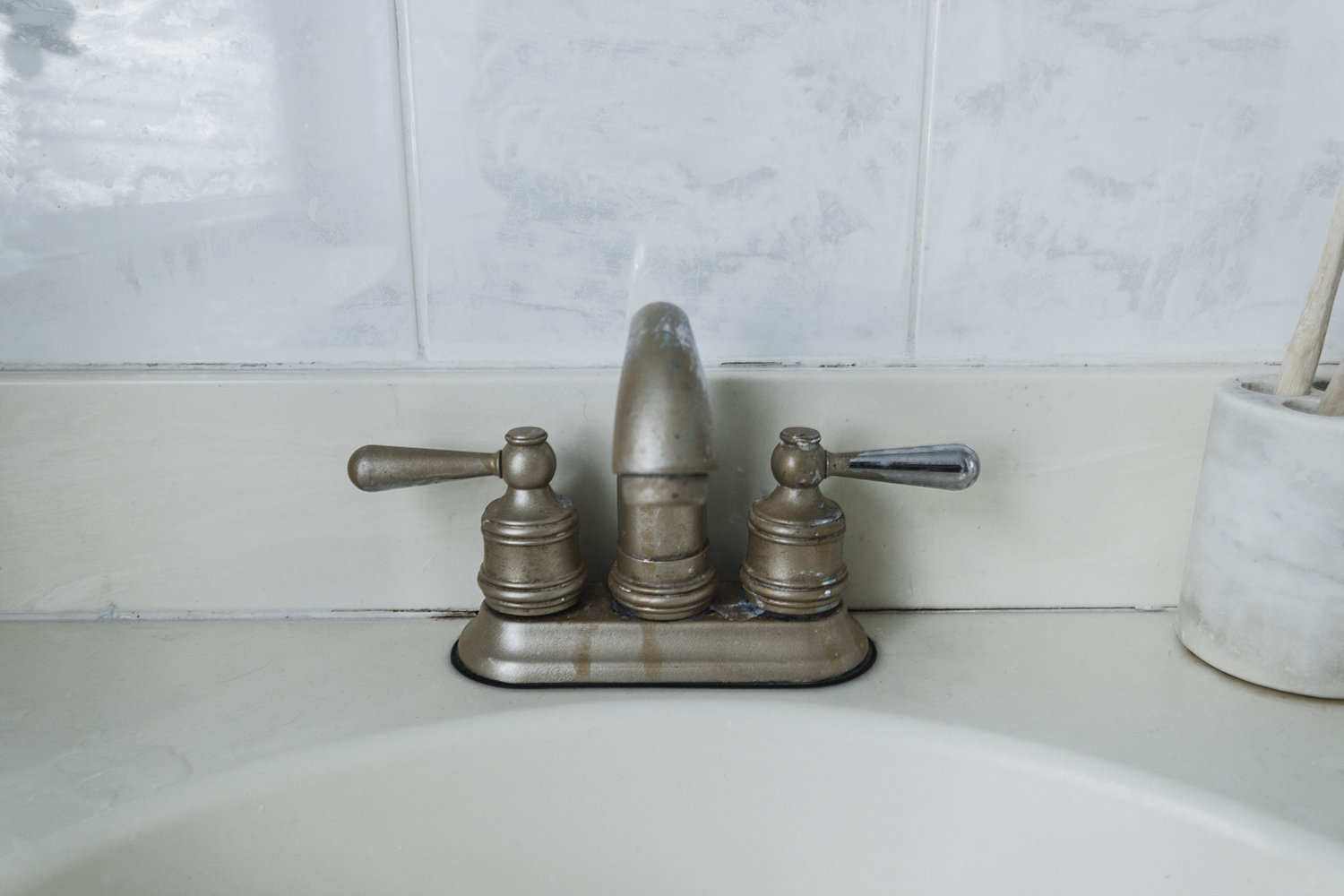 Fixtures
Probably my only spray painting regret was spray painting our bathroom faucet champagne gold. It's not the color I hate but the DIY paint job itself. I remember reading recently that someone on the internet had beef with folks who spray painted stuff because it wouldn't last and it wasn't fixing the problem. I have to say, I disagree with that sentiment. When you're in between a rock and a hard place, sometimes a little spray paint can bridge the gap between where you are and where you want to be. It's not always the perfect solution, but it can help make it better than it was. Anyways, probably don't spray your faucets, although I hated this faucet before it was spray painted, so it's a wash, but you probably shouldn't spray paint your faucets.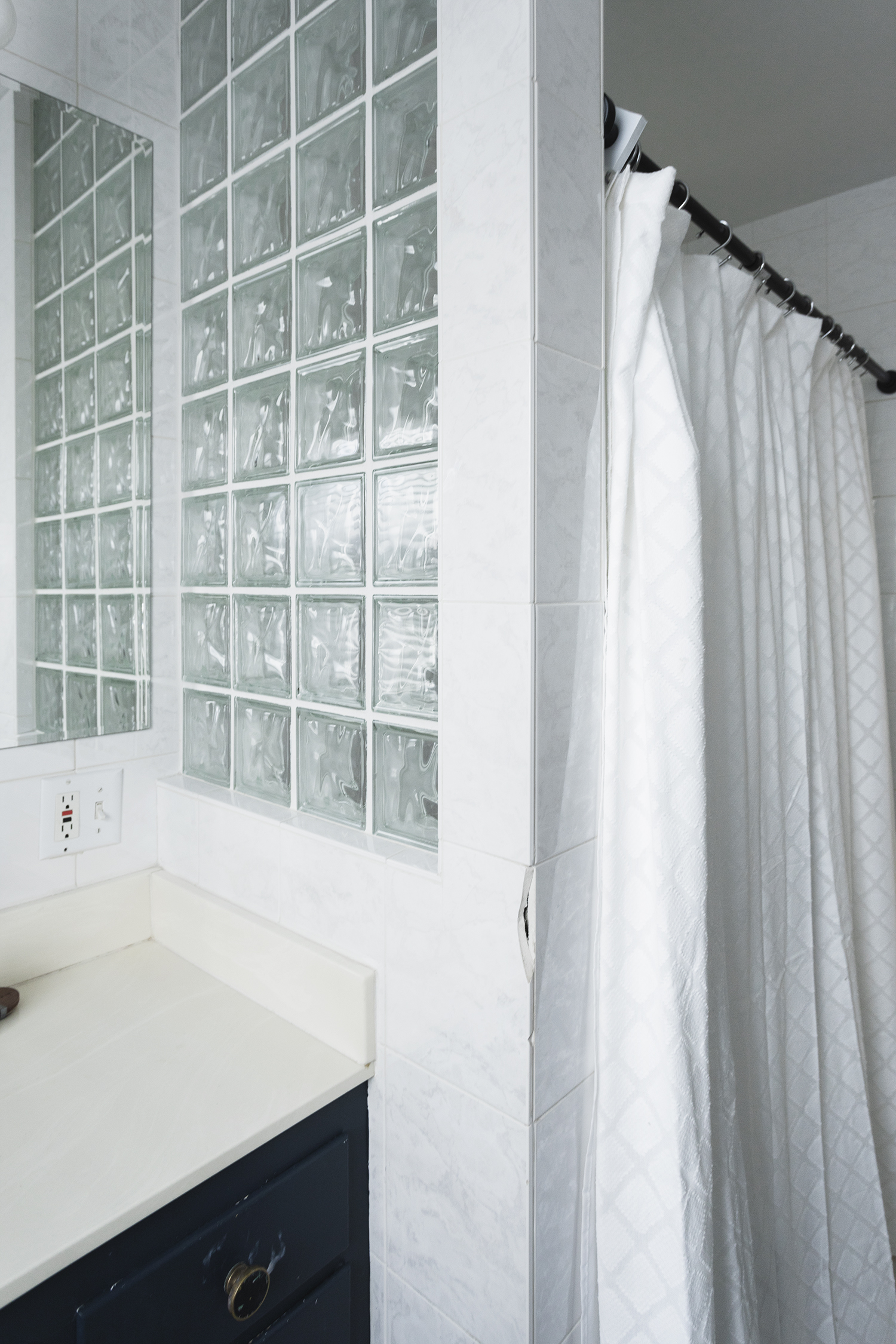 Tiling
Although I'd like to tile the whole bathroom, I feel like it would be a waste of resources. We still don't know how or exactly what we will be adding on to our house in the next few years, but we would like to take on an addition to the back of the house to make more room for our kitchen and thus potentially even our second floor. We don't know anything yet, but I don't want to renovate a bathroom just to demo it later. I do see value in fixtures and hardware because all of that can be reused if there were ever to be a proper bathroom remodel down the road.
Anywho, there is a small tiling project I can take on. I would like to remove the large square white tiles on the floor and replace them with a small black and white hex pattern. It would be more period to the house, and it would break up all the white that is happening in this space.
Also, there is a chipped tile on the vanity side of the bathroom that needs to be replaced. I have about 20 or so spare tiles in my possession, so I'll see if I can chisel out the old chipped tile and patch in the new.
The way I see it, there will be two phases to this project. Phase one will involve all of the easy cosmetic fixes to make it better in the near term. Phase two will be a little more involved, and will probably happen in the fall. Most likely I'll be tackling the floor tile project and the shower/tub trim conundrum then.
Don't forget not to judge me too hard!