Pssst, hover your cursor over the garden drawing

I'm not even going to acknowledge the fact that I woke this morning to temperatures that were pretty dissful for nearly March. Let's just pretend spring is happening now! Let's talk about that instead, okay? Finn and I were pretending that spring was already here when we started planning this seasons veggie garden, so there, take that winter.
This is our 3rd year of tending to a raised bed garden. If you're interested here are the links to years one & two. Every year we learn a little more about what grows well in our garden, what grows poorly, what we love, and what we don't like to eat. The first year it became obvious very quickly that tomatoes were not thrilled with the amount of sunlight on this side of the house, last year we realized that our peas need a trellis to grow on, and although I would love to grow cabbage, it wasn't even close to being fully grown by the time the first frost came around. All that trial and error makes us better gardeners (hopefully).
We adjust what we order seasonly based on our growing (ha, pun) knowledge. This year we are eliminating purple green beans, because the kids think they are weird an don't eat them, instead we are adding more "regular" green beans. Swiss Chard is getting the axe because although it was beautiful, even us grown ups didn't eat it. Instead, we are adding a bunch of new stuff, because as you may have noticed above there is an addition being added to the garden (more on that below).
This year we will be trying potatoes for the first time! I nearly blew Finn's mind when I explained to him that all we have to do is throw a sprouting potato in the ground and it will grow new potatoes, woah. We're gonna try our hand at beets, because through our CSA I discovered I love them, and we're adding a salad bar in the form of a new raised bed garden!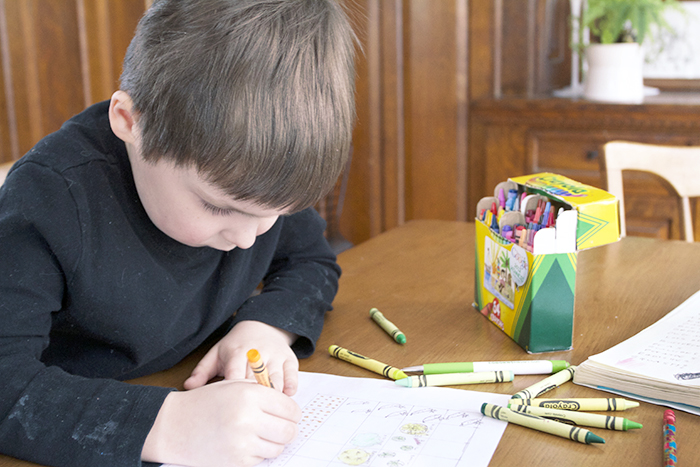 Finn is always really helpful when it comes to gardening, he gets excited to watch things grow. I can't blame him. Here he is planning out the garden – he's a math fiend and he cares more about the organization than the actual planning – I wonder where he get's that? I'm hoping to get my little guy Gus more involved this year too!
For those of you have kids, gardening has been a great tool for helping our kids understand where food comes from, and how much effort it takes to grow it. Plus, there is the added incentive of getting them to eat their veggies – this only works for us during the summer. It's all mac n' cheese and chicken nuggets for the other 7 months of the year.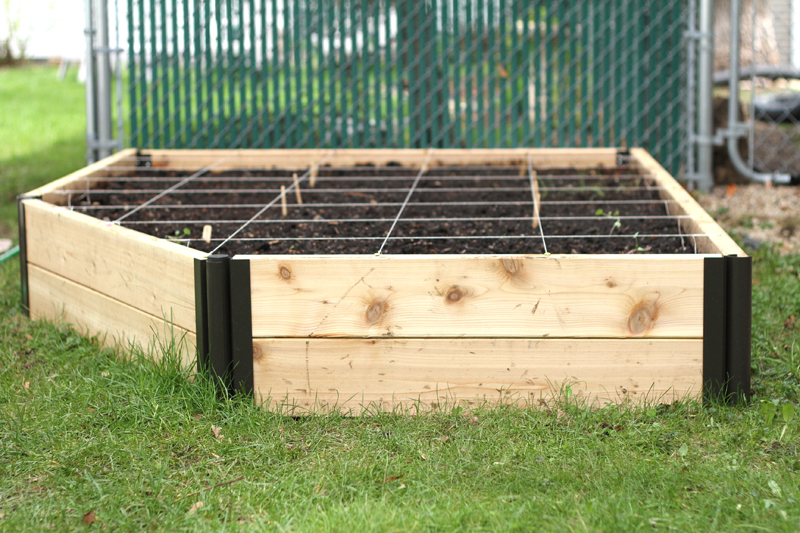 This is a picture of our garden from the first year! We built it using Burpee Pro Series aluminum corners since we needed our garden to follow the lines of our house. I mentioned above that the garden is overlooked by our dining room – the dining room has a bay window and we wanted to create a path between the house and the garden (see below). I mean, your garden has to look good, right?
My best advice is to keep thorough garden notes from year to year. Keeping notes has been very useful to us – the blog helps a tons, but I write a lot in my notebooks too. Without good notes I'd probably continue to try growing the same veggies every year, and continue to fail at veggies that just aren't happy growing in this location.
As I mentioned, we have big plans for this year, we will be adding on to our little veggie garden which makes its home on the south side of our house (right near our dining room window). Our side yard is only used as a pass through, and using the space for our garden has worked out well. However, it's not super sunny on the south side, and as a compromise we have to grow a lot of shade loving veggies.
Because we live in the city there is not a lot of yard space for our veggie garden. We have found a lot of success with the square foot gardening method, allowing us to get the most veggie-growing-space for our buck. I would highly recommend it to anyone considering starting a veggie gardening of their own. We plan on using the square foot method for our future garden addition, adding 16 square feet of new beds to the yard this year!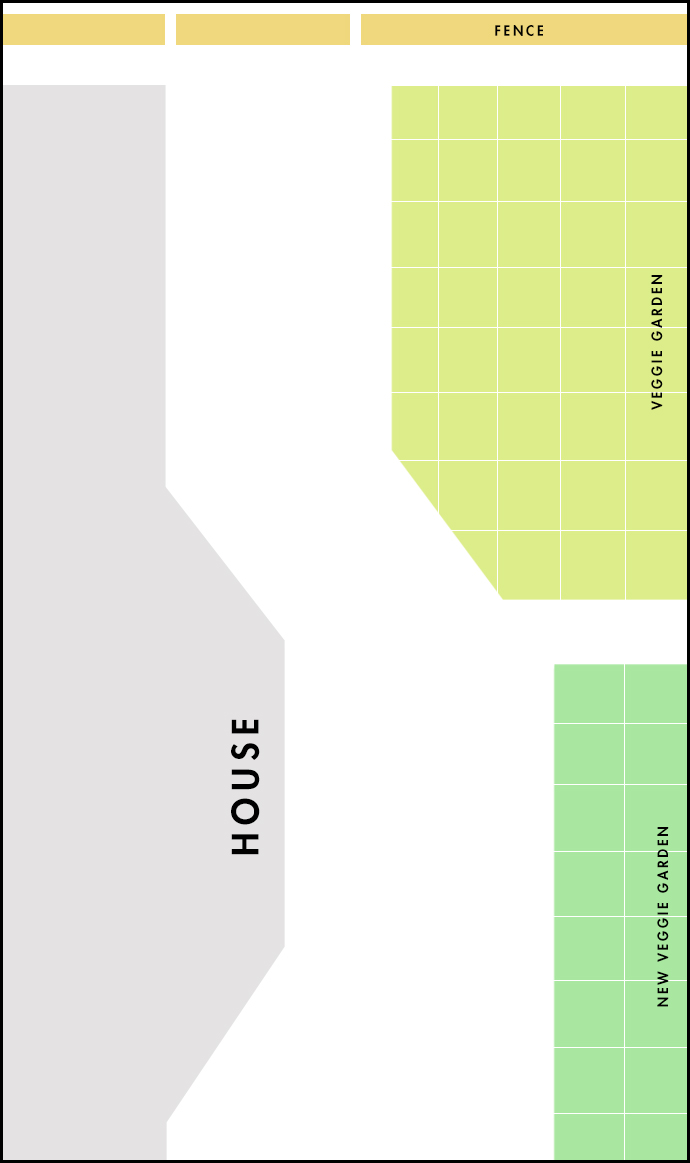 In the above image you can see the proposed addition. Jeff and I eat a lot of greens during the summer and I would like to make this new addition a salad bar, hopefully providing us with enough greens to eat at every meal. We love Arugula so we will grow tons of that! I can't wait!
In case you're curious (and because I like to take notes) here's a list of all the seeds we will be ordering this season! We'll be ordering all of our seeds from Park Seed.
▽ Yukon Gold Potatoes
▽ Chives
▽ Speedy Arugula
▽ Dragons Tongue Arugula
▽ Eureka Hybrid Cucumber
▽ Advantage Beans
▽ Jericho Hybrid Lettuce
▽ Master Blend Chef Seed Mix
▽ Sugar Snap Peas
▽ Parade Green Onion
▽ Cherriette Radish
▽ Lacinato Kale (NEW)
▽ Tendersnax Carrots
▽ Detroit Dark Red Beets