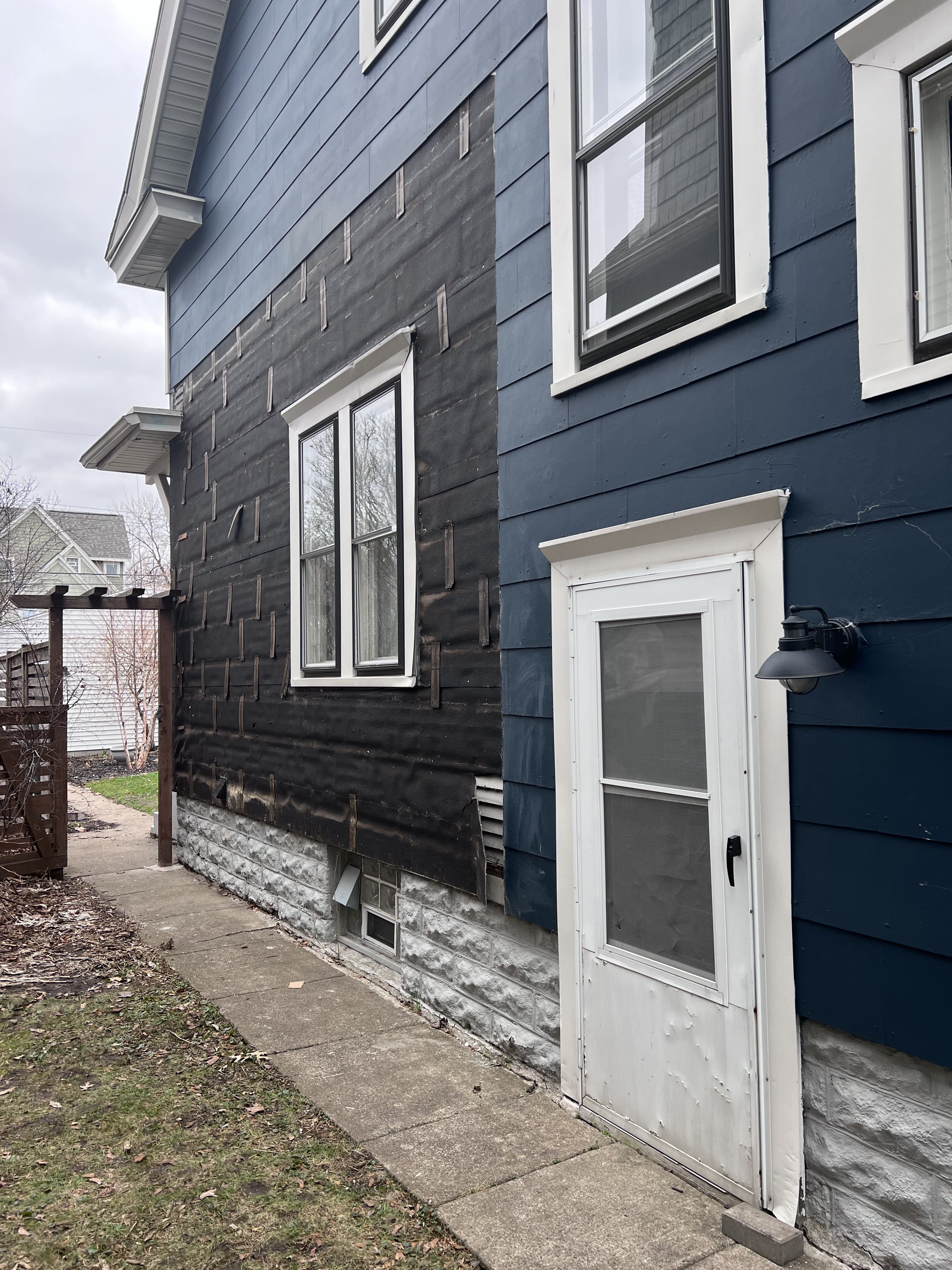 Hey Guys! Hope you have all been doing well. I've been doing great over here. I've been eagerly awaiting the beginning of our kitchen remodel and half bath/mudroom addition. It's started in early May (apprx 6 weeks ago) and it's slow going, so I've been taking a lot of snap shots as the days roll on to share here, and make time flash forward in blog minutes. To remind you, this whole project is set to wrap up the last week of October 2022. We are adding on to the back of the house which will allow us to take make our current kitchen/pantry/mudroom into one large kitchen and the new addition will allow space for a mudroom, coat closet and half bath! Outside we'll be adding a new stoop, walkways and patios. We are stoked!
The Carhartt guys start by removing the asbestos siding to allow for new window framing and the addition. This needed to be completed before any other work could begin. It took one day for a special crew to come in with ventilators and white suits to protect their Carhartts in order to abate all of the asbestos siding. Underneath is beautiful white clapboard siding, something I always assumed was there. If I could do all of the things I've ever wanted to do to this house no matter what the cost, I would remove ALL of the asbestos siding and restore the clapboard and trim. Unfortunately I have been told the old clapboard will all have to be removed due to lead paint, and it can't be covered with new siding because that's no longer standard practice. It breaks my heart in all sorts of ways. The good news is we will be replacing it with new clapboard siding that will harken back to what has been covered all these years. It's been really cool to look into the past and see all the details hiding under the siding and aluminum window wrap that I always knew would be there. I'm documenting and taking lots of photos of every little detail.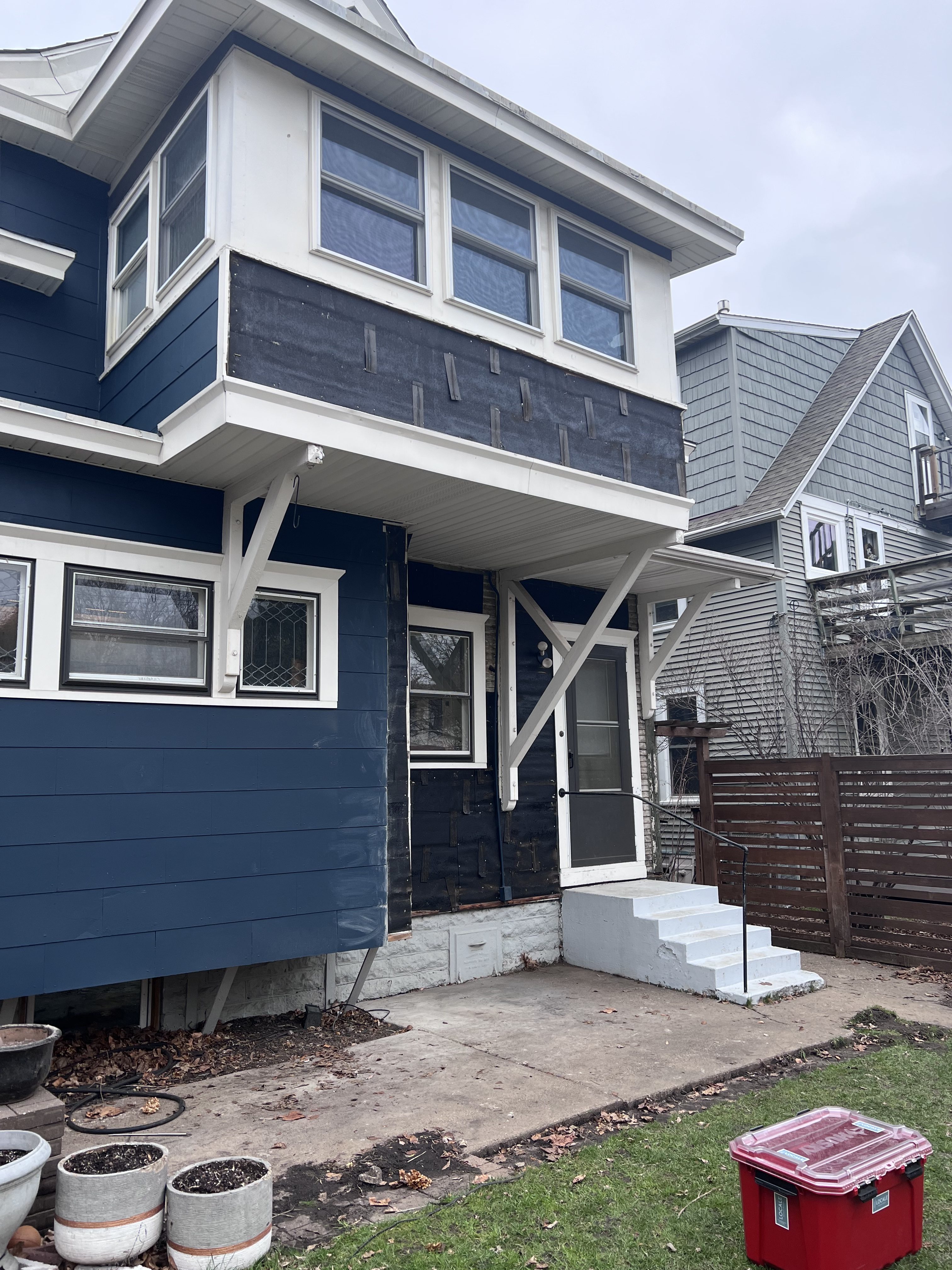 In the back they removed the siding from the kitchen wall and the sunroom above.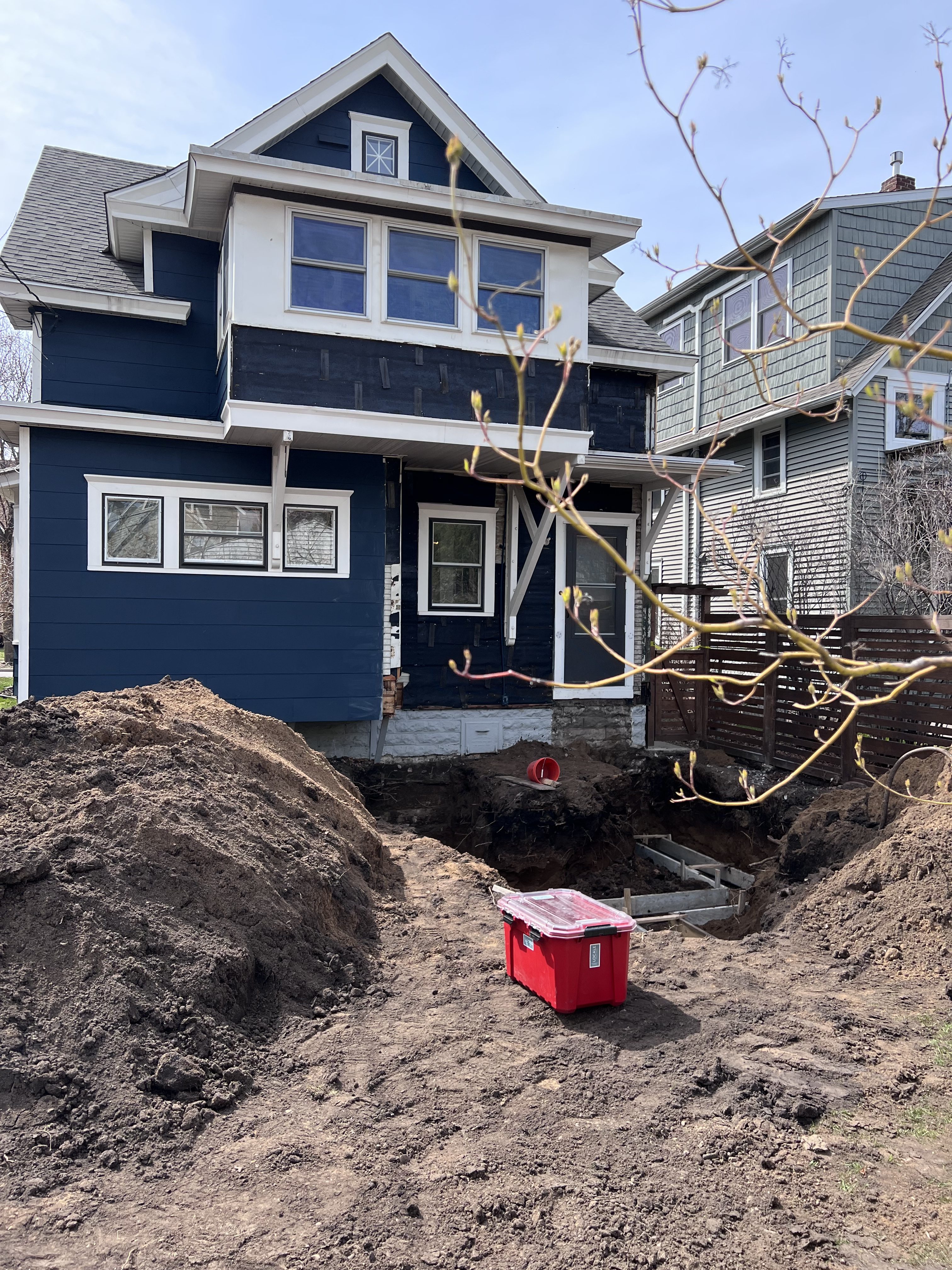 Excavating began later in the week, I was very naive and thought that it would result in minimal damage of the yard and surrounding gardens. I honestly thought it would be a small pile of dirt. Scoops! You're such a dummy. On the bright side, I'm very thankful that we started in May because I was able to dig up and temporarily re-home all of my perennials. The lawn is a goner. I just keep staring at the dirt hoping that it will just turn back into grass. Shit.
These shapes in the hole are forms for the footing. Concrete will be poured into them and allowed to sit and harden up over the weekend. A few inspections are passed and we are good to go. This house is secure.
The small rectangular block configuration you see off of the back of the house is also a footing, but for the new concrete stoop that will be poured in the next few weeks.
The Carhartt's begin the setting of the foundation. Hard work for a couple of hi-vis dudes. This part takes nearly a week to complete.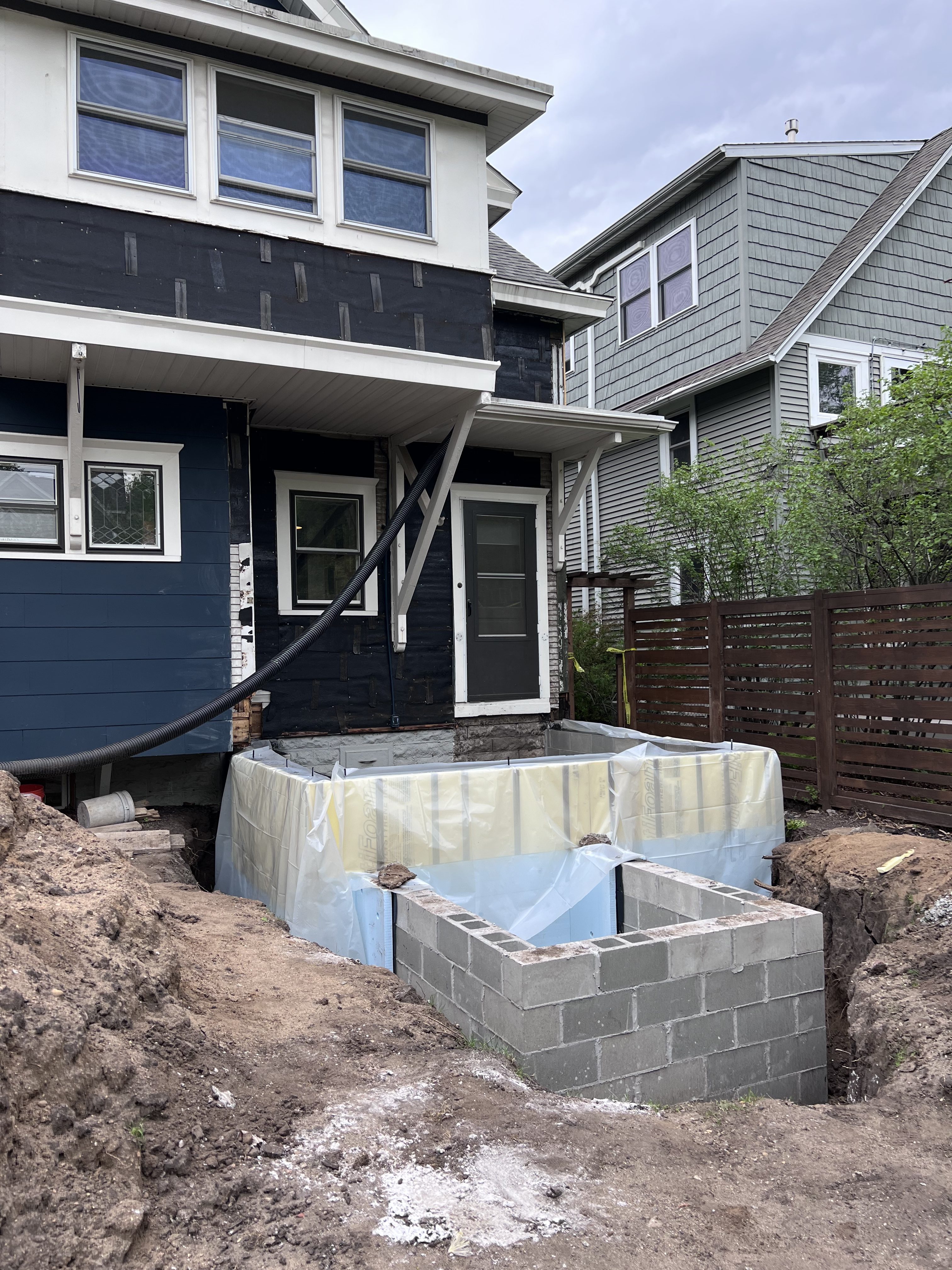 I'm genuinely impressed by all the specialty contractors, there seems to be a different team for every stage of the process. This part was done by an insulation company. They slopped on some black goo, and then cladded the foundation in rigid foam insulation and plastic. It'll be moisture resistant as fuck.
Yeah buddies, the dirt gets put back! The new backfill means my yard can be traversed. I can now bring the garbage out to the alley and get the lawn mower from the garage to cut the grass in the front yard, I have regained control of my backyard and my life.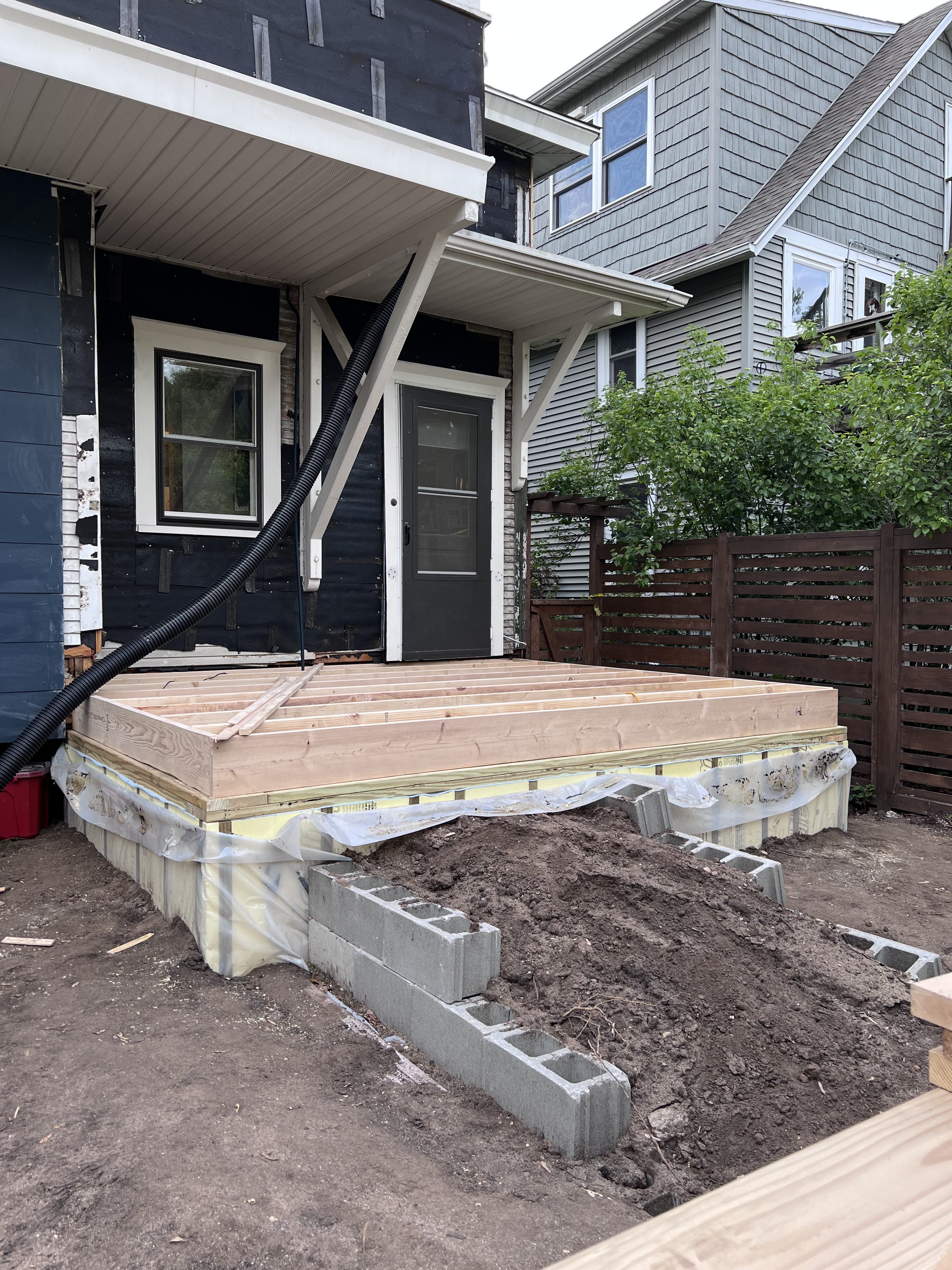 Framing has been my favorite part, maybe not so much for my guy Ben who has been tirelessly working hot days to get this knocked out. It seems to change shape every few hours. My years of This Old House fandom are paying off and I am in awe of seeing in real time how every little thing is coming together. I spy on Ben's progress all day long and make countless trips to the garbage so I can get a peek at the transformation.
If you squint you can see where the back door will be (on the left) and bathroom window (on the right). There will be another window framed in on the inner wall.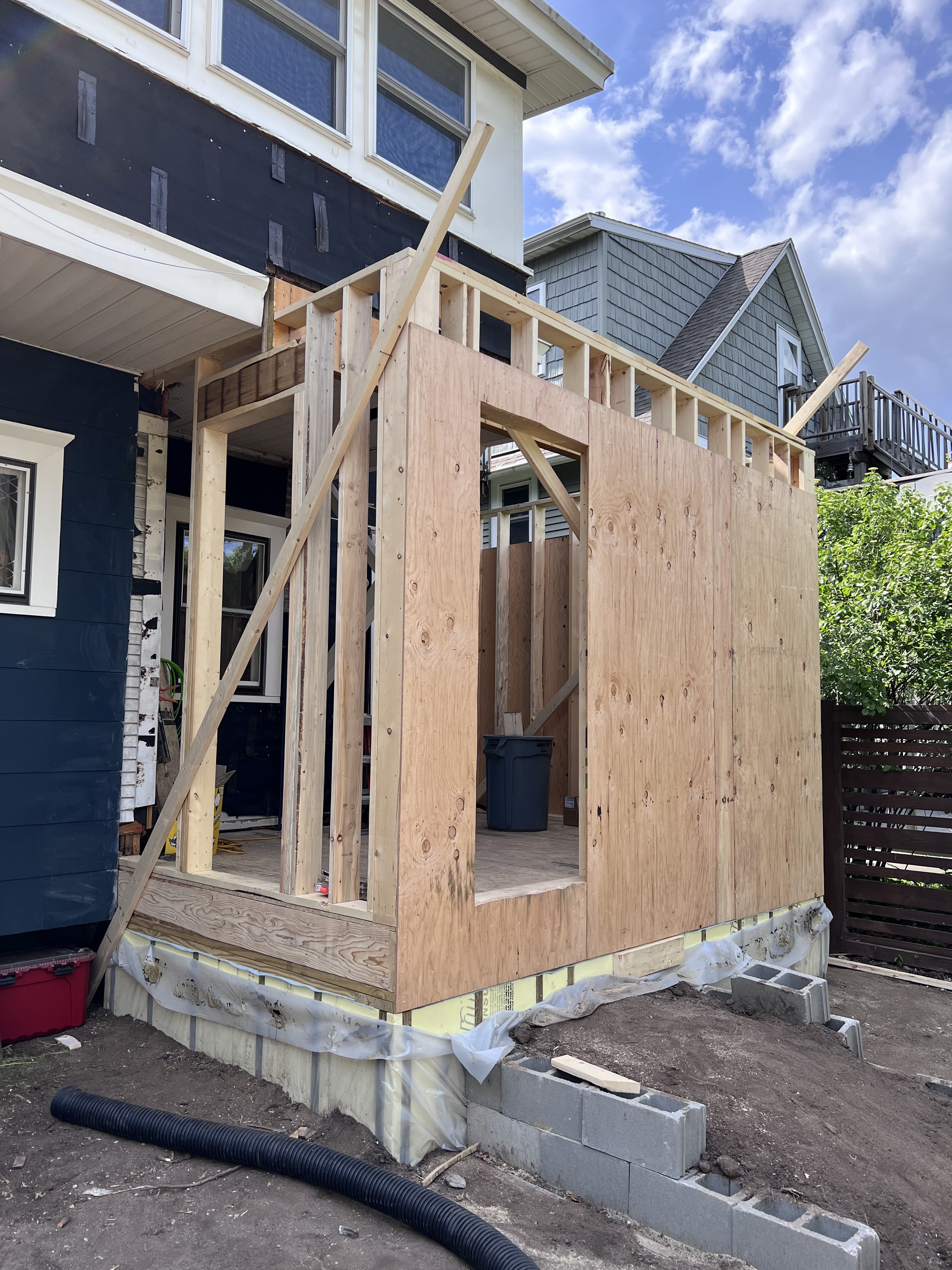 So here's the thing, this addition also acts as a privacy screen from my duplex neighbors upper deck. This deck has always peered directly down into our backyard and makes our practically perfect private yard feel unprivate. Our new future patio will fit snug in the corner the new addition creates. No more prying eyes of neighbs. Stoked.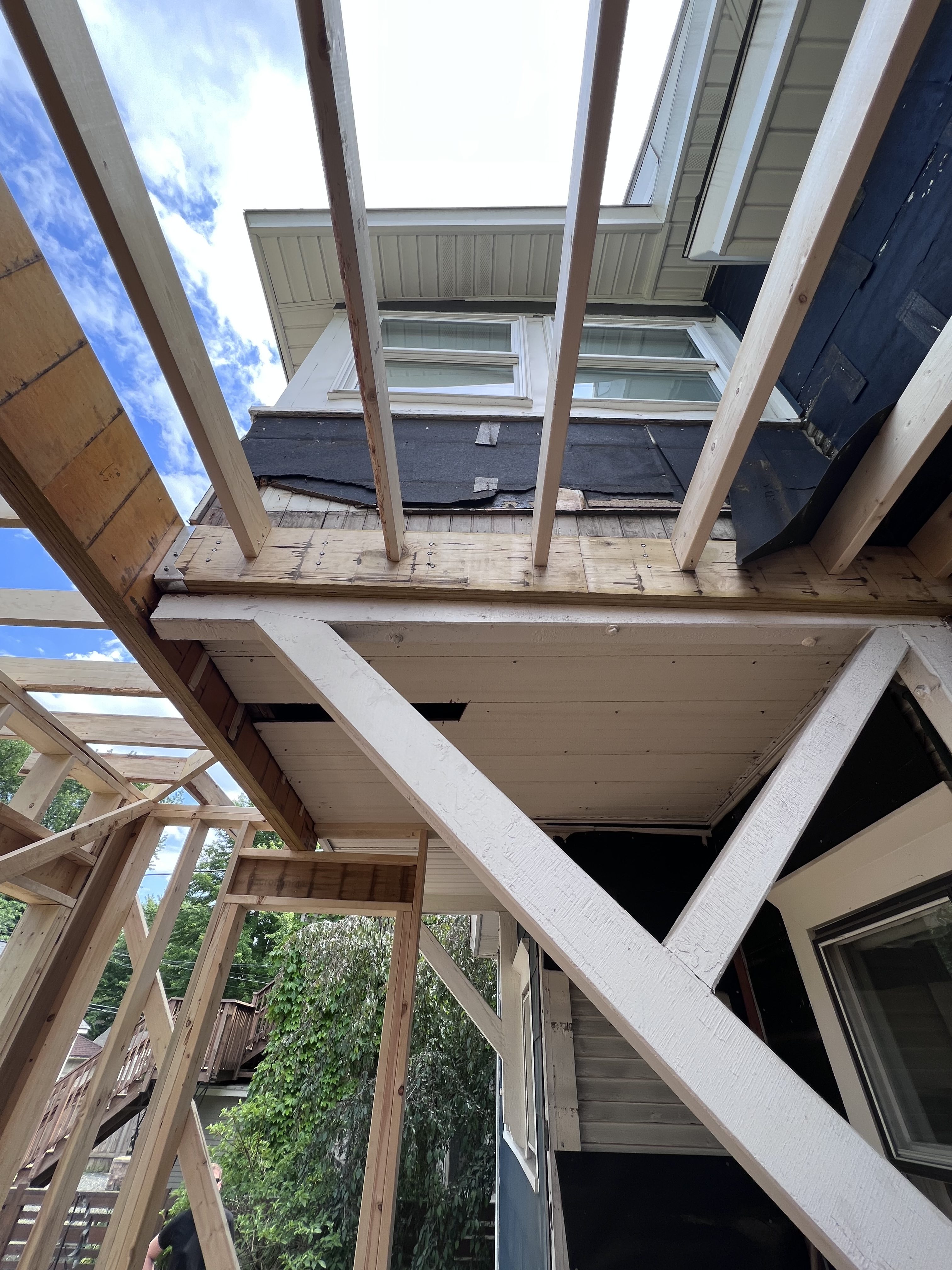 I'm doing my best to understand all the engineering that's taking place here. That this white bracket will be removed once the interior wall is framed in. My guy Ben put in that giant LVL header in all by himself. I have no words for how impressed I am. I like to think I can do whatever I put my mind to when it comes to learning new carpentry skills, but I don't think I could ever do that. The addition ceiling will be dropped a few inches lower than the kitchen ceiling in order to hide the behemoth of a beam. The kitchen ceiling is nearly 9 feet tall, so I don't anticipate it being a noticeable difference – maybe 6″ or so.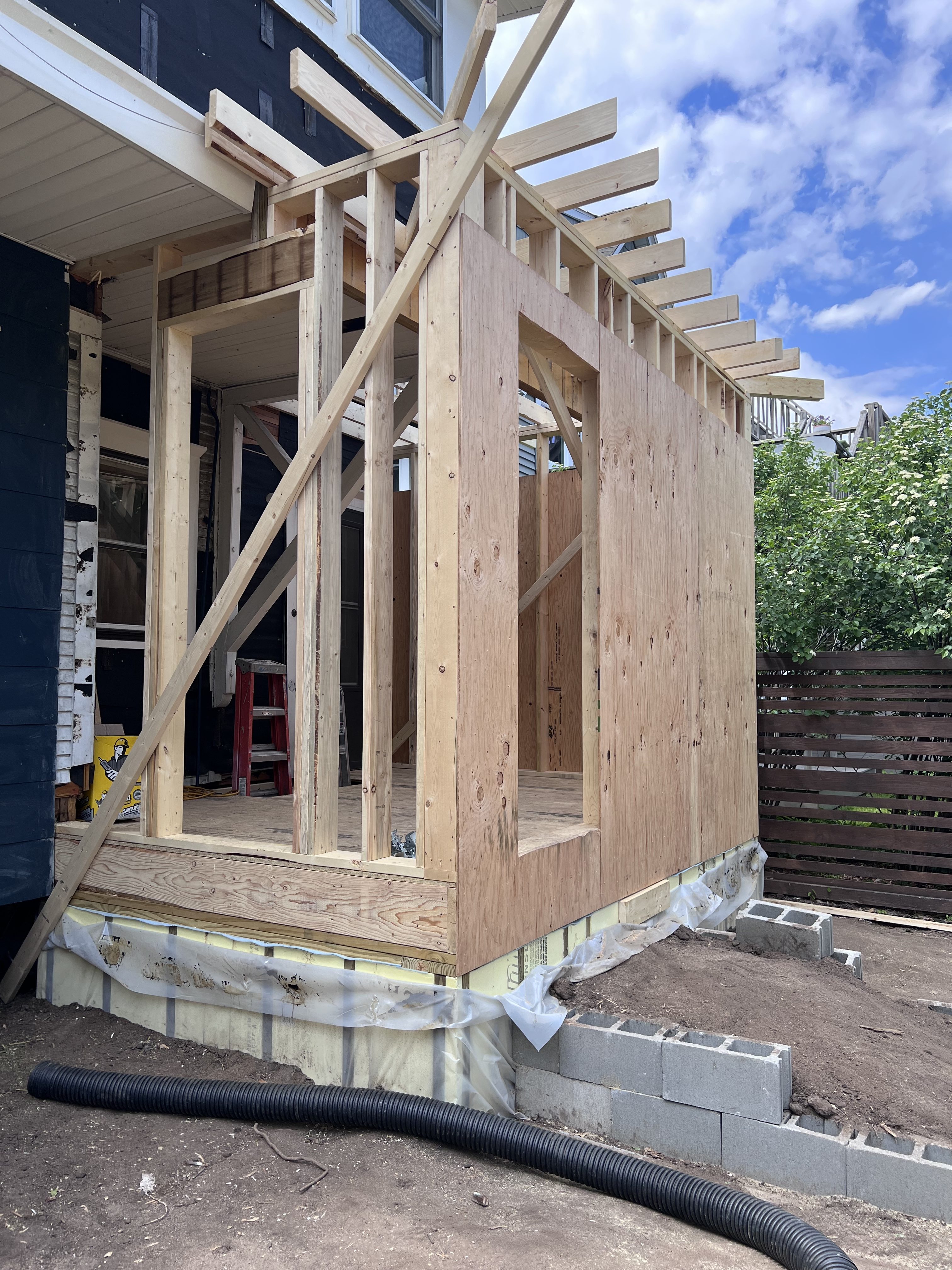 Framing for the roofing started at the end of last week.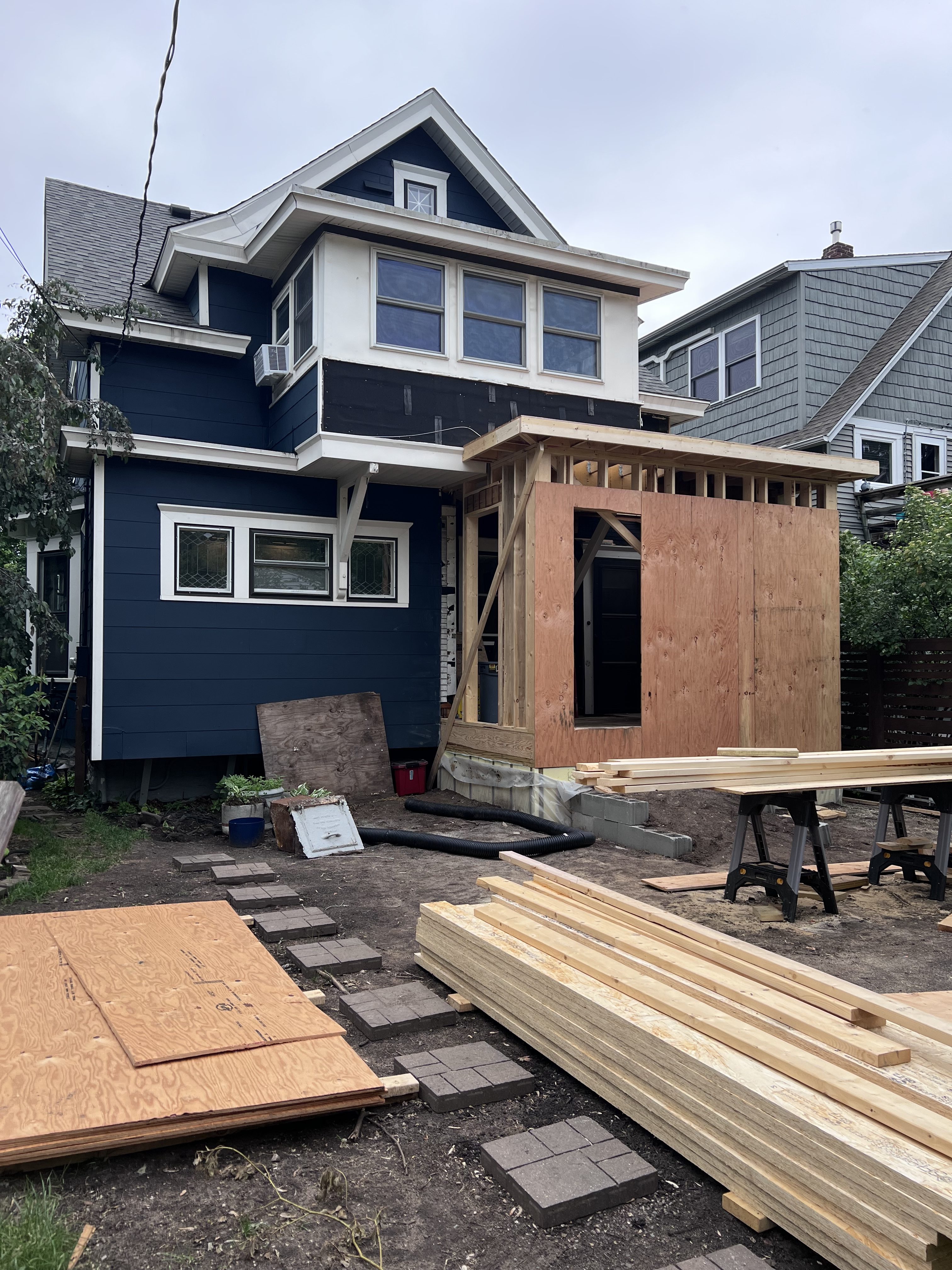 That brings us to this week. The roof is currently on! It changes things so much and honestly gives me a bit of a "Holy shit, what in the fuck are we doing?" sort of feel. It changes the lighting in the kitchen, and I can see the roofline from my sunroom office above. There's no going back now and that is terrifying and truly exciting.
Feel free to ask questions. I'll reply to all blog comments always. Someone asked last time how much it costs and it kills be to say. I don't feel comfortable discussing the exact amount but I will say that it's nearly double what we thought we'd spend when we started meeting with our contractor in 2020. We are working with a design build team – that's an architect, general contractor and project manager all in one. For this scale of project we needed to go all inclusive when it came to getting it done right. There are different fees for the architectural work verses the cost of laborers etc. We do anticipate that we will be right on the mark with the final cost, everything has been pre-planned and anticipated so there should be no unexpected costs. Unlike a general kitchen gut and rebuild, we are adding an entire box onto the back of our house! Once you start to price all 6 sides it starts to make sense why the cost gets sky high.
We are trying to cut costs where applicable. I am going to tile the mudroom, closet and bathroom. I've also been a big fan of our local salvage shop, Bauer Brothers. I am fixing up a beaut of an old cast iron sink, and giving a little elbow grease to two cast iron hot water radiators.
Anywho, I'll update you again once there is enough to make it post worthy. Thanks for following along :)