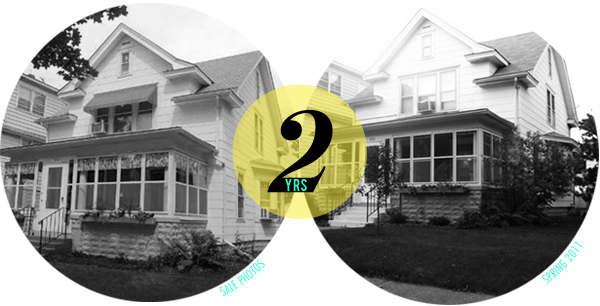 Woah! So all of a sudden it's been two years since we moved into this bad boy. Holy geez, time flies.
It was just a mere two years ago today that Jeff and I were packing up our tiny rental house and making the short haul down 38th street to our new place. I'm not sure if I had ever been so excited for anything in my whole life. It was a huge deal for us, as it is for most people who buy their first house. Like so many others, we had been hurt by the weak housing market. We bought our first condo in 2004 and the height of the market and then sold it for a loss in 2008. As 20-somethings it was a hard hit and took us a few years to recover. In November 2009 we found our home during an inspired open house visit. We weren't exactly ready to buy at the time, but once we saw this place we knew we needed that front porch in our lives. We quickly got all our ducks in a row and got an offer submitted. On March 5th we closed and on March 6 we were moving in!
In honor of our first two years I thought I'd put together a little recap to highlight all the work we've done on the place.

The entry way into the living room.
We really haven't made a ton of major improvements ("major" meaning, like, tearing down walls). It's all been paint and furnishings. We've painted almost every square inch of the place which instantly made the place better. The walls previously were all painted a not-so-nice off-white probably called "cigarette yellow". The place was looking really sad and worn out when we first walked through. I'd like to think we gave new life to a 100 year old home; actually I'm pretty certain we did, duh. We painted the entry way a light, light grey, and the living room a teal blue. We bought a new rug, put rocker legs on our Eames chair and purchased a new coffee table.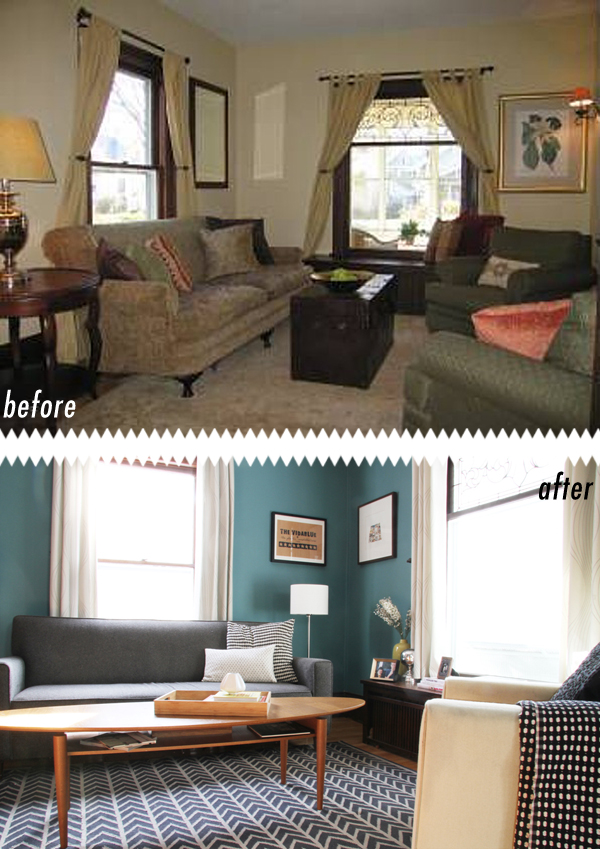 The Living Room
Ahhhhhh, the living room was such a mess before! Full of oversized ugly furniture, and a rug that was way too huge for the space. It was easy to make the room look bigger just by not overcrowding it. We did get all handy and replaced the sconces on the walls (a big deal for us, since neither of us had every touched an outlet). I'm so glad those gross things are gone; they didn't even turn off, you'd have to unscrew the bulb. Old times.

Looking into the entry way
In the winter of 2010 we wallpapered the vestibule in Orla Kiely's Flower Blossom wallpaper. It's been one of my most fav additions to the house. The wallpaper adds the perfect pop of pattern in the perfect place and the teal in the flowers matches the paint color to a tee, who would've thunk it. We also found a most awesome little desk on craigslist to put in the entry. The entry was such a strange space that we didn't really know how to furnish it. We love the desk in the space, even though it's not something you'd typically find in an area like this. And guess what? The desk didn't come with a chair so I got to get the Bertoia guy to go with it. Dang, love my chairs.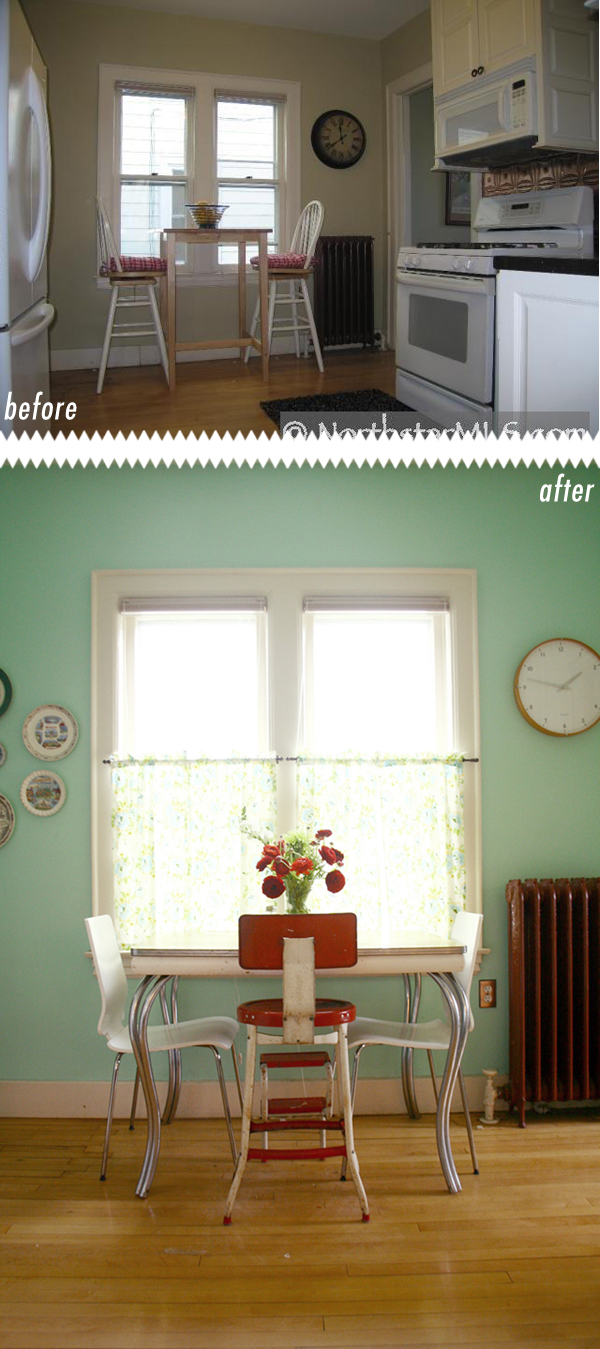 The Kitchen
Oddly enough, the kitchen was the room in the house that we planned on renovating within the first year or two. That hasn't happened yet and isn't gonna happen any time soon. The room is really strangely configured. Let me start over. The thing is: the kitchen is a huge space, it's unfortunately just fractioned up into a bunch of strange compartments and areas. For now, we've painted and added a few kitschy embellishments, like our Minnesota plate collection. We still have big plans for this space and some day we will totally gut it, add a main floor bath and deck walkout to the backyard. It's gonna/gotta happen.
Did you notice I put the clock in the same spot the old owners had their clock, I guess that's the clock spot.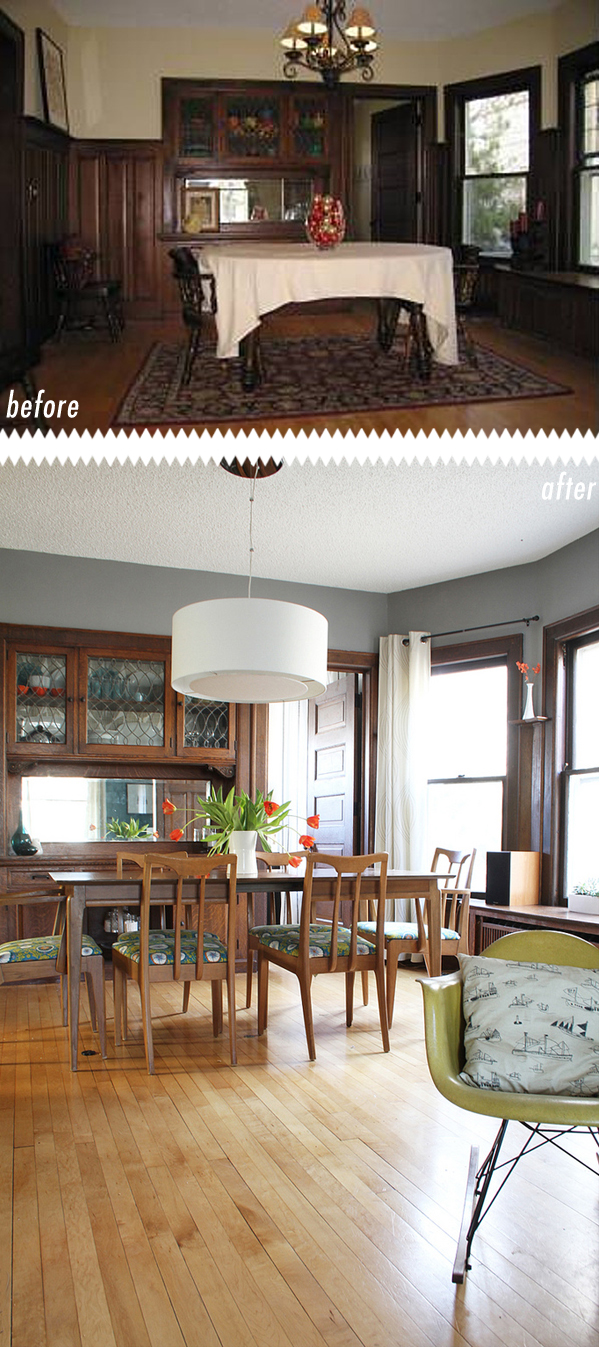 The Dining Room
This room was looking pretty sad, wasn't it? A great way to make your dark woodwork look even worse is to furnish it with a bunch of ugly dated pieces along with a really horrible orange-emitting light fixture.
The big things we did here; change the light fixture which was previously wired in with speaker wire (seriously), painted the room grey, and wallpapered the inside of buffet. It doesn't take much to make this room look better.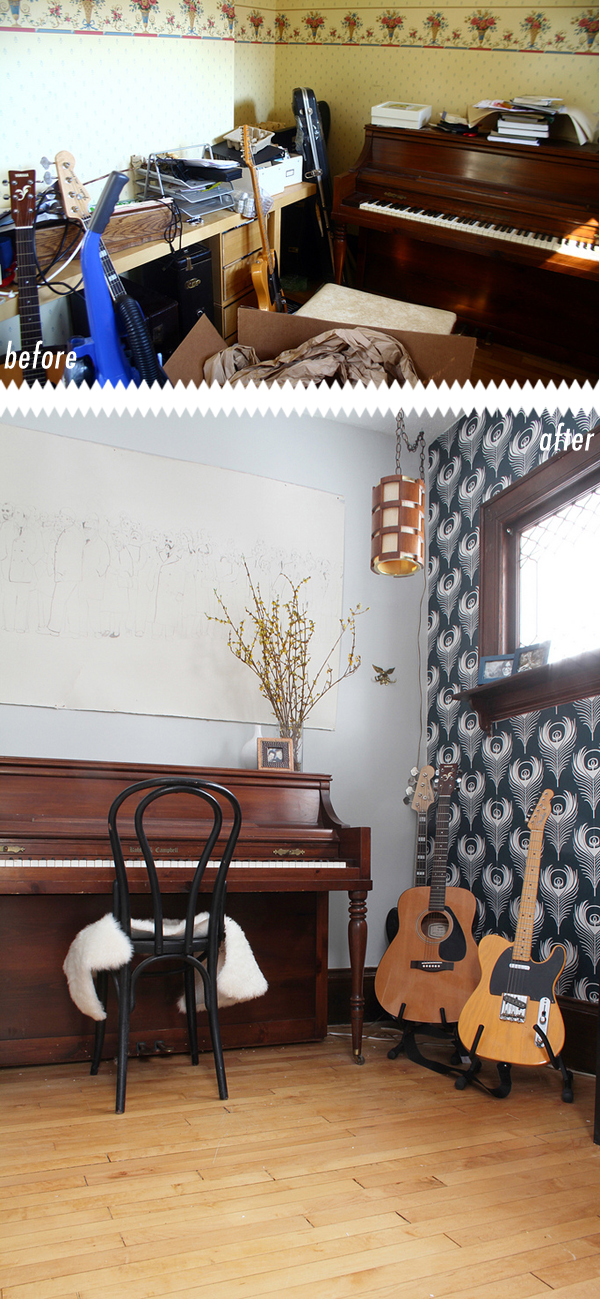 The Music Room
I know I just finished this Music Room project, but here it is again! Look how much better it is now. We've probably done the most work to this room. If you're new to the blog I'll get you up to speed. We recently removed all the wallpaper, re-plastered and then added new wallpaper (from Ferm Living), painted, hung shelves and added record storage. The place looks a million times better!
Well that concludes this portion of the tour. Stop back tomorrow for the exciting second installment where I recap the porches and second floor bedrooms. Total cliffhanger, I bet you can't wait. Seriously though, it will be good and awesome.