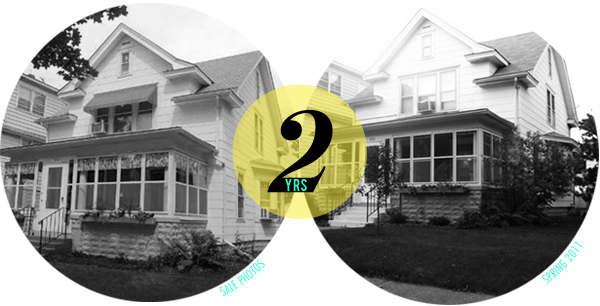 Happy hump day everyone! So here we are day two of the 2 year recap. If you missed yesterday's post, the Allen fam is celebrating the two year anniversary of buying our first house, to celebrate, we're looking back at how far the place has come in the first two years. Today I bring you updates of the 2nd floor bedrooms, and both the back and front porch.
Below you will see Gus' (aka Gus the Bus) room. It started out as a mess with brownish-yellow walls and ended the brightest, sunniest, coziest, quaintest little room in the whole house.


Gus' Nursery
We painted the walls grey, and replaced the light fixture. I sewed those zig zag grommet curtains myself, they are totally the best. I lined them with blackout material – best advice I could give any mom. Dark equals naps, equals many good things. We used Finn's old Oeuf crib, and purchased a Malm dresser and Expedit shelf (now window bench) at Ikea. We also added rocker legs to the Eames arm chair, and hung some artwork for the little dude.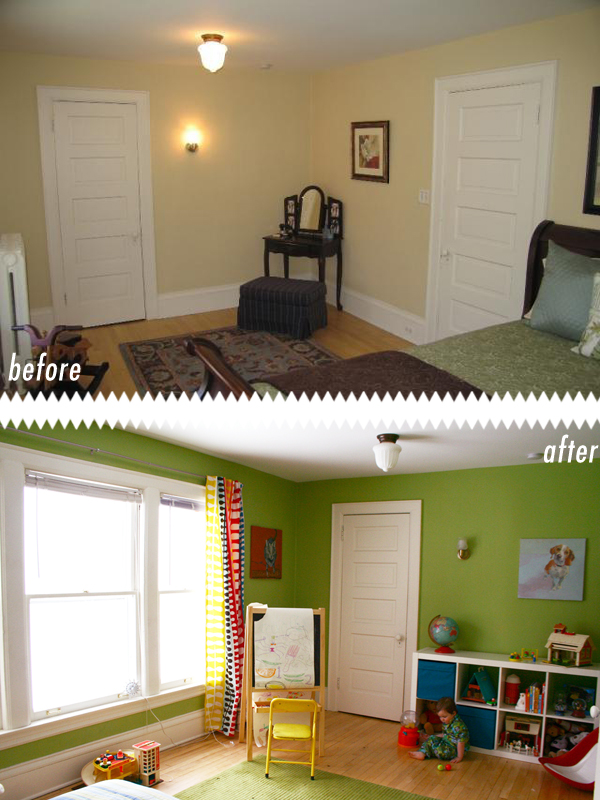 Finn's Room
In Finn's room I originally had the bright idea of painting it orange (bad idea.) It quickly turned from orange to green and we love it this way. Finn is one lucky little kid, his room is huge, he has two closets, and plenty of play space. We made one half of the room a toy/art/reading area and the other half is his sleeping zone. Poor Gus has a mini room in comparison, I'm not sure how we'll make that one fair down the road.


Our bedroom
This is our room, the least touched room (besides the bathrooms) in the whole house. This is the room I ordered all that paint for. That far wall will be black and the rest of the room will be white (can't wait). For this two year tour I will let you know that we replace the old owners furniture for our own (that's supposed to be funny), and added bookshelves.
So, this concludes the bedroom part of the tour onward to the porches —->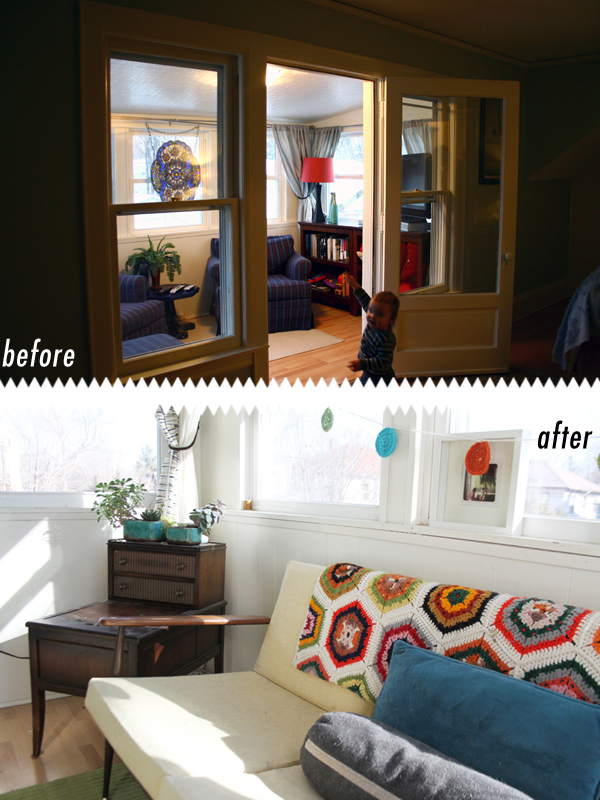 4 Season Back Porch
Look at Finn in the above photo! What a little guy.
The upstairs porch is right off our "master" bedroom, we love it. Porches for us are like en suite baths, or walk-in closets for normal people. We are the biggest suckers for a good porch you will ever meet. This porch is awesome because it is a four season porch, that means we can hang there in the winter too! We went nuts and added a ton of vintage furniture, and our most fav console record player.

Front Porch
I know this room doesn't look like the most amazing thing ever, but we seriously LOVE this porch. It was 57º yesterday and me and the kids spent the entire afternoon out there. Our afternoon kid-porch-fest turned into late night cocktail parties, and that's why this porch is so awesome. I know it's not very fancy; it's a porch so it makes home to old hand me down furniture, but it's more about a feeling than it is a aesthetic. We did paint the walls — surprise — blue (of course we did). When I took this photo it was mid-painting project last summer, so don't judge the edging. This is without a doubt our favorite room in the whole house.
So that's it. The 2 year recap. I hope we can keep finding new projects over the next two years, can't wait to see where that will take us.
If you took the time to read all this, THANKS!