Us Ripplinger's moved into our house close to a year-and-a-half ago. My plan for our new place was to take care of all the common areas first. You know, the ones that company would use the most and see the most and judge us by. Mission accomplished, we have done just that. However, it has become insanely obvious to me that I have been neglectful of the rest of my home. Most importantly, Elsa's bedroom. Ugh, sorry Sweetie! You see, when we moved into our new place it was in a whirlwind to remove any representation of the previous inhabitants, whom had been here for 90+ years, and with intention to immediately put our finger print on our new space. This led to hasty paint color selections and half-hearted attempts to make the place 'ours'. I immediately painted Elsa's bedroom the same color that I had painted her nursery at the old place, Balmy Seas (Behr 490C-3), and then stopped. There it sat, a pretty color teal with weird brown moulding and a mattress on the floor. A few weeks ago I walked into her room and thought to myself, "Nicole, this bedroom sucks!" Then I got out a roll of painters tape and a huge ass bucket of white paint and went for it. I wasn't ready to rid the walls of that Balmy Seas paint color entirely. I opted to paint the top half of the room, molding 'n all, white. Not off white, which some folks swear by, but regular old pure-as-the-driven-snow, white. (Side note-white is totes my new obsession. I would paint every wall in my house white if I knew I could keep it clean.) This girl's room was getting a make over.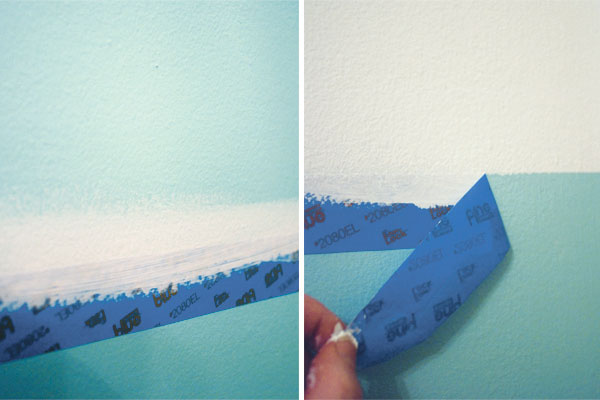 I am by no means a professional painter but I used to spend a fair amount of time helping a paint crew paint gallery walls all sorts a crazy and managed to pick up a few tips on how to get a good crisp paint line.
Key items for making this happen: laser level and painters tape. Once your painters tape is in place be sure that your tape is stuck down real good. Now, if your anything like me, you'll want to jump in there with your paint roller and just go for it. Don't. Take your paint brush and paint along that tape line. I'd give it two coats, depending on the kind of coverage you are getting, and then move on to painting the rest of the wall with your roller. Be sure to peel that tape off before the paint dries and presto chango-you got yourself a crisp little line!
Now that I've got the tough stuff done the finishing touches can be added. I'm tossing around the idea of painting the edges of the two doors in the room a pretty pink color. Thoughts?
Also, those switch plates and outlet covers are not doin' it for me. I could easily get white ones but then I'd be left with bone colored switches and outlets. (Aaron isn't interested in doing any electrical work for me as the wiring in our house isn't exactly new and makes for difficult updates. I don't blame him. Electricity is scary!) Has anyone ever painted these things successfully? Until I have proof that this is possible I am just going to have to deal with them.

I'm pretty happy with the way the paint job turned out. This duvet cover from IKEA will be fine until I can pick out something else. I've got my eye on some pretty vintage embroidered pillowcases off of Etsy. I'm just having a hard time narrowing down which ones I want!

The toy box in this photo used to be mine when I was a kid. It has gone through a few different incarnations during its lifetime and mine. It was once stained a really really dark walnutty color. Then it was bright blue for a time while I let my baby brother use it. Right before I left to go to college my mom rag painted it red and black. I brought it with me to my first apartment in Minneapolis where I kept my shoes and boots in it in the entryway. Now, it's back to bein' a toy box.
So that's that. I'm feeling like less of a failure and more like a mom who cares about where her little chicky sleeps!

Contributor in Crime / Colz
Nicole Ripplinger (aka Colz) co-founded Deuce Cities Henhouse with Alison in 2009. These days she's better known as the "#1 Contributor in Crime". She makes her home in South Minneapolis with her husband, Aaron, and their two girls, Elsa & Faye.