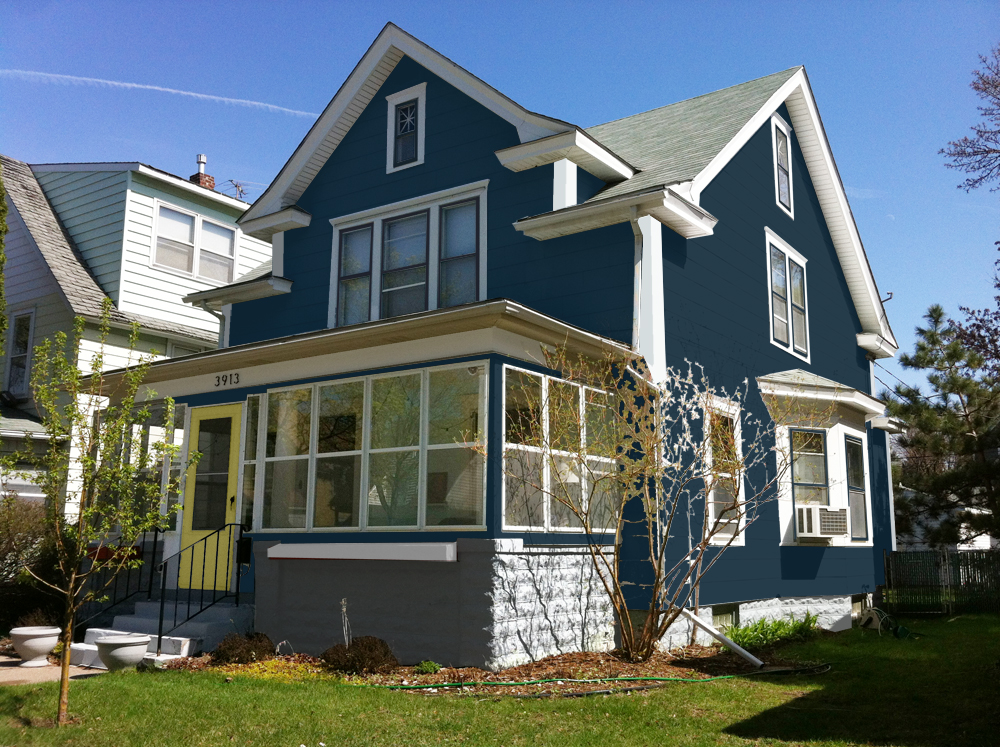 If you're still with me through all this paint chaos, Thanks! I know I am obsessive about this stuff, but really I have never had a house painted before, and I want it to look as good as humanely possible. Reasons I do this; because painting your house and changing your mind is expensive, I have NO idea what I am doing, and I need to know that there is a shred of hope that this house can exude a pinch of curb appeal.
So after going back and forth, and back and forth again. I finally have made some decisions …duhn duhn dun… It's gonna be dark blue with a yellow door, hazzah!!! The things that sold me on the color was not the paint color itself, but some of the other accent choices I made (pretend made) to the outside of the house. Here's how it breaks down:
Siding – Dark Tealy/Navy Blue Paint
Trim – Fresh White
Storm Windows – Charcoal Grey
Foundation – Light Grey
Window Boxes – Bright White
Front Screen Door – Yellow
And the newest addition to my plan, a little something called "Corner Board," a roughly 1×4 piece of trim that flanks the corners of your house. This is not something we currently have on our house, but after walking around the hood a few times I realized a lot of houses had it and it really helped to define the lines architecturally. There you have it, the corner board makes all the difference. Now I just need to find a painter/carpenter who is able to add corner board to the existing asbestos siding without endangering themselves.

Since I'm sold on this scheme, I had to mock-up the back yard too. Especially because I wanted to see it with the corner board, and dark storm windows, and most importantly I had to see where paint was going to go on the upstairs porch.
We've been meeting with painters all week, and I think we're close to a decision. If anyone locally (MPLS) has any good suggestions for painters please let me know. I need all the advice I can get.
Do you like it?? I do. If it turns out half this good I will be so happy. I really think it looks so much better already and it's not even real. Too bad painting isn't as easy as photoshopping is.