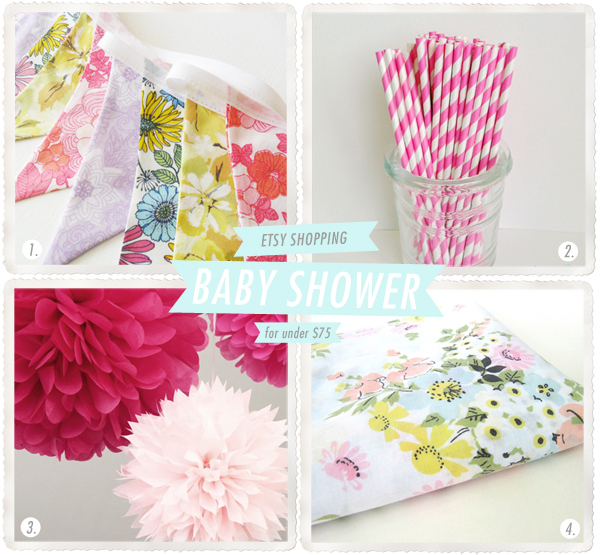 Hey-O Everybody! I'm changing Etsy Finds up a little this week. First of all, I'm stepping out side of my normal vintage zone and making this 'finds' open to the whole world of Etsy. Secondly, you should note that each item isn't less than $75, the whole GD shower is, (well the decorations anyways) the rest is up to you :)
Unless you've been living under a rock or you don't read my blog, either could be possible, you should know that I'm throwing a raging shower for Cam (aka Brittany Mader, aka Killa Cam) next Saturday. I've been cumulating a nice little pile of decorations from Etsy and I though I'd share with you a version of what I've got going on. This will be the sister post to another post I've got planned for next week where I break down the whole kit and caboodle. Anyways lets get down to business.
1. Handmade Bunting Made From Vintage Sheets from Little Tea Wagon – $22.50 + $5.00 (for shipping)
2. 50 Hot Pink Paper Straws from A Pretty Little Party – $7.50 + $3.50 (for shipping)
3. 10 Pom Pom with Mixed Sizes from Lili Poms – $30.00 + $5.20 (for shipping)
4. Floral Print Twin Flat Sheet (I'd used this for table cloth) from World Vintage – $9.00 + $7.00 (for shipping)
Tell me, tell me, what do you think… Would you like Etsy Finds to be a curated set of vintage coolness or should I broaden my horizons and include the whole enchilada (aka all sections of Etsy)?