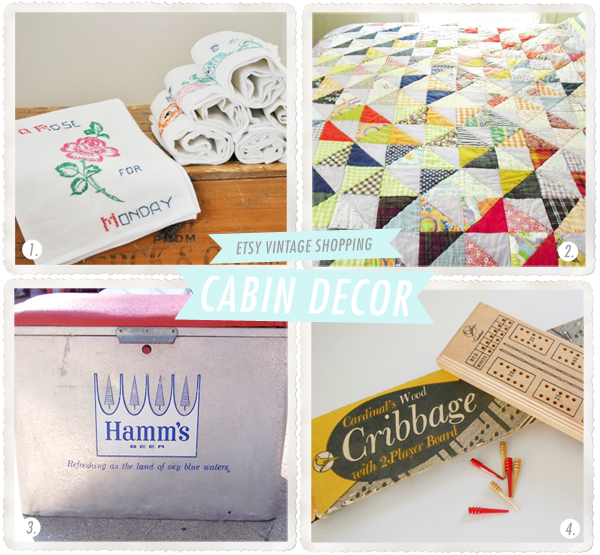 Okay, I may be jumping the gun a little bit but one of my favorite things about summer is cabin tymez in Minnesota. They are the best! I am a sucker for a kitschy cabin decor, like I might consider decorating my entire house in it someday.
Every summer we are lucky enough to be invited to our friend Matt's family cabin in Cross Lake Minnesota. It is one of my favoritest places in the whole world. I'm already getting so excited to go this summer. We talk about it all the time.
Anyway, I was looking around on Etsy yesterday and came across this cribbage board, and that got me thinking cabin. So whether you need it or not, here's your dose of cabin decor. Search Cabin Decor on Etsy, you won't be able to stop, there is so much good stuff!
1. Vintage Days of the Week Tea Towel from Estate Hound – $50.00 + $9.50 (for shipping)
2. Coloful Vintage Triangle Quilt from Vintage Quilts and Couture – $65.00 + $14.95 (for shipping)
3. Vintage Hamm's Beer Cooler with Padded Seat from Happy Back – $125.00 + $50.00 (for shipping)
4. Vintage Cardinal's Wood Cribbage Board from Buckeyes & Bluegrass – $10.00 + $5.50 (for shipping)