When we first bought our house I had dreams of finding all this cool old stuff. You know the stuff people just leave when they move out, and it stays in the house homeowner after homeowner. I was gonna find all sorts of cool old doors, hardware, remnants of wood flooring, pictures, notes, and love letters.
Then, this did not happen :(
Unfortunately, the previous owners, and the owners before them were the type of people that liked to take all their stuff with them when they moved, what jerks.
I haven't found any good treasures in this house except for an old hammer and a really old hot plate.
I'm so curious to know who lived here before me. The 1940 census came out earlier this year and I poured over pages and pages of Minneapolis addresses looking for my home. It wasn't there, It doesn't exist, I couldn't find it. My neighbors were there, I could see who lived in their houses, but no record of mine. Total major bummer, man.
I've had such bad luck learning about this house.
Then, when I was opening the windows to the attic for the house painters to access, I found a mirror hiding behind an old screen window! I knew this house was keeping something from me. I brought it down ever so carefully. It's round and has this cool art nouveau-ish pattern around the edge. It's got glue marks on the back, so I imagine it must have hung somewhere. It's driving me nuts not knowing where it used to live, maybe in the entry way or bathroom? I imagine it's original to the house as it's in keeping with the style popular around the turn of the century, but I am no expert on that.

I cleaned it up, sat it on top of the bookshelf, and propped it against the wall in our bedroom. I'm not sure if this is where it will stay but it makes a good home for now. Maybe I can hang it in the bathroom after we do a quick re-vamp in the fall.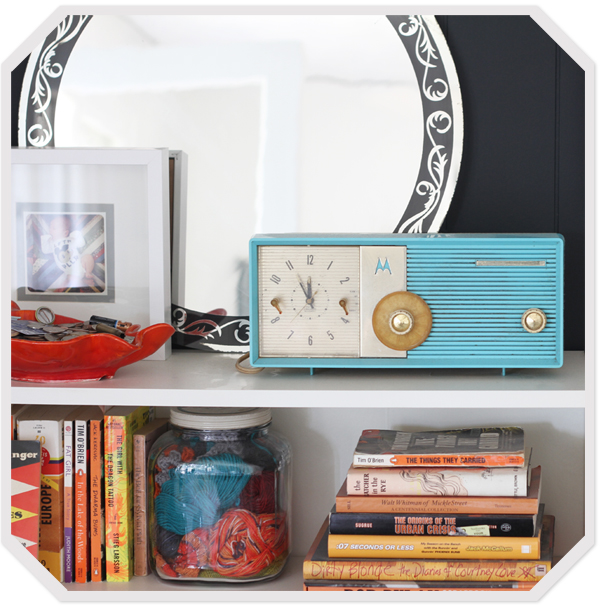 So, if anyone has a good hunch as to where a mirror like this might have hung you've got to let me know. I've got to solve this mirror mystery!