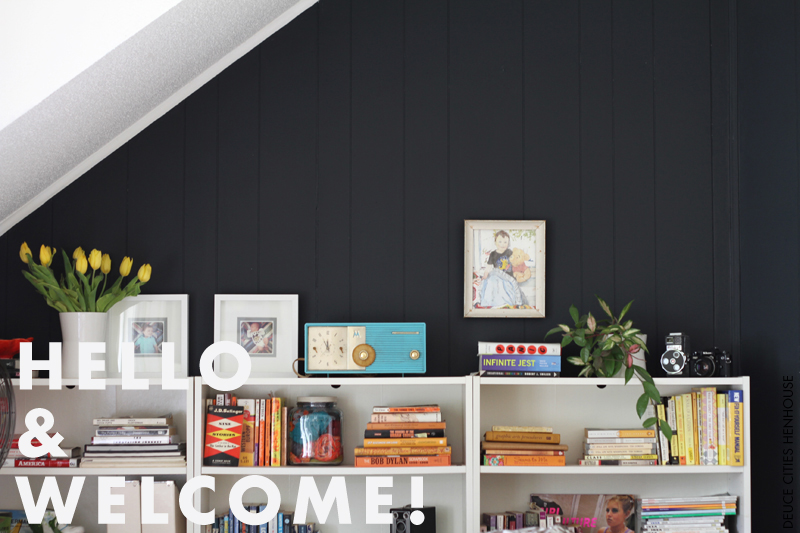 If you're new to my blog:
Hi Guys! In case you're new to the site either from seeing my Sneak Peek over on Design*Sponge today, or clicking over from the Homies nomination page on Apartment Therapy, I'd like to warmly welcome you to Deuce Cities Henhouse!
This blog is one of my favorite things in the whole world. It's a place where I can combine all of my most fav things in one place and share them with all you guys. Most of the time you'll find me posting about my 100-year old house (located in the heart of South Minneapolis), stuff and people I find inspiring, cool inspiration for the home, my kids, and simple DIY projects. Other things you should probably know about me is that I love Bruce Springsteen, I love listening to records, and my favorite place ever is the front porch of my house. If you wanna learn even more check out my "About" page.
If you're an existing Homie:
To all my tyte friends and readers out there who already spend time on the blog, I've been nominated for the 2013 Homies over on Apartment Therapy! This is super exciting for me, if you like my blog I would totally appreciate it if you could take a sec, head over to AT, login, and vote for me; Deuce Cities Henhouse. You'll find me under the "Home Design & Inspiration" section. A huge thanks in advance for that one.
Lastly, I am so beyond thrilled to have our home featured in a Sneak Peek over on Design*Sponge today. It's only like one of the coolest things that has ever happened to me. I'm so totally super excited. Best Monday!