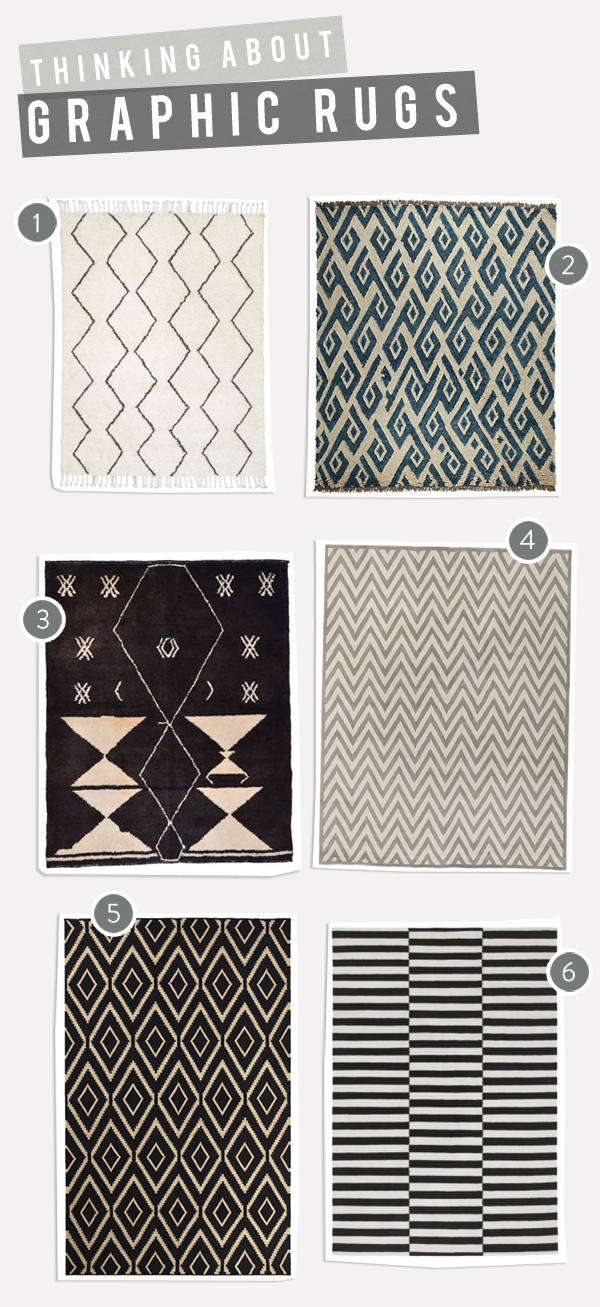 We've been saving for a few months now and it's getting closer and closer to shopping time for some new living room furniture!!! In case you couldn't tell by the excessive exclamation marks, I can't wait! If you remember from previous posts, our living room sofa and arm chair have seen better days. Now that kids are getting a little older we figure we can trust them not to puke or pee on our future new couch… we hope. I've posted before about dream sofas and chairs and now you get to hear about rug candidates too.
Our living room has recently been painted and now has dark teal walls set against dark woodwork. I knew that getting into the dark wall game meant adding more contrast to the room. Using colors like black and white as accents throughout the space and painting picture frames white give the space the contrast it needs. All of our pillows and throws are black, white, bold and graphic. Our current rug (Jorun from Ikea) is also, black, white and graphic, although it looks awesome in photographs it hasn't held up too well. The furniture tends to stretch the rug out and it drives me crazy when the edges don't run parallel to the wood flooring. I am obsessed with straightening it out and I pick at it all day long. I love our graphic chevronesque black and white rug and it's replacement needs to be just as awesome while having the ability to hold its shape for this highly used area.
I love, love, L O V E this rug! I've admired it for a year now and I just can't get over it. It's just so pretty and perfect. This would be my living room rug in a second if it wasn't for those kids who have a crazy ability to stain almost anything in our house. The pristine white would really lighten the space and everything would be perfect. It's probably not meant to be, but I do love it so.
This is an expensive one, but a good one. I really like the indigo blue against the creamy white and I could see it looking fantastic in a space that had neutral walls but needed more color. I had to include it in this post because it's pretty good, right? For instance, I think this rug could look great under our dining room table giving reference to the blue walls in our living room, but I don't think it would work in our living room unless I really wanted to be the crazy lady with all the blue everything!
Don't you love this?! I would seriously consider a kilim rug like this for our living room. I love the look of kilim rugs and I can't resist a good triangle. Unfortunately, the shape of this rug (apprx 4'x6′) is not what I'm looking for in our living room. That being said, I'm sure with a little bit more looking I could find something similar that could fit the shape of our space much better. Do you think I could live with a rug that was not perfectly square on all sides? For this, I would consider it.
This rug is really cool, I really like the pattern, and chevron is still pretty hot right now. However, I don't think there is quite enough contrast for me. This rug would look super good in a living room with white trim. The trim would provide the contrast and the rug wouldn't have to be so bold. So go ahead and think about it for your space, all you white trimmed wall people ;)
This totally reminds me of the rug we currently have in our living room and I'm sure it would work well in the space. I don't know if I want to get something so similar to what we have now, I like the idea of shaking things up a bit. This rug is a 80/20 wool cotton blend, much nicer quality than our current rug, and handmade too. Based on the price I would hope this rug wouldn't lose it's shape like our old Jorun rug from Ikea does now. Definitely something to consider.
Who doesn't love the Stockholm Rug from Ikea?? I wanna marry it every time I see it, and I think I it would look pretty good in my living room too. Seriously, have you ever seen a space that this rug didn't look awesome in? I'm gonna think about this one, hard.
Okay, so now you know that I am no closer to making a decision then when I started. I seriously love the heck out of that Souk Rug and I would be super happy it if my kids could just not be so dirty all the time. Maybe I can buy new bubbles for my boys and I wouldn't have to worry about them and all their dirty stuff, then I can get this rug. I think that seems like a cool idea, don't you?