Guys! Me and Jeff (aka Waff) just got back from a long weekend celebrating our 10 YEAR anniversary!! It sounds insane to me to say 10 years, that's a crazy long time, isn't it!?! It was a really nice weekend and we got to spend time together, uninterrupted reflecting on all the crazy shit we've done together over the years.
It was the best!!
We got married 10 years, we were 21, in love, and a little stupid. We didn't really think about the logistics of being married or the details of life as a couple, we just wanted to be married, duh. I think a lot of people thought we were crazy, and we probably were, but it seemed obvious to us that it was the right thing to do. Since then we've grown up together; instead of pushing us apart, going through those 20-something years together has made us a better, stronger and even more happy couple than we were when we started out 10 years ago. It's the best to have someone so close in your life that you have made it through college with, experienced a "party prime" together, traveled the country (and parts of the world), survived night-grad-school and opposite working schedules (with a baby), successfully had another kid without losing our minds, and at the end of the day, we still know how to just hang. I feel so lucky to have Jeff in my life, and I feel proud of all the things we have done and accomplished together over the years.
We spent the weekend celebrating in Chicago. We decided to go all out, I mean we even flew there! Chicago is practically a second home to us, so instead of doing the usual touristy stuff we went nuts and ate the most amazing meals, drank the most delicious things, and stayed at the fanciest hotel. We also spent a bit of time catching up with some old buddies and hanging on porches and roof top decks. Nothing was hard (except the hangovers) or stressful, it was all easy, relaxing and enjoyable to the max. It might have even been the best weekend ever.
All things we did: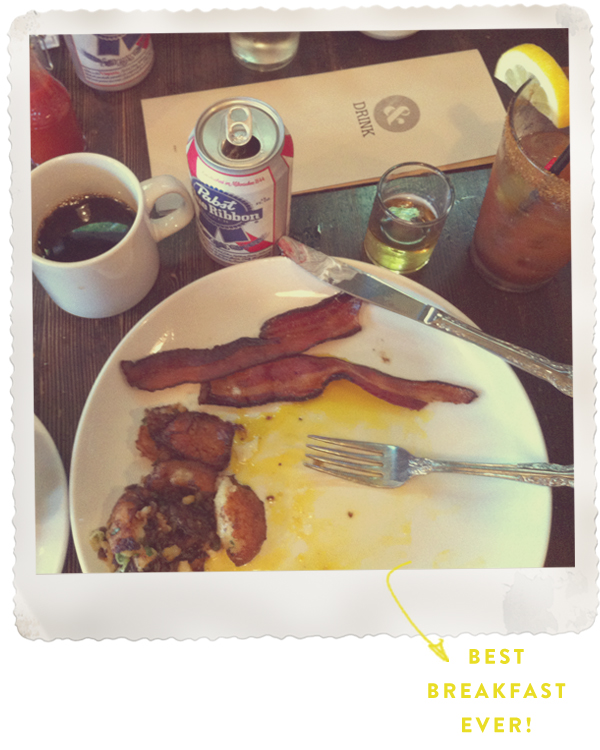 Oh by the way Chicago, why have you been hiding the best breakfast in the world from me?
One thing you should probably know about me is that breakfast is my all time favorite meal ever! You Chicago people are lucky to have Longman & Eagle (aka home of the best breakfast in the history of breakfast). So GD good, you guys.