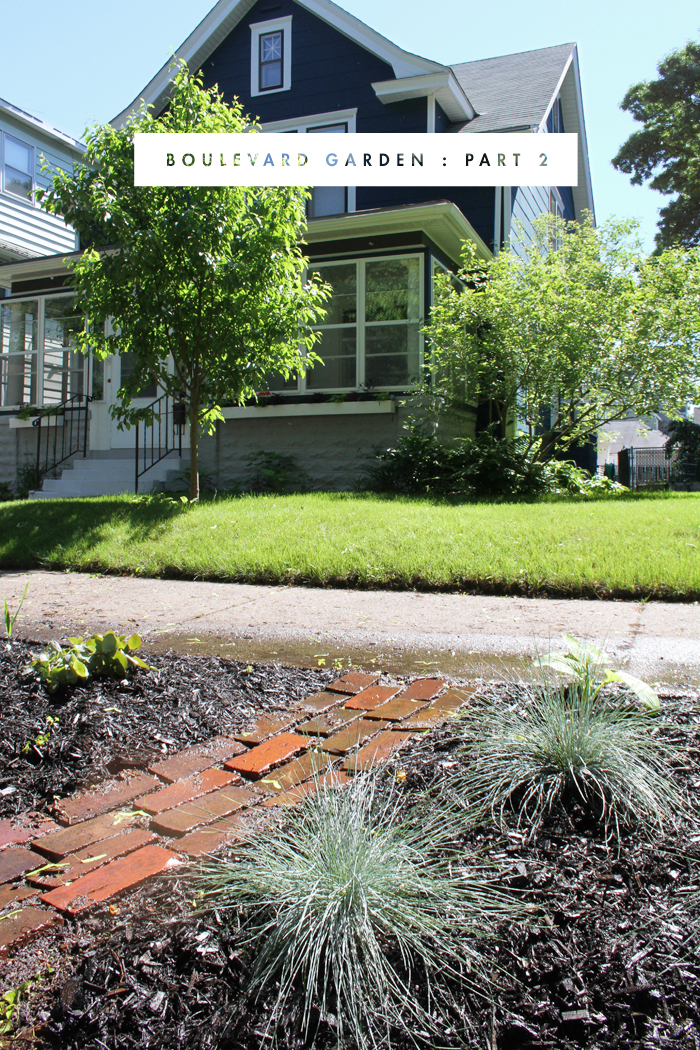 Guys, sorry I've been away a bit lately. It's all because I've been busting my butt working on the boulevard garden. Jeff's been laughing at me because I made the mistake of saying to him in passing that "I wasn't allowed to weed the backyard gardens until I finished the boulevard first", the ongoing joke now is that weeding is my treat for hard work.
Whatever, man, so what if I like spending my free time outside?
Anyway, I've been slaving over this garden, and my back is feeling it. If you're just tuning in, I planted a boulevard garden four summers ago, but it hasn't held up well. Since then, I've learned a lot from my mistakes and I wanted to start over creating a boulevard garden which (hopefully) will thrive in this space!
I've learned along the way is that it pays to have a plan. My last garden was on a mega budget, and honestly this new garden didn't break the bank either. Last time, I purchased plants slowly and filled the garden in over the summer. I didn't have a plan, or a color scheme, and I didn't pay attention to what would grow well on the curb, I just bought what I liked when I saw it. I really should've thought the whole thing through before diving in, but I honestly didn't know enough about gardening to do that at the time.
Fast forward a few years to this summer, and my bad planning has now lead to a super sad looking garden. So I decided to dig it up, reuse the plants that were successful and replace the others.

The key to a good boulevard garden is tending to the soil, it's a lot of hard work, but rotating the soil and removing weeds and roots is clutch. It takes a lot of time, and it's a lot of dirty work, but if you can get through that part your more than half way there.
I've also learned that it's really important to have your garden graded in a way that it sits about 1-3″ below the edge of your curb and sidewalk. Doing this prevents your mulch from pouring out into the sidewalk and street when it rains, which can be bad for local lakes and streams. Plus it's a waste of mulch and time, you don't need to see all your hard work just wash away. I spent a lot of time grading the garden to make sure that the mulch would stay in place, and I think it was an investment well made. Also guys, black mulch, I love it.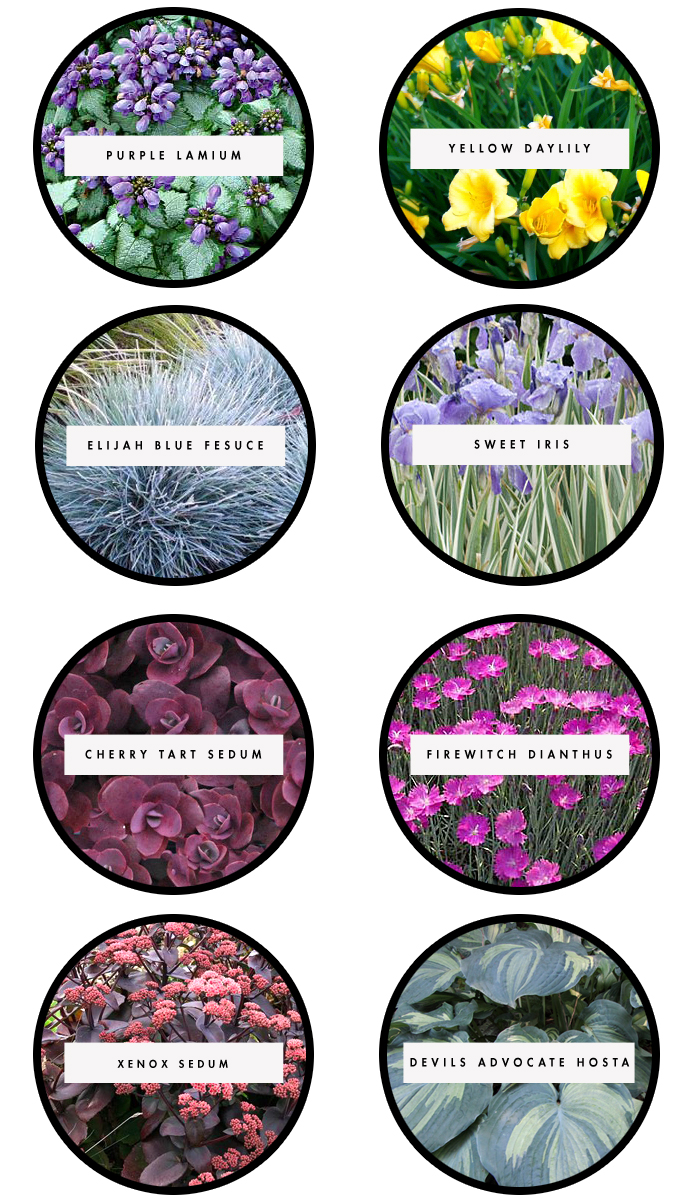 Next comes the plants! I split the garden into two parts, the sunnier north side and the partially shady south side. I went shopping for both separately, that way I could go straight to the sunny or shadier perennials-section of the garden store without being distracted by other plants and flowers (cause you know that happens). I made a plan before I went shopping and for the most part I stuck to it! I created a color scheme and tried to get plants that would flower throughout the spring and summer, not just all at once. For my garden I looked for purple, grey, lush green, yellow, and pink perennial plants.
I kept the perennials towards the center of the garden, instead of having them planted near the curb and sidewalk. Eventually they will get bigger and I don't want to have them overflowing into the sidewalk or street. And guess what? I actually read the little cards that came with them and spaced them accordingly, even though my instant gratification gut wants to put them all close together. Guys, once this baby grows in it will look tyte.
Here's what I planted:
▽ Purple Lamium


This will work as ground cover and will help to keep weeds down. Blooms on and off throughout the summer and has pretty grey leaves.

▽ Yellow Daylily
Blooms in the late spring early summer.

▽ Elijah Blue Fesuce
Provides pretty tailored grey mounds of grass for the entire season, also drought tolerant.

▽ Sweet Iris
This Iris has purple flowers and blooms in the late spring. The leaves are variegated white and grey and can be kept all summer after the plant has finished blooming.

▽ Cherry Tart Sedum
Blooms in the late summer early fall, but has beautiful waxy foliage. I used this around the base of the tree, once it matures it will cascade over the rocks.

▽ Firewitch Dianthus
Blooms hot pink throughout the summer, has grey foliage that is reminiscent of the Blue Fescue.

▽ Xenox Sedum
Drought tolerant with purple foliage, blooms in the late summer early fall.

▽ Devils Advocate Hosta
I'm hoping that there will be enough shade for these guys, these are big plants and will fill in nicely. I planted them along the walk running from the street to the sidewalk.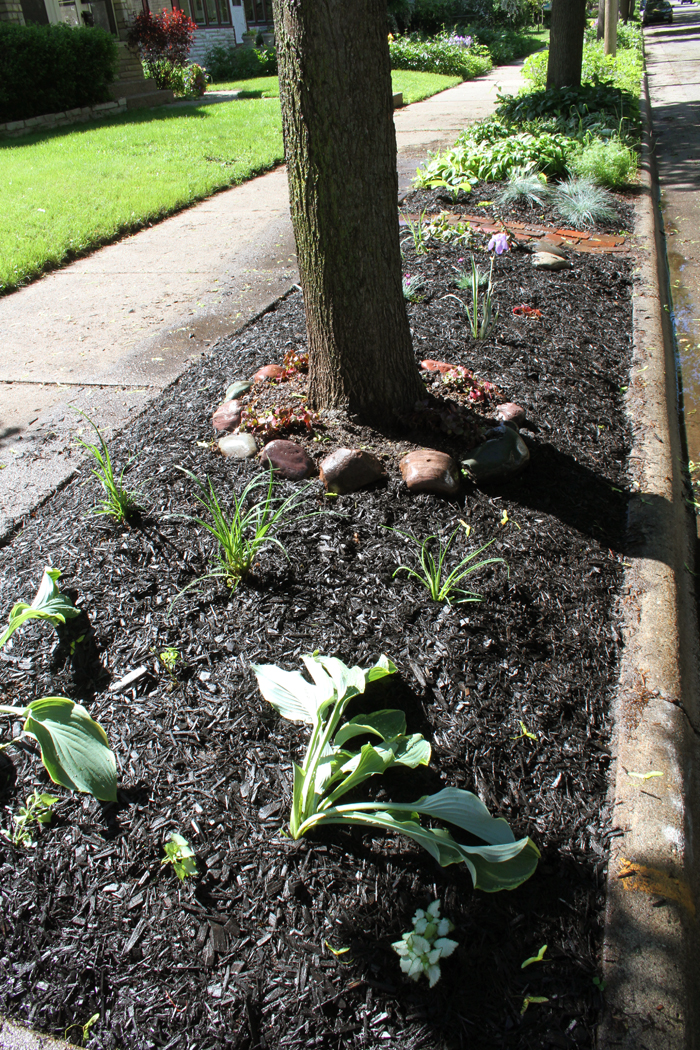 I also added a brick walkway from salvaged bricks I found near a local street that was being torn up. I totally love this little pathway, it might even be my favorite part.