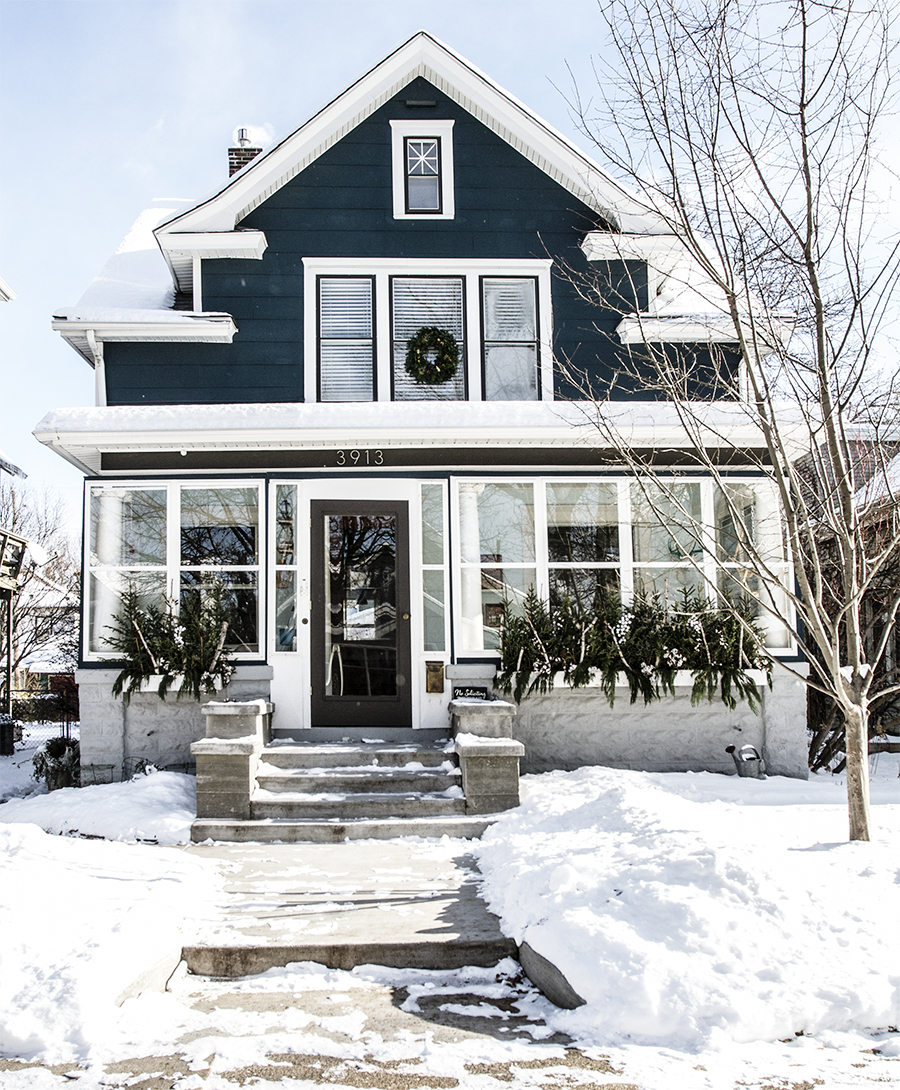 Guys. As it always seems to happen, it's mid-December and the boys and I have come down with somer sort of nasty cold where all you can do all day is lay in bed, and no one is around to take out the garbage out for you or bring you Ludens. It was bound to happen, and if it had to happen, I'm glad that it's happening this week and not over our Christmas break.
I'm a little late on sharing the wintery exterior of my house this year. I braved the freezing temps and went outside to snap some pics so you guys would all know that I'm still here, and not stop reading my blog. My hair froze, so you're welcome. Don't worry, I'm back in bed now.
Anywho, I think my delay in filling the boxes this year had a lot to do with the warm November (aka 'Global Warming', ever heard of it?), it just never felt right to deck out the boxes when it was still 50º outside. The kids and I didn't get around to actually trimming out the window boxes until right before Thanksgiving – I like to usually have them in by mid-Novemenber.
I am boring, and everything about the boxes is basically the same formula I always use. I am v much stuck in my ways. I like green and white and that's all I need to make me happy. For these boxes I used a combination of spruce tips, cedar boughs, oregonia, cotton stems, pinecones, birch branches, and a few white faux berries that I've slowly acquired over the years.
The one new addition this year was floral foam blocks. This is the same stuff you might find in fancy bouquets that you get from not the grocery store. In the past I would assemble the boxes before our first hard freeze and then as it got colder out the branches would freeze into place. This all made sense in theory, but as soon as a strong wind or a spring thaw came through, my window box filling would be all over the ground. Sad. I'm sure my neighbors would laugh when they would see me out in my slippers trying to put my window boxes back together. This year I spent $36 to buy floral foam to fill my boxes. A single case of this foam will last me at least two seasons, so I didn't see it as a bad investment. The best thing is, it does what it's supposed to do and keeps the branches right where I want them — not one stem of a branch is out of place. You can't laugh at me now neighbors, at least not for my wearing my morning attire to frantically push sticks into dirt! If only I had known to wise up a few years ago. This years obvious (not to me) tip, use floral foam in your window boxes and save yourself embarrassment.
Send soup.