Happy Friday everybody!
Last weekend, while visiting Chicago, my good buddy Katrina came up with this delicious cocktail on the fly, she's amazing like that. The second I tasted it I knew I had to share it with you guys. This cocktail is good for a few reasons, first of all, it has gin in it, second of all it has rhubarb in it. Now rhubarb has a special place in my heart, my good midwestern Grandma Helen (aka Gma) always would (and still does) make the best rhubarb sauce for us grandkids. It's one of those things for me that has a very specific memory. Katrina is a good ol' midwestern girl herself, and she too has memories of rhubarb sauce as a kid. Rhubarb is kind of a crazy thing for two ladies to be reminiscing about on a lazy Sunday afternoon, but we did. I think we may have even come up with a name for this cocktail, but sometimes naming things while drinking isn't always the best idea. Originally this drink was served over ice, I'm serving it up 'tini style and calling it "The Helen" after my own special Gma.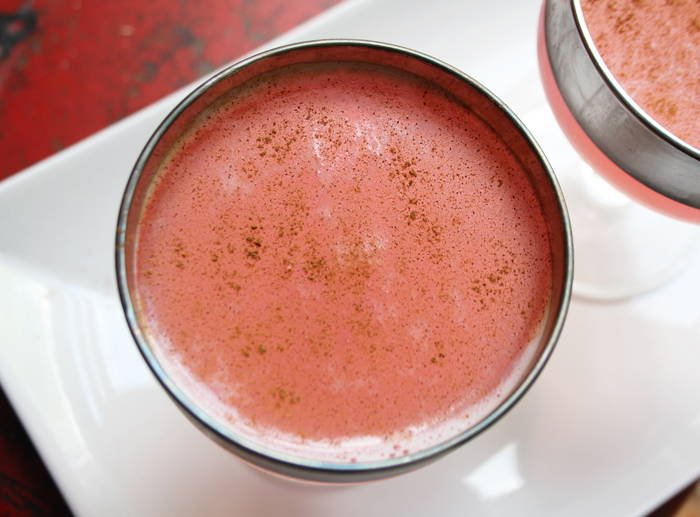 Rhubarb is big here in the midwest and as I mentioned, if you're lucky you may have been served rhubarb sauce on your ice cream as a kid. The basis for this drink is that special rhubarb sauce, with all the rhubarb bits strained off, thus leaving you with a super sour, very sweet, and wonderfully pink simple syrup.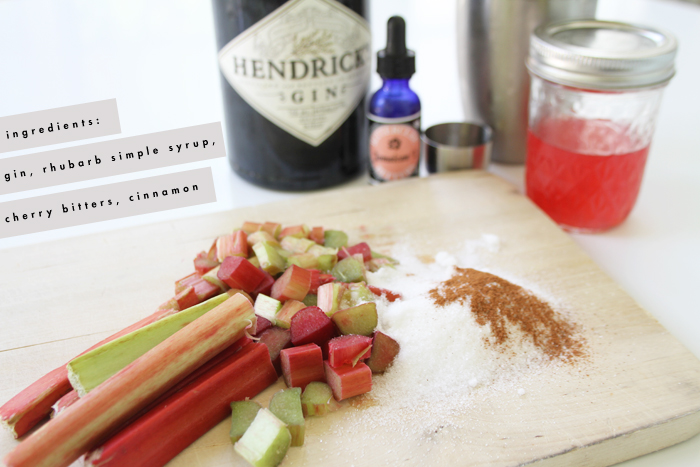 The Helen


▼ 3 oz Gin
▼ 1.5 oz rhubarb simple syrup
▼ 4 drops of cherry bark vanilla bitters
▼ A dash of cinnamon


Rhubarb Simple Syrup: Take a 1lb of rhubarb and chop it into 1/2″ chunks, add it to a saucepan over medium high heat. Add 2/3 cup sugar and 2/3 cup water. Cook until the sauce starts to boil, turn down to medium heat and let simmer for apprx 15 minutes.

The Method: In a cocktail shaker add gin, rhubarb simple syrup and cherry bark bitters, shake. Strain into martini glass and garnish with a dash of cinnamon.