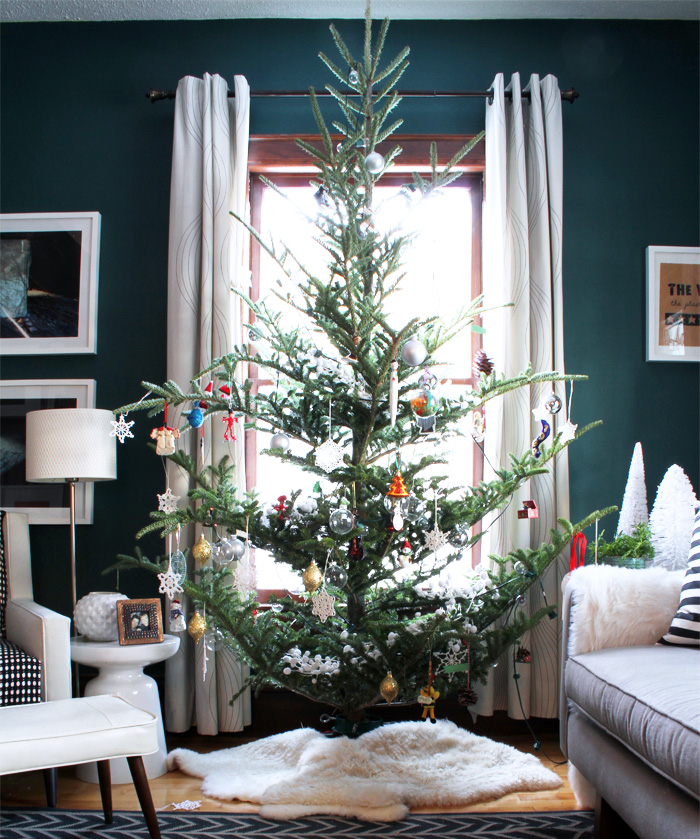 Hey guys! I wanted to share with you this year's Christmas tree. I was on the hunt for a tree that had more defined branches then the Frasier firs that we have had in the past. Sometimes you just have to change things up – plus we were trying to choose a tree for a space we've never had a tree in. In other years we've had the tree in the corner of the living room or even in the entry way, but this year we were going to put it right smack in front of the living room window, between the sofa and the couch. I was on the hunt for a tree that took up less visual space, most likely something tall and narrow, and branchy – and then I fell in love with this guy.
Right before Thanksgiving I went out to get some spruce tops for the window box at our local nursery, Uncommon Gardens. It was their first weekend selling trees at the nursery – I saw our tree right away and I knew it had to be.
We were supposed to be going tree hunting the weekend after Thanksgiving, this had been our tradition, this wasn't supposed to happen this way. I called home, made sure it was okay with Jeff and Finn that I found a tree without them, and then strapped the tree to the roof of my station wagon. We compromised, deciding that we'd wait a few days before bringing the tree inside and decorating it. We kept in a bucket of water in the backyard until the evening before Thanksgiving. It was just like we were planning on (just a day or two earlier).
Okay, okay, so the tree's a little big. Lesson learned, sometimes trees on tree lots seem so much smaller, but I was blinded by love. Whatever though, I still think this tree is the best. This tree was labeled a "Natural Frasier Fir" whatever that means, but obviously it has less branches then the "unnatural?" Frasier.
I really love this tree, I love all the negative space between the branches. Most of all, I loved watching Finn decorate it. BT-dub, Gus was totally un-interested and much happier being occupied by a movie while this whole thing was going down – we didn't intentionally leave him out or anything. Finn was enthralled though, and had a good time telling us stories of all the ornaments. He was even coupling ornaments, there were lots of marriages between santas and penguins. He carefully curated the placement of every ornament on the entire tree, directing us if there was one too high for him to reach. Most of them are clustered about 3 feet up from the ground. Some branches are sagging from the weight of so many ornaments, but I am beyond in love with the sweetness of it all. Finn did so good this year.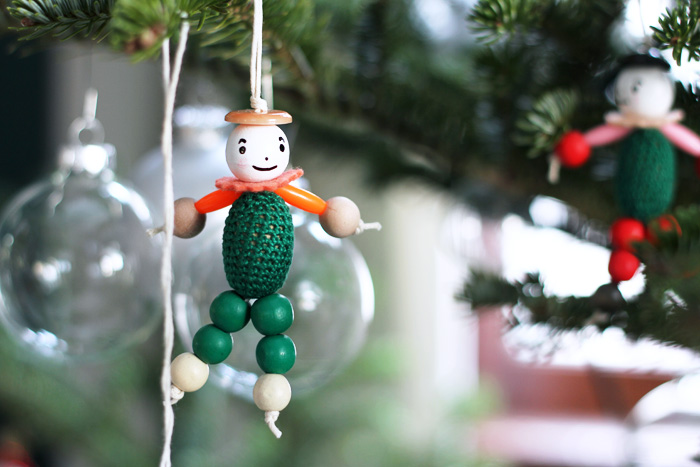 My super cool neighbor Erika, makes the most amazing kid gifts, lucky for me she had a sale in her Etsy shop – Fox and Owl, this weekend, I was able to pick up two bead ornaments. They are beyond sweet, and kind of melt my heart a little bit. I think they might have to stay out year round.