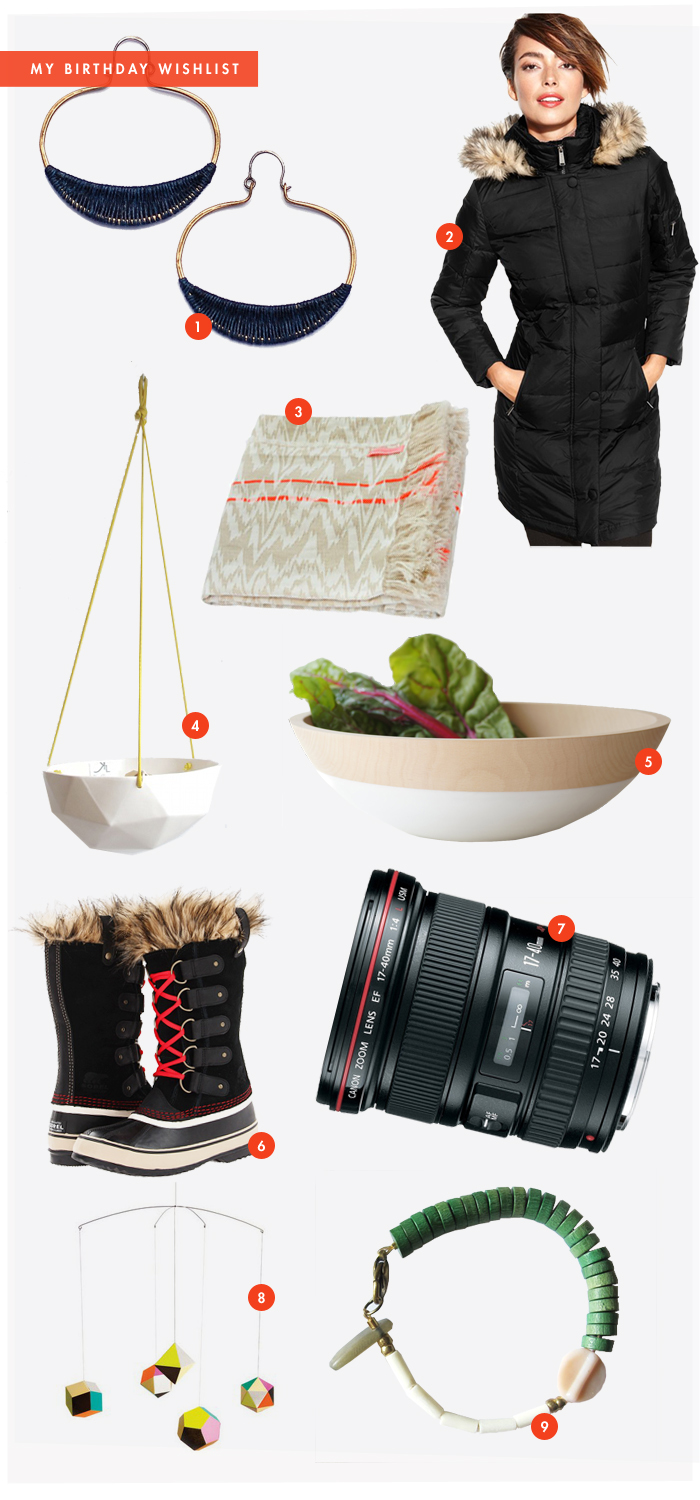 Buddies! Tomorrow is my b-day, I will be 32 years old!!! I am one of those birthday lovers that some people might hate, sorry! I totally love my birthday, and I'm not going to shut up about it, this by far is my favorite day of the whole year!
I've put together a birthday dream wishlist, these are all the items I have had my birthday-loving-little-heart set on. Being a winter-birthday-lady I have to put some practical things on there too, like boots and a coat, but that doesn't mean I'm any less excited about it. Guys, I'm so excited!
These bad boys were on my bday wishlist last year too, that's when you know you really love something. When you've admired it for over a year. I'm one of those types that finds a pair of earring and wears them into the ground, I would love for these to be my daily pair.
I'm in desperate need of a new winter coat. I have about a three year limit before I need a new coat, and this year is that year for me. I love the winter, but I hate the cold. I don't mess around with cute light-weight coats, I go straight for the warm down stuff, it's the only way. I'm looking for something in black this year, and have my eyes on this little fluffer over at Macy's.
This Merino wool woven blanket is my latest crush for the home, I can't resist that neon orange stripe, and I think it would look perfect on my sofa. I'd accept it as a bday gift, fo sho.
Uh, you know where I'd hang this amazing geo planter? In my new kitchen, and it would look awesome. A little in love with this one, you guys.
My good old teak salad bowl went through the dishwasher the other day, (cue sad trombone soundz). I'm going to need another one, and I've been crushing on everything from Wind and Willow Home forever. I'd take a set of dipped salad bowls, no prob.
New boots are high on the priority list, I don't even think they should be technically counted as a potential bday prezent, but I'm putting them on my list, just because. I need new boots, and I love these Sorels – it's all about practicality over here, people!
You know I'm a dreamer, this is on my list but I'm not actually expecting it, just dreaming about it, this is a wishlist. Someday, it will be mine, oh yes.
I recently re-discovered this mobile, I've seen it tons around the internet, and I always go "ahh" every time I see it. It's on the list.
Anything from the Dull Diamond shop is good in my book, I love all the new bracelets with the dyed wood beeds, but really, everything is so good.
Most of All : Snow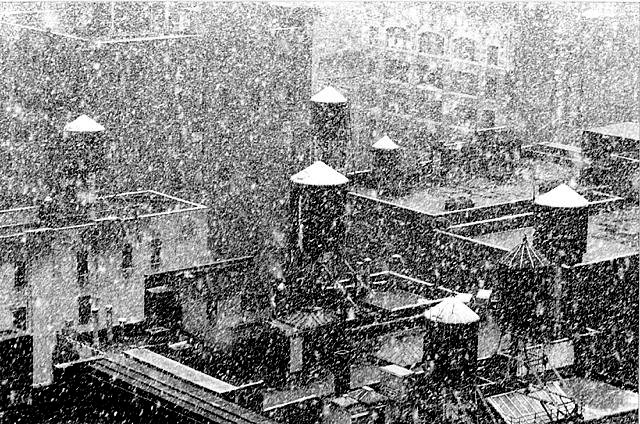 Photo : Alfred Stieglitz
The thing I want most of all for a successful birthday celebraish is a little snow, and it just started right now! Everything is coming up Alison!